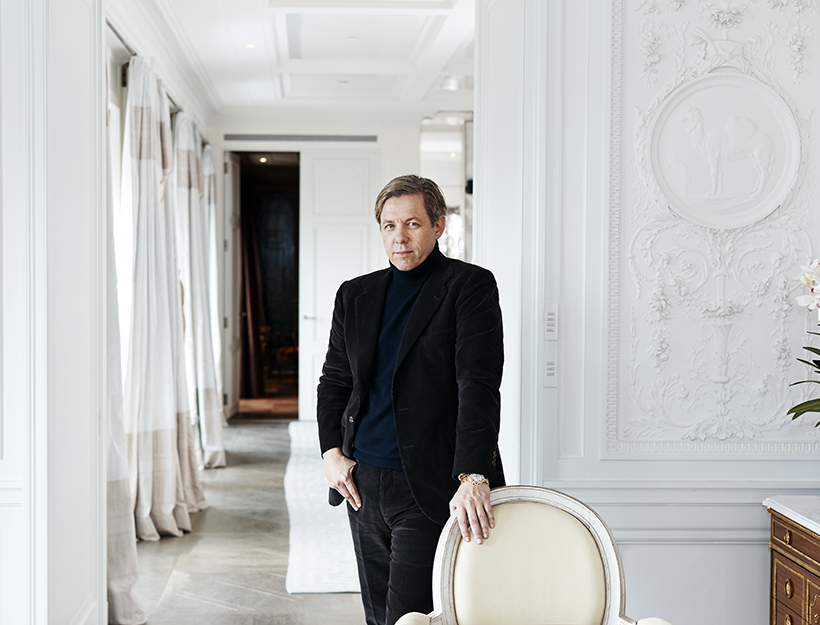 Photo by Weston Wells
At Home and Around the World with Michael S. Smith
The Obama family's historic White House residency will forever have a Michael S. Smith signature, as he's the man behind the presidential residence and the Oval Office's Obama-era look. Not since the Kennedy administration had the White House had such an overhaul, sealing Smith's fate as one of the most influential American designers of our time. And there are the homes of countless other major influencers, of course, including Steven Spielberg, Dustin Hoffman, Natalie Massenet, and the like.
As this chapter comes to a close, we turned to Smith to ask: What next? Buckingham Palace? No, Michael's goal is simply to evolve and continually hone his craft, like any great artist or designer. Page through his book, The Curated House, and that sense of evolution, craftsmanship, and renewal is practically palpable. As he puts it, "You're on your own race, not a race against other people." We got to chat with Michael about this and many of the keystones of his approach to interiors, only to find that what makes a designer of his stature isn't a certain affinity for luxury or the high life, but a deep sense of practicality and an understanding of the real-life needs—and idiosyncrasies—of the client, not just in the here-and-now but in the years to come. And that's what makes a classic.
Michael splits his time between LA, New York, Washington, and Madrid, where, for the past four years, and up until this month, his partner James Costos has been the U.S. Ambassador to Spain and Andorra. We took a peek inside their and some of Smith's clients' homes to get a sense of his breadth as a designer.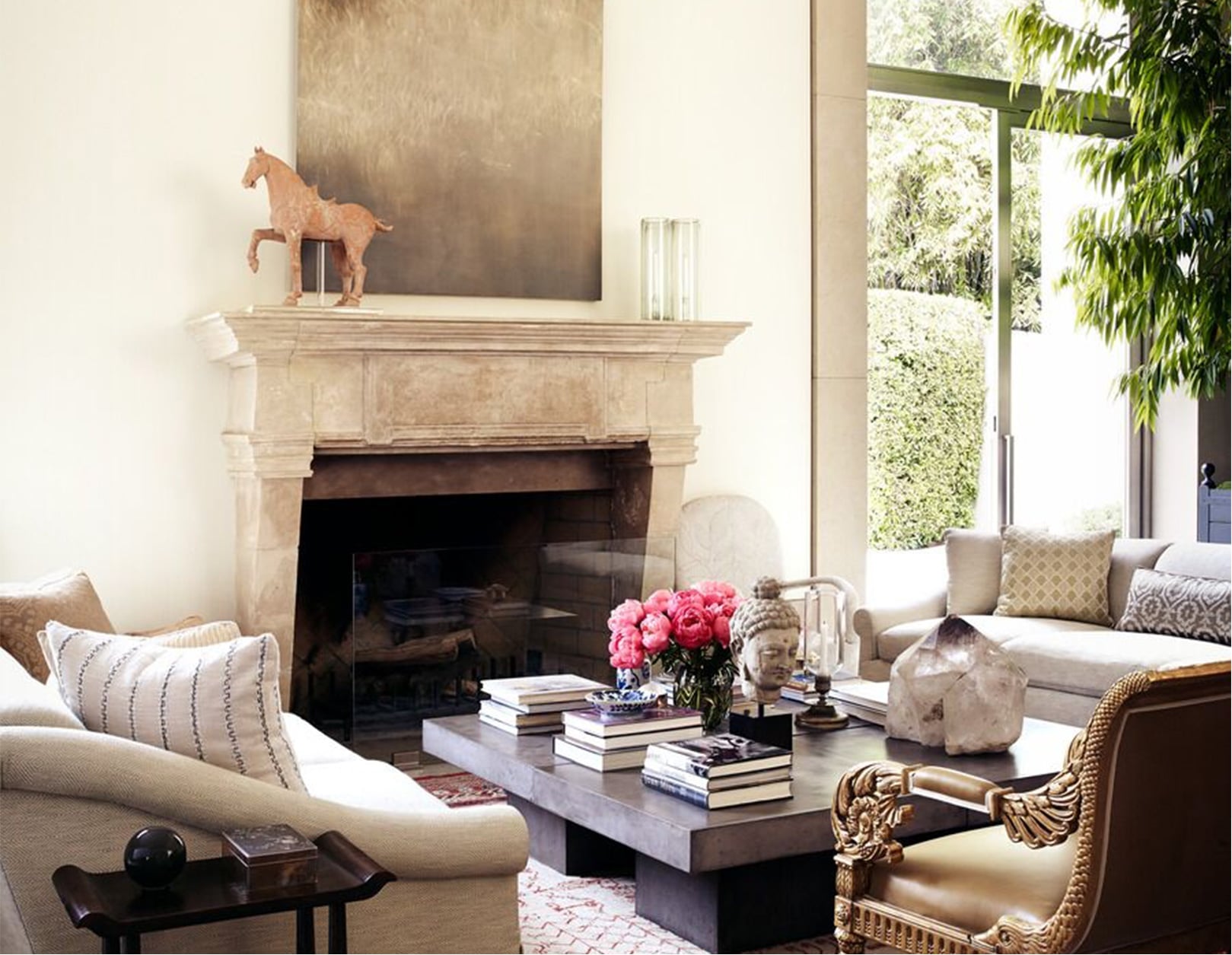 Photo by Art Streiber / AUGUST
The starting point for Michael on any project is often where the history of the house and the personality of the people living there intersect, and finding a narrative that can capture both. A great example of that is his own residence in Los Angeles' Holmby Hills neighborhood. Though one might pin Smith's aesthetic to a more classical style of architecture, he's worked his magic on a sprawling 90's home that was originally meant as a gallery for a private collector. Here, he took the story of the gallery and spun a theme for the design from there. Rather than sticking to any historical period, or making a strictly "Modern" home to match the architecture, he chose pieces that were unique and sculptural, almost like exhibition pieces for the "gallery." In his words, "What's your point of reference, and how do you make that work?… I have a lot of different stuff that I love, much of it modern but some of it not, and I put it in my house in a way that had it all co-exist and live really comfortably."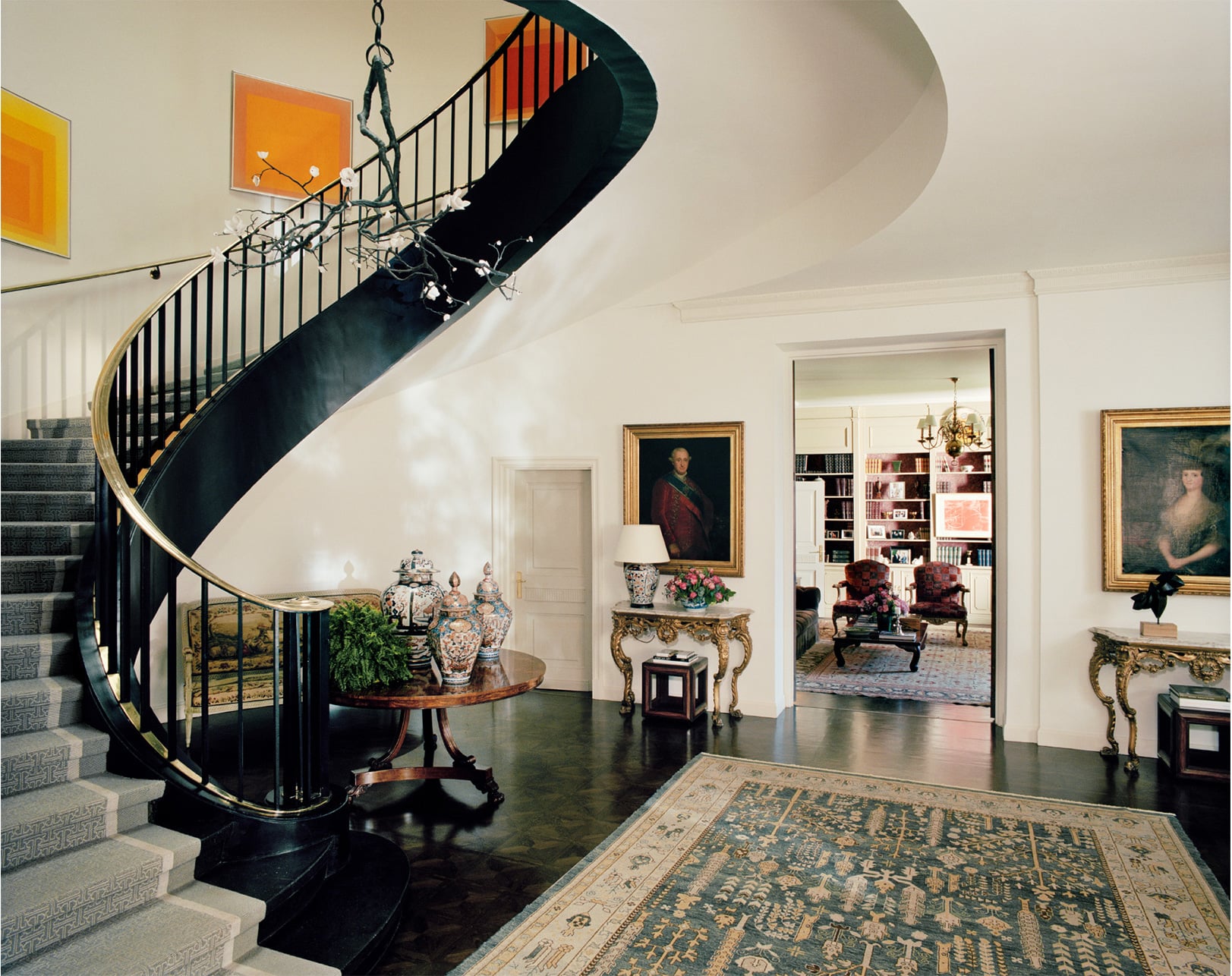 Photo by Francois Halard / Trunk Archive
At his home in Madrid—the Ambassador's residence, which he totally revamped—there's an altogether different narrative. Here it's all about being an American designer in Madrid, making a few respectful nods to the elegance and rich history of this city, while bringing in contemporary touches from the U.S., from the collection of art—a few works of Josef Albers' works from his time in America hang in the stairway—to the chandelier by David Wiseman.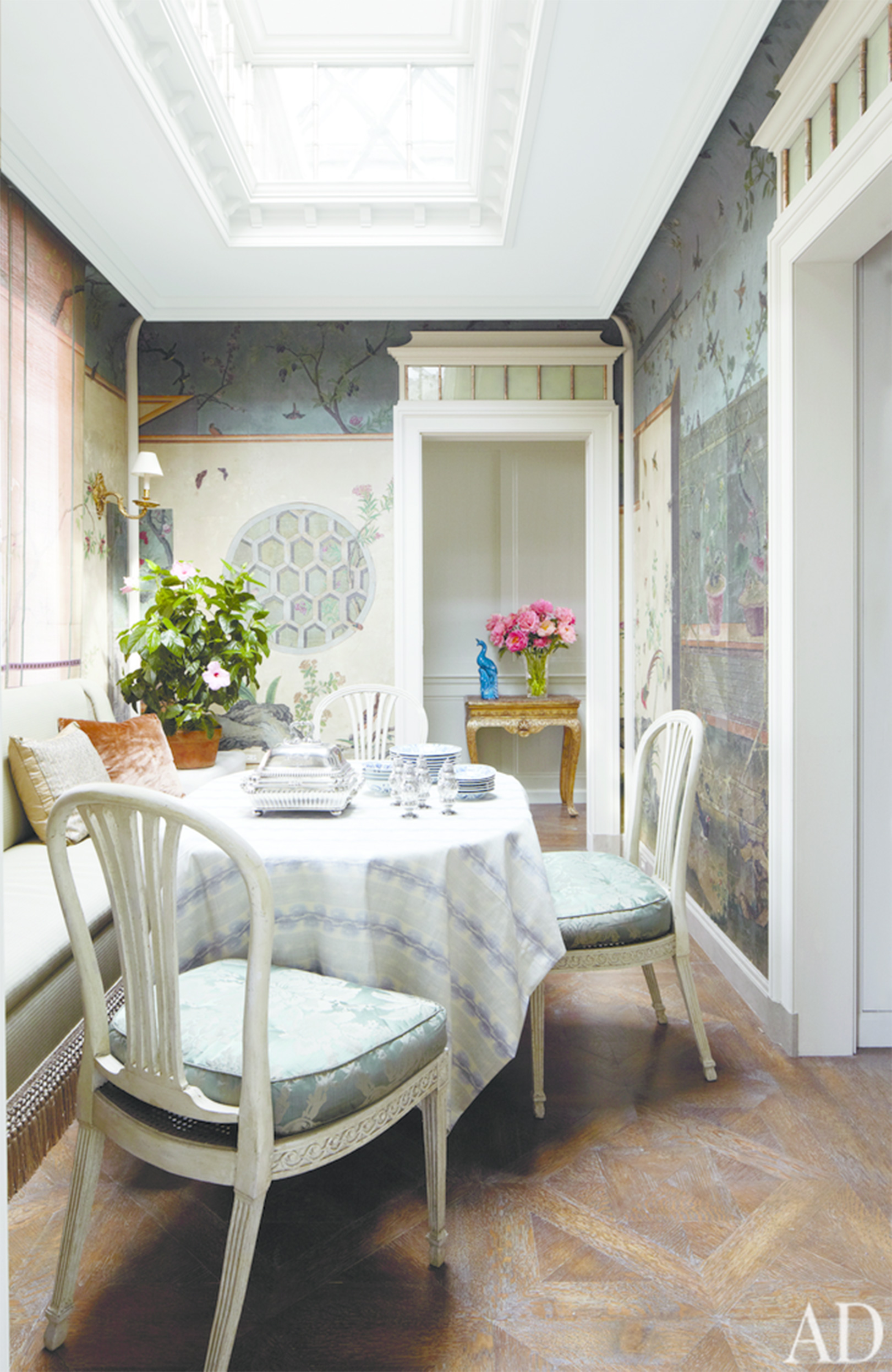 Photo by Björn Wallander/OTTO for Architectural Digest
Of course, when the furniture and fittings come charged with their own history—and the designer possesses the right connections—the room practically makes itself, as is the case at Smith's NYC penthouse, which has a distinctly French narrative. A diehard (like us) for chinoiserie, when Michael was looking for just the right replica of a wallpaper pattern once used by the legendary decorator Elsie de Wolfe, Gracie came up with none other than the original goods just for him. What's more, it fit the room to perfection. We love this moment in The Curated House.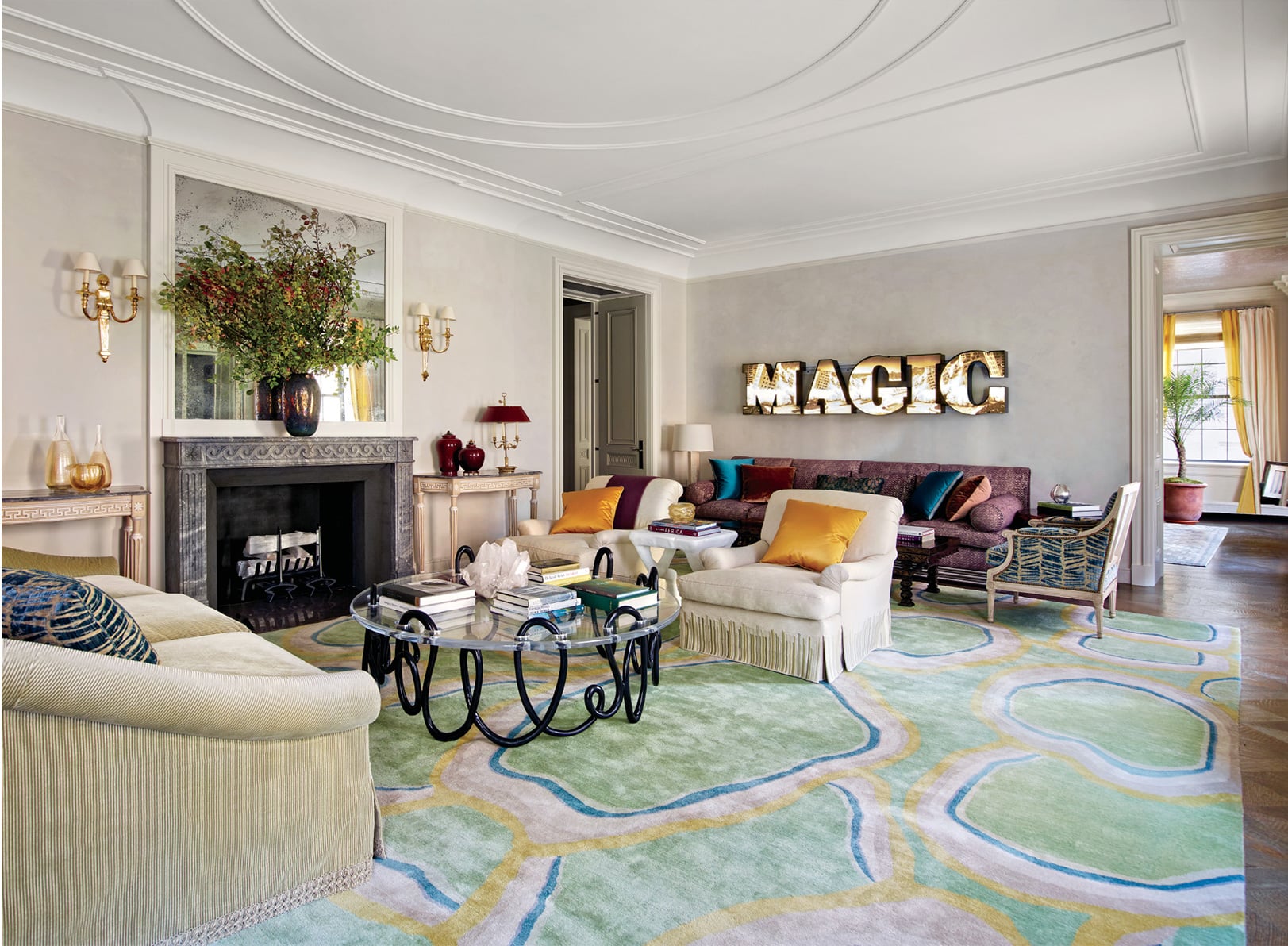 Photo by Richard Powers
One of the things that's most striking about Michael's work is that, while he may use incredible antiques in his designs—he studied at London's Victoria & Albert and was once an antiquarian by trade—and often, pieces with a somewhat classic design, like many of his designs for his own line, Jasper, his compositions never feel old-fashioned or stuffy. In fact, there's a real sense of airiness and modernism to the rooms he designs. "I always think very much in terms of negative space. Not just how far between the sofa and the wall, but also, how much space is left for you to change in your life, so that if you decide that you want to buy a painting, there is room to hang it. If you decide to adopt a dog or to have twins or whatever, your house can be a little bit adaptable. You want the house to be able to handle that kind of discovery, that kind of direction change that can make the room and the experience much more personal and therefore also much, much more interesting."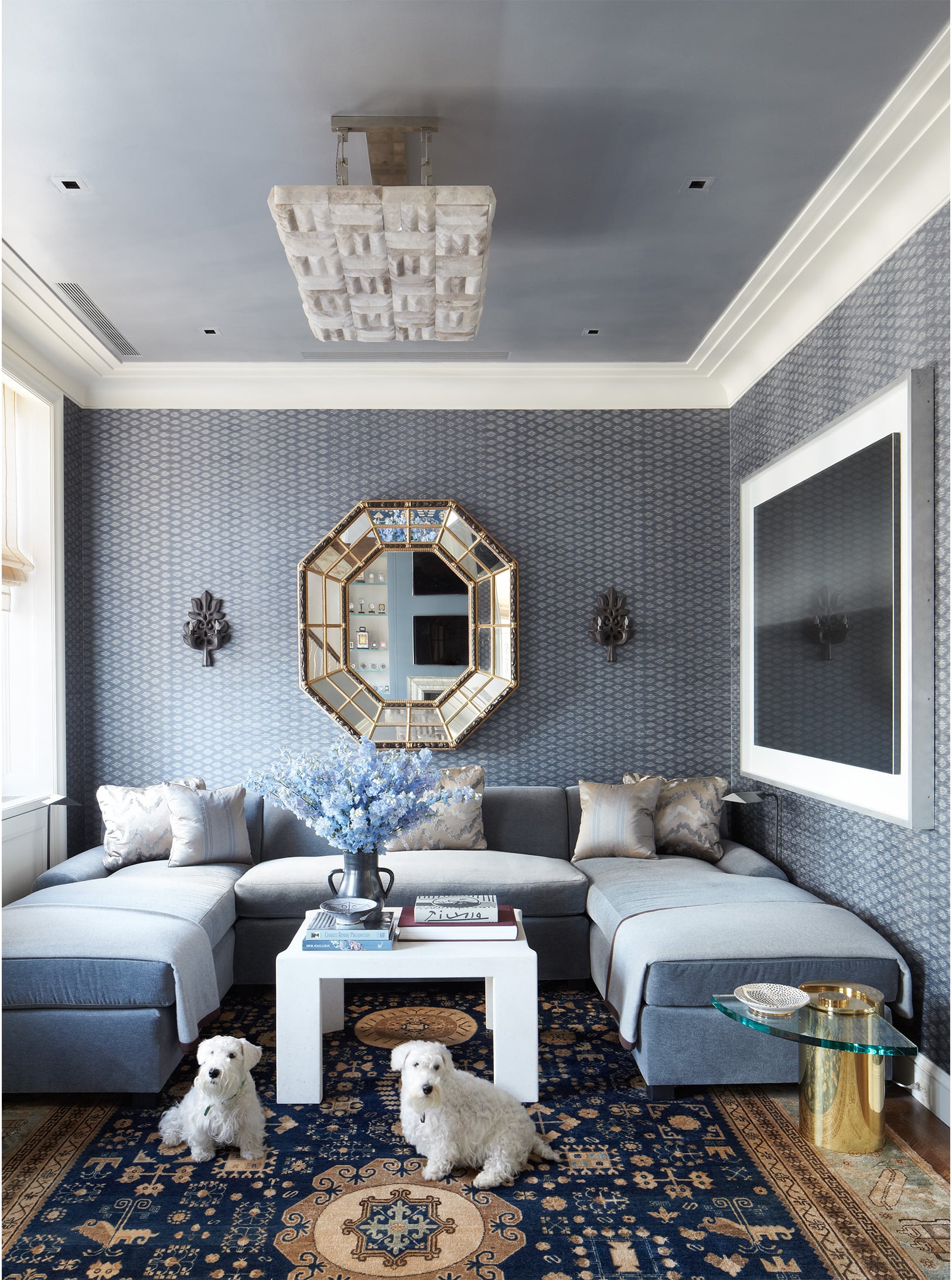 Photo by Photo: Björn Wallander/OTTO for Architectural Digest
In the same vein, though tightly edited and lavishly outfitted, there's a real sense of comfort in the spaces Michael creates. "It all comes down to the upholstery," he explains, "That its attractive and clean and kind of beautiful but also looks inviting, like you'd wanna sit down in it. You could have a parking garage, but if you put a cozy, pretty upholstered pull-out chair in the middle of it people would feel like they could sit down in it. So, if you start with that, everything else is gravy." To Michael, having a look that's pulled together is important, and has a powerful effect on the viewer. Just as we like to pull ourselves together, we should do the same for the rooms we live in. "The days of sloppy furniture are done: It feels like fast food—it seems like a really good idea when you buy it, but you don't feel so good necessarily after you eat it."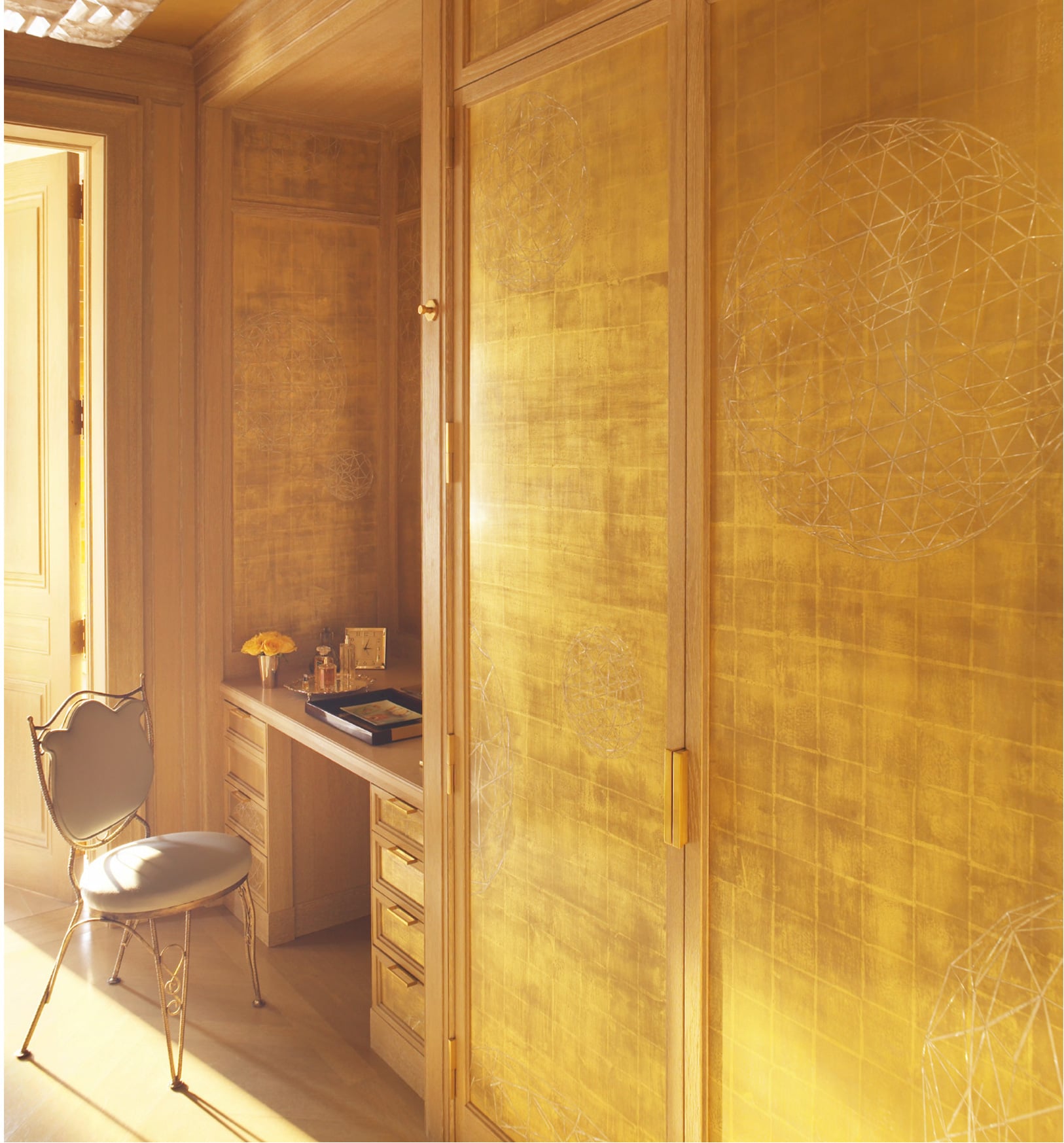 Photo by Pieter Estersohn
Smith is full of incredible advice on specific suppliers, lighting, upholstery, contemporary art, antiques—encyclopedic, in fact—but perhaps what's most striking is his versatility. His greatest weapon is ultimately his regard for the client's comfort. If the client spends most of her time at the office, then let that be the best, most comfortable, most adaptable office in the world. If the bathroom is her sanctuary, then bring in a chaise to read on, a TV to watch while in the bath, a great sound system for the shower. If it's the powder room, then get Nancy Lorenz to gold leaf it, as is the case at this client's New York home.
Michael's Picks from the goop Shop