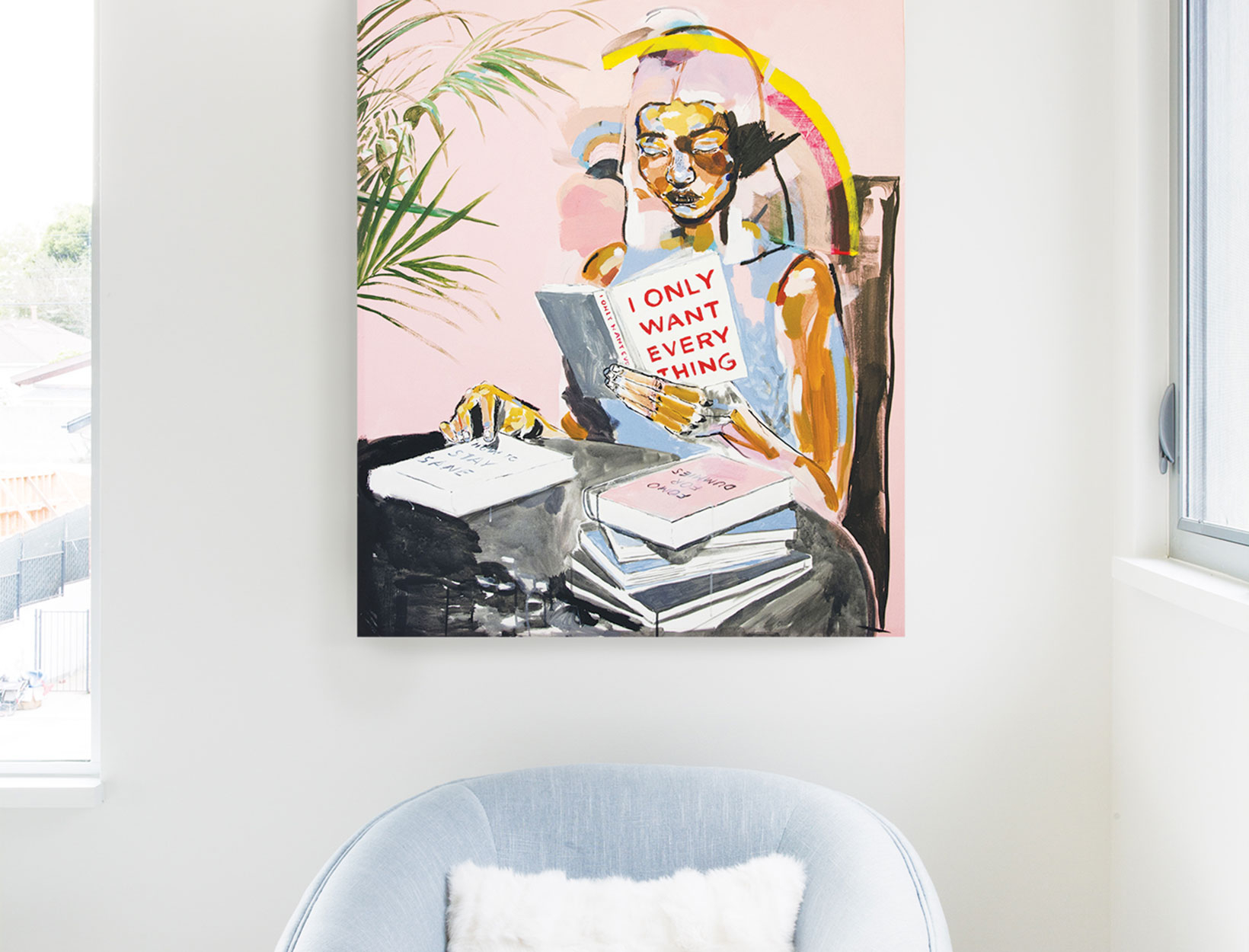 An Art Curator's
Advice on

Displaying Art
in the Home
In partnership with our friends at

Falling in love with a piece of art is a lot like falling in love. It can be immediate. Passionate. And occasionally, a little hard to place.
"Sometimes you see a piece of art and know you've got to have it, even if you have no idea where to put it," says Rebecca Wilson, the chief curator and VP of art advisory at Saatchi Art. Often, "this can be the most exciting way to buy art."
But then you bring it home, and you're overwhelmed with…huh. Is it compatible with your space? Will it fit on that wall? Or should you hang it on that one? The answer is as true as it is unsatisfying: Take it slow. Wilson likes to prop artwork on a shelf or console rather than hanging it up right away. That gives you the freedom to move it around. "Usually, once you have the work in your home for a while, a good place will reveal itself," she says.
Of course, there are still some logistical questions—i.e., lighting, placement—which is why we tapped Wilson—and her more than two decades of experience in the art world—for wisdom.
TIP 1

Measure—and Stay Level

"Generally, I suggest hanging works about fifty-seven to sixty inches from the floor, meaning the center of the artwork should be at this height. This rule may not apply if you are hanging a work above a sofa. In that case, I suggest making sure the bottom of the piece is about five inches above the back of the sofa. If the work is an unusual shape or I'm stacking several pieces, I go by what looks best."
TIP 2

Let There Be
(Some) Light

"Most oil and acrylic paintings fare pretty well in sunlight. Photographs, drawings, and watercolors should be hung behind UV glass and not right next to a window that gets a lot of sunlight."

TIP 3

Contrast Colors

"You don't always have to hang art against gallery white. A lot of works look fantastic against darker walls. Experiment with whatever makes the artworks stand out and helps to create different kinds of feelings. A contrast in colors will help make your art the focus of the room."
TIP 4

Get Framed

"On the whole, simple floater frames are best for showing off artwork.
But it can also be striking to have a very contemporary painting in an
Old Master–y gilt frame. With a gallery wall, I suggest a mix of frames in different colors and styles."
TIP 5

Think Positively

"Negative space is an important factor
when hanging art, so make sure you have enough empty wall space around the work. Large works can be great for making a big statement—but don't overwhelm your space by going for something that is too big."
TIP 6

Listen to Your Heart

"The most important thing when choosing a work of
art is that you really love it. But it can still be overwhelming, especially when discovering a wide breadth of art from across the globe online. That's why Saatchi Art offers a complimentary art advisory service to anyone buying art from the site. We have a team of curators who work one-on-one with private clients and designers to help them find the right works."