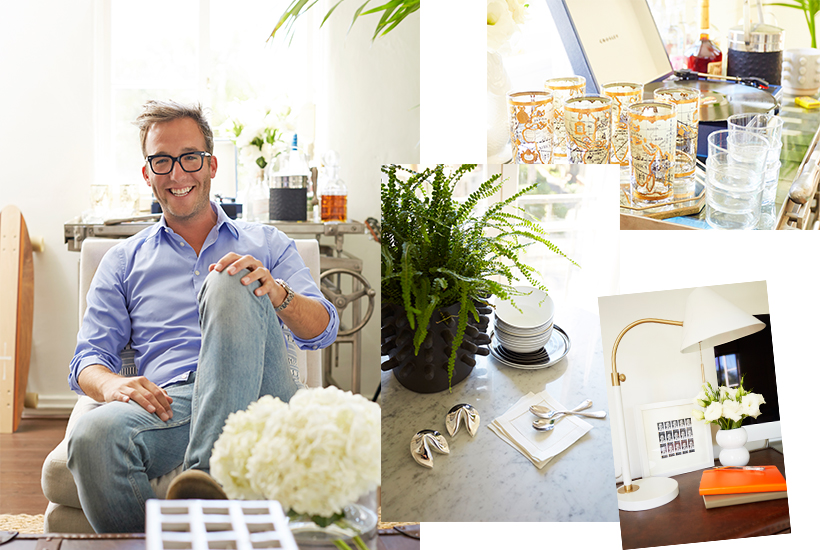 A small space makeover
When our goop guy, Kevin Keating, moved into a gorgeous and light-filled apartment in West Hollywood after several years in London, he found himself drawing a blank on how to even begin decorating it—to the extent that he furnished it with only a bed and a yoga mat for two months. Ultimately, Kevin had abandoned all of his disposable, post-college furniture in England since it wasn't worthy of the shipping fees, and wanted to invest in timeless, modern pieces that he could keep for at least a decade. On a budget, and constrained by a tight, West Hollywood floor plan, Kevin had resolved himself to eating take-out in his bed. Convinced that this wasn't a great, long-term solution, we sent him to Design Services at Restoration Hardware, RH (complimentary), and then to a pretty ingenious interior design resource, Homepolish. RH helped him find a few investment pieces, including a couch from their "Small Spaces" collection, all in keeping with the classic style of the '20s, historically-landmarked building where he lives. And then Homepolish completed the transformation. Rad and disruptive, Homepolish provides access to great interior designers at attainable, non-budget breaking prices: During an initial meeting with your designer—at between $50 and $85, depending on their level—they'll scope out the hours required for your project, whether it's a few small tweaks or a complete home refurb. Then, they'll get to work at $100-$130 an hour. For Kevin's apartment, they assigned Orlando Soria, their Creative Director in Los Angeles. You can see their inspiration here, and the results, below.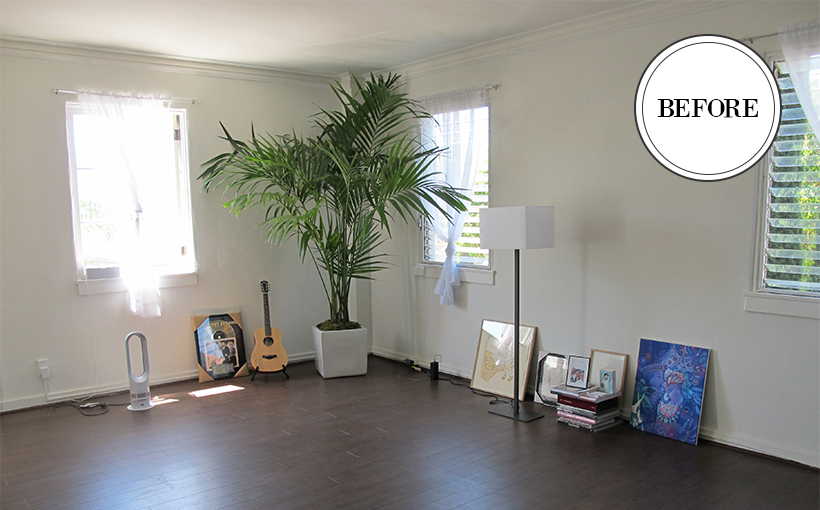 ---
The Homepolish Touch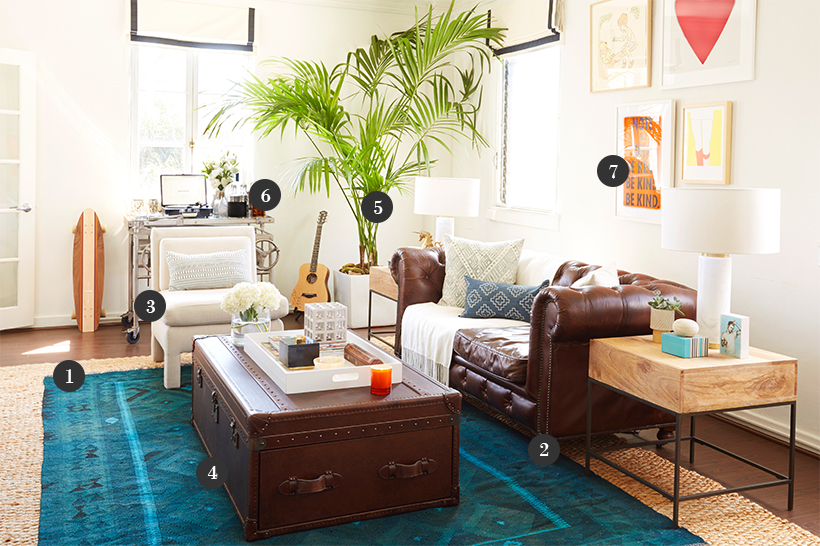 Living Room
"Kevin's style is a mixture of Cape Cod traditional and California hipster so I wanted to create a space that felt sophisticated and formal while also being as playful and youthful as he is. The foundational pieces from Restoration Hardware provide an old world element, so I added in Mid-Century pieces from Chairish and used Kevin's awesome art collection to make the space feel fresh." – Orlando Soria, Los Angeles Creative Director, Homepolish
---
"Make sure you're not getting all your
furniture and accessories from one store, no
matter how much you like them"
---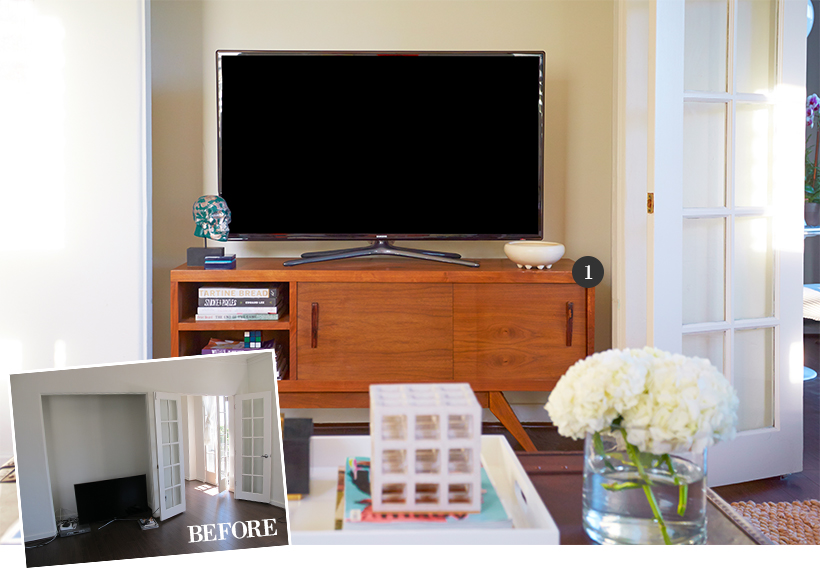 TV Nook
A TV stand doesn't need to be tech-y in order to get the job done of concealing unsightly cords, modems, and DVD players. The rounded edges are a nice contrast to the sharp angles of the TV, too.
---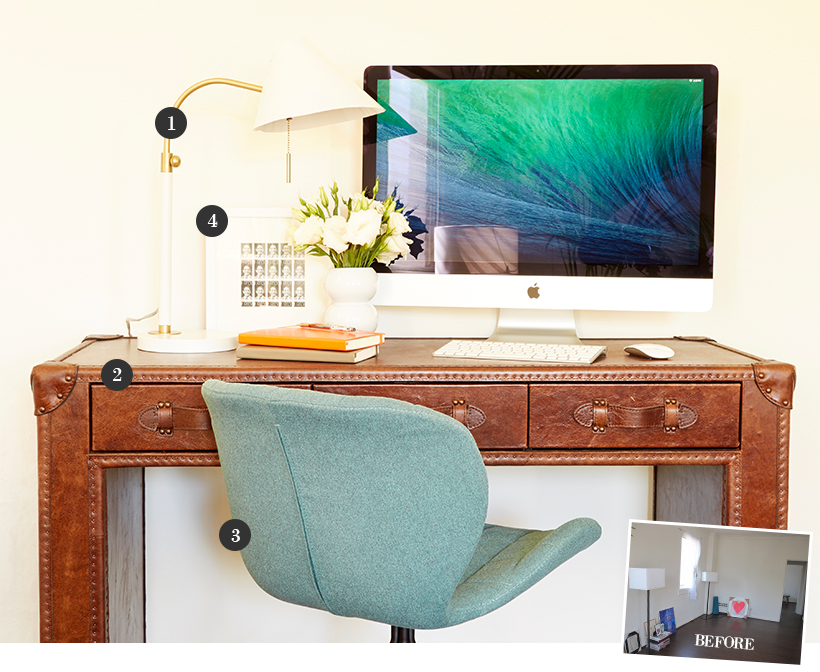 Home Office
Don't be scared by things that don't match. "Matching is our enemy because it can make the space feel artificial and overly composed," Orlando explains.
---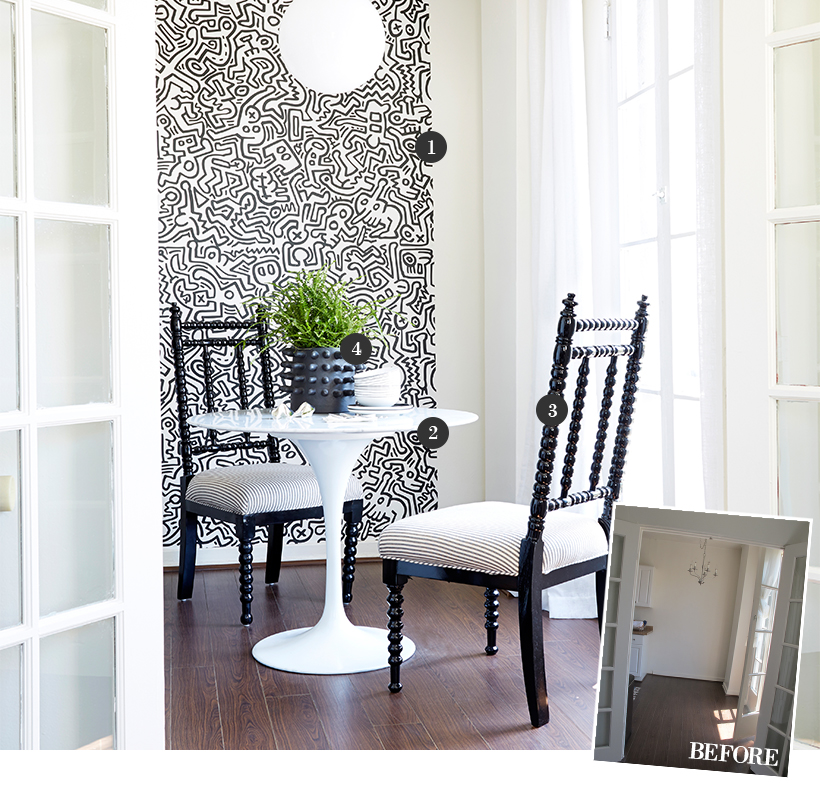 Dining Room
"Spend on the things you care about, scrimp on what you don't," explains Orlando. He sourced a Saarinen-style Tulip table for the dining room, and Kevin fell in love with the marble top (which doubled the price), but he got a deal on the vintage chairs, and the Haring-inspired wall decals were a steal, balancing out the room's expense.
---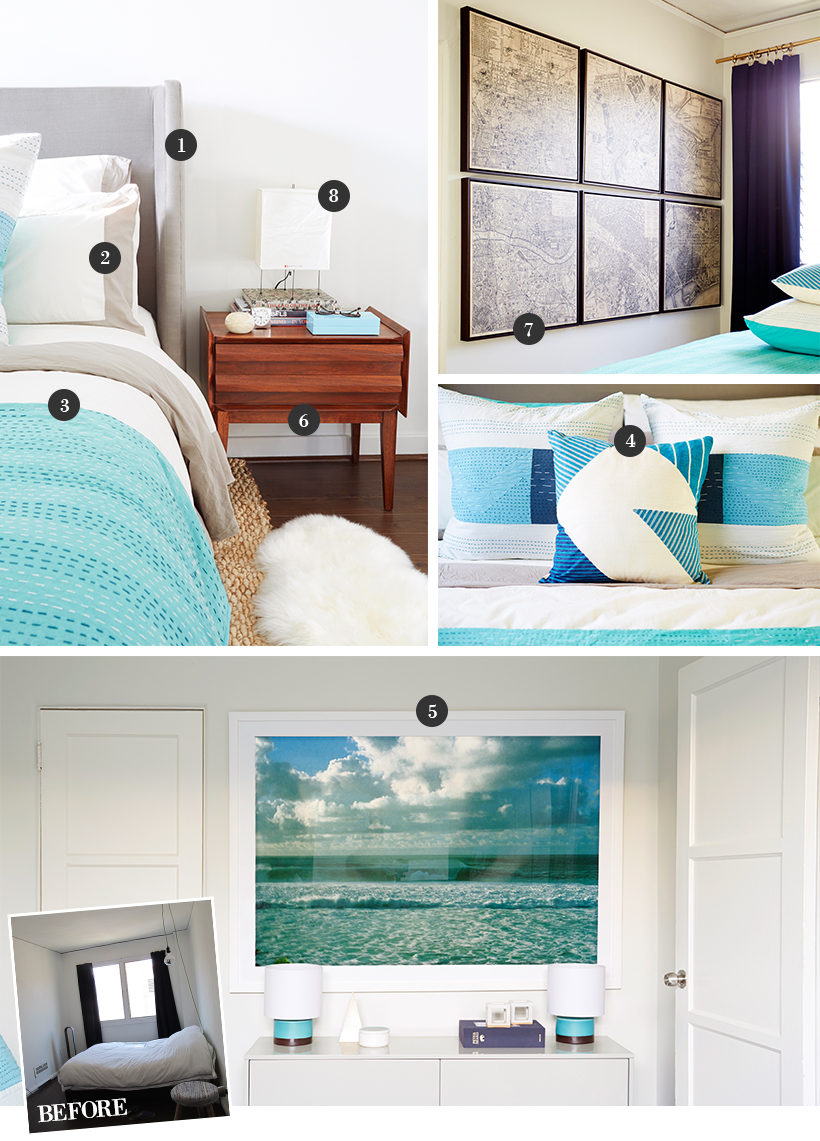 Bedroom
"When a space gets a lot of natural light like Kevin's does, I like to choose a paint color that is a light hue and allows light to bounce around the room. The living room wall color is a natural ivory, and the bedroom is a super light grey. If a space gets less natural light, I like to paint it a darker, more saturated color so it doesn't look dead. A common mistake a lot of people make is painting a dark room white in order to make it appear lighter: Normally, this just makes the walls look dingy and the room, depressing." – Orlando
---
PHOTOGRAPHY:
Zeke Ruelas
SPECIAL THANKS TO:
Homepolish for donating their services and to RH, Chairish, Dwell Studio,
and Rove Concepts for the furnishings.