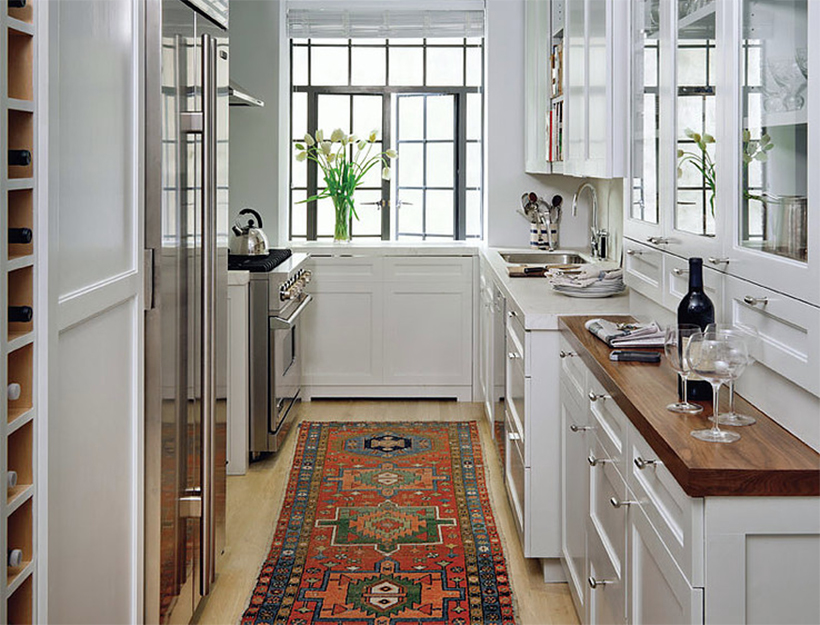 A Foolproof Guide for Working With a Contractor
When we overhauled our space in Columbus Circle for #goopmrkt, Roman & Williams brought in Best & Co., one of the most organized and thoughtful general contractors we've ever worked with. And this is why: Co-Founder Chip Brian used to be a banker, until he enlisted a contractor for a remodel of his apartment only to end up learning how to renovate it himself—because it didn't get done. Friends asked him to pitch in, and well, he now runs a giant business out of New York where they do everything from general contracting, to construction management, to really, really beautiful fabrication and custom millwork. Since finding an affordable, trustworthy contractor is probably the most daunting task on a renovation to-do list, we tapped Chip to give us the insider scoop on how to find great people, and (perhaps most importantly) how to be their favorite client.
A Q&A with Chip Brian
Q
How do you go about finding a good contractor?
A
Do your homework! Here in New York City, we think of the Franklin Report as a top resource for vetting GCs. It's actually in print, and contractors must be recommended to be considered—they're only included after a thorough vetting process that includes independent conversations with at least three clients. We also really love Sweeten, which is available in New York and Philly.
If the Franklin Report isn't available, I don't actually recommend Angie's List or Houzz, because contractors can pay to be highly featured on those sites. Instead, call an architecture firm you like and ask for an educational meeting; most firms will do that for a reasonable hourly fee.
Once you've got a few recommendations, double check that the firms are licensed and insured (information that's available to the public online) before calling them. When you do get on the phone, ask to speak to four references: Two clients from projects they're currently working on and two clients from recently finished projects—they should be willing to walk you through the finished products. Taking steps to verify that recent work is good will eliminate about 80% of the riff-raff from the pool.
When you're vetting contractors, it's also a good idea to meet them in their office, on their turf, first; investing the time to come to them lets them know that you're serious. Like in any industry, you can tell a lot based on how they present themselves in their office and in the meeting: Is the office clean and presentable? Do they prepare an agenda for the meeting?
Q
Once you find them, how can you tell if you're getting a fair price? Or if you're being ripped off?
A
Collect bids from several contractors, and ensure you have three points of comparison at least. Once you get the numbers back, keep in mind that it's not unusual to see a 50% difference in bids: Don't automatically pick the cheaper one. Make sure each contractor is able to defend every line item in his/her bid—and if you see pricing for something in one bid and not in another, ask why it's missing. An architect can be a helpful ally in this process, to make sure you're comparing apples to apples.
As for structure, typically a lump sum bid is given on the cost of construction based on the plans and specs provided by the design team, and an architect will charge a percentage on the total cost of construction—including construction administration if warranted, though hourly fees are not uncommon either.
Q
How do you create a budget, or know what's reasonable for the amount of work you want to do?
A
These projects are typically priced at cost per square foot and are truly driven by your taste in terms of materials. The main determining factor is the quality of the finishes. If you are happy to pick a modest subway tile in your bathroom, for instance, your cost per square foot will be considerably less than if you were looking to use onyx. Start by determining the size of your home and multiply by the cost per square foot that you and your design professionals come up with based on the quality of finishes you are seeking. Here in Manhattan, for example, quality residential work in a co-op or condo building will begin at about $300 per square foot and can rise well above $1,000/ft.
Q
What comes first, the architect or the general contractor? How can you be sure that the sub-contractors are good?
A
The process begins with the client providing their design professional with a detailed list of wants and needs and sharing images torn out of design magazines or pulled from Pinterest: "This is what I want." Next, the architecture and design teams provide the general contractor with detailed to-scale Before & After drawings, that indicate what's staying, what's going, what's being moved to another location within the existing footprint, and what's completely new. Start with design/architecture and then let the contractor execute the plans you've drawn up.
Regarding subcontractors—every line item should be laid out by trade (demolition, stone, tile, electrical) in the initial bid from your GC, and you should feel comfortable asking questions about these sub-contractors… have you worked with them before? Can we visit their shop? Good tradespeople want to interact with the owners and welcome questions because they're proud of their craft. That said, it's important not to micromanage: If you try to tell your subcontractor how to do his/her job, it'll be your fault when he does it wrong.
On a logistical note: To help manage subcontractors once the project is underway, make sure you get a lien waiver from your GC. Having those agreements in writing will reduce any confusion related to their payment.
Q
Any tips for mitigating unexpected costs and crises? We've all seen HGTV episodes where homeowners didn't realize their wiring wasn't up to code until after the wall came down…
A
Plan for surprises and be ready to be flexible. Even the best-laid plans of designers and contractors can hit bumps. Your builder is an excellent ally in this process: before the project begins, review the plans with them and ask what they see as potential problem areas. To mitigate crises, make sure your GC has a thorough preconstruction process that engages subcontractors early on to help identify liabilities or areas with potential for noncompliance. Communication during this process should all be recorded in writing.
As for contingency, you should always take 10% out of the top of your budget and put it away. 5% is for unexpected costs, and 5% should be for things you realize you want half-way through the process. That applies to budget as well as to schedule; if you have a hard deadline you need work finished by, give it a 10% cushion.
Q
What's the key to getting a contracting project finished on time?
A
The key is having well-laid plans and a timeline plotted well in advance. Experienced contracting and construction professionals can be invaluable partners for the design team at the planning stage, ensuring that the designed spaces will, indeed, look and function as imagined. Your builder is not an interior designer or architect, but a good one will have experienced a lot of projects, so they're going to know a lot about materials and potential slow-downs; give them a chance to be honest about their concerns. They should work with the design team in advance to avoid expensive major changes midstream or a string of "while you are here…" extras that can slowly and steadily add up to a big cost bump for the client.
If things are moving slowly in the middle of a project, sometimes the best way to get everybody on the same page is to get each leg (architect, builder, and interior designer) in one room to identify bottlenecks.
Q
When is it time to bring in other experts (painters, plumbers, electricians, etc.)?
A
A good contractor will do this from the onset. In New York, for instance, Manhattan buildings require permits from plumbers and electricians before a renovation project can even begin, so if you're not hearing about various experts and subcontractors being brought on board to your project from the get-go, be concerned—outside experts should be engaged right from the start.
Q
When is it okay to DIY?
A
Are we allowed to say never? As professionals, we strongly encourage you to defer to a licensed contractor. Doing so will save you more time and money than you can possibly imagine!
If you must DIY, stick to single-trade projects—paint one wall, replace one set of pillows, lay one floor. As soon as you start mixing materials and adding complexity, you'll start to run into trouble.
Q
Is it better to do an entire renovation in one fell swoop, or piece-meal?
A
One fell swoop—by a mile. People often make the mistake of trying to stagger a renovation for budgetary purposes, not realizing that at each phase, the contractor has to re-mobilize, which can wind up costing far more money in the long run. Not to mention that if the scope of work is significant, you may need to be displaced from your home or otherwise, be willing to live quite uncomfortably with noise, dust, unhappy neighbors, and the like. Best to swallow the whole pill and get it over with all at once.
Q
What are key mistakes you see homeowners make?
A
Mainly, a desire to rush the schedule. People are often so concerned about getting into their new homes, that they rush the contractor only to sacrifice quality. Paint is the prime example—it can take weeks upon weeks to get a beautifully skim-coated and painted home. Patience will be rewarded.
Q
Any great online/digital tools for successfully making it through a renovation?
A
Dropcams! We at Best & Co. deploy them on all of our job sites and can't say enough about how beneficial they are—allowing you to keep a watchful eye on your project no matter where in the world you may be. It is so helpful to monitor the progress on site that is (or isn't!) being made from your phone, tablet, or office desktop, wherever you may be.
We also recommend that you create a new, separate email address for project-related communication; it just keeps everything streamlined and in one place if you need to reference it down the road. If you're working on a remote project, ask the contractor to email you pictures of progress each week.
Q
What qualities do you look for in clients? What's really appreciated on the flip side?
A
Clients who value quality and understand that it may take time to achieve the level of finish they're looking for. Renovations require patience and endurance—but the result can be oh so rewarding and worth the wait for those who are willing.