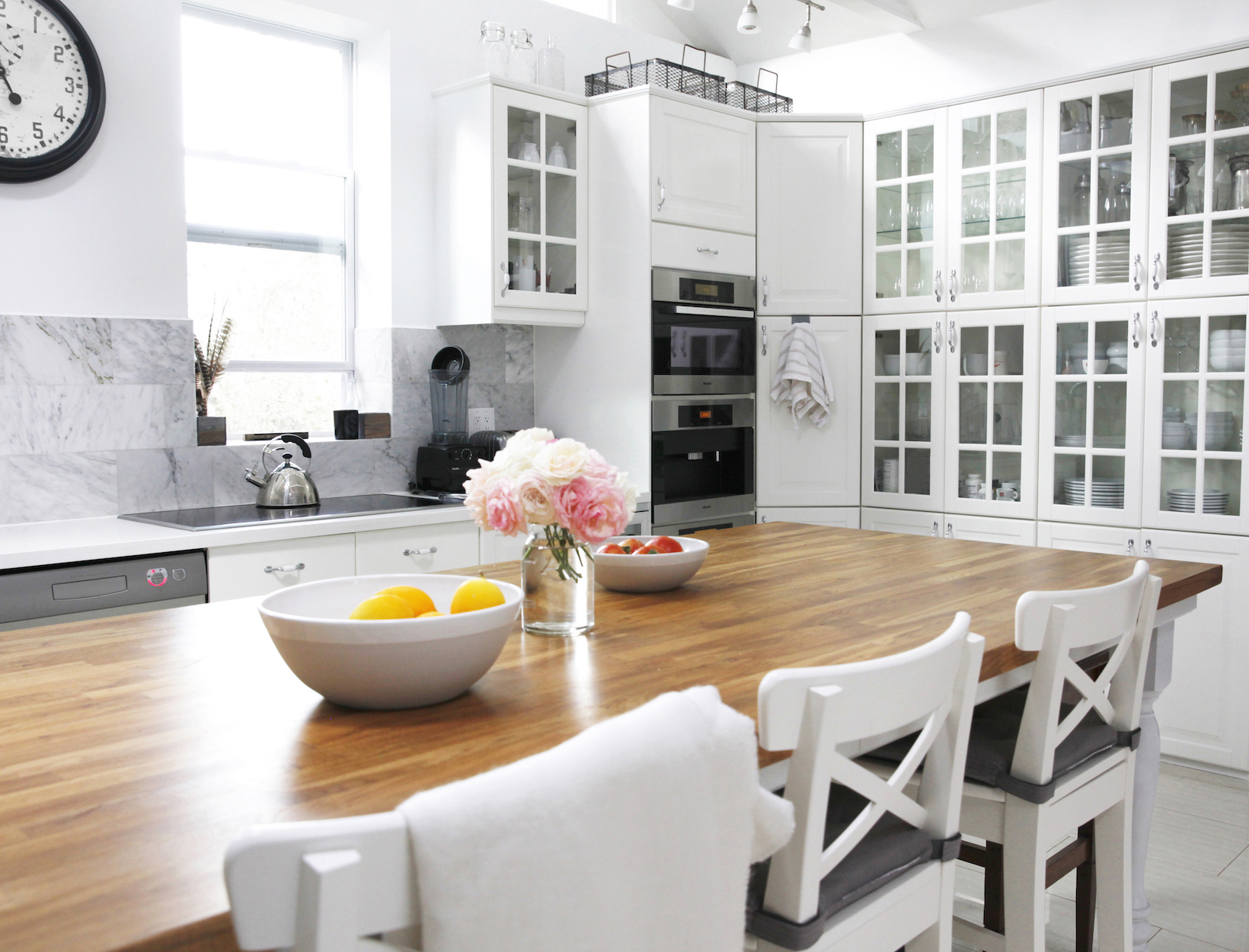 13 Approved Ways to Embrace White
—from Clothes to Home Design
—After Labor Day

Clean, uplifting, and endlessly versatile, we have shades of white on constant rotation in our living spaces—and in our closets. Sartorially speaking, it feels sharp and crisp, and in the home, it's an easy way to make a space feel modern. Better yet: It's seasonless. (That "rule" that states you can't wear it after Labor Day? It's meant to be broken.)

When incorporating white, it's all about mixing shades, weights, and textures. Here, we've corralled our favorites to complement a room or an outfit—no matter what time of year it is.
1

PALE FIRE

It goes without saying that white bedding hits all the right notes: It's calming, neutral, and works with any existing color scheme. This duvet and sham duo, woven from rich linen in pale, color-blocked stripes, ups the ante.

Calvin klein solo collection duvet and shams, Bloomingdales, $350; Calvin klein solo collection sheets, Bloomingdales, starting at $120

2

PILLOW TALK

A creamy-white throw pillow is one of the easiest ways to brighten up a space—this one adds a bit of texture and warmth to a bed or couch.

3

FOR A CLEAN SLATE

When it comes to interior paints, no two shades of white are alike. Case in point: These two classics from Portola. Table Linen, a warmer shade with yellow undertones, and Wings, a cooler, slightly darker white, are ultimately perfect backdrops to any space.

4

DRESSED-UP LWD

A year-round closet workhorse, a little white dress meets almost any dresscode mandate. This one is done in the prettiest eyelet so it feels extra special.

CO. Poplin Flower Cut-Out Dress, goop, $875

5

FRESH KICKS

A pair of crisp, off-white kicks can hold their own with a modern trouser suit and aprés a round of tennis; the Velcro adds retro appeal.

6

COLD COMFORT

Made of incredibly soft alpaca wool, this luxurious throw is generously sized for curling up by the fire and works just as well on a long-haul flight.

7

STIR THE POT

This oven-to-table piece is ultra thick with a special glaze that promotes far-infrared radiation, enabling heat to penetrate the core of whatever you're cooking—say, a hearty stew or this ginger-rice with chicken recipe.
8

ALL-WHITE BLOOMS

An all-white bouquet is striking in its own right, particularly when layered with hints of seasonal foliage.

FARMgIRL FLOWERS
Minimalist Bouquet
Farmgirl Flowers, starting at $70

9

OFF-WHITE DENIM

One of the building blocks of a year-round wardrobe, a pair of white jeans is indispensible. For the cooler months, opt for a heavier weight denim in a warmer, off-white hue.

10

TAKE-EVERYWHERE TOTE

If your go-to neutrals are black, grey, and navy, a structured bag like this adds a graphic element to an otherwise monochromatic look.

11

The Most-Used Gadget in Your Kitchen

Start with a simple recipe, such as this chicken and zucchini noodle pho, and you'll reach for the spiralizer so often, you may never put it away.

HEMSLEY & HEMSLEY The Spiralizer goop, $65

12

A Do-It-All Serving Bowl

A must for every kitchen, artist Dora De Larios makes every bowl by hand, forming it on a potter's wheel before glazing—resulting in a textural, artistic piece that looks just as good displayig fruit as it does at the dinner table.

13

A Day-to-Night Chameleon

A pretty blouse can be paired with just about anything, from a pair of vintage jeans to a pencil skirt

ATLANTIQUE ASCOLI x goop
Rhapsodie Blouse goop, $672