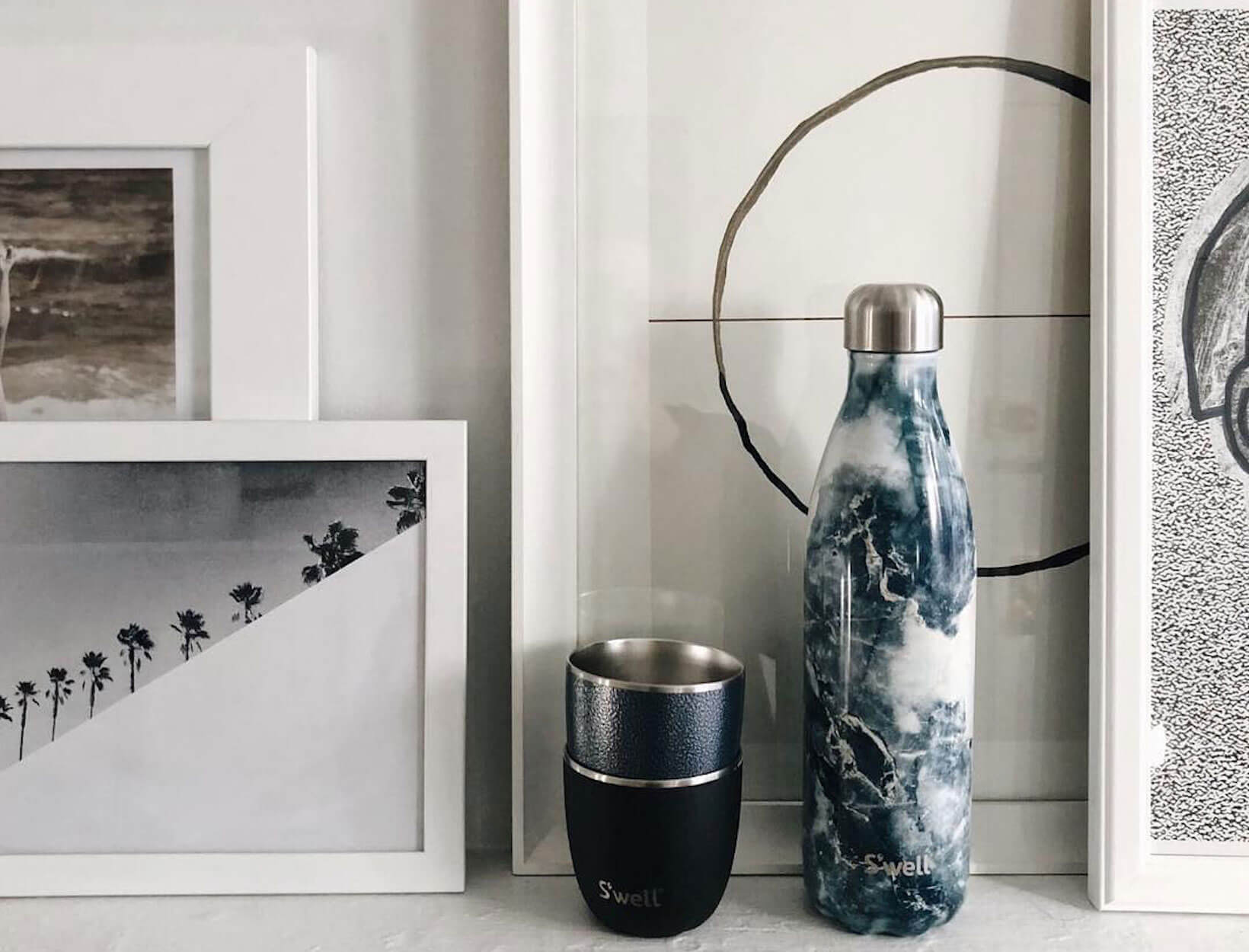 12 Brands Designing with a Conscience
In partnership with our friends at


It may have taken a few years, if not decades, but ideas like sustainability, transparency, and fair trade are finally part of the national conversation. And it's not stopping there. "Low-waste-water denim" and "responsibly-harvested cotton" are terms that companies are now brandishing with great pride. And for good reason: Your closet and your kitchen can have a truly clean conscience.
We've rounded up a few of the brands that are doing good—some big and powerful, others small and mighty, and a few that are new to the scene. These lines are thoughtful, stylish, and most beautiful of all, made with integrity.
S'WELL

Founder Sarah Kauss launched S'well in 2010 with a singular mission: Rid the world of plastic bottles. The good news is that S'well's assortment of bottles has quite literally swelled—from the standard seventeen-ounce version to include tumblers (good for on-the-go morning coffee or a smoothie), and roamers (sized right for the park or for passing around the campfire). The bottles are made using Therma-S'well technology, so drinks are kept hot for twelve hours and cold for up to twenty-four. There are hundreds of colors, ombré patterns, a special collaboration with Liberty London, metallic camos—you name it. Best yet, an ongoing partnership with UNICEF allows S'well to focus efforts on supporting water programs in Madagascar, where 50 percent of the population lacks access to clean drinking water.
BIRDS & BEANS

It's hard not to take coffee for granted—that is, until you learn about some of the effects of its harvesting. A large population of migrant songbirds that head to central and South America during the winter has been in decline due to a loss of habitat caused by deforestation by commercial coffee farms. In an effort to fight this, the founders of Bird & Beans Coffee dedicates its resources to nurturing natural, shade-grown coffee farms, which are a thriving habitat for the birds. By using environmentally sound and sustainably-grown beans, Birds & Beans helps to preserve more than 100,000 acres for the birds to live in. And the coffee—light, dark, and medium roasts—is robust and delicious.
BOLÉ ROAD TEXTILES

Interior designer Hana Getachew launched Bolé Road Textiles with the intention of getting back to her roots. Combining the two things that mattered to her most—her Ethiopian heritage and love for design—her beautiful, minimalist textiles are not only ethically sourced but handspun in Ethiopia using ancient weaving techniques. The result is authentically crafted pillows and textured throw blankets in abstract patterns that are as soft as they are pretty.
CLARE V.

LA-based designer Clare Vivier is adored for wear-everywhere leather bags, clutches, and wallets, but she's also known for using her voice to support important causes, like Every Mother Counts and Planned Parenthood. In response to last spring's school shooting in Parkland, Florida, Clare V. released a T-shirt and sweatshirt with the phrase "Ça Suffit!" a French expression meaning "that's enough" that can be used to express anger or exasperation. The company also supports Everytown for Gun Safety, to further the organization's mission of ending gun violence in the US.
HERMÈS

Documentary filmmaker Frédéric Laffont gets an all-access pass to the storied French
house—spending time in a leather-goods workshop in Montbron, France, or witnessing the tradition of silk marbling in Kyoto. Through Footsteps across the World, a series of short films, it's clear that the what sets Hermès apart is truly the commitment to craftsmanship and the artisans whose precise attention to detail keep the brand moving forward. Particularly charming is the story of the Prudhomme brothers, who oversee a leather workshop in Pantin, France, where they serve as equal parts gatekeepers and mentors.
LEVI'S

The most classic of classic American brands has been pushing boundaries when it comes to large-scale production, implementing techniques that use far less water than traditional methods and working to source 100 percent of its cotton sustainably by 2020. With the midterm elections approaching, Levi's has teamed up with Rock the Vote to create a limited-edition T-shirt encouraging everyone to exercise their right to vote; select Levi's storefronts across the US will also have voter-registration stations.
OUTERKNOWN

"We're surfers who grew up with surf brands, but we grew out of logos. We want to make clothing that's made better and looks better," says John Moore, who started Outerknown with surfing champ Kelly Slater. As part of their Social Environmental Accountability program, they launched S.E.A. Jeans, using 100 percent organic cotton from Candiani and Isko—two of the most respected mills in the world. Their denim is produced in Saitex in Vietnam, a solar-powered factory that recycles 98 percent of the water used in development; they also air-dry the jeans to save energy. The collection is also backed by a lifetime guarantee, meaning they'll repair or replace damaged pairs, too.
PARKER CLAY

Ian and Brittany Bentley were living in Ethiopia, where they'd adopted two young girls, when they had their lightbulb moment. Ian was shopping for a birthday gift for Brittany when he came across a beautifully made leather bag at a local market. After learning that high-quality, ethically sourced leather was being produced by tanneries in Addis Ababa, the Bentleys decided to launch a business that would allow them to employ local women, many of whom who previously had been involved in sex trafficking. The idea was to give the women an opportunity to sustain ethical work opportunities—and become financially independent.

The women Parker Clay works with often become the breadwinners in their homes and are able to send their children to school, prepare balanced meals for their families, and ultimately break the cycle. The line includes plenty of carryalls, leather envelopes, and Dopp kits, but we're partial to the overnight weekend bag, which is made from the kind of super soft grain leather that only gets better with use.
RAVEN + LILY

We first fell for Raven + Lily's buttery-soft leather bags; chunky, rustic brass jewelry; and silky jumpsuits. Then we learned how the brand has been empowering women since its inception in 2008 (it was first founded as a nonprofit and evolved into a for-profit business in 2011). Raven + Lily employs female artisans—currently more than 1,500—in impoverished countries across the globe. The company provides them the chance to make a fair living by creating their handmade items for the brand, all of which are made of sustainable materials. Even more heartening, Raven + Lily gives back a portion of its earnings to help fund loans and skills training to women living with HIV.
ROTHYS

Two guys from San Francisco spent four years figuring out how to turn plastic water bottles from recycling centers into comfortable, machine-washable flats that women would actually want to wear. The result is Rothys—line of loafers, ballet flats, and slip-on sneakers made of a sustainable, stretchy, lightweight woven fabric in bright colors such as lemon drop and persimmon, plus classic shades like navy and sand. The manufacturing process is pretty fascinating, too: Water bottles are chipped into flakes and converted into pellets. The pellets are then heated and turned into soft filaments of plastic before they're knitted using a 3D machine, a precise process that minimizes waste. And the ethics behind the business go beyond fair labor and a state-of-the art facility in Dongguan, China—they also counteract the fossil fuels used for shipping by purchasing carbon credits to fund Project Envira, which converts carbon emissions back into oxygen.
SIEN + CO

Working closely with independent Peruvian and Argentinian artisans to find the best textiles (organic Pima cotton, sheep and alpaca wool handwoven on looms in their own backyards), Alexandra Gibson launched Sien + Co in 2016 with a range of ethically sourced, handcrafted knits and sustainable home décor. We particularly love the giant, handwoven decorative pillows, chunky throws, and natural rugs made with earthy pigments derived from local plants and other natural resources.
ZAHAVA

Jessica Hendricks Yee is no stranger to leveraging fashion to make an impact. In 2012, she launched the Brave Collection, a line of jewelry handmade by fair-trade artisans in Cambodia, and donated 10 percent of the profits to help fight human trafficking. "The drive to create brands with a positive social mission has become a part of me and the way I think about business," explains the serial entrepreneur. In fact, her passion for combining fashion and philanthropy is what jump-started Zahava, a thoughtfully sourced line—she works with master metalsmiths in Tel Aviv and all the diamonds are conflict-free—that explores the notion of cross-cultural heirlooms. Hendricks Yee, who recently had her own Jewish-Chinese wedding, wanted to design pieces that celebrate all cultures—and are meant to be passed down. There are pendant necklaces engraved with protea flowers to celebrate renewal, pomegranates to honor inner beauty, plus rings with engraved sayings like "The light within" and "I am here."