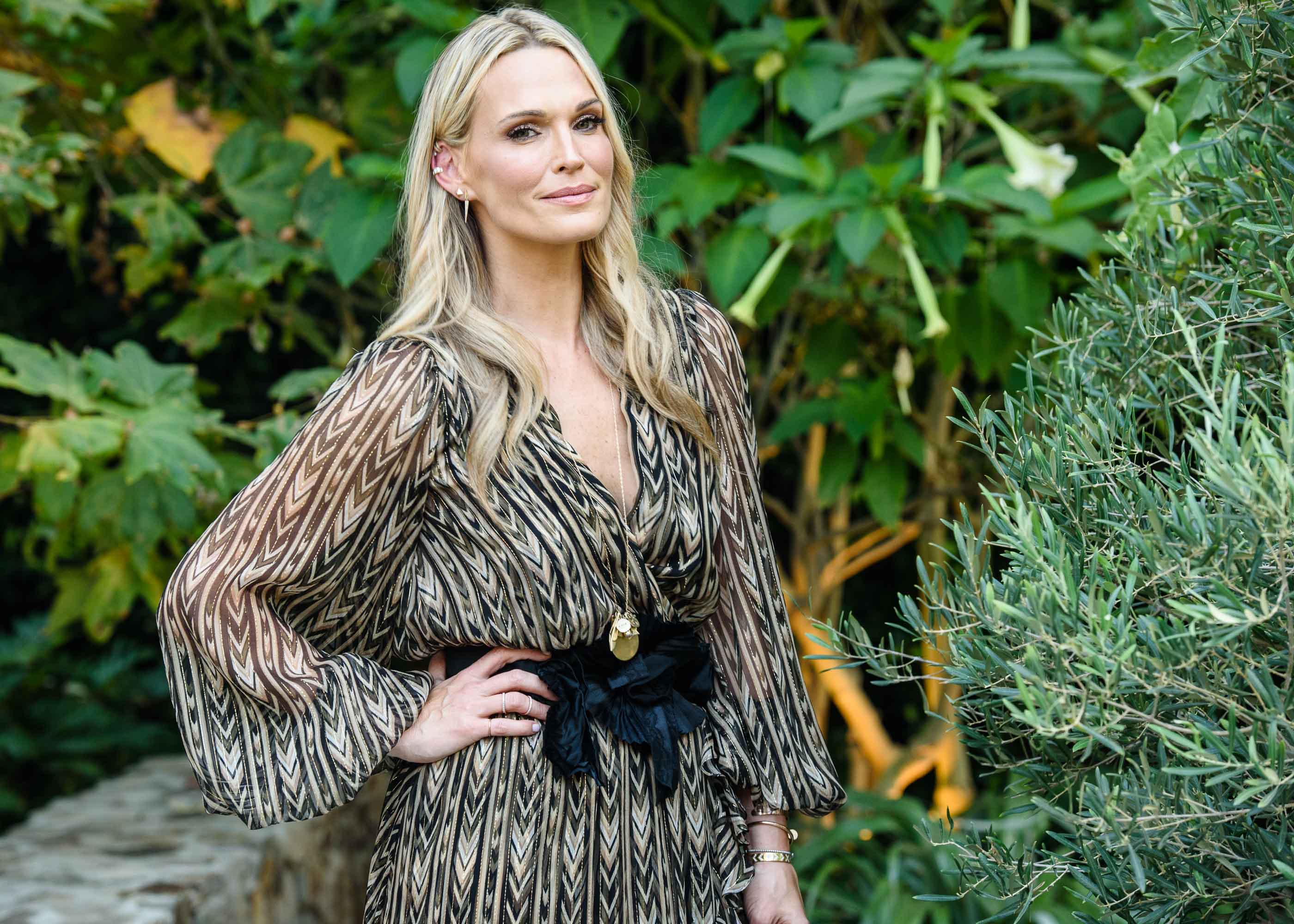 10 Healthy Life Hacks: Molly Sims on Tracy Anderson, Moroccan Chicken, and How She Never Ages
Molly Sims is no stranger to both balance and hard work: She might cap off nights with a glass of rosé and a raging backyard party (case in point, see below), but she undoubtedly hit the mat that morning for a grueling Tracy Anderson workout. Keeping it all in healthy check—rather than the incessant deprivation and meal skipping that marked many of her years as a model—is something Molly has mastered, which is just one of the reasons she still looks incredible. And the fact that she acknowledges that it's not that easy, is just one of the reasons that we love her new book, Everyday Chic.
The mother of three, Molly Sims learned how to cook when she was pregnant with her first, and has since mastered that world of healthy food that kids are happy to slam—those recipes are in her book, along with entertaining tricks that she picked up long before she had kids. No stranger to throwing a good party (she's a Kentucky girl after all), Everyday Chic reads like a who's who and what's what of event and interior design. This was all on display at the book launch party she threw in her backyard: Casamigos margaritas flew freely until late that night, kids ran underfoot (until slightly less late), and the food managed to be both decadent and healthy, that hard-to-achieve balance mentioned above. You can see more of the backyard throw-down below–plus, we asked Sims a few follow-up questions on how she keeps it all together.
Now on stands:
Everyday Chic, filled
with Molly's tips and
strategies for feeding
your family,
entertaining, and
making a home.

Sims and her son, Brooks.

Simone Le Blanc's
gorgeous bouquet station
(aka: genius party favor idea).

Healthy bites à la The Clean Palette.

Mama Sims.

Fall bounty.

The lovely takeaways including
a gift box from
Simone Le Blanc, Casamigos, and
our own goop Fragrance.

Stefanie Cove helped to transform Sims' backyard
for the party. "We wanted to bring the warmth of
Molly's home to the outside," says Cove.

With fellow "Supermommas"
Jen Garner and Rachel Zoe.
Photos by Hannah Thomson
A Q&A with Molly Sims
Q
What's your morning routine? Anything you do religiously before the day gets away from you?
A
I always start my day with a cup of organic coffee with coconut milk. I've realized that the more kids I have, the more I need it. Mornings are also the time when I get a workout in. If I wait until the afternoon, I just won't do it–I've learned! A lot of times, I wake up earlier than the kids and try to get a good hour in. Then before we get ready for school, it's breakfast time, which we take seriously in our home. That quality time before the day begins is important to me.
Q
Morning smoothie recipe? Go-to breakfast?
A
I love a smoothie in the morning. I worked with nutritionist, Kelly Leveque when I was losing my baby weight with my third child, Grey. She had a green smoothie on my plan every morning and I was addicted. Her Spa Smoothie is one of my favorites. If I'm needing something a bit heavier, egg whites or turkey bacon are my go-to.
Q
How do you look the same as you did ten years ago? What are your beauty habits?
A
Oh, well thank you! I think it all comes down to overall health. When I was modeling, I would starve myself to be thin for a shoot. I'd end up losing my glow and looking exhausted. I came to realize that the best possible thing you can do for beauty starts from the inside. I eat well, I exercise, and I drink a lot of water. Hot water with lemon and cayenne is like the best beauty elixir out there. So is aloe water. Vitamins are huge, too. I've taken Viviscal forever which has kept my hair thick through all the wear and tear it's gone through in the industry.
It's also about the power of a good skincare routine. The earlier you start, the better. I love face masks—especially sheet masks, recently. The Joanna Vargas Eden Lift Sheet Mask is amazing. So is the Honey Mud mask from May Lindstrom if I want something super luxe. For toner, it's all about the P50 lotion from Biologique Recherche.
And it's important to get a facial every month, if you can. I still have hormonal skin so when I feel my skin starting to act up, you better believe I'm paying everyone's favorite skincare goddess, Shani Darden, a visit! In NYC, I visit Georgia Louise for a facial—it's a great detox and refresh for the skin. I also love LED red light masks for a glow.
Q
Tell us about your exercise routine: What and how often? How did you get the baby weight off so quickly?
A
I like to exercise three to four times a week. Even if I'm exhausted or busy, I still try. It feels good to get the blood pumping. Normally, I do Tracy Anderson high-intensity circuit training with some dance. I'm kind of obsessed. It makes something painful actually fun, which helps.
As for the baby weight, it was definitely hard work. Like I mentioned before, I started working with nutritionist, Kelly Leveque after I had baby Grey. For twelve weeks, I was strict with myself on her Fab 4-plan, which consists of proteins, greens, fiber, and fat on every plate, at every meal. So, when eaten together, the nutrients turn off all hunger hormones in your body and regulate your blood sugar which helps to keep you satisfied for longer. Post-pregnancy hormones and dieting are a tough mix! We put my entire #BikiniAfterBaby plan on my website so people could follow along. Kelly also has a book out called Body Love, which has all the tips she taught me.
Q
How do you find time for yourself within the context of a career and three kids? Are there specific pockets that you carve out or do you just land grab minutes throughout the day?
A
With three kids, it's definitely getting harder–especially since Brooks and Scarlett are getting to that age when they have activities practically all over the place, at all different times. If I can find the time, I'll take it. But, if I really need it? I'll make it happen. It's definitely necessary for everyone—not just mommas—to recharge. I'll walk to the beach, I'll go shopping, or I'll get a massage. I've even left the kids with my husband and told them I went to run errands–meanwhile, I've snuck upstairs to take a bath. If you need it, say it.
Q
What elements of your Southern upbringing have you brought with you to California? Any hosting tips?
A
It's funny because the older I get, the more Southern I become. Who would have thought? I think the tip I always remember from growing up is that there's no occasion too big or too small for adding in those chic details. For example, a great floral arrangement and a homemade pitcher of Moscow mules takes little effort but makes a huge difference. It also comes down to that Southern hospitality. I've learned that as long as you have enough food, enough alcohol, and a great group of people, you have everything you need. And, lastly—never come empty handed. I always bring a hostess gift whether it's a candle, orchid (because it lasts longer), or a nice pitcher.
Q
Before you had your first baby, you said you weren't drawn to cooking, but now you're the resident chef in your home. What's your go-to kid-pleasing recipe?
A
Pasta and turkey pesto meatballs. If we put them on a skewer, even better. I've also realized that my kids will eat anything if it's colorful or fun. I'll cut fruit and veggies into shapes, create bento boxes of their meals. Anything that I can do to save time and not deal with a picky eater, I'll do. It's super easy and just takes a little creativity.
Q
Favorite weekday meal?
A
I love preparing one-pot meals that the kids will love, as will my husband and I. Sometimes, I'll even make ahead of time so I can just pop it in the oven. Our family favorite is a Moroccan Chicken, which I included in my book. It's seriously a hit in our house. My kids love the olives and lemon that go in it. Whoever tries it needs to tell me what they think.
Q
In your book, you write about keeping sh*t real–how there is essentially no such thing as perfect. How does this manifest in your life?
A
I've realized perfection, in life or motherhood, is simply unattainable. It wouldn't be real, either. But, when you have a busy life or are juggling a family and career, it's easy to get caught up in the guilt. So, I always remind myself to put things into perspective. Motherhood is messy. No one ever said it would be easy, but nothing worth something ever is. You just have to plan and prepare as much as you can but when sh*t gets real? I've learned that all you can do is channel your inner supermomma and roll with it.
Q
What advice would you'd give yourself pre-kids?
A
Don't worry: everything will work out. Have faith in yourself and all that you do.
Molly Answers the goop Questionnaire
Hometown: Murray, Kentucky
First job: Working for my dad in his bookstore, Southeastern Book Company.
What you'd put on your neon sign: I actually have a neon sign and it says Happy Mess on it.
Won't leave home without: Sunglasses! I'm obsessed with Gentle Monster at the moment.
Essential beauty product: Tiliq eye patches.
Won't fly without: ​My iPad and my lucky charm necklace–I'm superstitious!
The thing you buy in bulk: Diapers.
First celebrity crush: Jason Bateman and Michael J. Fox aka Alex P. Keaton!
People on speed dial: My girlfriend Emese and my husband​.
Favorite hotel: The George Cinq in Paris.
Favorite vacation hotel: ​The Aman in Venice, Italy​.
Favorite fabric: Cashmere.
Favorite designer: Johnathan Simkhai.
Drink of choice: Eastern Standard or rosé.
Proudest moment: Getting my son potty-trained after a year of trying​.
Perfect Sunday afternoon: Having friends and family over to swim in the summer, lots of good food and of course: lots of rosé!​