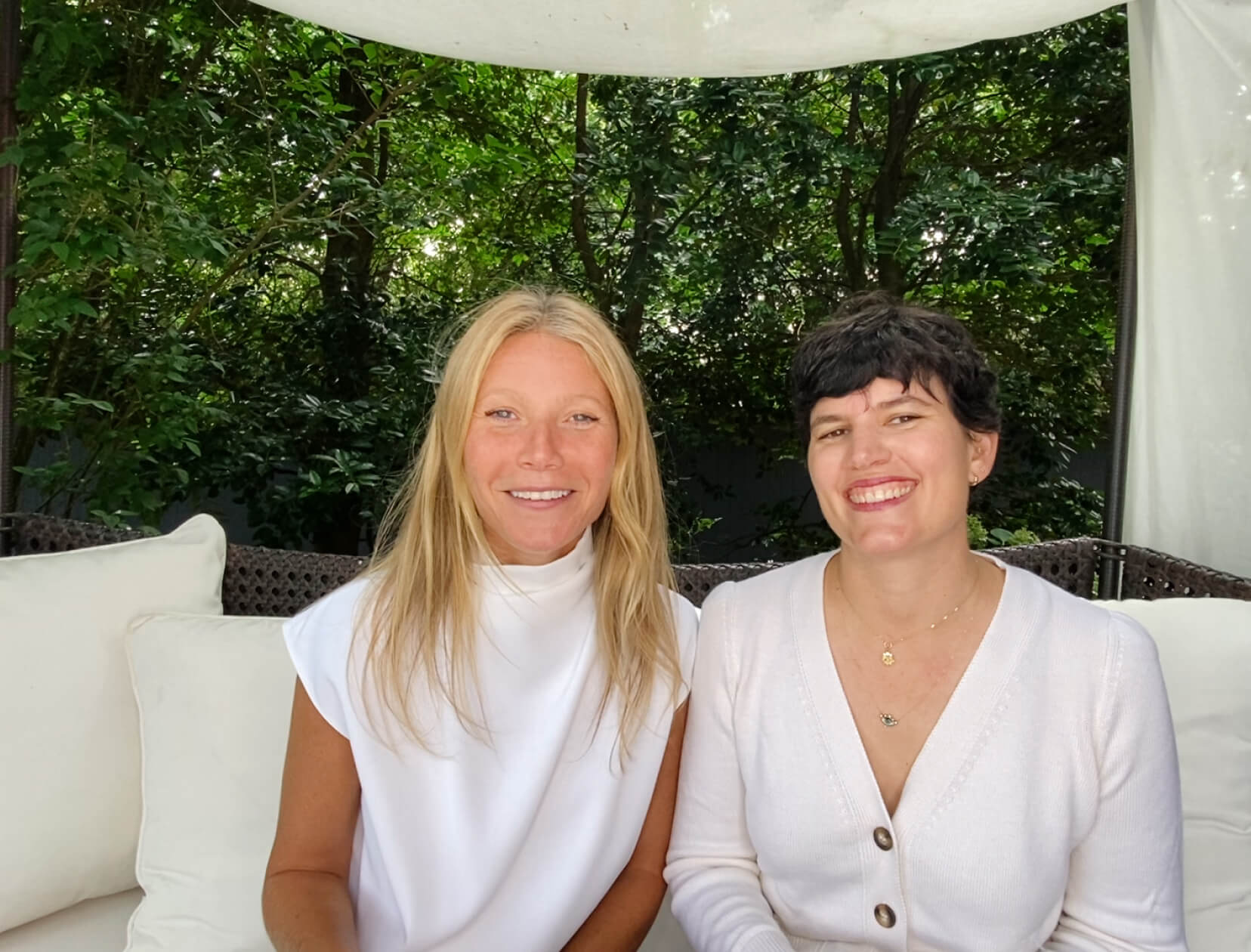 When to Eat, How to Manage Stress, and
Other Recipes We Learned at the First
Virtual In goop Health Summit
In partnership with our friends at Ketel One Botanical, New Chapter, and PUMA
There were some clear learnings—on topics including exercise, cocktails, and houseplants—from our three-week In goop Health program. But we'll get to those in a minute.
When we set out to take our summit online, we didn't know if we could re-create the magic of the community that formed at our previous eight in-person adventures. And we didn't know it could be so fun doing it sitting behind a computer screen. The In goop Health Slack group got chatty. And deep. (Thanks, GP.) We loved seeing what different people learned from the classes, what moved them, what made them rethink an old habit, and their surprise after trying out a new skill or recipe. (Thank you to everyone who joined us, from every time zone.)
If you weren't able to make it, we hope you can next time. Stay tuned for an announcement on what's coming in 2021. And in the meantime, if you're curious about what went down, we're sharing six tips and takeaways. Plus, some related tools that can help augment the work or bring joy to it.
FOLLOW THE SUN

When it comes to food, Ayurvedic practitioner Avanti Kumar-Singh, MD, says that although what we eat matters, why, when, where, and how much matter more. According to the principles of Ayurveda, our eating schedule should follow the path of the sun, because it's believed that our digestion is most effective when the sun is at the highest point in the sky. So, Kumar-Singh says, we want to eat our largest and most difficult-to-digest meal midday and eat smaller, lighter meals in the morning and evening. She suggests eating breakfast between 6 a.m. and 8 a.m., lunch between 10 a.m. and 2 p.m., and dinner before 7 p.m.

goop x GreenPan

BLUSH PADOVA 10-PIECE SET

goop, $300

The pro-grade pots and pans that kept coming
up during IGH cooking conversations.

SHOP NOW
FASCIA FANGIRL

Body alignment specialist Lauren Roxburgh was one of the first people to turn our attention to the sensory organ fascia, the connective tissue that lives right underneath the skin and above the muscle. (Roxburgh believes it to be a place where we hold a lot of emotional energy.) She shared simple movements to help nourish this part of the body, as well as to help sculpt it. Our partners at New Chapter brought home the restorative section of the routine (below, see Zyflamend.) To experience Roxburgh's fascia work for yourself, check out some of our favorite routines she's put together for us over the years: foam rolling for better sex, family-friendly yoga, and three tools for deep self-massage

OPTP

LOROX BODY SPHERE

goop, $23

Use it on sore muscles, your stomach, and
lower back. Or as an exercise ball for
strengthening the pelvic floor and core.

SHOP NOW
SKETCH AWAY STRESS

Creating art is a great mindfulness practice, but people are often hesitant to try it because they don't feel up to snuff creatively. Through simple exercises, Meera Lee Patel showed us how attainable it is. For example, she had us do an exercise where we drew our own self-care box, and then inside that box, we sketched doodles (in the Moleskine that came with the In goop Health kit) of things that bring us joy, strength, and hope. People very quickly forgot how pretty (or not) their drawings looked, because they were lost in the sensation of putting pen to paper and deep in reflection on the things that make them feel the most encouraged and supported. Patel's new book, Create Your Own Calm, is filled with exercises like this, and she gave us a sneak peek, if you'd like to check it out.
CHEESE BOARD FTW

We wish our senior director of science and research, Gerda Endemann, would write a goop PhD article on weeknight dinner fatigue. Because it's real. In the meantime, we turn to food director Caitlin O'Malley for inspiration. For something simple and fun, she likes a decked-out cheese board: "Honestly, cheese boards are my love language." According to her, the trick is to have one hard cheese, one soft, and one semi-firm. For example, a Manchego, a goat, and a blue. This balance ensures you have a variety of milk types, textures, and aging techniques, which is key to delivering big flavor. (Dairy not your thing? Don't miss O'Malley and Endemann's new guide to vegan cheese.) In her tutorial, O'Malley also showed us how to make two cocktails: the Sumac Salty Dog and the Crimson & Clover Sparkler, courtesy of our longtime friends at Ketel One Botanical.
PLANTS, NOT FURNITURE

Plant coach and urban farmer Nick Cutsumpas says the biggest mistake he sees people make (other than overwatering) is treating their plants like furniture. That is, considering the aesthetics of their placement in the space above the needs of the plant. He's a firm believer that people don't kill plants; wrong environments do (most of the time). Be mindful of four things when you're assessing your space, says Cutsumpas: the direction of the light available to you, the temperature and humidity (be careful of cold drafts from open windows and AC units), the potential growth of the plant, and your lifestyle choices. If you're looking for a hardy plant that isn't too sensitive to these conditions, he suggests the Sansevieria, or snake plants, of which there are a surprising number of varieties.

Farmhouse Pottery

TRUNK GARDEN POT

goop, $52

Hand-thrown and comes
small, medium, or large.

SHOP NOW
GOOD THINGS COME IN SHORT WORKOUTS

Trainer Keisha Villarson has always been a big proponent of the no-equipment at-home workout, which has come in handy this past year. She's perfected a routine that works multiple muscle groups and packed it into one twenty-five-minute class. The session she put together for In goop Health left people a little sore, a lot happy, and ordering her PUMA outfit—pictured above—bra, pants, shoes. Head to Instagram to follow along with her workouts.

goop x SOMA

GOOP GLASS WATER BOTTLE 25 OZ

goop, $40

Made from a shatter-resistant glass,
with a protective silicone sleeve.

SHOP NOW
P.S. There are many more gems to be found in the work of all the experts and practitioners who joined our digital summit: Maryam Ajayi, Austin Channing Brown, Tracey Byer, Nick Cutsumpus, Laura Dern, FaceGym, Maya Feller, Emily and Amelia Nagoski, Penda N'diaye, Rachael Osborne of Gaga/people, Meera Lee Patel, Lauren Roxburgh, Avanti Kumar-Singh, Keisha Villarson, and Trinity Mouzon Wofford.
---
---
We hope you enjoy the products recommended here. Our goal is to suggest only things we love and think you might, as well. We also like transparency, so, full disclosure: We may collect a share of sales or other compensation if you purchase through the external links on this page.