Human Design: Were We Coded at Birth?
Written by: the Editors of goop
|
Published on: April 27, 2017
|
Updated on: September 27, 2022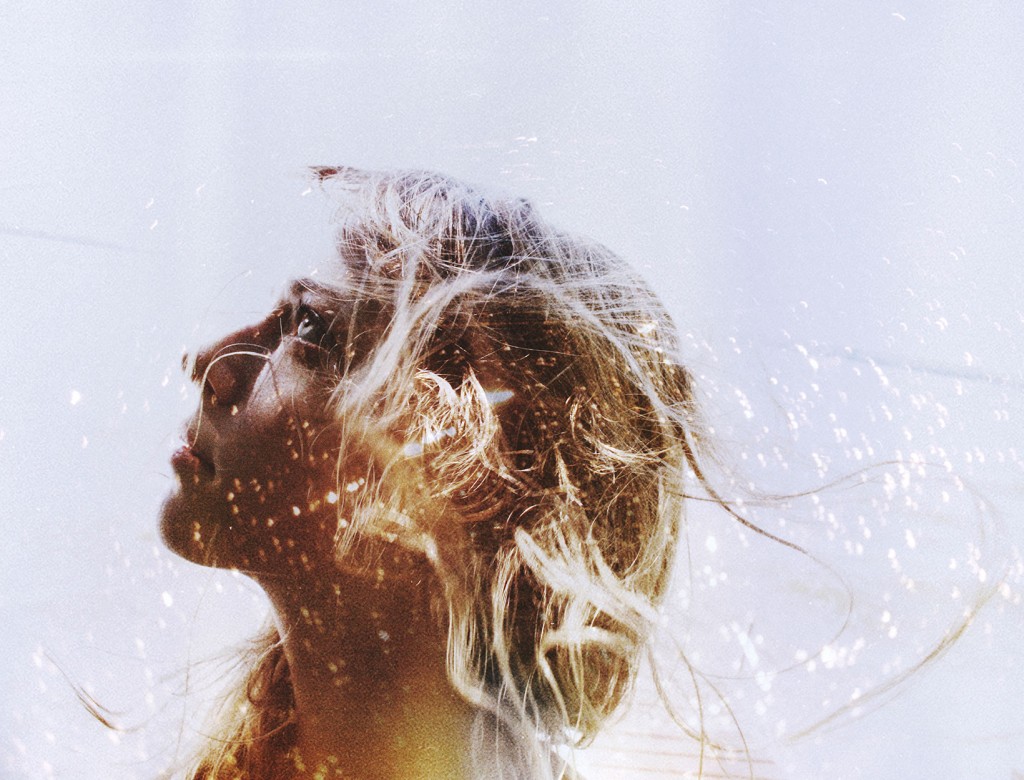 Imagine a system that explains how you were built, and how to best respond to the world—like a combination between astrology and Myers-Briggs. It's called Human Design, and its creation story is one for the ages: In short, Ra Uru Hu (née Alan Krakower), a former advertising executive and magazine publisher, had an eight-day visitation in the '80s with a "Voice," who dictated a mechanical system that's literally a four-hundred-page textbook for how we all work, as defined by our time and place of birth. While it sounds nuts, when you actually generate your chart, you may be surprised by how much it sounds like you. While it's easy to get a periphery understanding from Ra Uru Hu's official site (it's run by his family, as he passed away in 2011), you can also load up the talking Bodygraph here, or book a reading with a certified analyst. Speaking of certified analysts, we asked Lynette Hagins, who teaches Human Design and gives readings herself, to explain how it works.
A Q&A on Human Design with Lynette Hagins
Q
What is Human Design?
A
It's a logical system that brings together principles of The I Ching, astrology, Kabbalah, Hindu-Brahmin chakra system, and quantum physics. Your Human Design Chart, also called a BodyGraph, is calculated using your birth date, time, and place, to reveal your genetic design.
On the most practical level, Human Design shows you where and how to access your body's consciousness as a decision-making tool, and ultimately, how to live as your true self. Human Design offers a map, or a manual, that indicates how you are unique as a person, and guides you in living in a manner that is in sync with who you are. When we live in alignment with our true nature, we begin to experience a level of comfort and acceptance for who we are, instead of chasing who we are not—and we're able to live out our real purpose in the world.
"No one is broken and yet we run around trying to fill up the open places and seek to be what we are not."
Note: Each and every individual is born with a design that is perfect for them. No one is broken and yet we run around trying to fill up the open places and seek to be what we are not. We all have our own mythology and purpose that we are designed to live out, our own gifts and magic we are here to bring to the world. These will unfold naturally when we are aligned with our mechanics.
Q
What do you mean by mechanics?
A
The BodyGraph is a map of genetic code that shows how our energy is here to correctly engage in the world. Have you ever wondered if you are using your energy, your life force correctly? When you look at your BodyGraph, you see how your energy is designed to "mechanically" navigate the world. Understanding your chart—in other words, understanding your own makeup—does not require that you believe in any other presence.
Q
What is the intent of Human Design? How can it help people make decisions and move forward?
A
Human Design provides two main sets of tools, called Strategy and Authority. The BodyGraph shows you what your unique Strategy and Authority is (see the different categories below), and this information can help you to make the decisions that are most in line with who you are, which will ultimately lead you in the direction that is right for you. When we operate with our body's natural energies instead of against them, we experience less resistance in our bodies and our lives. We live in an age of information overload, which can be both interesting and overwhelming at the same time. It can be a challenge to know how to move through the world, and what things to engage in. We can end up using our energy for the wrong things.
We also have a tendency to make decisions from our mind, bypassing our body's unique intelligence. The mind can ponder many interesting and inspiring ideas that we can enjoy reflecting on. We can use it when sharing ideas and perspectives with others; it's what Human Design calls an Outer (as opposed to Inner) Authority. Our minds, however, are not designed to know what is correct for our life. In Human Design, we say the mind is like the passenger in a car. Its correct role is to sit back and enjoy the ride, not compete with the driver (your body) for control of the steering wheel. The Human Design System's tools help the mind to be comfortable in the back seat. Over time, as you experiment with them, your mind can observe (and enjoy) your life instead of trying to run it.
"We have all of these mental stories about how we cannot be ourselves. Just simply understanding how you are hardwired is so helpful."
The Human Design chart is incredibly revealing. I remember Ra Uru Hu, the founder of Human Design, saying something like: At the very least people will get a sense of relief when they understand their design. Say someone comes for a reading and they are beating themselves up because they like to spend a lot of time alone. Maybe their friends and family think there's something wrong with them, that they're anti-social. When I look at their design, I see that they have ten lines of the Hermit and some gates of aloneness (in other words, they are designed to spend a lot of time alone). We have all of these mental stories about how we cannot be ourselves. Just simply understanding how you are hardwired is so helpful. We are not designed to be alike!
Q
Can you explain the different Types and their Strategies?
A
There are four different aura types that each have their own Strategy. Strategy is a doorway to living as yourself, affirming who you really are, and understanding and letting go of what you are not. Your Strategy supports you to work with your natural energy instead of working against it.
Q
Can you explain what open centers are?
A
We are always putting out energy and we are always taking in energy. The nine centers of the body are energy hubs that transform or transmute our life force. When a center on your BodyGraph is defined or colored in, it is fixed and reliable in the way in which it functions and operates. The centers on your chart that are white are open. These undefined centers are not broken or empty, and they do not need to be fixed, but they are the places where we are most vulnerable to outside influences. We can learn from them and gather wisdom, but we shouldn't make decisions from these centers. We're constantly conditioned through our open centers as we engage with life. Conditioning is not something that needs to be avoided, but it can become an issue if we take actions based on it.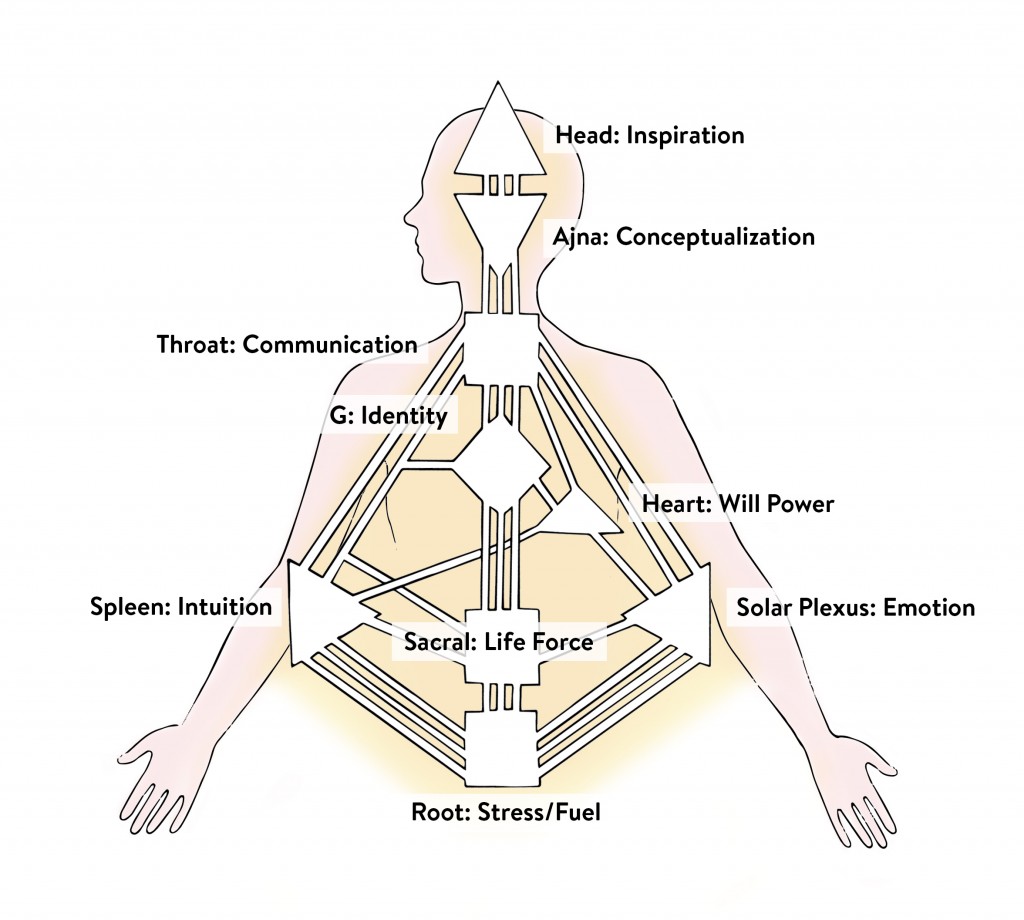 Say for instance you have an open root center like me: The root center is a pressure center associated with the adrenal system and the production of stress hormones. It is a source of fuel, or a physical pressure. The Not-Self question (asking it shows the opposite of your true self) for the open root center is: Am I still in a hurry to get rid of the pressure? When I am being run by my open root center, I am rushing around at Mach speed, maybe talking too fast or driving too fast, or completing a six-week deadline in six days. The amplified pressure in my body is very uncomfortable, so I want to get rid of it as fast as possible. My mind will make up a story that says if I move faster and get that thing done, the pressure will go away. It's such a joke because the pressure always comes back! The pressure in and of itself is not a problem, but when I attach mental stories to it and believe those stories, my energy is all over the place. Constantly acting on this amplified pressure can result in accidents, serious energetic burnout (adrenal fatigue, anyone?), and overall poor decision making.
"By observing or noticing the mental dialogue we experience
(rather than acting on it), we change our relationship to it."
So, where does one go from there? I'm here to become wise about pressure and stress. I can simply observe when I am feeling pressured and how stress functions in me and discern how to use it properly (via my Strategy & Authority). The key is to recognize what pressure belongs to me and what does not. De-conditioning, as it is called in the Human Design System, is a process of letting go of what we are not. By observing or noticing the mental dialogue we experience (rather than acting on it), we change our relationship to it. This is the beauty of quantum. Something completely new emerges and we become more aware and able to see everything in a new way.
Q
What about the different Authority types?
A
Your Strategy and Inner Authority go together to guide you. Your Inner Authority is your body's knowing or intelligence, how you know if a decision is the right one for you. You hear a lot these days about following your intuition. Human Design gets specific and shows you where your Authority lies so you can experiment and see how it works for you. It's a funny thing. You can look at your open centers and pretty much pinpoint where and how you've been giving your Authority away to things and people that are not you. When we intentionally practice with our true Strategy and Authority, we align with our unique path and genetic makeup. Things just naturally fall into place, from where we live, to our job, and our relationships.
If you're making decisions using your Strategy and Authority, then you are not making decisions with your mind. In the beginning, it is very common for our minds not to agree with this guidance! Everyone will experience their Strategy and Authority in a way that is unique to them. The only way to get the benefit of this information is to bring it alive within yourself by experimenting with your design. A foundation reading with a certified analyst can show you how—there are many nuanced details within each BodyGraph—but in general terms, the types are below:
Q
The formulas and information (especially beyond Authority and Strategy type) are quite complex—how does one train to become a human design chart reader/learn more?
A
The International Human Design School is the official certifying agency (and record keeper) for all Human Design professionals in the world. You don't have to learn all of the information to apply it to your life, but there are a wide variety of online classes and lectures listed on the site and even some self-study options as well. This is a great place to begin an education in Human Design, or simply dive in to the subjects that interest you the most. To become a certified analyst (chart reader), you'd start with the foundational courses, and then move on to the certification courses; there are classes offered by many certified teachers (you can see a list here).
The Definitive Book of Human Design is also a great resource for beginners, as well as advancing students, as is Jovian Archive, which houses all the works of Ra Uru Hu.
Q
How did you get into this work, and how has it impacted your life?
A
How did I get into this work? Well, in a word—pain. I was struggling and did not know where to turn. In 2006, a girlfriend of mine (who happens to be a Manifestor) briefly mentioned Human Design to me. At the time, I was going through my Uranus Opposition Cycle (also known as the mid-life crisis); my life looked fine on the surface, but somewhere inside I could feel that something was off, like I was headed in the wrong direction. As I researched Human Design, I had an immediate reaction; the system really resonated with me. After my foundation reading, I began to experiment with my Strategy and Authority, and my life completely shifted. I fell in love with my experiment and this led me to study Human Design, taking classes and working with the International Human Design School. Sharing what I learned became a passion for me; I got certified to offer readings myself, and started teaching classes.
"Eventually I was able to see that it's not about me getting
what my mind thinks it wants."
I am incredibly grateful for the information that Human Design has given me. I honestly feel like I never have to figure anything out ever again. It hasn't all been easy, and my Authority led me to some decisions that seemed crazy to my mind, but then life always supported me. Eventually, I was able to see that it's not about me getting what my mind thinks it wants. My days are just as mundane as anyone else's, but my perspective has shifted and continues to deepen. I have ceased constantly questioning and trying to change the events surrounding my life. I trust that my Authority will guide me to make the right decisions for my life when indicated. This all brought an increased sense of peace and relaxation to my body, and a sense of being more fully engaged in each passing moment. I don't get as "pulled around" by the changing energies as I used to, and being able to access the solid part of myself leaves me feeling empowered by something I know I can trust—ME!
And that's just the beginning. As you move through your own experiment, you begin to realize that it's really about seeing, and things just unfold with you playing your correct role. It's all there in the intelligence of our form. Imagine that.
Related: Mindfulness