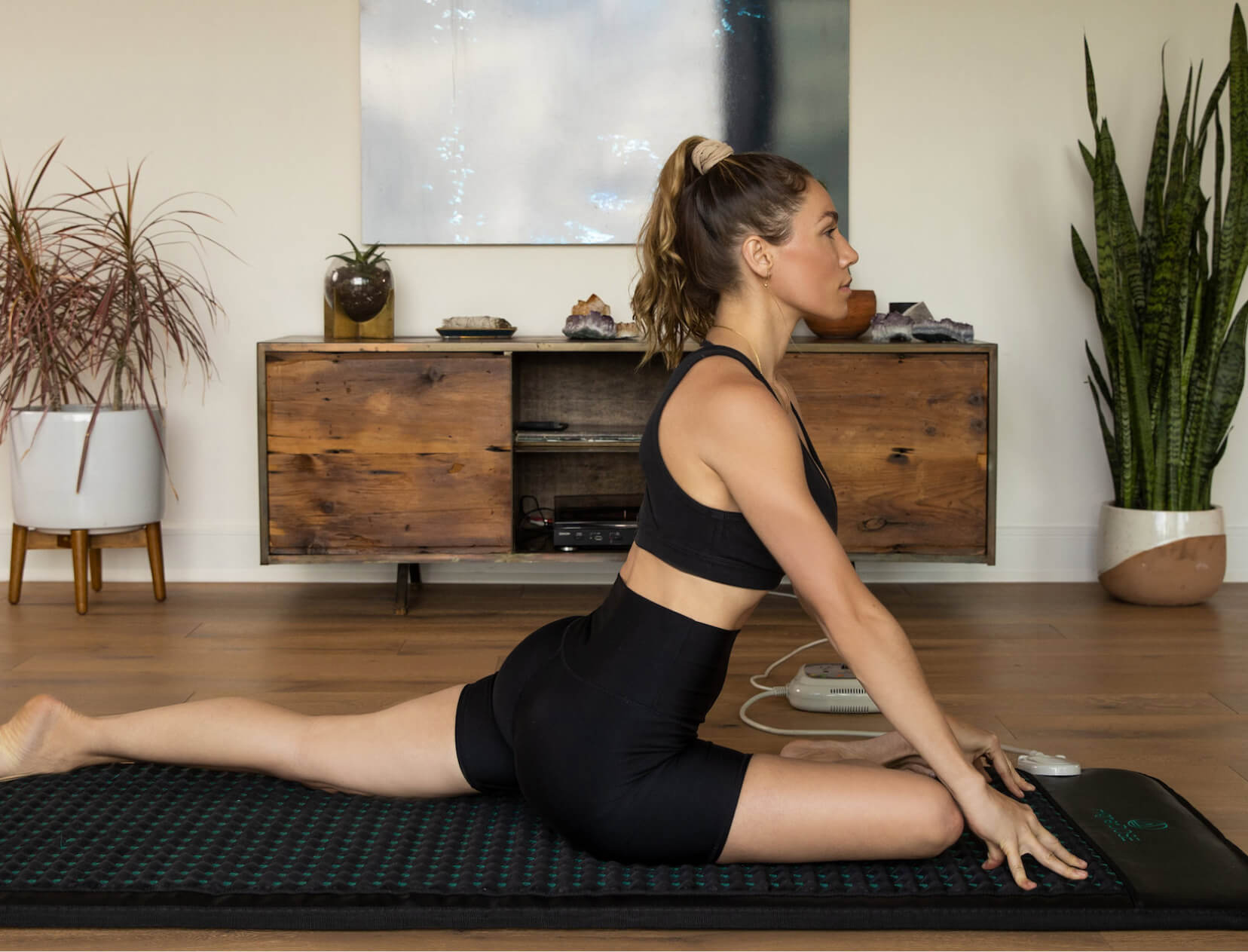 3 At-Home Wellness Routines Featuring Infrared Heat
Infrared heat is one of those magic things that opens everything up—your muscles and joints, your mind, and somehow, your emotional core. Which makes an at-home way to access infrared one of those wellness investments that's totally worth it: You can design a routine around a spiritual reset, a physical release, or forty-five minutes of uninterrupted sweat.
1
The Sweat Session
THE INFRARED HEAT SOURCE:
The HigherDOSE Infrared Sauna Blanket V3. It's all the magic of infrared sauna, except instead of making an appointment to step into a hot little room, you just fold yourself into this giant heating pad at home. It feels even better than we thought it would. And it's so easy: Just get dressed (more on that below), preheat the blanket, and slip yourself between its folds. There are nine heat levels; start low and adjust as you go. Then melt away in the power of the infrared heat—plus the blanket's internal layers of tourmaline, amethyst, and charcoal—for up to forty-five minutes.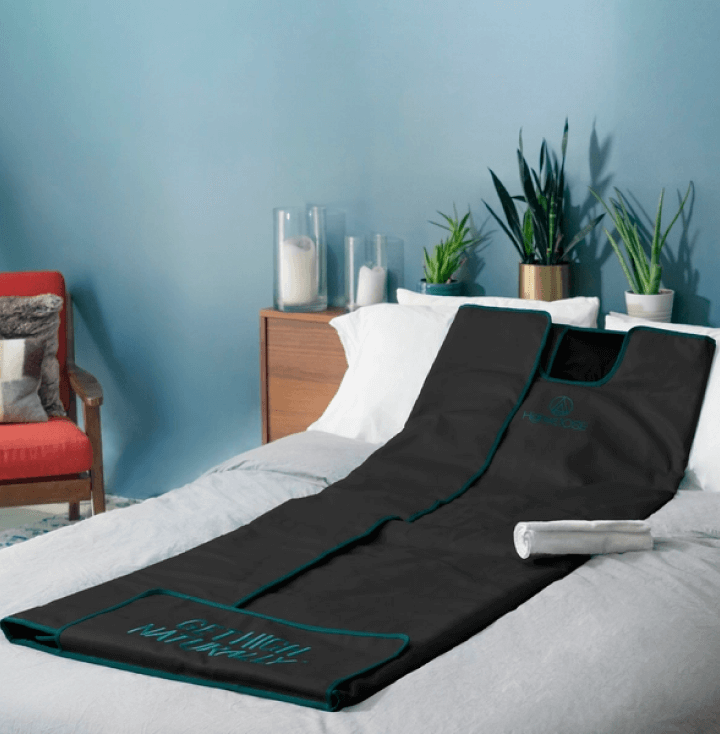 What to wear:
Full-length pants, a long-sleeve shirt, and nice thick calf socks. Covering up serves two purposes: First, it'll protect you. While the sauna blanket does use infrared heat, which warms up the body from the inside, it still gets hot to the touch, especially around the lower legs and feet. Second, the clothing will help absorb your sweat, so it doesn't start to puddle around you. (That comes in clutch for postsauna cleanup—just chuck your clothes in the hamper and give the interior of the blanket a quick wipe-down.) Opt for loose-fitting, breathable fabrics like cotton, modal, or merino when possible. Avoid fully synthetic options. We tried going into the blanket in polyester-spandex leggings once, and it was…swampy.
What to have on hand:
A good-size bottle of cool water. Things are going to get toasty, and you're going to be losing fluids through sweat, so be sure to drink lots of water before, during, and after your sauna. We love the Larq self-cleaning bottle. Every two hours—or whenever you press the button on its lid—it purifies your water with a UV-C LED light. It's insulated, too, so your end-of-sweat-session gulps are just as refreshing as your sips at the start.
How to pass the time:
Ears-only activities. What we've learned about simultaneously sauna-ing and fumbling around with a laptop or trying to turn the pages of a book: It's better not to try. Go for a few chapters of your favorite audiobook or a listen-through of the new Arlo Parks album.
2
The Physical Release
THE INFRARED HEAT SOURCE:
The HigherDOSE Infrared Mat. Made by the same people who created the sauna blanket, the infrared mat is a less sweaty way to access infrared. Rather than tucking yourself into a big pocket, you simply sit or lie down on top of the mat. You have the freedom to move around and stretch out. And you can get up for some water and come back without having to manage a Velcro situation. (You can also wear whatever you like—because there's more air flow, the experience doesn't get as hot.) The mat is built with layers of amethyst and tourmaline. If you're up for it, you can also crank up the settings for pulsed electromagnetic fields, which can be adjusted separately from the infrared heat.
How to pass the time:
While you can certainly just turn on the mat, plop down for a while, and call it a day, the HigherDOSE Infrared Mat also makes a solid foundation for your regular wellness routines. Do keep it low-key—this is not the time for your toughest HIIT workout. Instead, breathwork is great here. Lying down, try slowing the pace of your breathing by extending your exhales. It's incredibly relaxing to the mind and body. If you'd like some guidance, you can use something like Komusō Design's The Shift: You breathe in naturally, lift the device to your lips, and exhale through the narrow tube. The HigherDOSE mat can also handle some gentle movement, like stretching or some yin yoga. (Glo has an extensive catalog of yin yoga classes available on demand.) You might find that the heat allows for extra looseness in your muscles and joints, so you can sink deeper into pigeon pose and disappear into happy baby.
Wind down with:
A cup of herbal tea. Maybe chamomile if you're getting close to bedtime. If you're feeling perked up and want to keep the vibe going, try House of Waris's Sweet Clarity—a warming mix of adaptogens and botanicals, including rhodiola, eleuthero, tulsi, cardamom, ginger, sweet basil, and orange peel. It's sweet and spicy and everything we want in a post-infrared chill sesh.
3
The Spiritual Reset
THE INFRARED HEAT SOURCE:
The HealthyLine Gemstone Heat Therapy Mat uses five different therapeutic features: far-infrared heat, hot stones, red light, pulsed electromagnetic fields, and negative ions. It's designed to heat and relax the body and maintain overall well-being. If you'd like, you can drape the accompanying Mylar blanket over your body to trap in the heat and mimic the effects of a sauna. But the real stars here, as the name suggests, are the gemstones: Feeling thirteen pounds of amethyst, tourmaline, and jade warm up against your skin is a special kind of luxury.
How to pass the time:
Take advantage of the mat's flexibility. You can sit up, lean over, and reach for whatever without disturbing your infrared session, so why not use this time to do a little tarot or oracle card reading? Grab your favorite deck—we've been really into the Inner Compass Cards, developed by spiritual motivator Neel van Lierop—and fan them out wide. Pull any three and place them side by side. How do the themes represented in these cards show up in your life right now? Do certain ones reflect your past, present, and future? Can you spot a pattern?
If you want some extra help, reach for a guidebook. Most decks, including Inner Compass, come with some sort of manual explaining each card's symbolism and meaning. If you're using a classic tarot deck and really want to dive in, check out Holistic Tarot by Benebell Wen. At nearly 900 pages, it's more tome than light read, but for those who want to go deep, it's a worthwhile resource for setting up spreads and interpreting cards.
The vibe:
Light a candle, stream some essential oils through a diffuser, or set up a gorgeous incense situation. Cinnamon Projects makes an incense holder that we love: You can set it up to light the incense at one or both ends. This set comes with fifty sticks of incense in five different scents. The 7 AM incense—with aromas of black tea, clay, driftwood, and marigold—is one of the most balanced and meditative we've ever smelled.
We hope you enjoy the products recommended here. Our goal is to suggest only things we love and think you might, as well. We also like transparency, so, full disclosure: We may collect a share of sales or other compensation if you purchase through the external links on this page.