The Best Form of Exercise to Maintain Height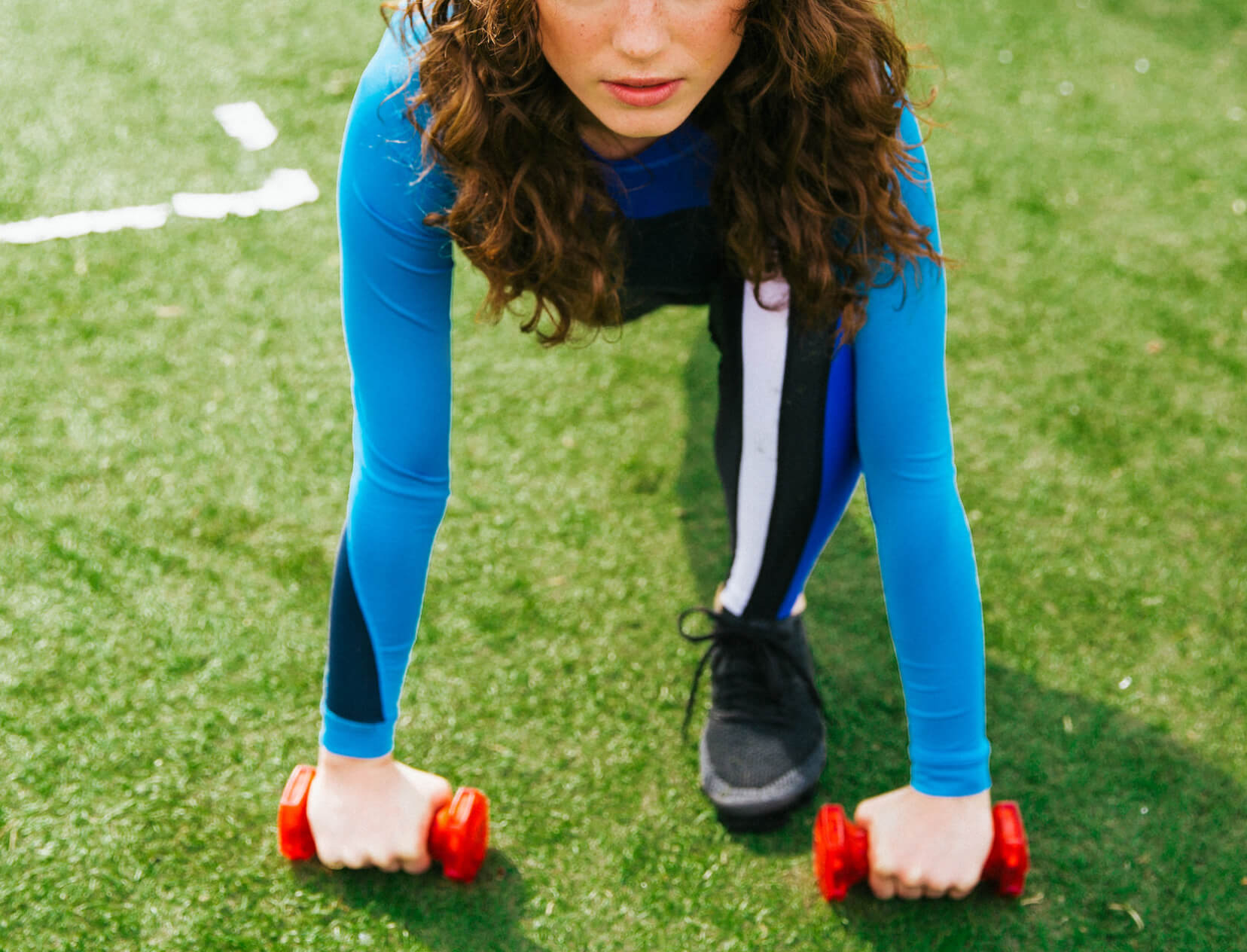 Photo courtesy of Heather Hazzan/The Licensing Project
Perhaps if we were aware of just how early in life osteoporosis starts to develop, and that its consequences aren't limited to broken bones, we'd take preventive actions sooner, including weight-bearing exercise. Weight training builds strong bones as well as muscles and can help maintain our height and upright posture throughout life.
WHAT IS OSTEOPOROSIS?
Osteoporosis is diagnosed when bones become so porous, weak, and brittle that falling or coughing can cause fractures. Vertebrae in the spinal column lose bone mass, shrink, and collapse. The results are:
Loss of inches of height

Back pain

Hunched posture

Broken bones
WHO'S MOST AT RISK OF OSTEOPOROSIS?
This isn't something to put off thinking about until you apply for Medicare. In our 30s, we start slowly but surely losing bone mass. The teens and 20s are the times to form as much bone as possible, and after that it's time to minimize bone loss. The likelihood of having osteoporosis increases with age, and is also higher in:
Women, especially after menopause

White and Asian people

People who are underweight

People who don't absorb the calcium they eat because of GI disease, weight-loss surgery, or insufficient vitamin D
HOW CAN YOU PREVENT OSTEOPOROSIS?
Physical activity helps prevents osteoporosis. In particular, weight-bearing activity can improve bone mineral density. And that includes the weight that you carry around all day, whether it's your normal body weight or ankle weights. People with a low body weight are at higher risk of osteoporosis than those with a higher body weight.
Cells in bones sense when they're subjected to stress and made to carry weight. They respond by forming new bone cells, which strengthens bones and reduces bone loss.
ADDING WEIGHT TO YOUR WORKOUTS
The Easiest Fix
Strapping these comfortable one- or two-pound weights onto your wrists or ankles is a simple way to make everyday activities and workouts more challenging.
Tools to Keep Handy
The soft silicone and neoprene coatings on these hand weights make them comfortable to hold. Curl them, press them, lift them, swing them, lunge with them, dance with them.
TONING MUSCLES AND BONES AND FINE-TUNING BALANCE
As we get older, it's not only our bones that shrink. Muscle loss happens unless we take active measures to counteract it, and toned muscles are important for maintaining balance. These tools boost muscles, bones, and balance. The Strength Sliders and the Balance Ball Kit allow you to use your own body weight to stimulate bones and muscles and optimize balancing skills.
AFTER THE WORKOUT
Adding movement and weight gradually to your exercise routine should prevent any strains. But for a little muscle pain from everyday activities, the Theragun Mini Rose provides a quiet, deep, percussive massage. And Therabody's high-tech Powerdot 2.0 provides relief using electrical signals to stimulate muscles and nerves. The well-designed app will show you how to use the Power Dot to help improve muscle performance, too.
NUTRITIONAL SUPPORT FOR BONES
Getting enough calcium and vitamin D throughout life as part of a healthy diet is essential for reducing osteoporosis risk. Calcium is a building block for bones, and vitamin D is crucial for getting the calcium you eat into your body. Vitamin K helps direct calcium to your bones.
A chocolatey square of FX Sunshine contains generous amounts of bone-building vitamins D and K. These vitamins, plus calcium, are also found in goop's daily multivitamin packet The Mother Load. In addition, this multivitamin protocol contains vitamin C to assist in the body's production of collagen, which provides the scaffold to hold calcium in bones.*
*These statements have not been evaluated by the Food and Drug Administration. These products are not intended to diagnose, treat, cure, or prevent any disease.