Theragun: A Massage Tool to Relieve Sore Muscles and Full-Body Tightness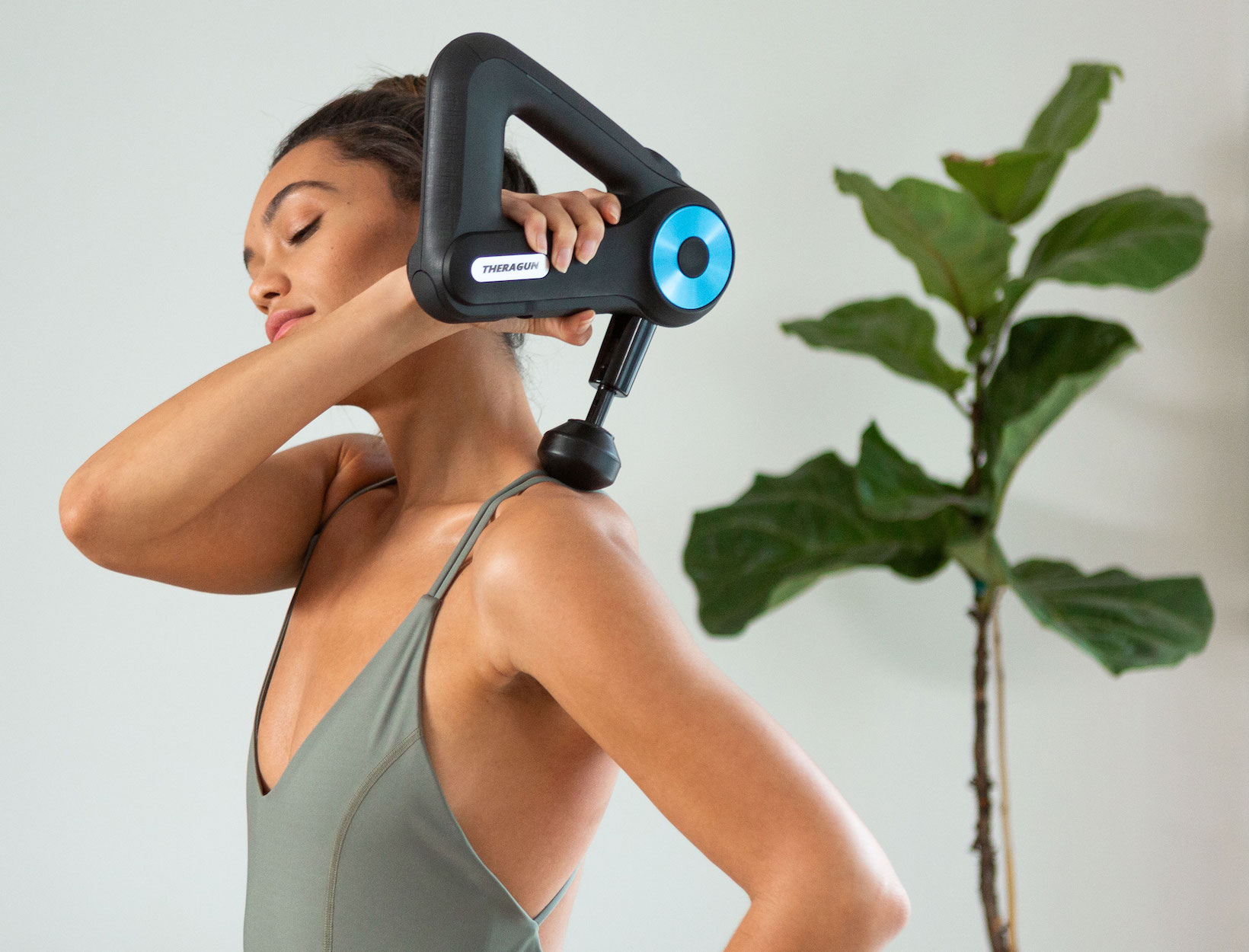 If you could carry a massage therapist around with you everywhere, we're willing to bet that you would. And that's the idea behind Theragun—a chiropractor-developed tool that acts like your own personal massage therapist. Anywhere.

Theragun was born out of a motorcycle accident. Kind of. Jason Wersland, DC, started working on the idea of the device soon after the accident left him banged up. But the idea of the tool is far-reaching: Wersland wanted to give people an at-home option for relieving occasional annoyances: muscle soreness, tightness, little aches and pains. He'll tell you that there's nothing as satisfying as a full-body massage from a gifted practitioner. But we'll tell you that Theragun comes close. When we tried it, it melted away muscle tension in minutes. And you can use the massage gun all over—neck, shoulders, legs, feet. (Do not skip the arches; it feels too good.)

Getting down to the specs: The two Theragun models we love most are called the Elite and the Pro. Both are thoughtfully, ergonomically designed—their weight balances well in your hand. Each has an OLED screen that shows exactly how much force and speed it's using and allows you to tap into built-in presets or program your own through the Therabody app. Both are now designed to be whisper-quiet. They're stupid-easy to use. And they're strong: Their long-lasting industrial motors pulse up to 2,400 times a minute without stalling or skipping.

The Elite has a powerful motor with a maximum forty pounds of force and five attachments made for different sensations and different parts of the body. It's the quietest device in the Theragun line. A removable internal lithium-ion battery provides 120 total minutes of battery life.

On the Pro, the percussive arm swivels for hard-to-reach spots. It maxes out at sixty pounds of force and comes with all five of the attachments from the Elite, plus a supersoft ball for bony areas and joints. It comes with two rechargeable lithium-ion batteries for a total 300 minutes of continuous battery life.

If you're looking for something to go with you wherever, opt for the Mini. It weighs just a pound and a half and easily tucks into a backpack, tennis bag, or large purse. For its compact size, it's surprisingly strong: It packs twenty pounds of force. It runs for 150 minutes on a charge and comes with Therabody's standard ball attachment, which is designed for overall use on both large and small muscle groups. (You can get additional attachments for it, like the specialized ones that come with the Elite and the Pro sets, on the Therabody site.) It comes in black or an especially pretty shade of dusty rose.

You can charge the batteries on the Elite and Mini by simply plugging them in. The Pro's swappable batteries have to be removed from the device first. If that's not your thing, both the Elite and the Pro charge wirelessly with a corresponding charging stand (which also makes a good-looking home for your Theragun wherever you decide to keep it).

Therabody also makes a beauty device, Theraface Pro, that uses their signature percussive therapy to relieve facial tension. Plus: a muscle-stimulating microcurrent function and red, infrared, and blue light.
HOW TO USE THERAGUN IN FIVE STEPS
Whether you're after a certain spot on the body or an end-of-day release for your whole system, Wersland has just five steps for you:
Turn on the Theragun without putting it on your body. That may seem like a minor thing, but it's important for better control. And resting the Theragun on your muscle and then turning it on can be a little jarring.

Rest the Theragun on your body. Don't add any pressure. Just let it float.

Glide the Theragun along the muscle. Move slowly—about an inch a second or slower.

If you hit a knot or an area of tension, let the Theragun rest on that spot—without adding additional pressure—for a few moments before moving on.

Breathe: nice long inhales and exhales. And feel the relief.
TECH NECK RELIEF
If your phone is an established extension of your arm, if you spend your day locked into a laptop hunch, if you're reading this article, you've probably dealt with some tightness in your neck, shoulders, and upper back. We've heard the long-term fix is to put down our devices every once in a while and mind our posture. And…we also like this simple Theragun routine, focused on massaging out the traps and lats for some more-immediate relief.
HELP FOR SORE LEGS AND FEET
When you've spent a whole day—or even just a few hours straight—on your feet, heaven is a place called taking your shoes off. Pointing and flexing, rolling out the ankles, giving your lower legs a little squeeze. Next-level that feeling: Taking the Theragun to the calf, shin, and arch of the foot can alleviate tightness. We like to follow this routine after a day of errands, a long run, or a flight—but really any excuse will do.
---
This article is for informational purposes only, even if and to the extent that it features the advice of physicians and medical practitioners. This article is not, nor is it intended to be, a substitute for professional medical advice, diagnosis, or treatment and should never be relied upon for specific medical advice. The views expressed in this article are the views of the expert and do not necessarily represent the views of goop.