How the G.Tox 7-Day Reset Kit Works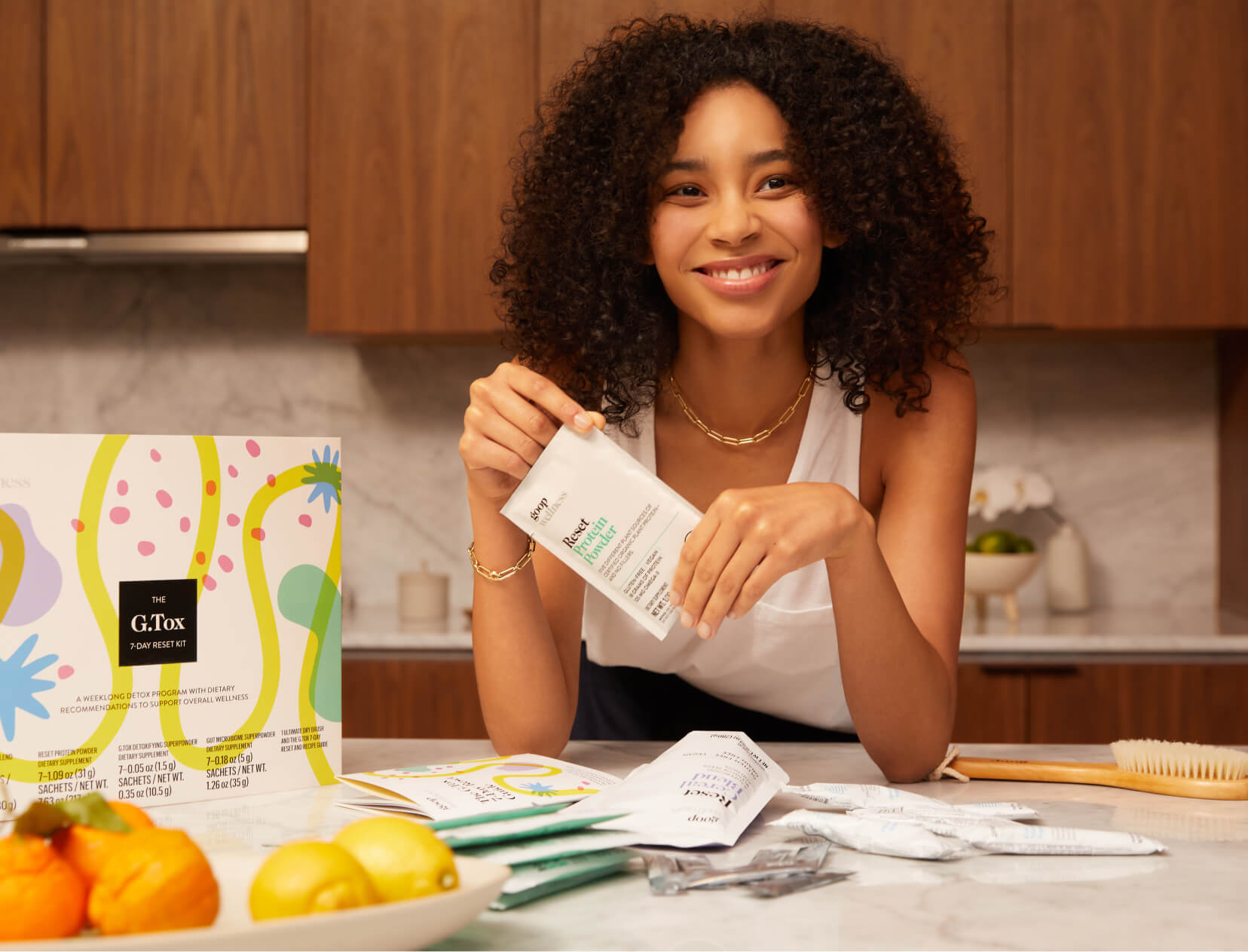 The body is well equipped to carry out detoxification on a daily basis. But an unhealthy diet, alcohol, not drinking enough water, daily exposure to environmental toxins, and stress may tax the body's natural detoxification processes.
We created the G.Tox 7-Day Reset Kit to give you the tools to do a nourishing weeklong elimination program with ease. The plan includes a filling superfood cereal blend and a clean plant-based protein powder to help your body hit reset, along with a recipe guide to take the guesswork out of the process. An easy-to-follow schedule helps you experiment with new eating patterns and an intermittent fasting protocol. And you'll get added support from daily superpowders formulated to help support the body's natural detoxification system and promote digestive health.*
A Sample Day
on the Reset Kit
There are a lot of recipes (and no-recipe recipes) to choose from as you plan your week—your Reset Guide will walk you through everything in detail. That's also where you'll find a recipe section just for smoothies, another for preparing a clean lunch (with poultry, fish, and vegan options), and a third with our favorite ways to add toppings to your instant superfood cereal.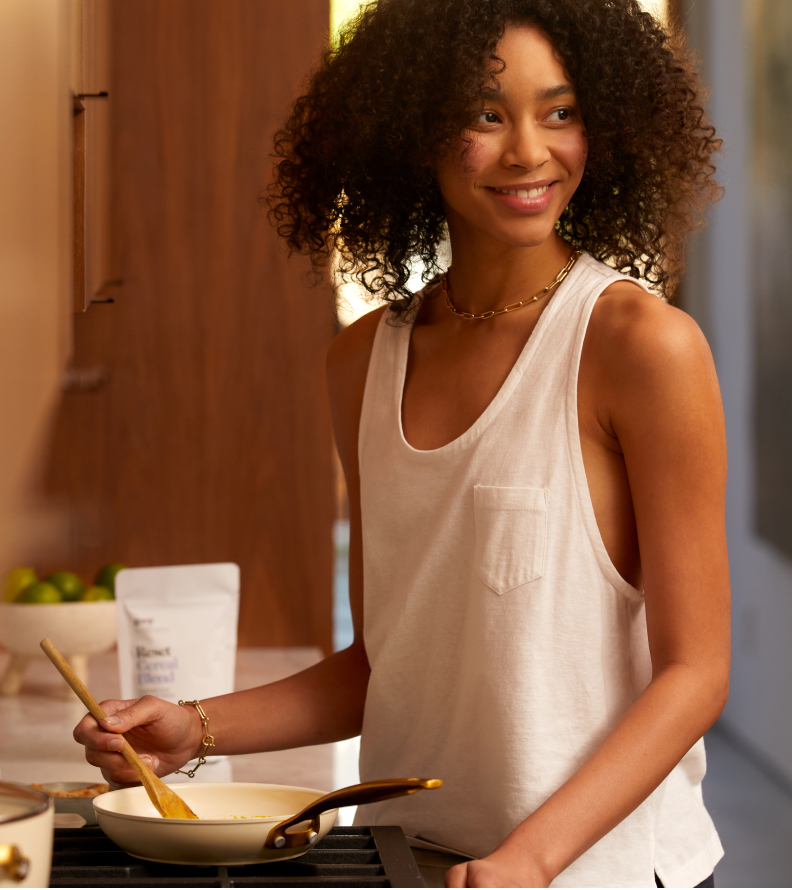 2. Supplement:
G.Tox Detoxifying Superpowder. This has a potent taste for a reason—the ingredients are legit (see below). We like mixing this into water and knocking it back like a shot.
3. Lunch:
4. Supplement:
Gut Microbiome Superpowder. Because the supplement has digestive enzymes, you'll want to have this around the same time as your lunch to help support digestion. (It's flavorless, so you can mix it into any cool liquid or water.)
5. Dinner:
Reset Cereal Blend with Greens + White
Beans + Garlic
Detox practice:
We included a dry brush in the kit—you'll use it each day to exfoliate your skin and promote local circulation. And in the accompanying guide, you'll see more of our beloved restorative
practices to explore.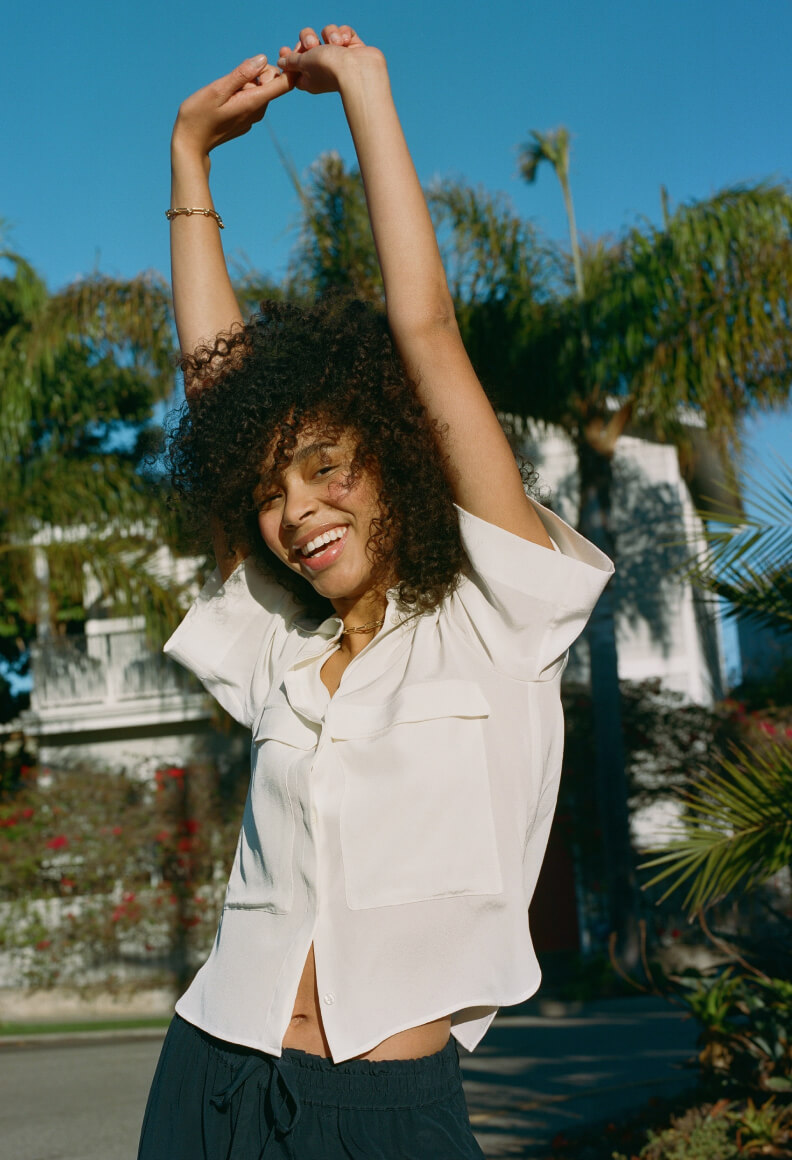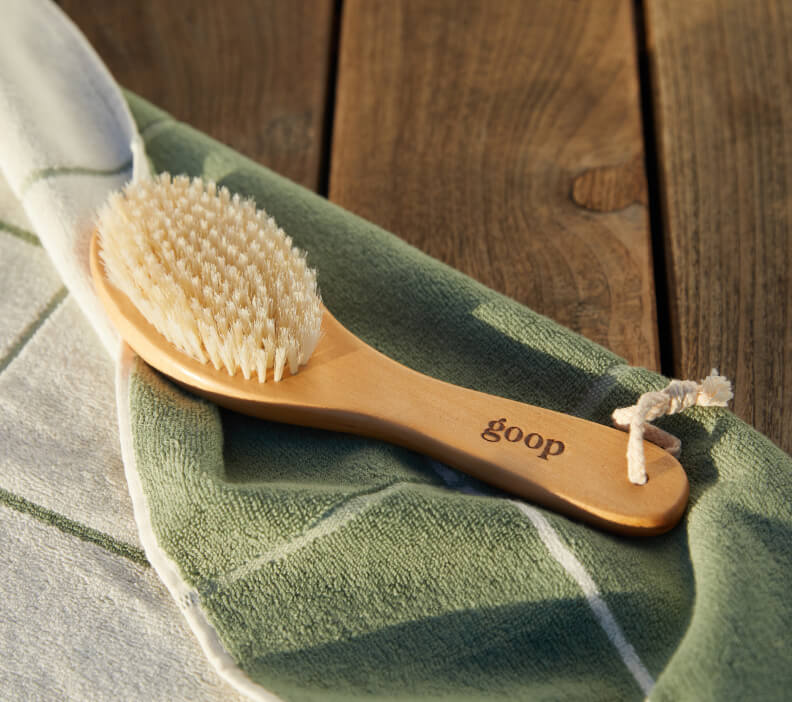 ---
What's inside the Box?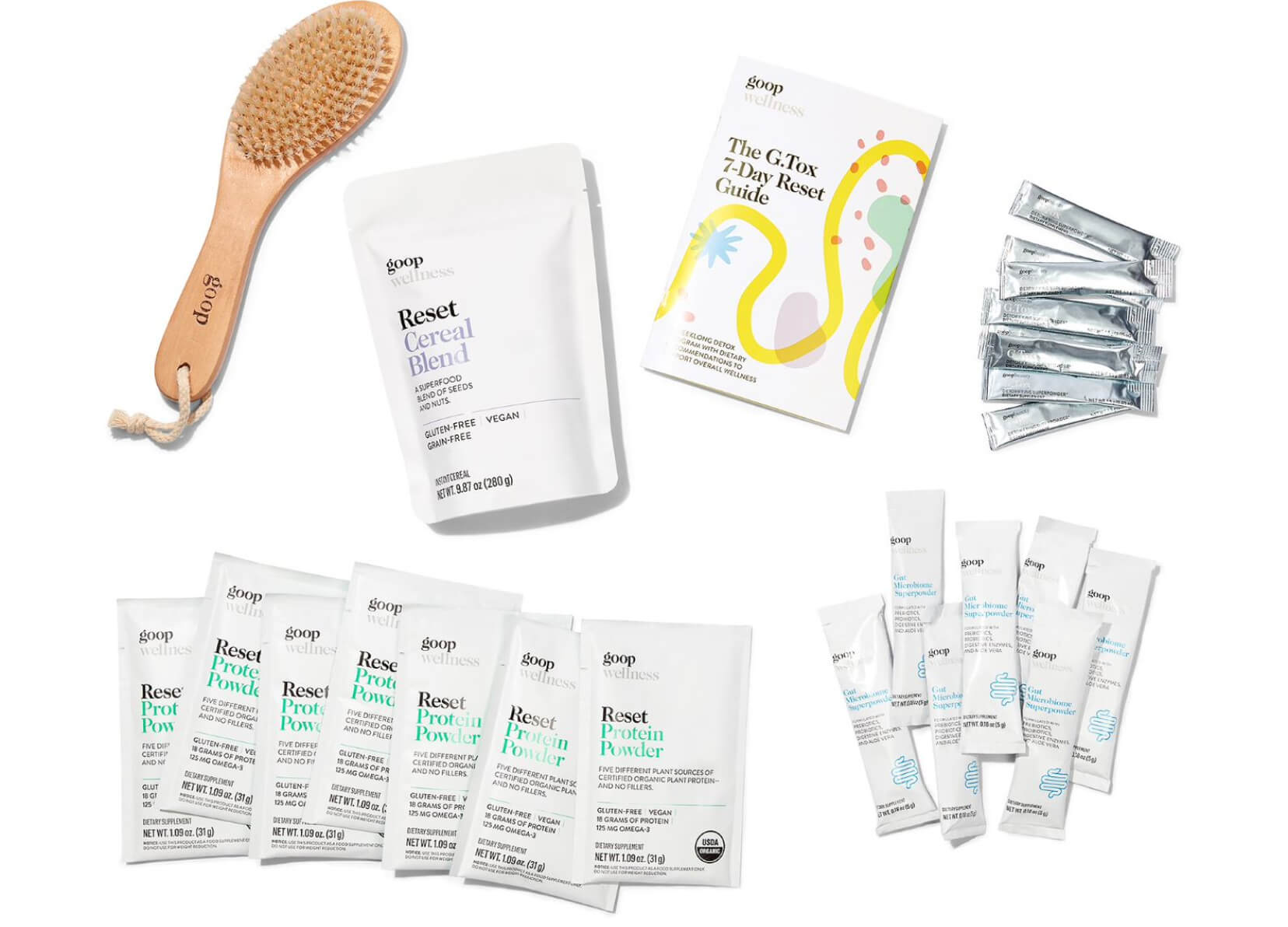 7 Servings of Reset Cereal Blend
Made with organic seeds and nuts, maca root powder, and turmeric powder, this satisfying superfood blend is high in fiber without added sweeteners or artificial flavorings. It's easy to prepare anywhere for breakfast or dinner and tastes great plain or with sweet or savory toppings.
7 Servings of Reset Protein Powder
This protein powder is packed with five different sources of certified-organic plant protein, with fiber, iron, and 125 milligrams of alpha-linolenic acid (omega-3). We didn't add any flavoring or sweeteners, so you can mix and enjoy it with any smoothie recipe.
7 Servings of Detoxifying Superpowder
G.Tox Detoxifying Superpowder is a dietary supplement formulated with milk thistle extract to support liver function, a blend of nutrients (selenium, zinc, magnesium, glycine, and pantothenic acid) to promote cellular function and support overall health, and vitamin C and resveratrol to provide antioxidant support.*
7 Servings of Gut Microbiome Superpowder
Gut Microbiome Superpowder includes a clinically studied dose of probiotics, plus prebiotics, digestive enzymes, L-glutamine, and aloe juice concentrate to support a healthy gut, reduce occasional bloating, and promote healthy and normal bowel function.*
G.Tox Ultimate Dry Brush
Dry brushing exfoliates and promotes local circulation, and it's one of the more rewarding whole-body wellness practices we know.
The G.Tox 7-Day Reset Guide
Everything you need to know about the kit from our editors, including an outline of the elimination protocol. You'll get twenty whole-food recipes to experiment with throughout your detox. You can use those recipes and tips to make one big meal a day (and dress up your smoothies and instant cereal blend). And the guide includes our detox pantry list, which you can use to stock up for the week and to make clean, nourishing meals year-round.
---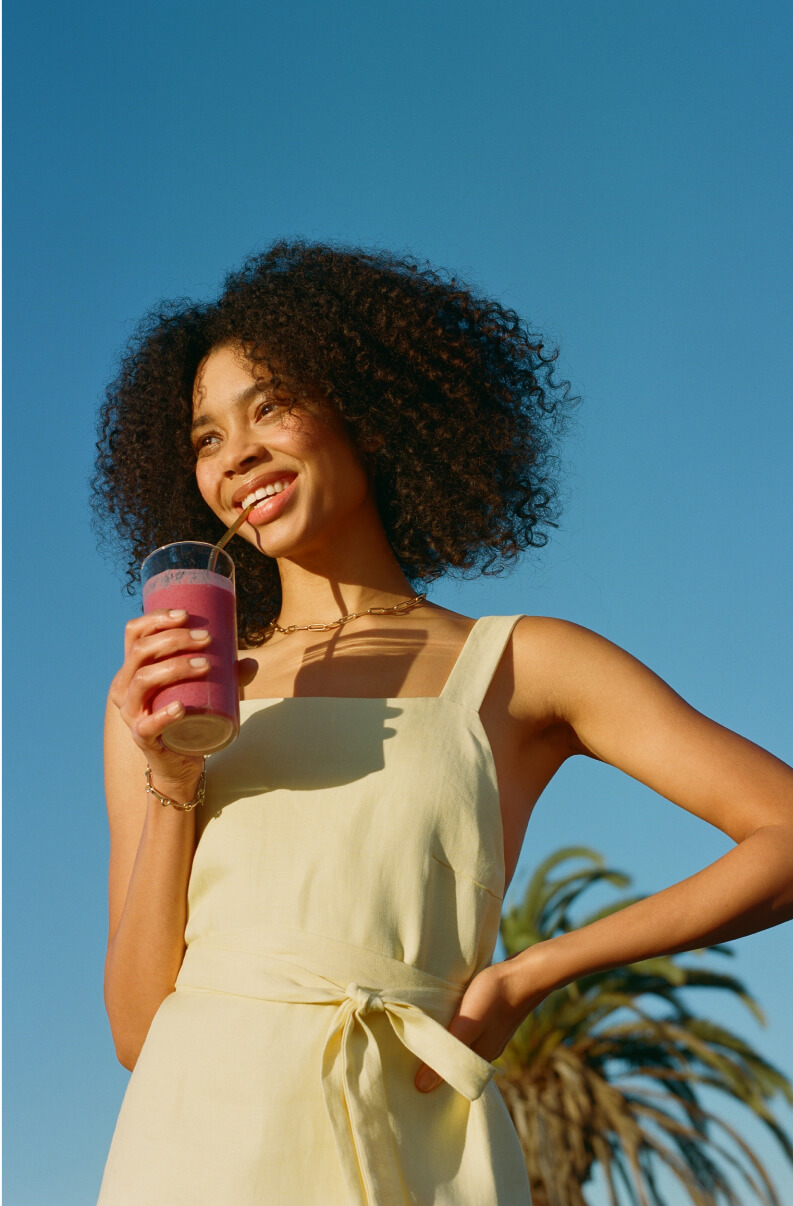 An Overview of the Elimination Protocol
The G.Tox 7-Day Reset plan involves avoiding alcohol, processed foods, and refined sugars, along with potential sources of food allergens, sensitivities, or intolerances for one week:
Alcohol

Coffee

Corn

Dairy

Eggs

Gluten

Nightshades (common nightshades include tomatoes, potatoes, eggplant, and peppers)

Refined sugar

Shellfish

Soy

White rice
Eliminating these foods allows us to focus on what we're adding: a delicious whole-food cereal blend, the ideal clean protein powder for a reset, supplement superpowders to support liver and digestive health, and the nutritious recipes detailed in your Reset Guide.
---
*These statements have not been evaluated by the US Food and Drug Administration. These products are not intended to diagnose, treat, cure, or prevent any disease.
---
This article is for informational purposes only. It is not, nor is it intended to be, a substitute for professional medical advice, diagnosis, or treatment and should never be relied upon for specific medical advice. To the extent that this article features the advice of physicians or medical practitioners, the views expressed are the views of the cited expert and do not necessarily represent the views of goop.