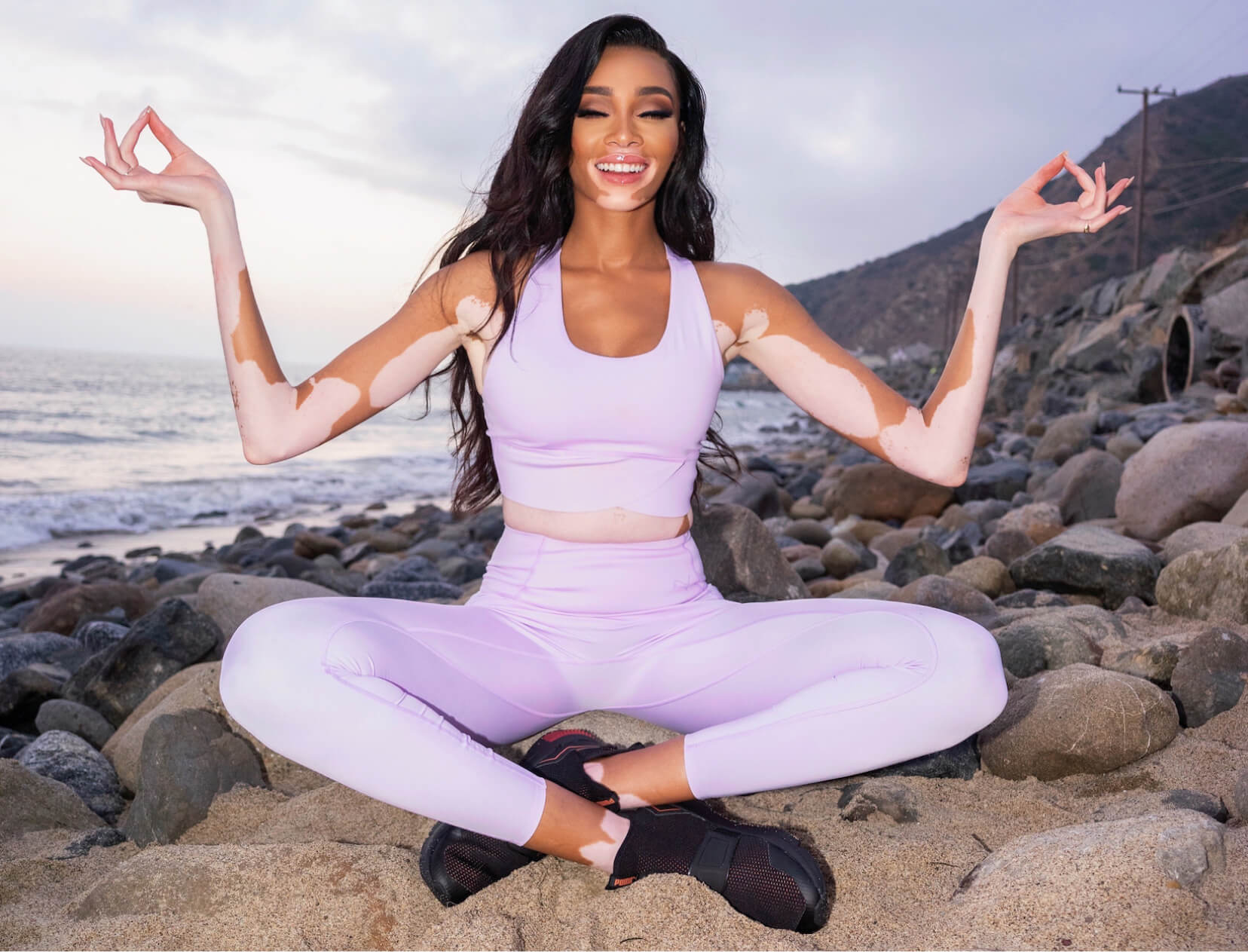 PUMA Forever Luxe top and leggings, coming January 2021
Winnie Harlow on Staying Centered and Putting Well-Being First
In partnership with our friends at PUMA
Winnie Harlow is tired of being the poster girl for challenging conventional beauty standards in the fashion industry. Comfortable and confident in her own skin, the five-foot-nine Jamaican-Canadian model and PUMA ambassador doesn't think inclusivity should be second nature—it should be first.
"Hopefully, we can get to a point where inclusivity comes naturally and isn't a topic that needs to be spoken about to encourage change," says Harlow. "I don't want to see tokenism or performative action, but people taking accountability to make real meaningful change."
Besides breaking boundaries throughout her career as one of the first models with vitiligo to walk the runway, Harlow's been busy doing all the glamorous things models tend to do, like gracing covers and making music video cameos, as well as speaking her truth and trying to stay centered.
So how is the multitasking model staying grounded during an especially hectic year? A little stretching, a lot of dancing, and setting aside some time for herself.
20 QUESTIONS WITH WINNIE HARLOW
I always start the day with:
A bottle of water by my bedside.
Wellness to me means:
Being healthy holistically, working out, eating well, and taking care of myself.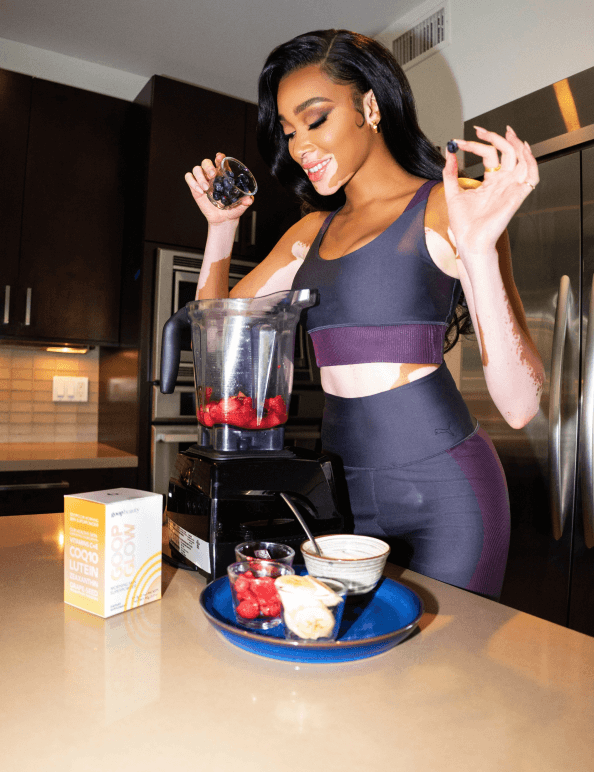 Do you always prioritize your
well-being?
It's hard to be disciplined about it. Especially when traveling through different time zones, sleeping patterns are disrupted, food on the go isn't always the healthiest option, and as for working out, sometimes you're just too tired after a long day on set. But I try to make it a priority.
Preferred way to move my body is by:
Stretching it out.
My workout routine consists mostly of:
Cardio and resistance, but I like to try new things and switch it up, too.
Favorite stress-busting activity?
Dancing!
Where did you learn your moves?
Being Jamaican, dancing is in my blood and a part of my culture—it's something I'm always doing with friends and family, whether we're out or just listening to music at home.
Go-to instructors?
I love watching Jaquel Knight—he's an incredible choreographer who's been killing it for years with his routines.
Cooking or takeout?
Definitely takeout.
Pieces you're living in lately?
I'm not always in the most comfortable outfits at work, so I'm often borrowing my boyfriend's clothes. I like being comfortable and cozy, and PUMA's Forever Luxe line accomplishes a lot of that—I could wear these pieces for hours and still feel relaxed and stylish.
Number of sneakers in your closet?
Honestly, I have no idea (but it's a lot!).
My style can be summed up like this:
Comfortable athleisure with a side of glam. I love accessorizing my looks to make them feel more feminine.
Favorite jewelry?
Everyday statement pieces.
Three things you never leave home without?
Lip gloss, a credit card, and headphones.
Beauty rituals you never skip?
Facials.
Best way to wind down the day?
A massage.
The last thing I read was:
My boyfriend's text message.
What's something you've learned about yourself this year?
My expectations are not too much to ask for!
GOOP PICKS