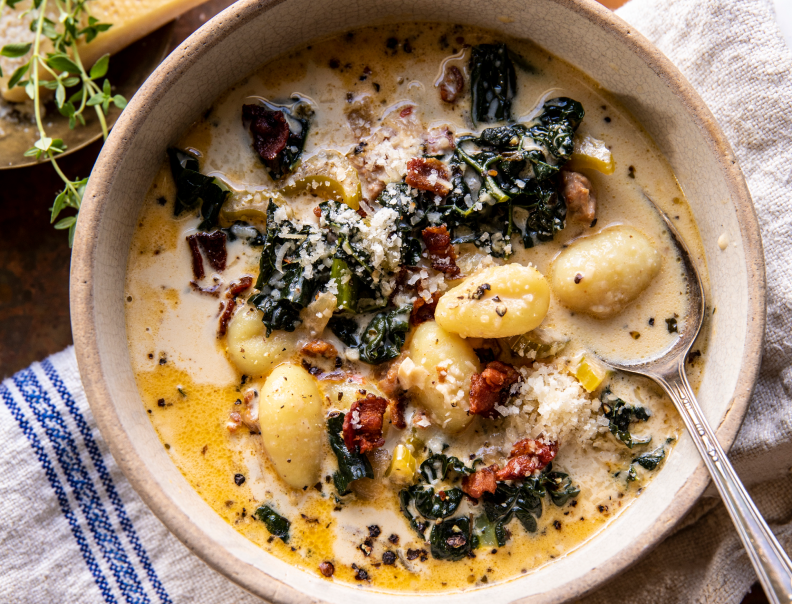 Zuppa Toscana with Gnocchi
"This recipe calls for tons of fresh herbs, garlic, and a little fennel, so your kitchen will smell like an Italian grandmother's. Hearty and filling, with a slice of crusty bread alongside, it's the perfect dinner."
For the Cauliflower Gnocchi:
pink Himalayan salt
4 to 5 cups cauliflower florets (about 1 pound)
¾ cup grated Parmesan cheese
¾ to 1 cup all-purpose flour or gluten-free all-purpose flour, plus more as needed
For the Soup:
4 slices thick-cut bacon, chopped
½ pound spicy Italian chicken sausage (see note)
1 small yellow onion, chopped
4 cloves garlic, finely chopped or grated
2 stalks celery, chopped
6 cups low-sodium chicken broth
1 tablespoon dried basil
1 tablespoon dried oregano
1 pinch crushed red pepper flakes
fine pink Himalayan salt and freshly ground black pepper
4 to 6 cups stemmed and chopped Tuscan kale
¾ cup full-fat coconut milk
⅓ cup grated Parmesan cheese, plus more for serving
24 ounces Cauliflower Gnocchi or store-bought gnocchi of your choice
fresh thyme leaves, for serving (optional)
1. Make the cauliflower gnocchi. Bring a large pot of salted water to a boil over high heat. Add the cauliflower florets and cook until tender, about 10 minutes. Drain well. Lay the cauliflower on a clean kitchen towel and squeeze out the excess liquid.
2. Transfer the cauliflower to a food processor and process until smooth (or simply mash well with a fork in a bowl). Add the Parmesan and 1 teaspoon of salt and pulse to combine. Transfer the mixture to a medium bowl. Add ¾ cup of the flour and stir to combine. If the dough seems wet, add more flour, 1 tablespoon at a time, until it forms a ball. The dough should be sticky.
3. Dust a baking sheet with flour. Generously flour a clean work surface and scrape the dough out onto it. Cut the dough into 4 equal sections. Working with 1 section at a time, roll the dough into a rope about 1 inch thick and cut the rope into bite-size gnocchi pieces. Transfer the gnocchi to the prepared baking sheet. Repeat with the remaining dough.
4. Then make the soup. Place the bacon in a large Dutch oven over medium heat. Cook, stirring occasionally, until the bacon is crispy and the fat has rendered, about 5 minutes. Using a slotted spoon, transfer the bacon to a plate or cutting board. Discard all but 1 tablespoon of fat from the pot and return the pot to medium heat.
5. Add the chicken sausage and onion to the pot. Cook, breaking up the sausage with a wooden spoon, until the sausage is browned and the onion is soft and translucent, 5 to 8 minutes. Add the garlic and celery and cook, stirring occasionally, until the celery is soft, about 2 minutes. Stir in the broth, basil, oregano, and red pepper flakes. Season with salt and pepper. Increase the heat to high and bring to a boil. Cook until the flavors have melded, about 5 minutes. Stir in the kale to wilt. Reduce the heat to medium and add the coconut milk, Parmesan, and gnocchi. Simmer until the gnocchi is cooked, 3 to 5 minutes.
6. Divide the soup among bowls. Before serving, top with the reserved bacon, additional Parmesan, and fresh thyme, if desired.
Note: I buy spicy Italian chicken sausage at Whole Foods. If you can't find it, use spicy Italian pork sausage or make your own by adding the following spice mix to 1 pound of ground chicken: 1 tablespoon each of fennel seeds (I like to toast them first), dried thyme, dried basil, dried oregano, salt, and pepper; 2 teaspoons each of ground cayenne (or less, if you don't want it too spicy), paprika, and garlic powder; and 1 teaspoon each of smoked paprika and crushed red pepper flakes. This spice mix is great on grilled meat and vegetables, too. It'll keep in your pantry in an airtight container for a few months.
Adapted from Half Baked Harvest Every Day by Tieghan Gerard. Copyright © 2022 by Tieghan Gerard. Photographs by Tieghan Gerard. Published by Clarkson Potter/Publishers, an imprint of Random House, a division of Penguin Random House LLC, New York.
Originally featured in 3 Hearty Soups for Chilly Winter Days