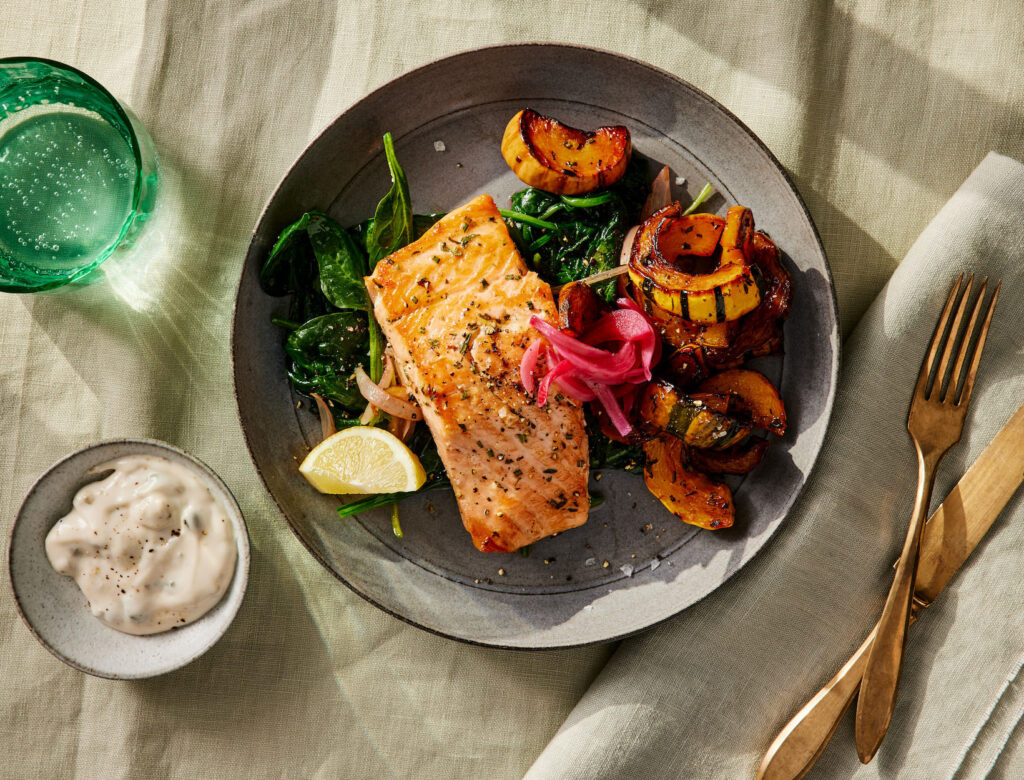 Winter Salmon, Delicata Squash, and Wilted Spinach with Lemon-Caper Aioli
Delicata squash is quick to cook, easy to prepare, and satisfying on its own but also stands up to chicken and fish. (The squash's skin is thin enough that you don't have to peel it.) And the accompanying lemon-caper sauce is something you're going to want to keep around—so make extra.
2 pieces skinless salmon
1 delicata squash, halved and sliced into half-inch moons, with seeds scooped out
salt and pepper to taste
2 tablespoons olive oil
1 shallot, thinly sliced
2 cloves garlic, chopped
4 cups spinach
for the herb marinade:
⅓ cup olive oil
1 tablespoon lemon zest
1 teaspoon finely chopped rosemary leaves
1 teaspoon finely chopped thyme leaves
1 teaspoon finely chopped parsley
1 teaspoon lemon juice
salt and pepper to taste
for the pickled red onions:
¼ cup finely shaved red onion
juice of ½ lemon
¼ cup water
1 tablespoon red wine vinegar
4 black peppercorns
1 pinch salt
for the lemon-caper aioli:
¼ cup soy-free vegenaise
1 tablespoon lemon zest
1 tablespoon finely chopped capers
1 tablespoon lemon juice
1 clove garlic, finely minced
salt and pepper to taste
to serve:
2 wedges lemon
2 tablespoons pickled red onions
1. First make the herb marinade by mixing all the marinade ingredients together. (If you're doing the annual detox, you'll already have this prepped from lunch.) Use half to marinate your salmon the night before or at least 10 minutes before cooking. Toss the delicata squash in the other half.
2. Preheat the oven to 475°F. Season the salmon and squash with salt and pepper, then roast in the oven for about 10 to 12 minutes depending on the thickness of your fish.
3. To make the pickled red onions, combine the red onions and lemon juice in a bowl and allow to sit for 5 minutes. This helps the onion stay a vibrant red. Combine the rest of the ingredients in a pot and bring to a boil. Pour over the onions immediately and cover so the steam helps cook the onions quickly. Refrigerate and store until ready to use.
4. To make the lemon-caper aioli, mix all the ingredients together.
5. Heat the olive oil in a sauté pan until it lightly shimmers. Add the shallot and garlic and sauté until fragrant. Turn off the heat, add the spinach, and toss briefly.
6. Plate the spinach on 2 plates and place the fish directly on top to help it wilt a little more. Serve with the lemon wedges, pickled onions, and lemon-caper aioli.
Originally featured in The Annual New Year Detox: 2023 Edition