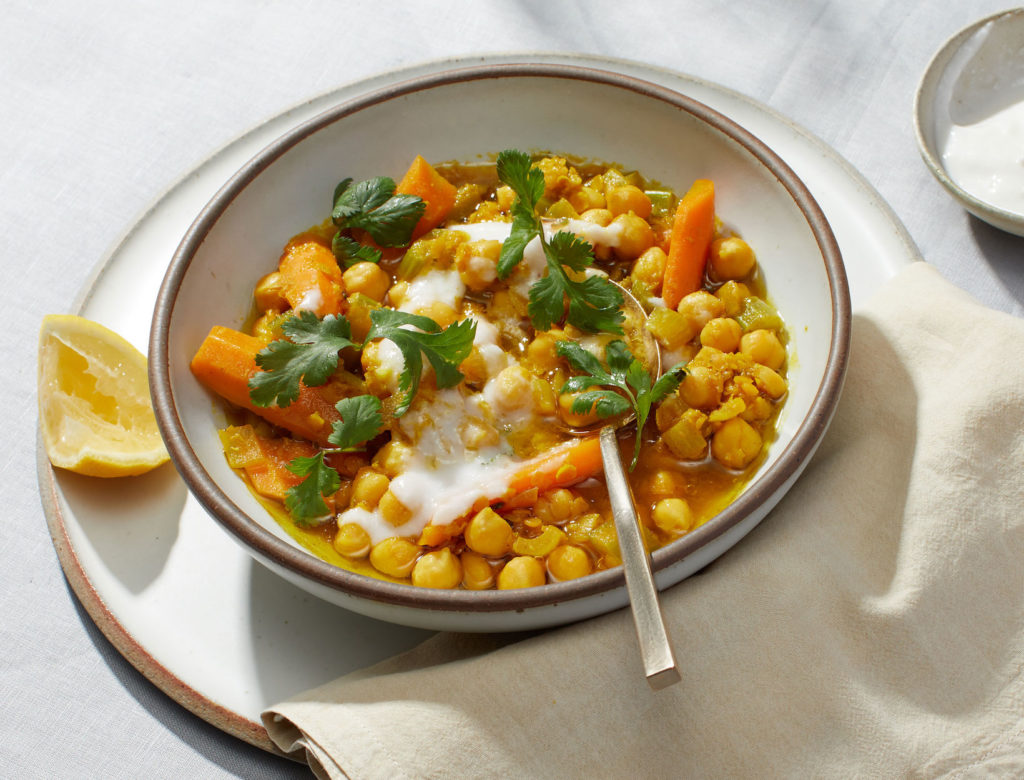 Spiced Chickpea, Lentil, and Carrot Stew with Herbs and Yogurt
This hearty stew is loosely inspired by harira, a Moroccan stew consisting of tomatoes, harissa, spices, and a mix of legumes like lentils, chickpeas, and fava beans. Our version skips the nightshades (tomatoes and harissa), adds carrots for sweetness, and goes heavy on the spices. We use a combination of chickpeas and red lentils—the red lentils cook so quickly and help thicken the broth, adding body, almost acting like a roux. The topping of coconut yogurt, cilantro, and lemon brightens up all those deep, earthy flavors.
1. Heat a few tablespoons of olive oil over medium heat in a saucepan or high-sided skillet. Add the onion and celery and cook for a few minutes, until they start to look translucent. Add the garlic and ginger, along with a pinch of salt.
2. After a couple more minutes, add the spices. Cook for a few minutes, stirring occasionally, until very fragrant. Add the carrots and lentils and cook for about 5 minutes before adding the chickpeas and vegetable stock.
3. Turn up the heat and bring to a boil, then reduce the heat to low and let simmer for about 30 minutes, or until the lentils and carrots are tender and the stew has thickened.
4. Taste and adjust seasoning with salt as needed. Top with cilantro, coconut yogurt, and lemon wedges.
Originally featured in The Annual New Year Detox: 2022 Edition