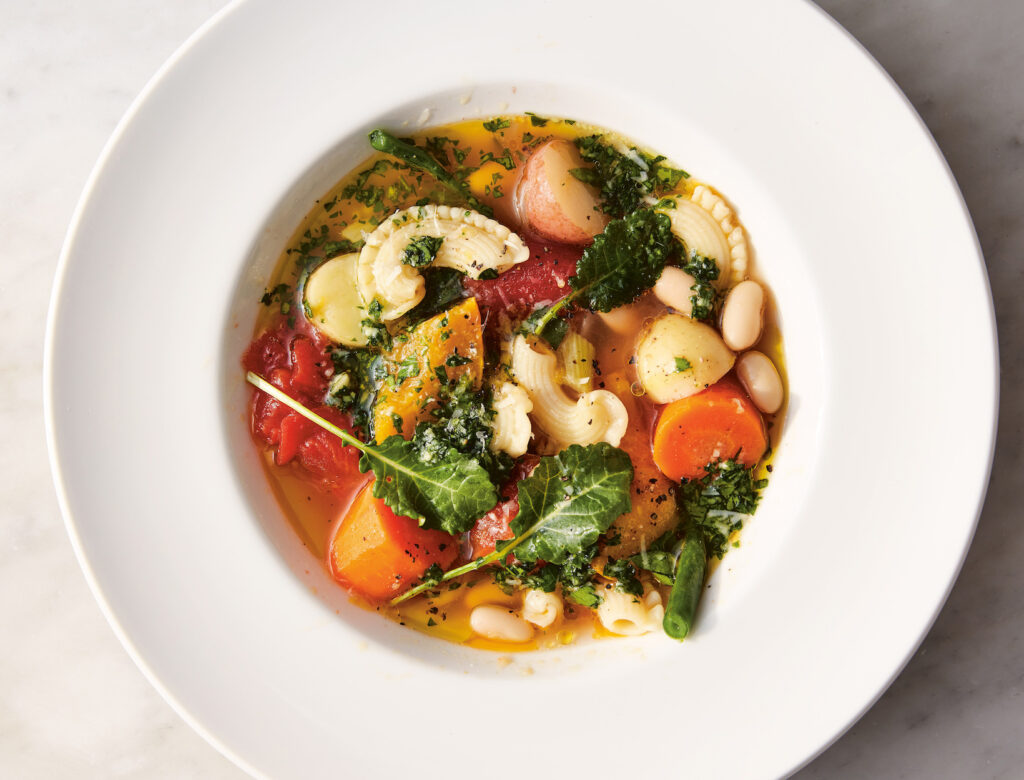 Soup au Pistou with Pasta and Herbs
"French soupe au pistou is one of the most vibrant soups imaginable—chock-full of vegetables. Like all my favorite soups, it benefits enormously from a flavorful stir-in—in this case the traditional pistou, a nut-free relative of Italian pesto. In a pressure cooker, you can cook the vegetables to a tender perfection in mere minutes." —Copeland
1. Make the Garlicky Pistou: Combine the basil, cheese, garlic, olive oil, and salt in a small food processor or a blender and pulse to roughly chop. Add the hot water, 1 teaspoon at a time, to get the blade moving, and blend to make a smooth paste. You want it a touch runnier than a pesto but thick enough to easily dollop with a spoon.
2. Then make the soup: Pour the oil into the inner pot of the pressure cooker and set to Sauté. Add the celery, carrots, onion, and bay leaf and cook, stirring frequently, until the onion is slightly softened, 8 to 10 minutes. Add the garlic, 1 teaspoon salt, and some pepper and continue cooking until fragrant, 1 minute more.
3. Add the potatoes and broth to the inner pot. Lock on the lid and pressure-cook on high pressure for 8 minutes. Release the pressure manually and open the lid. The potatoes should be quite tender and will help thicken the broth.
4. Add the squash, tomatoes, green beans, canned beans, pasta, and kale to the pot. Lock on the lid again and pressure-cook on high pressure for 1 to 2 minutes. Release the steam manually and open the lid. Check the pasta for doneness. If the pasta is a bit too al dente, return the lid (do not lock) and leave the soup on the Keep Warm setting for a couple of minutes.
5. Remove the bay leaf. Spoon the soup into bowls and serve warm, topped with the pistou and more salt or pepper, if desired.
Reprinted with permission from Instant Family Meals by Sarah Copeland, copyright © 2020. Photographs by Christopher Testani. Published by Clarkson Potter, a division of Penguin Random House, LLC.
Originally featured in 4 One-Pot Recipes That Feed a Whole Family