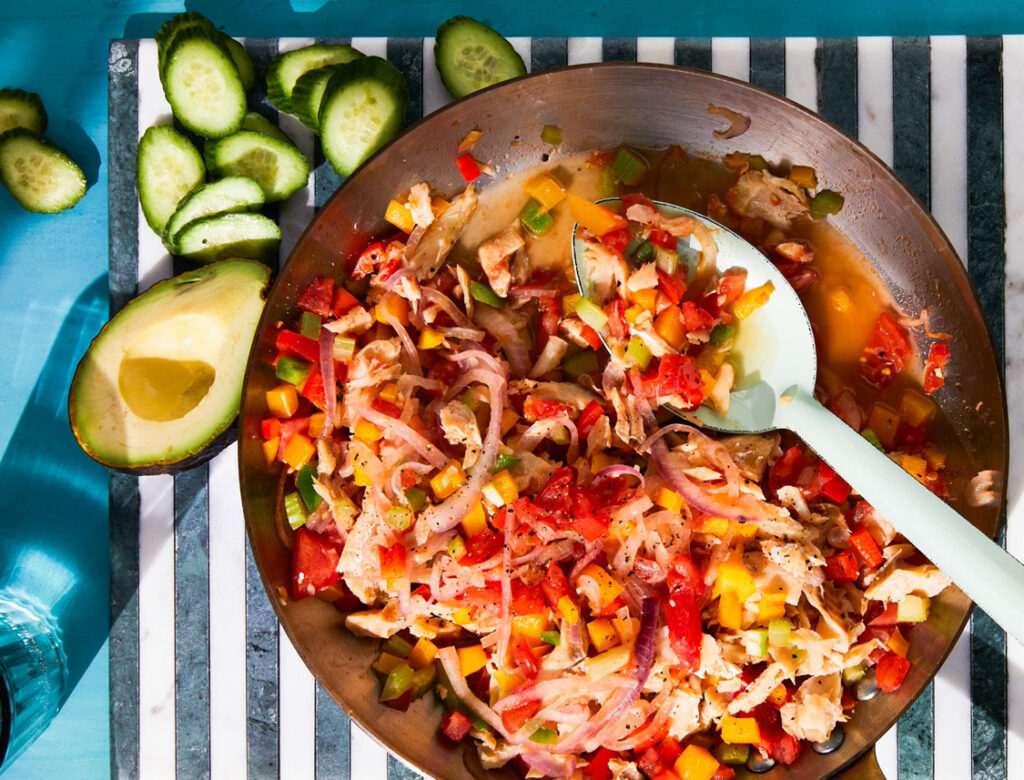 Salted Cod
"Salted cod is a popular breakfast dish in Trinidad and Tobago that is often made with vegetables, fresh herbs, and spices. It may be served with bake—a quick bread—or boiled dumplings and a dollop of pepper sauce. I like to pair mine with bake as well as avocado and cucumber. Full of flavor and easy to prepare, this savory breakfast is perfect for a large crowd."
2 pounds salted cod
2 tablespoons avocado oil
1 red onion, thinly sliced
2 cloves garlic, minced
3 tomatoes, diced
3 ribs celery, diced
1 green bell pepper, diced
1 red bell pepper, diced
1 yellow bell pepper, diced
3 sprigs thyme
freshly ground black pepper
1. In a large bowl, cover the salted cod with room temperature water and soak for a minimum of 2 hours or overnight, covered on the countertop.
2. Heat a 9-inch cast-iron skillet over medium heat and add the oil, onion, and garlic. Cook for 3 to 5 minutes, taking care not to burn the garlic.
3. Add the tomatoes and cook for 3 minutes. Stir the celery and peppers into the mixture and cook for 3 minutes. Next, gently rub the thyme between your hands over the pan and allow the leaves to fall in. If the mixture is dry, add 2 tablespoons of the reserved water for moisture. Cook for an additional 5 to 7 minutes.
4. Add the cod, stirring until combined, and cook for an additional 3 to 5 minutes. Season with black pepper to taste.
5. To serve, place a few spoonfuls of the cod on a plate with a drizzle of your favorite hot sauce alongside a green salad.
Recipe from Eating from Our Roots. Copyright © 2023 by Maya Feller. Photography copyright © 2023 by Christine Han. Published by goop Press/Rodale Books, an imprint of Penguin Random House, LLC. Reprinted with permission.
Originally featured in 3 Nourishing Trinidadian Recipes from Nutritionist Maya Feller