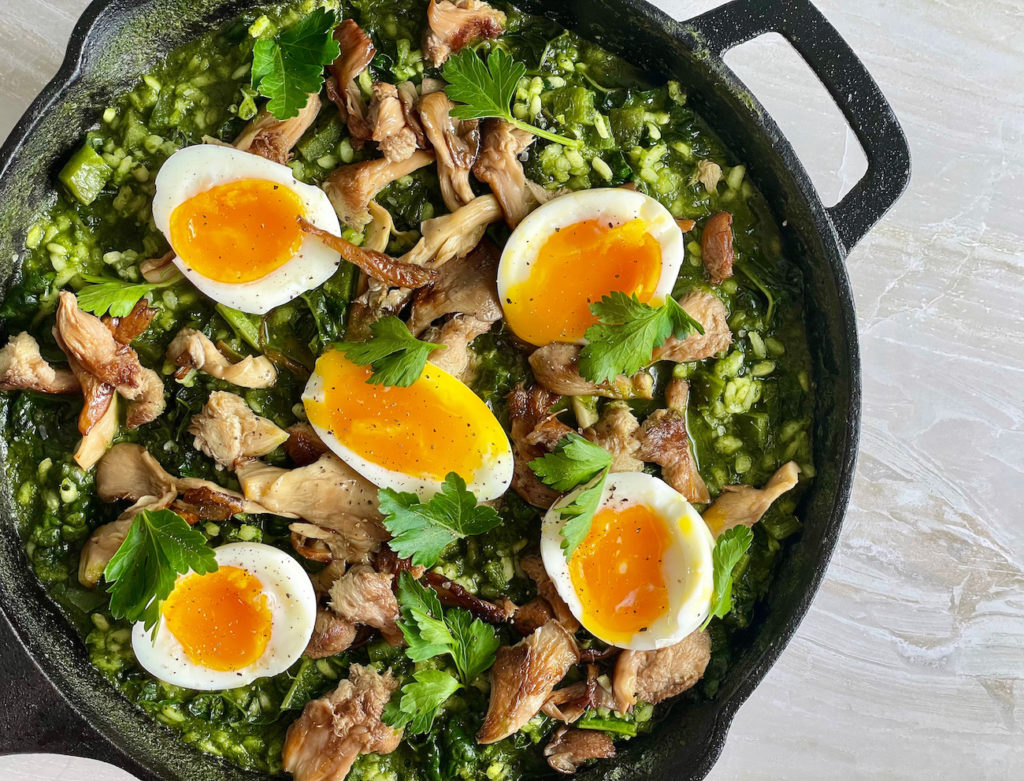 This vegetarian paella is a stunning deep-green color—the green broth is made of charred poblanos and fresh parsley. Resist the temptation to stir the rice once it starts cooking and you will be rewarded with the prized crispy bottom, called socarrat. It's heaven.
1. On open-flame gas burners or under a broiler, char the poblanos, turning frequently with tongs for evenly charred skin. Remove from the heat, place in a large bowl, and cover immediately to help the skin separate from the flesh. After they've rested for about 5 minutes, gently scrape away the skin while keeping the flesh intact, then remove the stems and seeds. Chop one and leave the remaining pepper whole.
2. Prepare the green broth. Heat 1 tablespoon oil in a paella pan over medium heat and add the kale, salt, and pepper, stirring frequently to wilt for about 3 to 5 minutes. Remove the kale from the pan, reserve half, and add the remaining to the base of a blender with the whole poblano, parsley, 3 cups water, onion powder, salt, and pepper. Blend until smooth and set aside.
3. Toss the mushrooms with the remaining 2 tablespoons oil to coat. Add to the paella pan over medium-high heat and deeply caramelize (this should take about 10 minutes). Remove from the pan and set aside. Add the remaining oil and rice and slowly toast, stirring frequently, until the grains are golden, about 10 minutes.
4. Add 2½ cups of the green broth. Bring to a boil, stir in the chopped poblano and reserved kale, and reduce heat to low. With the rice in an even layer, cook, untouched and uncovered, for 15 to 18 minutes.
5. While the paella cooks, soft-boil the eggs. In a medium bowl, prepare an ice-water bath. In a small pot, combine 2 cups water and the 4 eggs; bring to a boil and simmer for 6 minutes. Shock in ice water until the eggs are completely cool, then peel. Slice each egg in half and season with salt and pepper. Set aside.
6. Serve in the paella pan. Garnish with maitake mushrooms, eggs, and parsley.
Originally featured in A Veggie-Centric Paella Party Menu