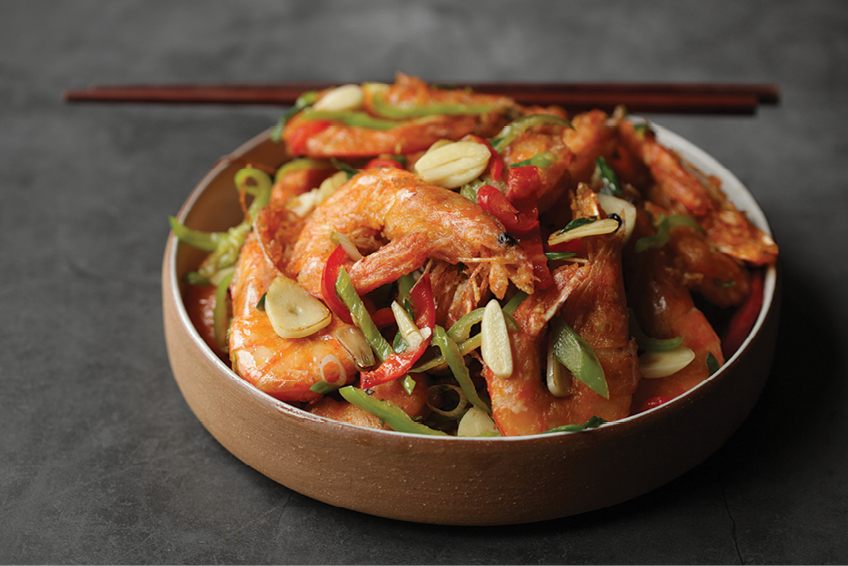 Cantonese Pepper and Salty Shrimp
The secret to this dish is the toasted salt. López-Alt writes, "Toasting salt in a wok is a traditional technique for dishes like Cantonese salt and pepper shrimp. Tasted side by side, toasted salt acquires a lightly smoky aroma reminiscent of good wok hei. It also visibly changes color, acquiring a yellowish brown hue. The color and flavor of toasted salt comes from deposits from the oil/polymers vaporizing from the wok itself—the same stuff that contributes to the smoky flavor of wok hei. Given that the toasted salt has some of that wok hei flavor, this makes perfect sense. It's also worth noting that using this toasted salt to season your food in place of regular will impart some smokiness to it, even if it hasn't been cooked in a wok."
For the Shrimp:
½ liter (about 2 cups) very cold water
12.5 grams Diamond Crystal salt
10 grams baking soda
1 pound large shell-on shrimp, deveined and butterflied
a cup or so of ice cubes
¼ cup cornstarch
1 quart peanut, rice bran, or other neutral oil
For the Stir-Fry:
10 medium garlic cloves, thinly sliced
4 scallions, thinly sliced
1 hot green chile, such as Chinese cowhorn, Anaheim, jalapeño, or serrano,
thinly sliced
1 hot red chile, such as Fresno or red serrano, thinly sliced
2 teaspoons Dry-Roasted Salt and Pepper Blend (see below)
For the Dry-Roasted Salt and Pepper Blend:
6 tablespoons white peppercorns
4 teaspoons green or red Sichuan peppercorns (optional)
¼ cup kosher salt
1. First, make the dry-roasted salt and pepper blend. Heat all the ingredients in a dry wok over medium heat, tossing and stirring frequently, until very toasty and fragrant, 7 to 10 minutes. (Note that this may create some smoke, so use a vent hood if you have one, or at the very least get a good cross-breeze going through your kitchen space). Then, transfer to a large plate or tray and let cool completely. Transfer to a heavy mortar and pestle or a spice grinder and grind into a powder. Let cool completely, then store in a sealed container in the pantry indefinitely.
2. For the shrimp: Combine the water, salt, and baking soda in a bowl and stir until the salt and baking soda are dissolved. Add the shrimp and stir to separate them and ensure the brine flows all around. Add the ice cubes and let the shrimp brine for at least 15 minutes and up to 30.
3. Bring 2 quarts water to a boil in your wok. Drain the shrimp and add to the boiling water. Cook, stirring, until the shrimp are beginning to get firm and are bright pink, about 45 seconds. Drain well and transfer to a rimmed baking sheet or large plate to air-dry for a few minutes. Transfer to a bowl and toss with the cornstarch until all the shrimp are thoroughly coated.
4. Wipe out the wok, add the oil, and heat to 400°F. With the wok over high heat, add half the shrimp and cook, agitating and stirring the shrimp constantly until crispy and barely cooked through, about 1 minute. Remove the shrimp with a spider and transfer them to a tray or large plate. Reheat the oil to 400°F and repeat with the remaining shrimp. Carefully pour the hot oil out of the wok through a fine-mesh strainer set in a heatproof container (such as a large saucepan).
5. For the stir-fry: Wipe out the wok and return it to high heat until smoking. Add 2 tablespoons of the strained oil and swirl to coat. Add the garlic, scallions, and green and red chiles and stir-fry until fragrant, about 30 seconds. Add the shrimp and the salt and pepper blend and toss to coat. Transfer to a serving platter and serve immediately.
Excerpted from The Wok: Recipes and Techniques by J. Kenji López-Alt. Copyright © 2022 by J. Kenji López-Alt. Used with permission of the publisher, W. W. Norton & Company, Inc. All rights reserved.
Originally featured in Fast, Hot, and Flavorful Meals from The Wok