How to Dry Brush Your Skin—and Why It's So Potent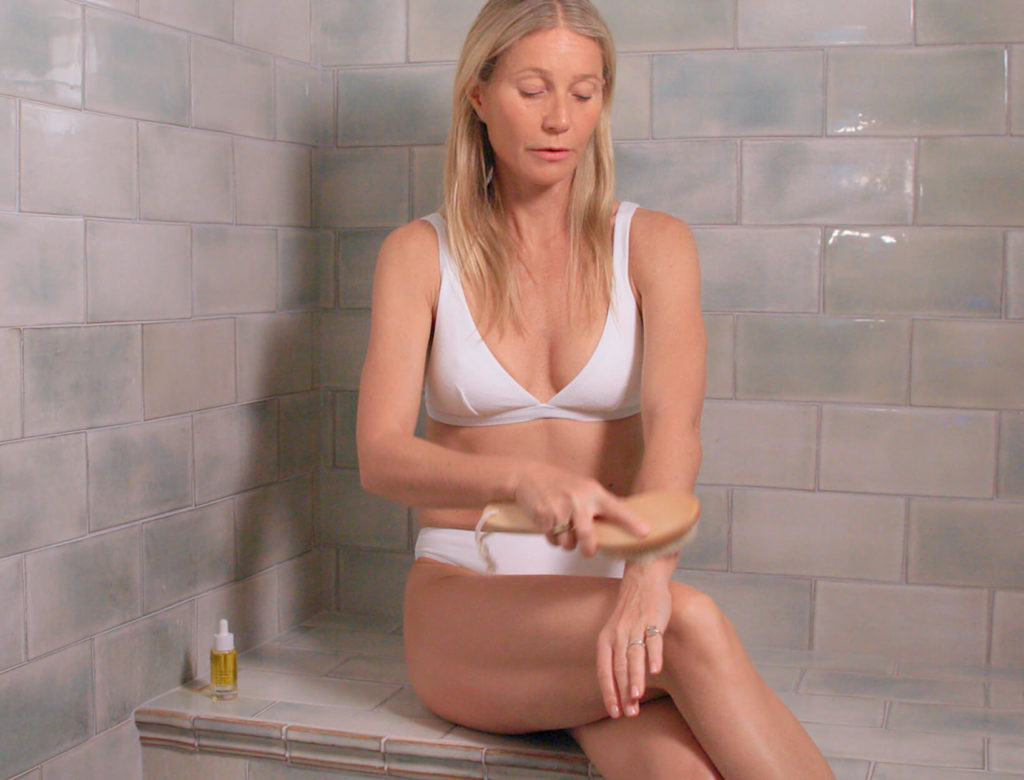 The benefits of dry brushing—it wakes your senses up like no other practice, feels absolutely incredible, and leaves you with silky-smooth skin and an allover body glow—are noticeable both instantly and in the long term. Gwyneth uses her dry brush right before her morning shower. "The bristles feel so good on my skin," she says. "There's nothing like it."
The Organic Pharmacy founder Margo Marrone says dry brushing is essential in her routine, too: "It's invaluable in helping with so many issues, but especially detox."
And while the practice of dry brushing the skin once or twice daily with a soft but firm brush is more common during a detox, regular users and fans report more benefits when it becomes a permanent habit.
A long dry brush (like the one from goop or the one from The Organic Pharmacy) allows you to get at hard-to-reach spots like the middle of your back; the shorter, marble-based one from Gilded Body fits in your hand perfectly.
Dry brushing is one of those rare things that feels just as good when you do it yourself as when someone else does it to you, and it's incredibly easy to incorporate into your routine. Most experts recommend dry brushing in the morning rather than before bed because they believe it has energizing qualities. Some people use the brush on its own; others put a bit of body oil on the brush before they use it. "Shower before skin brushing if you're using an oil on the brush," says Marrone. "If not, shower after skin brushing, then apply oil or lotion to combat dry skin." It's fantastic to do in conjunction with a sauna or steam, too.
How to Dry Brush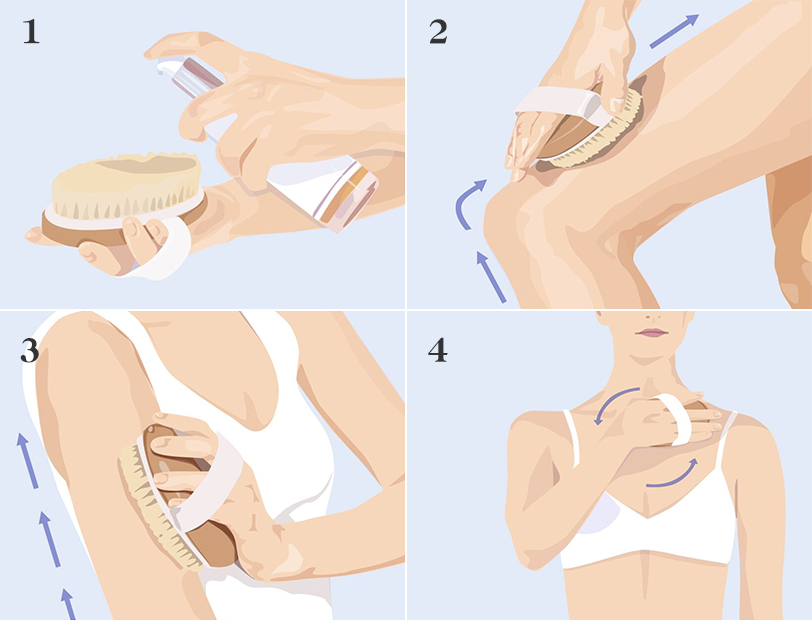 Illustrations by Louisa Cannell
To do it yourself, start at your feet and brush upward toward the heart. Similarly, when you start on your arms, begin at the hands and work upward. Use firm, small strokes upward or work in a circular motion. For the stomach, work in a clockwise direction. Harsh exfoliation is never the point; be sure not to press too hard or use a brush that's too stiff. "Any kind of brushing or exfoliation should be gentle and should never break the skin," Marrone adds. "I've tried skin brushes that are so hard, they cannot be used due to the damage they do. I chose medium-soft cactus bristles for our skin brush for gentleness; the skin should never be scratched or damaged."
Dedicate at least three to five minutes to dry brushing.
Dry Brushing Essentials
All you need to make dry brushing a daily ritual.
Related Reading on goop