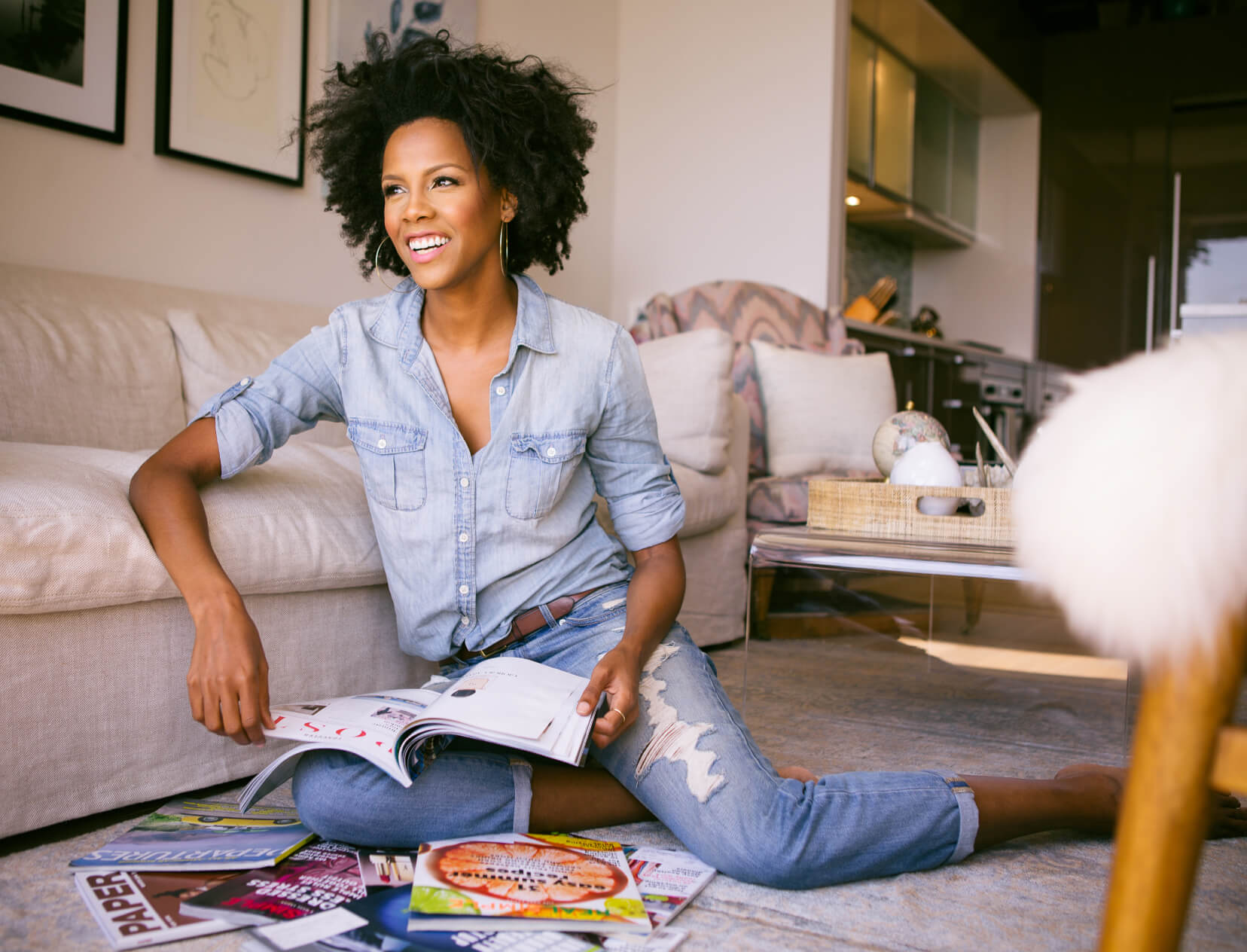 Photo courtesy of Jerome A. Shaw
Hello, My Age Is: 46
The Secret Is "Glazed-Doughnut" Skin, Lots of Veggies, and Some Badass Grandmas
Kilee Hughes |
beauty publicist and founder of Six One agency
Sit down for breakfast at the famous NYC vegetarian restaurant abcV with the bright-eyed, radiant Kilee Hughes, and it's hard to resist copycatting her order. Are the sparkling rosewater lemonade and sambal turmeric dosa partially responsible for the Six One founder's distractingly youthful skin? A plant-rich diet does play a considerable role in how Hughes feels and looks—we initially clocked the PR wiz's age at later-twenties—but so does her real comfort with aging. Of course, a few high-tech beauty essentials (she swears by a miracle doctor-developed cream and a glow serum for hair) help make a difference, too. And so do a commitment to traveling (she called Australia home for seven years, just moved to Denver from Manhattan during the pandemic, and has visited forty-two countries), some badass genetics (her grandma shaves her head and rocks it), and loving her job.
"We represent indie as well as more-established beauty brands, and we specialize in BIPOC brands," says Hughes, who started Six One seven years ago after a big career working at places like Saks Fifth Avenue, Nike, and Net-a-Porter (she launched the latter's beauty business). "There I was in the beauty world—and where were all the Black-owned brands?" she says. "And where were the PR agencies repping these brands, when Black and Latinx women are the biggest consumers of color cosmetics, and Black women are the number one consumers of hair care?" Six One's portfolio reads like a checklist of sought-after brands and personalities—hairstylist Vernon François (he's Lupita N'yongo's red carpet secret weapon), Violet Grey, and goop-favorite Pholk Beauty are just a few on their roster.
"PR isn't for the faint of heart," says Hughes. "Rejection comes often, and you get ghosted. And ageism, in the beauty industry especially, is a real thing. I usually avoid interviews, staying behind the scenes. Girl, I didn't even want to tell my age for this story!" she laughs. "I came around because maybe this is the kind of thing we have to do to push things forward."
1
Even combination skin needs moisturizing
2
Get hair ideas from your badass grandmas
My grandmas are ninety-seven and ninety-eight, and both of them are beautiful and proud. One has a barber who comes to her house to shave her incredible silver hair—what a badass. The other doesn't dye her hair, never has, but doesn't have a lot of grey—she's fierce. I've been blessed with their genes, their hair, and hopefully some of their fierceness. My hair really looks softer and shinier when I use this hair serum before I shampoo: I apply it to dry hair, give it time to soak in, and then run a wide-tooth comb through before I shampoo and condition. It's especially great for detangling my hair after it's been in a protective style, like braids.
3
A whisper of makeup does the trick
I'm a sucker for lip balm, and I love these: the hint of color, how amazingly moisturizing they are without feeling heavy, the packaging. I also don't go a day without mascara. I'm blessed with smooth skin, but I have dark circles and some acne scars, so I do light foundation, as well as a little eyeliner.
goop picks
4
Exfoliate—it's magic
Working from home has allowed me to give a little more attention to my skin. I wash my face every day with the cleanser from Acaderma, and I do the Microderm exfoliator one or two times a week to get rid of excess oil, blackheads, whiteheads, and dead skin cells. It's this extra step that helps deep-clean, so my skin is soft, supple, and smooth. When I use it, my skin looks brighter and my spots less noticeable—I'm truly glowing.
5
Take your vitamins and eat as clean as you can
I'm borderline vegetarian and make an effort to eat a lot of greens and shop at natural markets, and I also supplement with biotin, mushrooms for energy support, a multivitamin, and vitamin C—which I put on my skin, too. The vitamin C serum from goop helps brighten and smooth the look of my dark circles.
From a diet perspective, I did dry January, and it made me think about how alcohol brands—like skin-care brands—don't have to list their ingredients, so we have no idea what we're drinking. Wines can have a bunch of added sugar dumped in.
goop picks
6
Sunscreen—every day—is nonnegotiable
I never used to wear it, but that all changed when I went to Mexico on spring break in college with my girlfriend. She was blonde and blue-eyed, and she handed me sunscreen one day before we headed out to the beach. I shrugged and said, "Black people don't burn…" Needless to say, I burned. And it was extremely painful. From then on, I never left home without it. I tell my nieces to wear their sunscreen whenever they go outside.
goop picks
7
Dress to Delight Yourself
At one point, I thought more about the validation of men as I was getting dressed, but I don't as much anymore. I just bought some new jeans that I like (at six-foot-one, it's hard to find ones that fit), and I looked at myself in the mirror and thought, My body looks snatch in these! But then other times I have to trick myself by saying, You look great, you got this. I love creamy, chunky sweaters—the one I have on now is Anine Bing—plus gold earrings, bodysuits, and denim skirts. I have big feet, so I splurge on designer shoes, like the pair of Gucci boots I love that are so comfortable. I also love secondhand and thrift-store shopping.
goop picks
8
Find joy in every part of the day
Sooo many things bring me joy: my team, my clients (who I truly value and think of as an extension of my team), the fact that I'm master of my own day, the way that I feel beyond grateful and humble to do what I do. I love listening to audiobooks and taking time for myself, traveling, and being a little uncomfortable and having to push through something—like this story!—because the outcome often results in a better headspace. Most of all, seeing other Black women in the industry—that just makes my heart flutter.