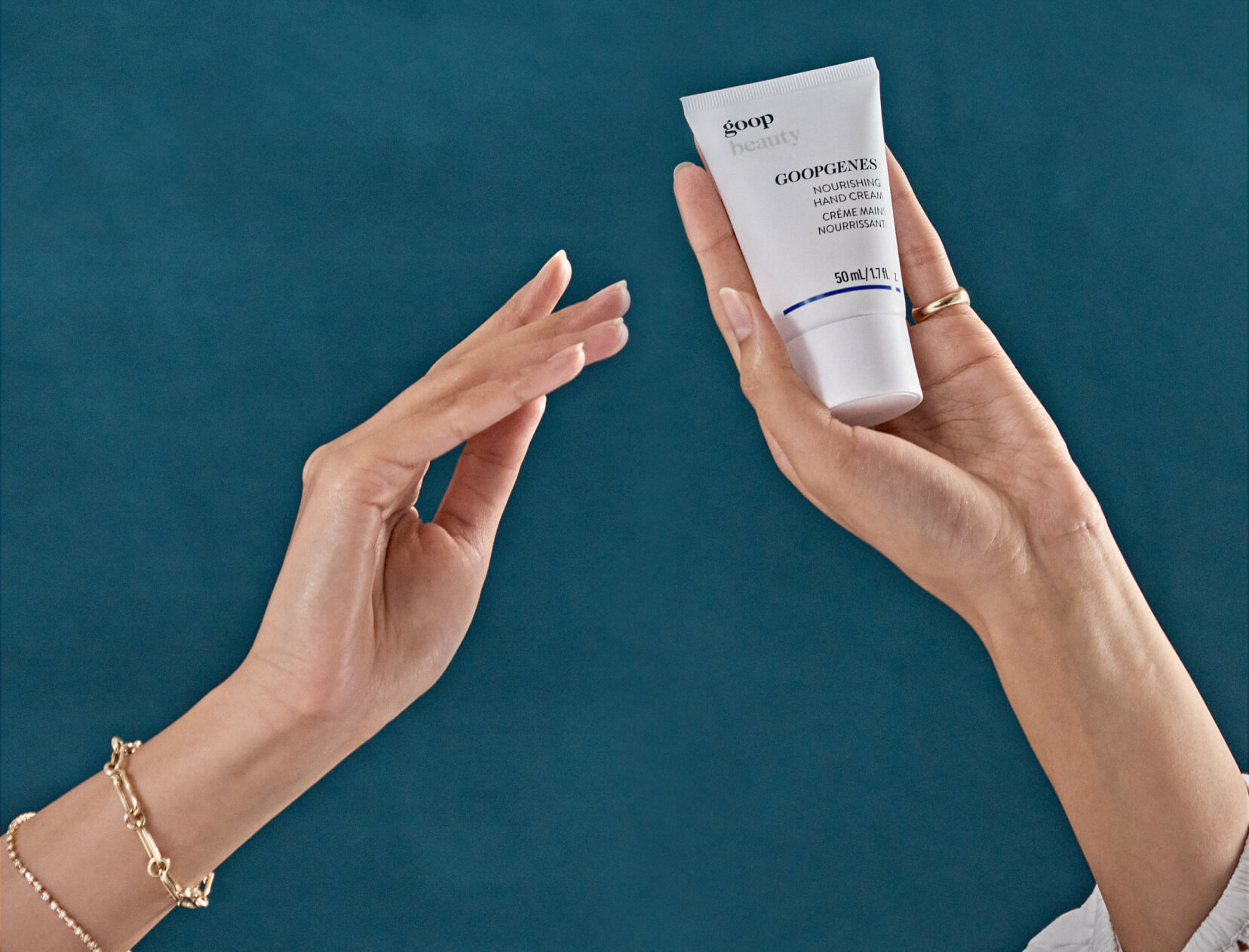 Introducing GOOPGENES
Nourishing Hand Cream
Beautiful hands—like an exquisite ring or a gorgeous bracelet—bring a grace to the way a person carries themselves in the world. Our hands are one of the areas of the body most susceptible to dryness, and they're also one of the first areas to show wrinkles, sun damage, and lack of firmness. So we've made the ultimate clean, nourishing, ultrarich, youth-boosting hand cream, something so luxurious that it makes us feel truly taken care of.
Thick and rich, the cream sinks into skin like magic, soothes and nourishes on contact, and works in both the short and long term to replenish hands so they look and feel their best. It's also totally portable (so we can grab it whenever we need it), affordable (so we can really stock up), and adorably giftable (hence the chic tube).
Creams that pamper skin while delivering results—skin firmed, wrinkles softened—are something of an obsession here at goop, and this hand cream overdelivers.
Rich and Cushiony—with Clinical Results
AFTER A SINGLE USE:*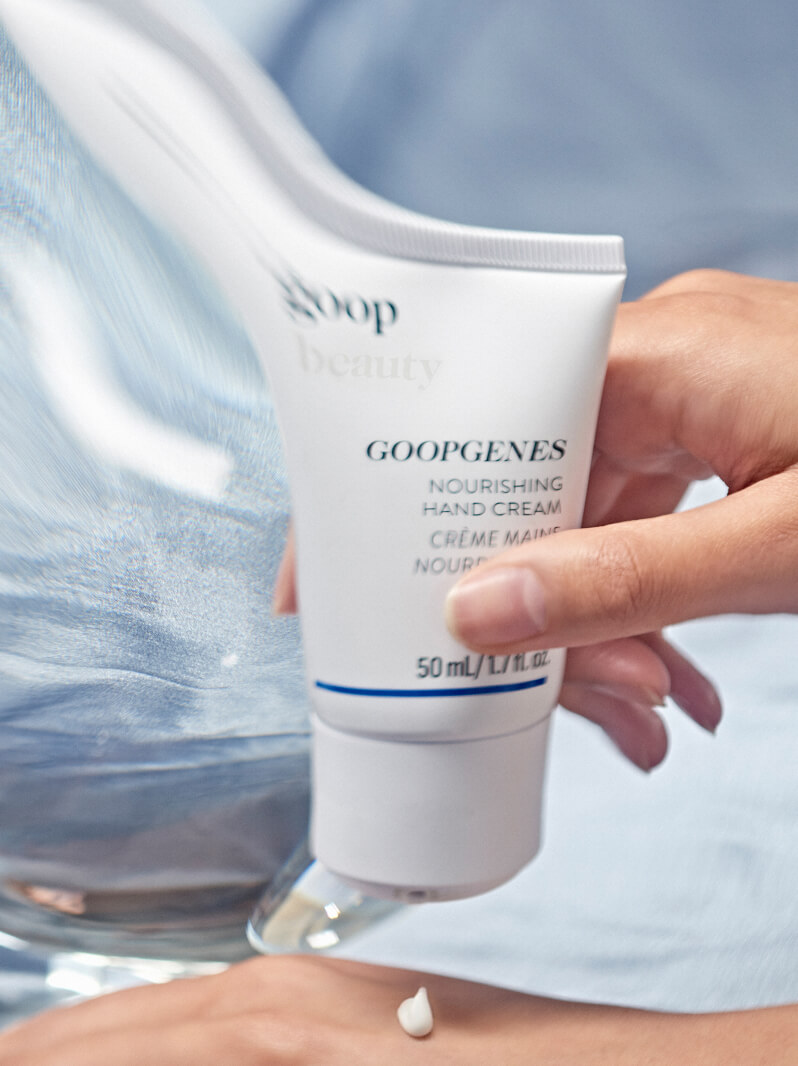 100%
said their hands looked
and felt more hydrated.
100%
saw visible improvement in the look
of their hands and in skin roughness,
dryness, and flakiness.
96%
said their skin looked (and felt) firmer.
*Based on a twenty-four-hour third-party consumer-perception study of thirty-five women ages twenty-five to fifty.
SPARKLY ADDITIONS
Soft, smooth, ultranousrished hands look and feel beautiful no matter what,
but a few favorite pieces of jewelry definitely don't hurt.
Ultimate Routine for Hands
A routine for getting your hands in their best shape ever isn't so much of a step-by-step as it is about making certain things a regular habit. Number one is (of course) fall in love with a great hand cream and leave it out where you can see it. Do you love hand cream just before bed? Leave it on your nightstand. If you're always chopping and washing in the kitchen, a little hand cream at the side of the sink where you keep your hand soap is a bit of luxurious self-care right where you need it. Keep a tube next to your computer as a reminder to stop typing, get up, and massage in a little cream as a break every so often.
The best hand cream

goop Beauty

GOOPGENES Nourishing Hand Cream

goop, $25/$23 with subscription

SHOP NOW

Moisturizing hand wash

Sangre de Fruta

Garden of Earthly Delights
Botanical Hand Soap

goop, $48

SHOP NOW
SUNSCREEN
Stock sunscreen by your front door and in your makeup bag. Apply it before you go out and after you wash your hands, every time. Sun damage on hands shows up just the way it does on your face, contributing to everything from wrinkles and crepiness to age spots and loss of collagen.
EXFOLIATE
Regular exfoliation benefits your hands exactly the way it does your face, so consider scrubbing the backs of your hands when you're in the shower (or before an at-home manicure). Once a week, when you're swiping on goop's overnight glycolic acid peel pads, turn the pad over and use the rougher side on the backs of your hands for brighter, clearer, smoother skin by morning. The effects last all week and, over time, contribute to a more even skin tone on your hands, plus increased brightness and smoothness.
Peel

Inspired by professional chemical peels, these intense exfoliating overnight acid peel pads refine, retexturize, and brighten skin while you sleep. A powerful level (15%) of glycolic acid and potent fruit extracts (mango, banana, yellow mombin, and Australian kakadu plum) work together with naturally moisturizing hyaluronic acid so you wake up with fresh, soft, smooth, beautifully glowing skin.

goop Beauty

GOOPGLOW 15% Glycolic Acid
Overnight Glow Peel

goop, $125/$112 with subscription

SHOP NOW

Scrub

Smooth, exfoliate, soften, and hydrate your skin with the detoxifying power of five mineral-rich salts (Himalayan pink salt, Dead Sea salt, Celtic sea salt, New Zealand solar salt, and Epsom salt) and three ultramoisturizing oils (cold-pressed moringa, pure unfiltered rose hip, and organic extra virgin olive oils).

goop Beauty

G.Tox 5 Salt Detox Body Scrub

goop, $40

SHOP NOW
STEAL A LITTLE FACE TREATMENT
Along similar lines, smooth any active face cream, serum, or even face mask remnants (left over from what you put on your face) onto the backs of your hands. Every morning, we make sure to pat a little vitamin C serum on our hands as we're finishing doing the same for our face (topical vitamin C has skin-toning, brightening, smoothing effects, and it's even been shown to have a small sun-protective effect, though never use it as a substitute for sunscreen). If there are precious extra drops of an active oil like Vintner's Daughter or of a face cream like the one from Augustinus Bader, they go straight to our hands.
This daily glow serum combines two skin-care powerhouses, L-ascorbic acid (proven in research to be the purest, best-for-skin form of the antioxidant vitamin C) and moisturizing hyaluronic acid (a hydrator that's naturally present in the body). The unique two-part design maximizes potency and freshness, delivering a serum that stays active all the way through its use.

goop Beauty

GOOPGLOW 20% Vitamin C +
Hyaluronic Acid Glow Serum

goop, $125/$112 with subscription

SHOP NOW

It's not surprising that this oil has a cult following: It's an infusion of twenty-two active organic botanicals mixed with powerful essential oils. Phytonutrients and minerals help balance skin; phytoceramides, nourishing fatty acids, and antioxidants stimulate and brighten dull complexions. The revolutionary formula beautifully sinks in, leaving skin smooth and glowy.

Vintner's Daughter

Active Botanical Serum

goop, $185

SHOP NOW

This legendary supermoisturizer was developed by German professor Augustinus Bader to support skin in taking care of itself, addressing everything from fine lines to wrinkles to elasticity.

Augustinus Bader

The Rich Cream

goop, $265

SHOP NOW
AT-HOME MANICURE MAINTENANCE
Beyond skin treatments, having a few manicure essentials at home—even if you go regularly to the salon—makes all the difference in terms of keeping your hands in beautiful shape.
KEEP THE NOURISHMENT GOING
Almost as soon as we launched GOOPGENES body cream, we started hearing that people were using it on their hands. And while it made some sense—the cream nourishes and delivers youth-boosting skin-care results every bit as powerfully as a face cream—a cream designed specifically for hands made even more. Indulge your skin all over with clean, clinically proven skin care to look and feel your best, both in the short and the long term.