The Chic New Makeup-Artist Line That's Clean (but Acts Dirty)
Published on: October 18, 2022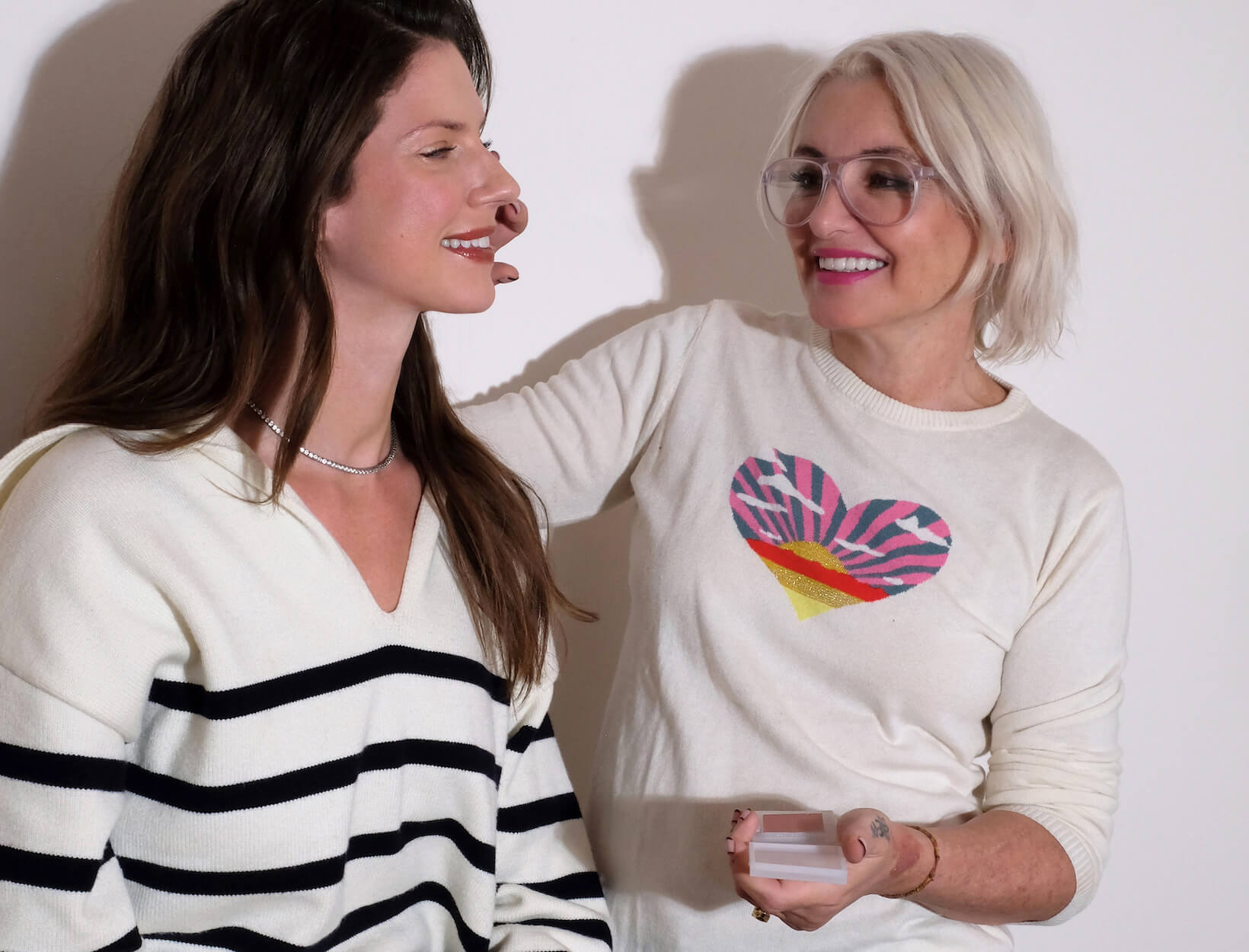 Watching Jeanine Lobell dab a bit of rosy pigment here with a brush, smooth a touch of sheer shimmeriness there with her fingers, look up into the model's (in this case, above, Paulina Murchie's) face, then back at her palette, back at a swipe of color on the back of her hand, and back again to the model's face, you're reminded how closely focus can resemble distraction.
Whether Lobell is more famous as a makeup artist—you've seen her work on red carpets, on magazine covers, in movies, and, yes, on Gwyneth's skin on a number of occasions—or as the founder of Stila, one of the best-loved conventional makeup brands ever, is sort of beside the point, because she's about to be famous for something else: NEEN, a totally next-level clean makeup line.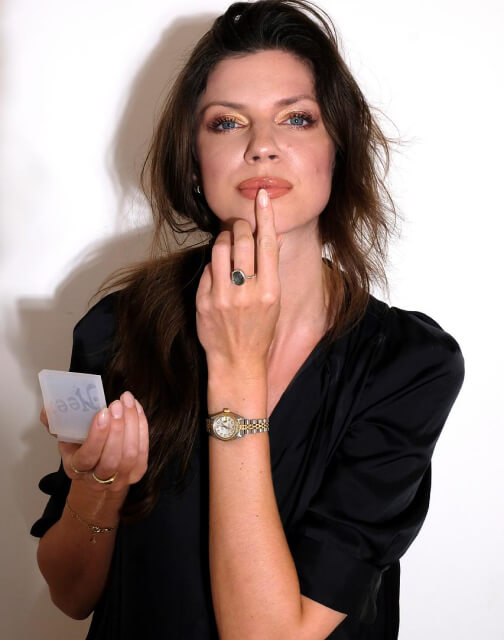 "
These lip glosses are honestly colors everybody should have—staples with a little bit of a fashion twist—and we're starting with two at a time. You can layer, wear them on their own…just have fun.
"
Jumbled on the table in front of us, gorgeously colored creams stand out against the also-sheer milky silicone compacts she's packaged them in. That's the thing about Lobell: She thinks of everything, not just the multilayered formulas that look great against everyone's skin, and not just the cool factor of colors and textures that make you feel like a runway star, but also the irresistible chic of a new kind of refillable compact that you can't stop touching, can't stop opening and shutting, because the smooth, flexible surface just feels so satisfying. Along with the compact's undeniable ASMR aspect, the translucent silicone is incredibly durable and doesn't leach microplastics into the environment.
"
Everyone looks good with a little shimmer—and it can give older skin a lift.
"
"Given my history in packaging with Stila, I had to take NEEN a big step further," says Lobell ("Neen" is her nickname). "I look at my trash can at the end of day and I know how few cosmetic containers actually get recycled, so we've done our best here. I wanted something refillable that really held a good amount of product—it's not great for business, but we all have to focus on buying less and buying more mindfully, choosing things that last."
Why We All Need Beam
Once you get your hands on one of the compacts and start playing with colors, you're hooked. I zero in on a pale, glimmering powder cream called Beam. "It's our number one shade," says Lobell. "It's that superstar color that works for everybody. I feel dull without it—you can put it anywhere: dusted on the inner corners of your eyes, the outer corners, high points on your face, the Cupid's bow…anywhere."

But I'm old, I protest: Wrinkles and shimmer don't mix. "Total misconception," she says. "Shimmer's great for older skin. It can actually give you a little lift if you put it in the right spot." Where, exactly? "A little bit in the inner corner of the eye wakes anybody up," she says. "Try it right in the middle of your lid and smooth it to disappear right before it hits the crease—magic. Be strategic: Put it where you want a little bit of candlelight. Don't put it where there's something you'd rather not draw attention to." Conversely, playing up, say, the inner corners of your eyes or the tops of your cheeks grabs the attention from a breakout or the crow's-feet you're not so into.
Why Blush Is Everything
All of Neen's shades are multipurpose, but the blush is especially so. "I love to put a little color onto the lips, then tap it onto the cheeks," she says. "Using the same color on both parts of your face gives this monochromatic effect—it's like, they're together, they're friends—that's really natural and just makes you look great, rather than your makeup looking great."
"
It was my mission to make a cheek color that doesn't feel dry on your lips, and a lip color that doesn't get greasy on your cheek.
"
Lobell returns to this theme often: "I don't want to see the makeup; I want to see you," she says. So her first step is invariably skin care. She's the first makeup artist who taught me to always—always—dab on eye cream and let it sit for a second before starting any makeup. "Good skin care makes it much easier to improvise," she says. "The better the skin is, the better the makeup looks. That's why the first thing I do is exfoliate: The more dead-cell buildup that I can get off the face before I start, the better. Exfoliants make me a lot better at what I do than I actually am. This one is just amazing."
"I can really see the difference in my 30- to 40-plus clients in terms of who really takes care of their skin," Lobell says. "And that doesn't mean they're using 18 products every night. Just exfoliate so nothing's grabbing on the skin, hydrate the skin, and smooth on eye cream. I had a very glamorous mom, one with those three-mirror vanities, and I'd watch her sitting there, taking care of her skin, and it made an impression."
To further play up skin, Lobell focuses on creamy textures and intense pigments. "I love creams," she says. "They break up a product's base and really bring the skin vibes. And concentrated color is much easier to blend—you don't need so much, so there's less stuff on your face." Those intense pigments—and how they're mixed together—she says, are the secret sauce. "You see TikToks with people saying this product is just as good as that, that there aren't differences between them. It's just not true. I remember long ago, the first time I made this one shadow and it looked so good, and we got the price and I was like, Whhaaat? And someone explained to me: It's the pigment and how many pigments you're mixing together. The best shades have a lot of different colors in them.
"That's the difference between 'You look so good' and 'What blush is that?' The first is always the goal for me, that and the ease of being able to blend them with a finger or a brush, whatever you like."

How do you best blend with your fingers? "Touch the product, dab a bit on your hand, and then dot it on with another finger, just smoothing it into your skin," she says. "If you like a brush, do the same thing: Smoosh a little product on your hand, then sweep the brush over that, then sweep the brush over your face."
And where, exactly, should you smooth it on? "I associate blush with emotional states," says Lobell. "Put it on the apple of your cheeks and it's got this sweetness. Put it up higher and you're drawing someone into your eyes and it's more intimate. If you go lower, like a contour and blush in one, it's got this more serious come-hither fierceness and intensity. I mean, who doesn't love a cheekbone?"
Creating something totally new two separate times in a single career is rare, but Lobell refuses to be overshadowed by her previous success. "The world is different now," she says. "We have to try harder. We don't want to poison ourselves or the earth. My idea was clean makeup that acts like it's dirty—there's this perception that clean isn't as good, or as scientific, as conventional, and one of my goals was to blow that misconception up."