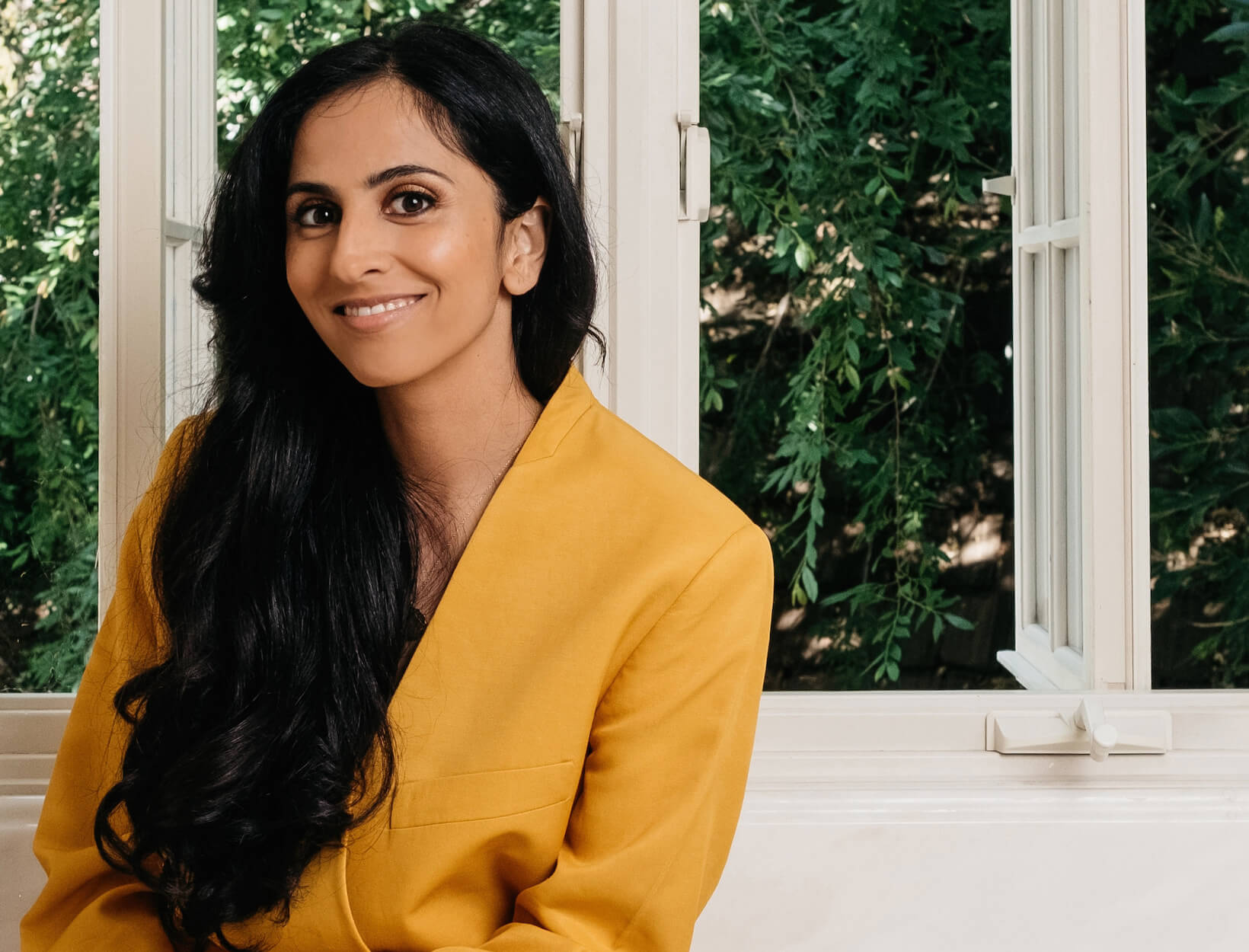 My Morning Routine
Win the Day First Thing
Michelle Ranavat |
founder and CEO of RANAVAT beauty company
She makes one of the most gorgeous hair serums we've ever tried (the shine! the texture! the scent!), so we weren't surprised that Michelle Ranavat's hair looks especially lush, healthy, and shiny. She also makes skin care, as it turns out, and her exquisite skin is a testament to that. Her morning routine emphasizes early-in-the-a.m. triumphs, the power of ritual, and next-level skin- and hair-care ingredients like bakuchiol, saffron, turmeric, and ashwagandha.
After having a successful career in pharma and finance and giving birth to two sons (now eight and five), Ranavat leaned on traditional Ayurvedic remedies to heal her changing skin, and it was postpartum hair loss that inspired her much-obsessed-over hair serum. "Hair is such a big part of our identity, so losing it was difficult," she says. "I started to get more serious about taking care of my hair and noticed the difference weekly hair oiling made. That's how I knew I wanted to create my own supercharged version of a traditional Indian hair oil."
Today, Ranavat's celebration of her Indian roots flows through her entire line, which is growing by leaps and bounds. As she juggles running the business with caring for her two sons, she focuses on getting the tough stuff done first. "My mornings are all about getting a few wins in early to make the entire day feel productive," she says.
7 a.m.: I lie in bed for a few last moments of rest while my husband gets our sons ready for school. I try to win the morning by accomplishing something at the start of the day, so the rest of my day feels good. I head straight for a workout right after I have my coffee.
I almost never have breakfast, but I swear by my Jura espresso machine and Philz hazelnut coffee beans. I pour two shots of espresso over ice and oat milk.
I energize with a combination of strength training and HIIT workouts. I also love Cody Rigsby on One Peloton if I want a fun, cheeky workout, or Aditi Shah for meditation—she's an incredible instructor and someone who truly got me through those hard pandemic lockdown times.
8:30 a.m.: After driving my kids to school, I shower and get ready. I like super hydrating shampoos and conditioners—Rahua is amazing. I also enjoy a nice energizing dry brush session (the Gilded Body marble body brush is so beautiful). I finish off with Everyday oil to keep my skin nice and hydrated during the day.
After I get dressed, I apply my favorite Radiant Rani brightening saffron serum from my line. It makes me look awake and gives me a beautiful glow. The saffron scent is so calming, and it makes the routine feel like a beauty routine and meditation in one.
For my hair, I add shine and protection with a few drops of the Mighty Majesty hair serum. The divine jasmine scent makes it my perfume as well as my hair oil.
For days when I wear makeup, I swear by the Westman Atelier Vital Skin foundation stick. I love a natural look, so this stick mixed in with a few drops of my saffron serum creates a second-skin finish. I top the look off with the Super Loaded tinted highlighter in Peau de Pêche—the subtle glow is the perfect shade for my skin.
For my eyes, I love a kohl eyeliner. Jillian Dempsey's glides on and lasts all day. And for lips, I wear the ILIA Balmy Tint hydrating lip balm.
9 a.m.: I typically start the day at home for a few hours of uninterrupted work.
10 a.m.: For a boost of energy, I eat some fruit with an iced matcha or sparkling water.
In the afternoon, I drive to the office. On my way in, I usually call my mom and sisters. They live in Chicago, but we are so close and talk almost every single day.