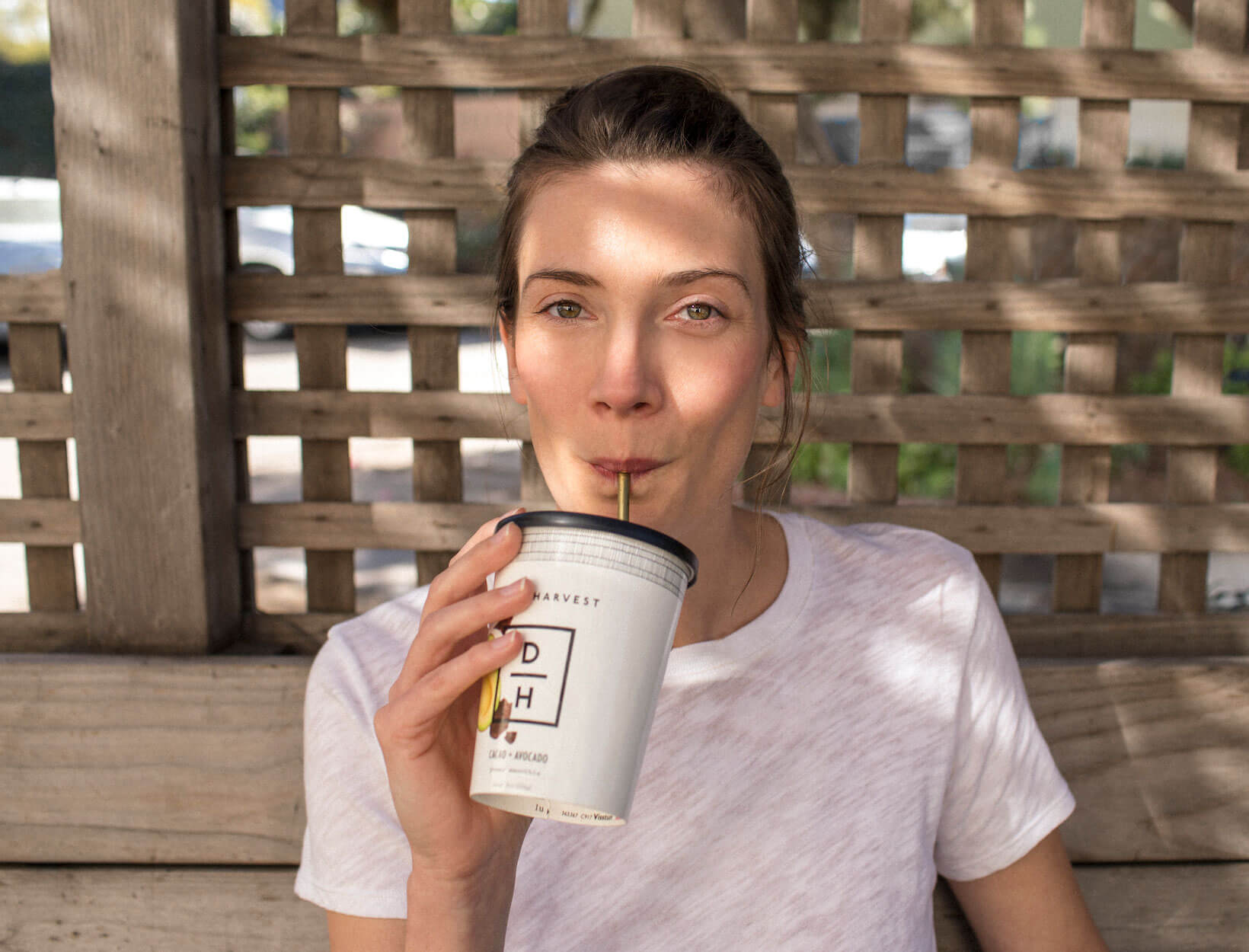 MY MORNING ROUTINE
Work-Wife Breakfast, Charcoal Body Wash, and a Milkshake Smoothie
In partnership with our friends at


THEA BAUMANN | food editor I'm naturally not a morning person—I love sleeping more than anything in the world. But I commute to Santa Monica and have a 21-month-old, Frances, who sometimes gets me up (she'll often sleep till 8 a.m., though—I'm like, yep, you're my girl!), so I set my alarm for 5:55 a.m.
After that first alarm, there's lots of snoozing, in 7-minute increments. By 6:15 a.m., I'm up and in the shower. I'm into the Linné charcoal body wash—I bought it for my husband, Oscar, as a stocking stuffer, but it's really for me.
I alternate between face wash from Ursa Major—it's super fresh and wakes me up—and the goop melting cleanser, which is so moisturizing. For the latter, I get my face wet with a washcloth in the shower, scoop up a little balm with the washcloth, massage it in, and rinse. It's very hydrating, especially in winter.
I get out, and if anybody else in the house is awake—if Frances is up, Oscar is also up—it slows me down a little, but I love to see them. Oscar makes coffee, and I help get Frances' breakfast together, have a little coffee—and then drive. For a very long time.
Usually Caitlin—she's my work wife, and a really good one—beats me to the office, or we get there around the same time and have breakfast together: She'll scramble some eggs, use up leftover veggies in a burrito, and make some more coffee…

We also love smoothies. We keep a stash of Daily Harvest shakes—they freeze all these raw, superfood ingredients into a cup, you add water or nut milk, throw it all in the blender, and it makes the exact amount to fill up your cup. It's brilliant, so good, and satisfying. I have the matcha one if I'm feeling tropical (it includes pineapple), and then the avocado-cacao one is like a not-too-sweet milkshake.

I tend to save the avocado-cacao for later in the day—it's the perfect snack around 3pm, when I'm wondering whether I should go for more coffee even though I know I don't really need the caffeine. So, breakfast-for-a-snack! It's the best pick-me-up/afternoon treat.