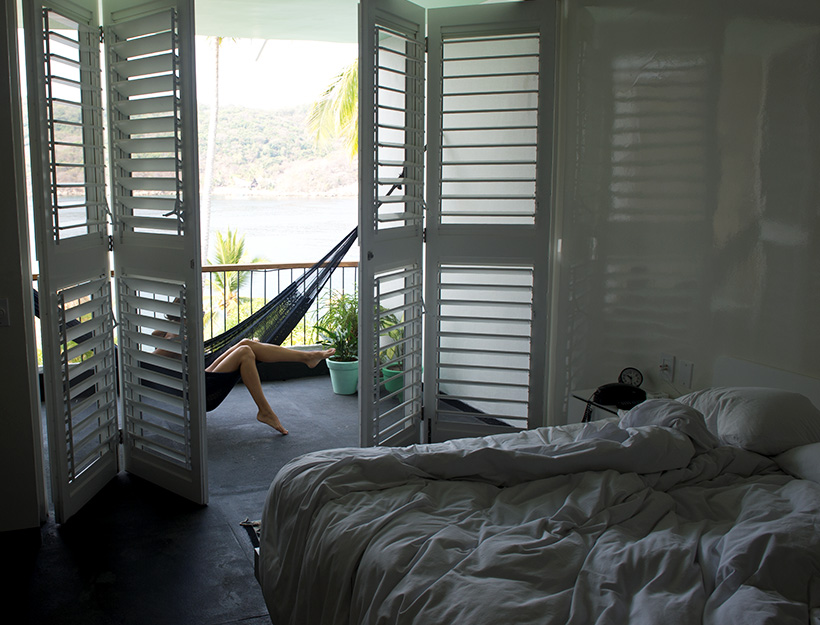 Photo by Robert Whitman/thelicensingproject.com
Work Trip Strategy: Netflix + Face Mask
When you're packing for a business trip, the impulse is to pare down as much as possible: Surgical strike, in, out. But once the reality of alone-for-the-night-with-the-minibar (or worse, the lack thereof) sets in, there are few among us who wouldn't welcome a face mask, a hair mask, bath salts, a body oil, or, ideally, all of the above. Packing a few TSA-kosher indulgences doesn't make your bag that much heavier, and—whether your company's style is more Four Seasons or more Hampton Inn—makes any hotel room (or Airbnb, goop-favorite business-travel option) about 1,000 times more appealing.
Self-care is especially critical when you're hopping time zones, out of your usual routine, not in control of your environment, and often dealing with added stress from whatever project has brought you on the trip to begin with. Exercise of whatever sort you love is a potent de-stressor that also helps with jet-lag, appetite, and energy levels, but don't underestimate the power of a self-administered beauty treatment, too: An exfoliating mask or an uplifting oil can balance the grey-skinned grogginess of days spent in a conference room, or walking the booths of a convention hall. The silver lining of missing your family and friends is the extra time you can take for yourself (mothers with young children will appreciate the wild luxury of an uninterrupted bath or shower, for instance).
Below, a pamper-yourself packing list:
#1: Jet Lag Help
Even an hour or two in the wrong direction can leave you glassy-eyed and uncomprehending in meetings, then wide-awake pacing your hotel room instead of sleeping. Think of Uma's Pure Energy oil as your morning go-to and and massage in Naturopathica's Chill instead of a nightcap. And Brain Dust from Moon Juice is especially good for a business trip (sprinkle the portable sachet into drinks or over food before the potentially glassy-eyed meeting).
#2: Sets
Not only are deluxe minis the perfect size (a too-mini mini is useless; a full-size is heavy and usually has to be checked), they're often designed to give you all the ingredients you need to make a particular regimen most effective.
#3 Serious Treatment
These are brilliant for going all-out on an evening of beauty: a skin-polishing glow-ifier, a stupor-inducing bath, and a shine-inducing hair oil (leave on overnight). You'll re-set your whole vibe, not to mention look so much better the next day.
#4 Moisture That Doubles As Perfume
These both go over 3.4 ounces, so you'll need to decant if you're determined not check. If you're checking, take the whole thing for ultimate indulgence.