Winter Moisturizer from Head to Toe
Written by: Jean Godfrey-June
|
Published on: December 14, 2021
|
Updated on: December 14, 2021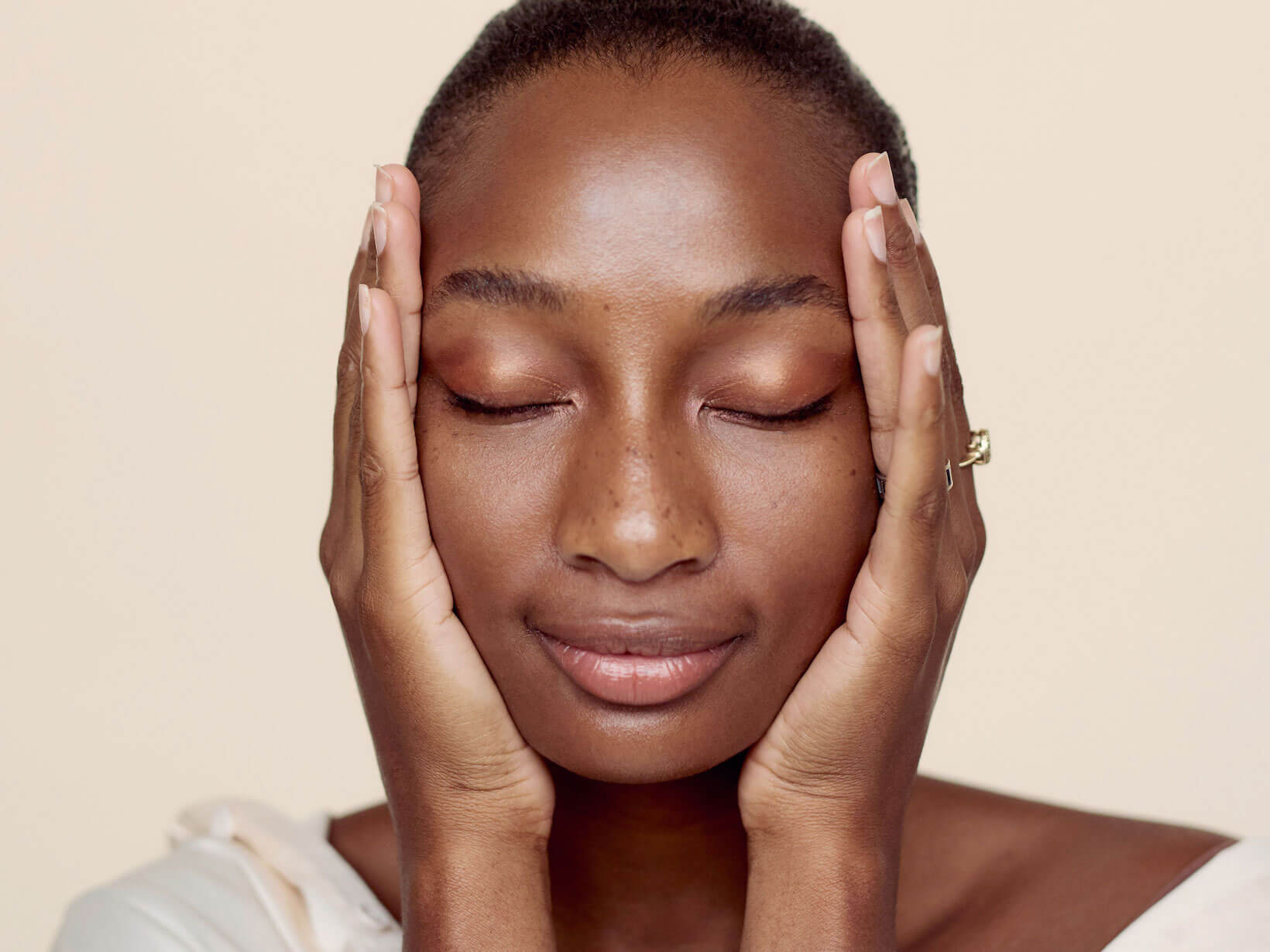 Photo courtesy of Jim Lafferty/The Licensing Project
At the same time when we're pulling puffy coats and neck-cosseting scarves out of our closets, even those of us who don't typically worry about dry skin or hair find ourselves reaching for something—anything—even vaguely moisturizing to soften and nourish everything from our hands to our hair to our lips. A strategy helps, as starting with sometimes-counterintuitive measures like exfoliating can make a real difference in how well your moisturizing efforts work.
1
First, We Exfoliate
Chemical exfoliants, like alpha hydroxy acids and fruit enzymes, and physical exfoliants, like minerals, salt crystals, and even the bristles of a body brush, all serve to sweep away dead skin cells, which can help improve the skin's barrier function (alpha hydroxy acids were first used to treat an extreme dry-skin condition called ichthyosis). Properly exfoliated skin also better absorbs moisturizer that follows. The key though, is "properly": Exfoliate no more than what feels comfortable on your skin, because too much of a good thing (overexfoliating) compromises the skin's barrier. Go slowly and carefully as you try new forms of exfoliation, and always go with what feels right.
Face
Every-few-days scrub

This clinically proven microdermabrasion exfoliator delivers the benefits of both physical and chemical exfoliation, instantly polishing away roughness, smoothing uneven texture, and revealing a healthy-looking, glowing complexion.

goop Beauty

GOOPGLOW Microderm Instant Glow Exfoliator

goop, $125/$112 with subscription

SHOP NOW

Daily tonic

Helps minimize pore appearance and gently exfoliates to refine skin texture.

goop Beauty

G.Tox Malachite +AHA Pore Refining Tonic

goop, $75/$68 with subscription

SHOP NOW

Once-a-week peel

An intense exfoliating overnight glycolic acid glow peel that refines, retexturizes, and brightens skin while you sleep.

goop Beauty

GOOPGLOW 15% Glycolic Acid
Overnight Glow Peel

goop, $125/$112 with subscription

SHOP NOW
Body
Moisturizing body scrub

Leaves behind a velvety-smooth feel and a subtle, beautiful scent.

goop Beauty

G.Tox 5 Salt Detox Body Scrub

goop, $40

SHOP NOW

Body detox brush

Sweeps away dead skin to reveal glowing and smooth skin.

goop Beauty

G.Tox Ultimate Dry Brush

goop, $20

SHOP NOW
Hair
Exfoliating shampoo

A unique whipped shampoo that purifies and detoxifies all at once.

goop Beauty

G.Tox Himalayan Salt Scalp Scrub Shampoo

goop, $42

SHOP NOW

Gua sha for scalp

This gorgeous kit delivers an incredible head massage and a gentle scalp detox, too.

Act + Acre

Scalp Gua Sha System

goop, $70

SHOP NOW

The ultimate detangling (and scalp-massaging) brush

Made with beechwood pins, this brush smoothly detangles even thick hair and gently massages your scalp.

Crown Affair

The Brush No. 002

goop, $62

SHOP NOW
2
Cleanse with Care
Harsh surfactants and detergents break down your skin's natural moisture barrier, so consider going even more nourishing and gentle with your cleansers.
Face
Oil

This oil made of sacha inchi, sunflower-seed, and apricot-seed oils dissolves makeup, cleanses, and softens all at once.

Tata Harper

Nourishing Oil Cleanser

goop, $86

SHOP NOW

Balm

A skin-coddling cleansing balm made with manuka honey and royal jelly.

Naturopathica

Manuka Honey Cleansing Balm

goop, $62

SHOP NOW
Body
Hydrating shower gel

A gentle lathering body wash that leaves skin soft, moisturized, and smelling subtly of cedar, sandalwood, and bergamot. We especially love the chic, gigantic pump bottle.
Hair
Moisturizing shampoo and conditioner

This super nourishing, shine-inducing duo made with rahua, ungurahua, morete, and sacha inchi oils now comes in gorgeous, gigantic, limited-edition pump bottles.
3
Layer 1: Serum
Go from thinnest to thickest, texture-wise, when layering moisturizers. Ingredients like hyaluronic acid, aloe, and squalane boost moisture in skin or hair.
Face
The one-stop shop

Made with squalane and a polysaccharide moisture complex, this multitasking milky serum from the legendary German doctor moisturizes, smooths, and calms skin.

Augustinus Bader

The Serum

goop, $375

SHOP NOW

Two types of ultrahydrating hyaluronic acid

This hyaluronic acid serum is incredibly moisturizing.

Dr. Barbara Sturm

Hyaluronic Serum

goop, $300

SHOP NOW

Vitamin C and hyaluronic acid

For skin that looks radiant, moisturized, and healthy, this daily glow serum combines two skin-care powerhouses: vitamin C and hyaluronic acid.

goop Beauty

GOOPGLOW 20% Vitamin C + Hyaluronic Acid Glow Serum

goop, $125/$112 with subscription

SHOP NOW
Body
Aloe vera and purslane

A cooling, soothing gel made with purslane to really boost moisture in skin.

Dr. Barbara Sturm

Aloe Vera Gel

goop, $70

SHOP NOW
Hair
Before-you-shampoo miracle

The secret to your shiniest, softest, healthiest-looking hair is this preshampoo glow serum that works like a dream no matter what your hair type or texture.

goop Beauty

GOOPGLOW Restore + Shine Hair Serum

goop, $48/$44 with subscription

SHOP NOW
4
Oils Go Under or Over
Oils for skin can layer under or over moisturizer—it depends on your preference. We also love to pat on face oil over makeup to refresh it a bit as the day wears on: Smooth a little face oil across your palms, pat it in (avoiding your eye area), wait a few minutes, and watch your whole face wake up.
Face
The face oil with (amazing) clinical results

This ultraluxurious active face oil leaves skin firmer, smoother, softer, more radiant, and moisturized—the results on your skin will blow you away.

goop Beauty

GOOPGENES All-in-One Super
Nutrient Face Oil

goop, $98/$89 with subscription

SHOP NOW
Body
Most sumptuous body oil

Smooth on this gorgeously scented, antioxidant-rich restorative oil and it sinks in instantly for supple, plumped skin.

Seed to Skin

The Serenity Time Defying Dry Body Oil

goop, $162

SHOP NOW
Hair
Most beautifully scented hair oil

Part frizz-smoothing serum, part gorgeous jasmine-inflected hair perfume.

Ranavat

Fortifying Hair Serum: Mighty Majesty

goop, $70

SHOP NOW
5
Let The Rich and Creamy Work Their Magic
Creams and lotions layer on after serums, as they're more occlusive—they help seal all the goodness in.
Face
Rich, firming moisturizer

This luxuriously thick supercream significantly improves firmness, elasticity, glow, the appearance of fine lines and wrinkles, and brightness after just four weeks. A single application leaves skin nourished, firmer-looking, and moisturized for forty-eight hours.1

goop Beauty

GOOPGENES All-in-One Nourishing Face Cream

goop, $95/$86 with subscription

SHOP NOW
Body
Ultimate hand cream

Thick and rich, the cream sinks into skin like magic, soothes and nourishes on contact, and works both short and long term to replenish hands so they look their best.

goop Beauty

GOOPGENES Nourishing Hand Cream

goop, $25/$23 with subscription

SHOP NOW

Citrusy head-to-toe body butter

This rich, luxurious, clinically proven supercream for body leaves skin ultramoisturized, silky-soft, smooth, firm, and toned.

goop Beauty

GOOPGENES Nourishing Repair Body Butter

goop, $55/$50 with subscription

SHOP NOW
Hair
All-in-one hair miracle

This silky, lightweight styling cream multitasks as a nourishing mask and conditioner.

Sangre de Fruta

Botanical Hair Elixir

goop, $96

SHOP NOW
6
Balms Nourish Intensively
Balms are super thick but, like oils, melt wonderfully into skin and hair. Apply a thin layer for daily use or a thicker layer for an overnight mask.
Face
Calming

This soothing blue balm from acupuncturist and aromatherapist Annee de Mamiel cocoons skin in precious botanical extracts, oils, and butters.

de Mamiel

Skin Recovery Blend

goop, $160

SHOP NOW

Renewing

Smooth on this rich, deeply nourishing skin balm both day and night—it's ultramoisturizing and smells like honey and flowers.

Monastery Made

Attar Floral Concentrate Balm

goop, $168

SHOP NOW
Lips
Three rich, cushiony, ultramoisturizing lip balms—one clear, one a translucent garnet, and the other a sheer rose—all full-size, packed into a chic, limited-edition holiday box.
Hair
This frizz-fighting multitasking miracle smells like flowers, moisturizes without weight, smooths hair, tames flyaways, and adds shine.
7
Sunscreen Makes a Real Difference
Protecting your skin against sun damage has the added benefit of helping prevent moisture loss and preserving collagen. If you're going without sunscreen, you're all but guaranteeing drier skin.
Face
This lightweight SPF 30 cream melts into your skin, blocking both UVA and UVB rays with zinc oxide. (And have you ever seen a cuter tube of sunscreen?)
Body
Protects against UVA, UVB, and blue light.
8
Indulge in Masks
The urge to retreat and soothe oneself in a cocoon of calm and hydration is not to be ignored. Flipping open a book or catching up on the latest episode of Insecure while you wait for the moisturizing ingredients to sink in is optional.
Face
Ultimate moisturizing mask

One of the most soothing, moisturizing, luxurious masks ever.

Tammy Fender

Restorative Radiance Masque

goop, $195

SHOP NOW

The (full) eye mask treatment

This iconic set includes depuffing, ultrahydrating prebiotic eye sheet masks and the famous twenty-four-karat-gold-plated vibrating T-bar to lift and sculpt.

Jillian Dempsey

The Sculpt + Smooth Duo

goop, $245

SHOP NOW
Hair
Once-a-week shine-inducer

For shinier, healthier, bouncier hair in ten to fifteen minutes, this super nourishing mask works miracles on dry, damaged, colored, or heat-treated hair.

Rahua

Omega 9 Hair Mask

goop, $44

SHOP NOW
9
Treat Skin from the Inside Out
Supercharge your water with ingredients like the vitamins C and E, grape-seed proanthocyanidins, and CoQ10 in GOOPGLOW superpowder (it also tastes amazing, so it encourages the drinking of more water in general). And all goop vitamin protocols include fish oil, which can be super helpful for dry skin.
The water bottle

A sleek (and sustainable!) upgrade from single-use plastic.

Larq

The LARQ Self-Cleaning Bottle

goop, $95

SHOP NOW

Daily vitamins for those forty and over

This supplement protocol contains herbs, adaptogens, phytonutrients, and vitamins.

goop Wellness

Madame Ovary

goop, $90/$75 with subscription

SHOP NOW

A.M. cocktail for skin

Drink your way to glowing skin with a power shot of antioxidants and nutrients.2

goop Beauty

GOOPGLOW Morning Skin Superpowder

goop, $60/$55 with subscription

SHOP NOW
2. These statements have not been evaluated by the Food and Drug Administration. This product is not intended to diagnose, treat, cure, or prevent any disease.