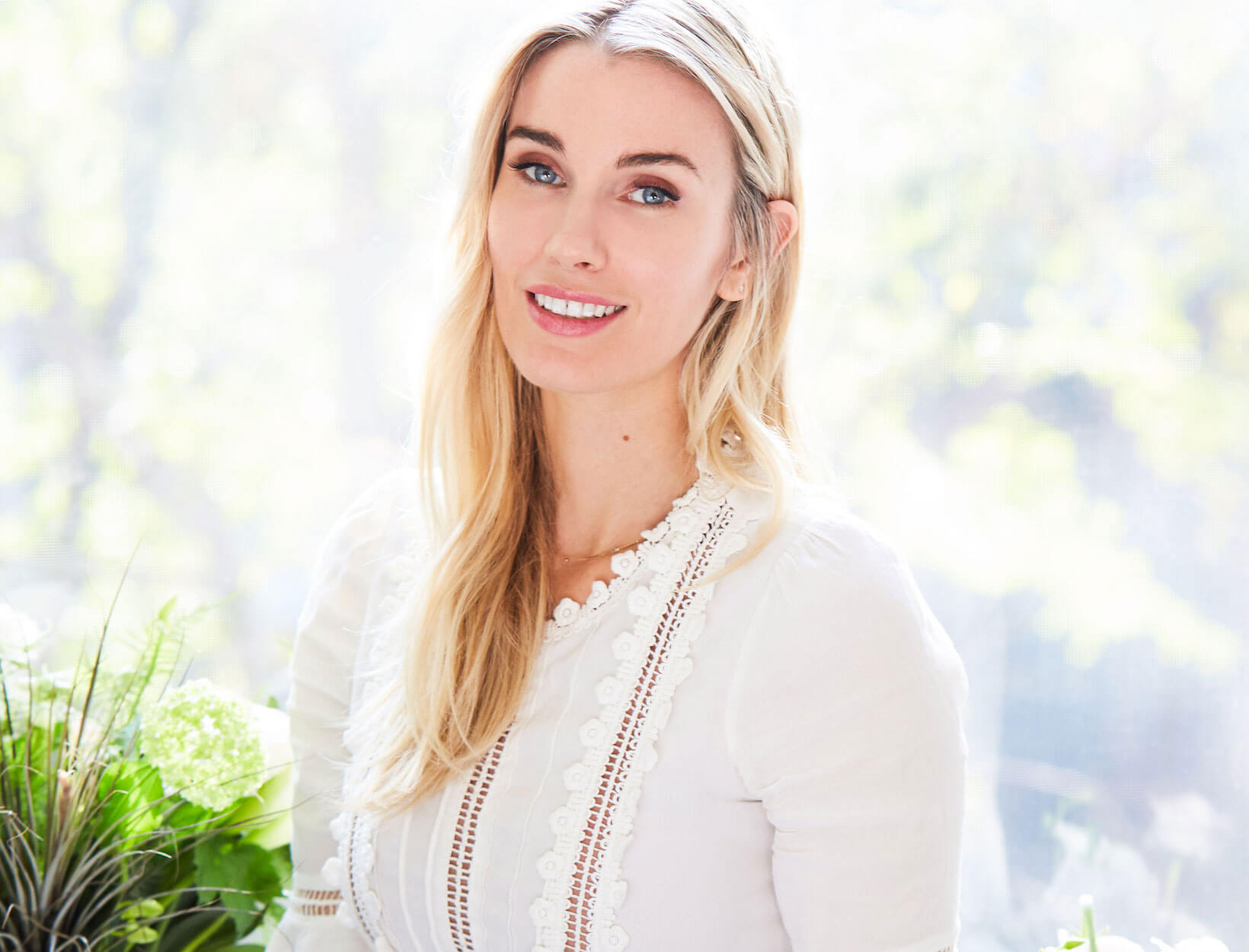 The Beauty Closet Questionnaire
A Spalike Shower, Skin and Hair Secrets, and Old Hotels on the Dead Sea
goop beauty editors Jean Godfrey-June and Megan O'Neill love to ask—and answer—questions. On their podcast, The Beauty Closet, they're doing both. To familiarize you with each week's guest, we came up with a goop beauty (and life) questionnaire.
THIS WEEK WE'RE TALKING TO:
Whitney Tingle, cofounder and co-CEO of Sakara Life
As a cofounder of Sakara Life—the plant-based food-delivery program that's been changing the way people eat for ten years—Whitney Tingle can tell you how to start a company with $700 in your pocket, how to clear your breakouts by throwing out your prescriptions, how to eat with joy and purpose, and how to make the workplace more workable for parents. What she can't tell you is how to be perfect. As she and cofounder Danielle Duboise have evolved their wildly successful business with a podcast, conferences, and supplements, they've also both had children. "Going through it all with my best friend from grade school is just a beautiful experience that's ongoing," says Tingle, a new mom to baby Bodhi. "Life is always changing, and we support each other in that."
It's easy to think about Tingle and Duboise as a single unit—they laughingly admit that their employees often refer to them as DW—but we decided to send each of them their own goop questionnaire. Tingle's answers are full of great surprises—and some incredible tips for keeping your hair voluminous, your skin clear, your shower super relaxing, and your lemonade detox-friendly.
First job?
My first job (other than working for my mom's rental property business) was at the Sedona Cultural Park. I worked in the box office, selling tickets to the amazing shows and events that would play at the amphitheater. We had incredible performers come through—like Willie Nelson, Norah Jones, and Lynyrd Skynyrd. I sold the tickets, then got to watch the shows. It was so fun!
Go-to weeknight recipe?
My husband, Itay, is really into barbecuing (something we can do more of living in Arizona right now rather than Manhattan). He will grill up anything and everything. A fun way to get our greens in is a grilled Caesar salad: Slice the romaine lettuce in half; drizzle with olive oil, salt, and pepper; and throw it on the grill for a few minutes each side. Cut the ends off and toss in your favorite Caesar or green goddess dressing. Delish!
Essential beauty products?
I am quite the beauty product junkie and have tried just about everything. A few products I've stayed obsessed with and loyal to: Vintner's Daughter Active Treatment Essence and Active Botanical Serum. I also love ILIA Mascara and rely on Saie Sunvisor for the summer months. And I can't go a day without my Sakara Beauty Water Drops.
Proudest moment?
Birthing my nine-pound, seven-ounce baby in October.
Perfect Sunday afternoon?
Hike in the Sedona desert.
Hair routine?
I'm pretty low-key when it comes to my hair. I air-dry, unless I need to look more put-together—then I'll do a blow-dry. I love the Philip B. paddle brush.
Favorite hotel?
Any hotel at the Dead Sea. They're all super outdated and filled with tourists who are mostly retired, but I love it. It's one of my favorite places on the planet. I always feel relaxed there.
Shower or bath (and any essentials to go with)?
Being a new mom, I rarely have the chance to spend too much time on myself, so I make my showers efficient yet luxurious. I love goop's Himalayan Salt Scalp Scrub Shampoo—it makes my hair extra voluminous. While I have conditioner in my hair, I like to do a face scrub or Tata Harper's Regenerating Cleanser.
When I have a bit more time to unwind at the end of the day, I love drawing a bath and always use goop's G.Day Ginger + Ashwagandha Energy Body Wash and Black Pepper + Rose Hip Energy Body Oil. The smell is intoxicating and they leave my skin feeling so soft and hydrated.
Glowy-skin tricks?
With a six-month-old baby, I need all the help I can get to look glowy and refreshed! The real secret to glow is hydration and antioxidants. I shoot to drink three quarts of water daily (I refill old quart jars to drink from throughout the day) and add Sakara Detox Water Drops to one of those and Sakara Beauty Water Drops to all three. The ionic minerals and ample water help my body stay hydrated.
I was just Zooming with Melanie Simon, the founder of ZIIP, last week, and she gave me a tip to use the Sensitive Energizing setting—which is all nanocurrent—on repeat for an instant way to look refreshed. I follow it with Dr. Barbara Sturm's vitamin C serum, and GOOPGENES All-in-One Super Nutrient Face Oil. If I don't have time to do that whole routine, I cheat a dewy glow with Westman Atelier's Lit Up highlight stick in Nectar.
Drink of choice?
My absolute favorite drink at the moment is my Detox Lemonade that incorporates our Detox Water Drops. It tastes just like regular lemonade and is so refreshing.
Ingredients:
8 to 12 ounces spring or alkaline water
juice of 1 whole organic lemon
1 teaspoon organic maple syrup
1 to 2 dropperfuls Detox Water Drops
Directions:
Put the Detox Water Drops in plain water. Add the lemon juice, then the syrup. Mix well and top with ice. Enjoy.
Currently in your goop shopping cart?
What would you put on your neon sign?
SAKARA. When we moved into our office space in SoHo in 2014, we wanted to get a big neon sign that could be seen from our second-floor windows. It never came to be, so perhaps in our next space.
How often do you recharge your crystals?
Rarely. I'm currently living in Sedona, so I consider them charged.
Lipstick or balm?
Danielle and I share a stylist, Alexis Badiyi, who introduced us to an allover body balm called Recreational Use that I like to keep on my desk and use on my lips, cheeks, and pulse points throughout the day. I love that it smells like sandalwood and mandarin—the scent instantly transports me to a Mediterranean vacation.
Preferred form of exercise?
I've been living in Sedona for the last eight months, so I've been enjoying the gorgeous scenery and hiking trails with my little family as much as possible. I love taking daily walks with my son, Bodhi, while wearing one-pound Bala ankle weights. I've also been loving Melissa Wood Health for when I want a quick workout between meetings.
Beauty philosophy?
Beauty starts from within. Skin is an outward reflection of what's happening on the inside—it will show how well you're eating, your gut health, your hydration, if you're sleeping. Invest in the health of your body and your skin will reflect it.
---
---
We hope you enjoy the products recommended here. Our goal is to suggest only things we love and think you might, as well. We also like transparency, so, full disclosure: We may collect a share of sales or other compensation if you purchase through the external links on this page.