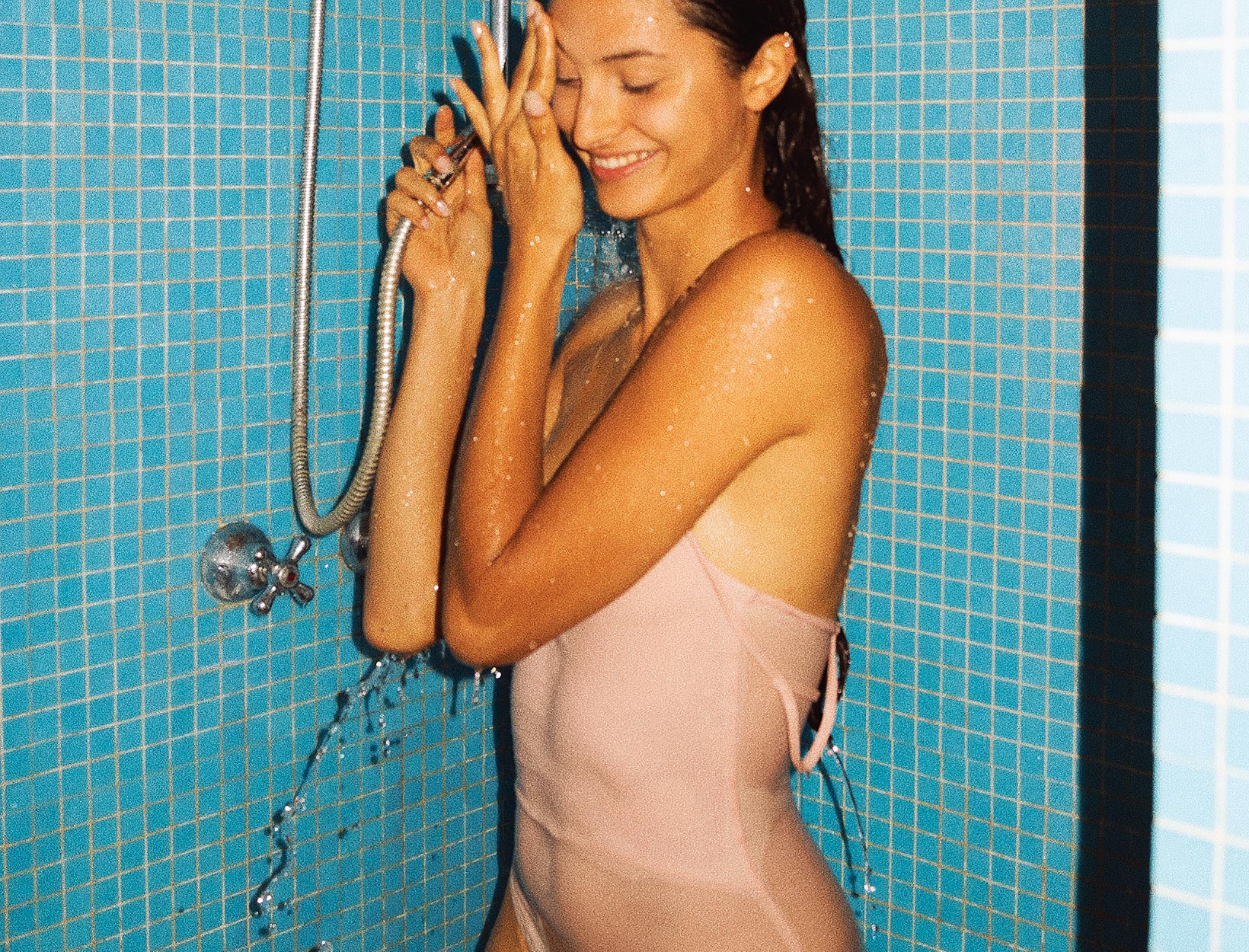 What Are We Putting on Our Bodies?
Our skin is our largest organ, and a good percentage of what we put on it gets absorbed by the body. Products that we put on all over—from shower gel and body cream to self-tanner and sunscreen—can impact our toxic load to a greater degree than, say, eye cream.
Something like shower gel might seem less problematic because it's washed off, but because you apply it to skin that's wet—and thus significantly more absorptive—and you also inhale it through the shower steam, your exposure can be more extensive than you might think.
Because conventional body products lack transparency, we can't know what's in them. Parabens, phthalates, preservatives, plastics, irritants, and known endocrine disruptors are perfectly legal, and they don't have to be disclosed (through a legal loophole, companies can hide them inside the ingredient "fragrance"). In the case of endocrine disruptors, there is no known dose that's safe—even extremely small amounts have been shown to be toxic to humans.
As GP says, real luxury is not having to worry whether what you're putting on your body might harm your health. In place of that worry, these clean body care essentials deliver incredible results with nourishing plant-based oils and powerful botanical extracts to leave you looking, smelling, and feeling fantastic, all over.
Luxurious Clean Alternatives
for Your Whole Body
For the silkiest, healthiest skin of all time, smooth on lotion—and layer oil on top for ultrahydration—after a shower or bath when skin is slightly damp and more porous. Pro tip: To seamlessly blend self-tanner, moisturize dry spots (knees, elbow, etc.) with clean body lotion first.
3

Subtle
Self-Tanner

NORMALIFE

GLOW Color Enhancer

goop, $40

SHOP NOW
4

Invigorating Shower Wash

Infused with adaptogenic extracts that smell fresh and peppery, uplift mood, and hydrate skin as you cleanse, this body wash truly gives you a surge first thing when you're bleary-eyed.
5

Hydrating Mineral Sunscreen

Chemical sunscreen commonly contains endocrine-disrupting chemicals (oxybenzone is the most notorious and, along with octinoxate, was banned in Hawaii because both chemicals kill coral), irritants (which are in no small part responsible for sunscreen's breakout-causing bad rap), and allergens. Mineral sunscreen, on the other hand, works by physically blocking harmful rays with zinc oxide and titanium dioxide, which actually help soothe skin (zinc is the calming agent in baby-bottom cream) and kill no coral in the process.
6

Gentle Intimate Wash

For skin that's even more absorptive than most of the body, we love this wash that's infused with organic tea tree and other natural oils and pH-balanced for intimate areas.
7

Bonus:

The Dry Brush Body Detox

Add dry brushing to your morning routine—all you need is a few minutes—and your skin and mind instantly feel the difference. Pushing down hard enough for it to feel invigorating, sweep the brush over your body, toward your heart, to exfoliate, leave skin super soft, and wake up the psyche. For more on how to do it and why we love dry brushing, click here.