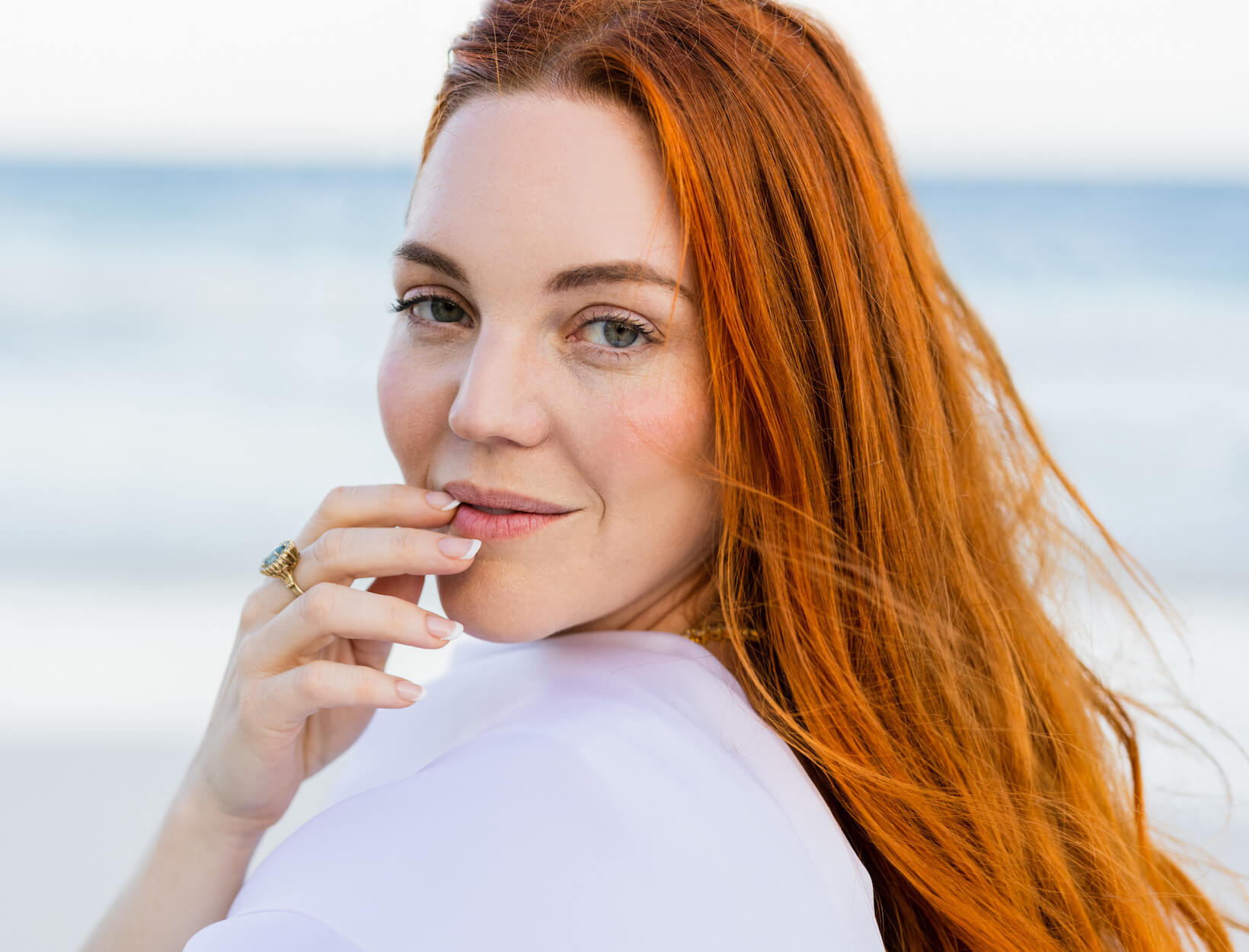 My Destination-Wedding Beauty Bag: Tulum
Between the languor-inducing heat, the sand powdery enough to sleep on, the crystalline jade-colored ocean, and the easy radiance your skin takes on after just a few hours on the sun-bleached beach, Tulum is a dreamy wedding spot. MARA skin-care founder Allison McNamara and her now-wife, colorist Cassondra Kaeding, got married there earlier this year. "We kept it mellow," says McNamara, whose much-obsessed-over serum sunscreen got lots of use. "I just wanted to have fun and not spend time taking bullshit wedding photos." The wedding pictures that did happen—McNamara in floaty, filmy white and Kaeding in tailored pants—show off both women's remarkably glowy skin.
"The day before the wedding, I got a chakra-cleansing facial at Yäan Healing Sanctuary, which I actually read about in a goop travel guide," says McNamara, whose line is based on a firming, proprietary algae blend she created. "Tulum is humid, so I brought vitamin C. I always use it on vacation because it helps balance out sun exposure, and using it consistently helps with my sun spots."
Unsurprisingly, her sea kale SPF 30 serum figured prominently as well. "With all the algae actives, you get so many different benefits—firming, smoothing, plumping—and the all-mineral sunscreen ingredients help prevent sun damage, including dark spots," says McNamara. "And the bonus is it gives your skin this instant dewiness." So silky that it blends invisibly into any skin tone, the serum works whether you're vacationing in the Yucatán or commuting to work on the 405 in LA (where McNamara and Kaeding are based). "Great skin comes from consistency; it's really about choosing incredible products you want to use over and over again," says McNamara, whose complexion shows no trace of the acne she suffered from before creating her line. She packed a few other treatments—including an overnight eye miracle for wedding-day wide-awakeness and a turbocharged exfoliator for major glow—as well as some easy, summery, wedding-weekend-appropriate makeup.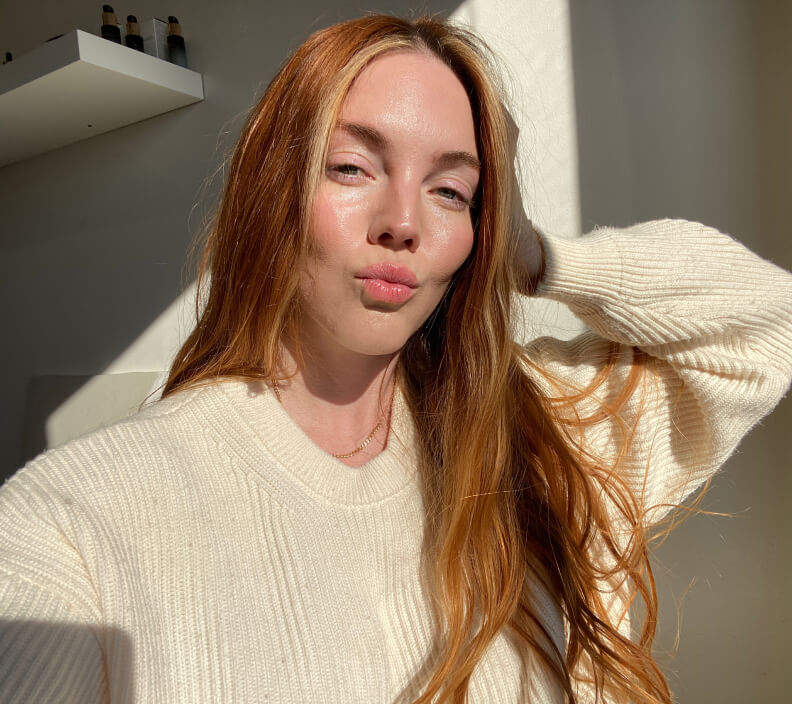 Post-Beach,
Moisture-Bomb Your Skin
"I didn't wear makeup during the day—Tulum has this in-the-middle-of-nowhere vibe, and you just don't feel a need for it. The best way to keep skin looking fresh, awake, healthy, and energetic is to hydrate around the eyes. I love the goop eye cream—the feel of it: It's so thick and rich. The little tube is so easy to travel with; there are other eye treatments I like, but some are in glass jars and heavier to pack."
"Every morning, I cleansed with my MARA enzyme cleanser, then spritzed on the brightening essence from Tata Harper. It's a blast of moisture and feels so refreshing. Next I put on the goop face cream as a nourishing step."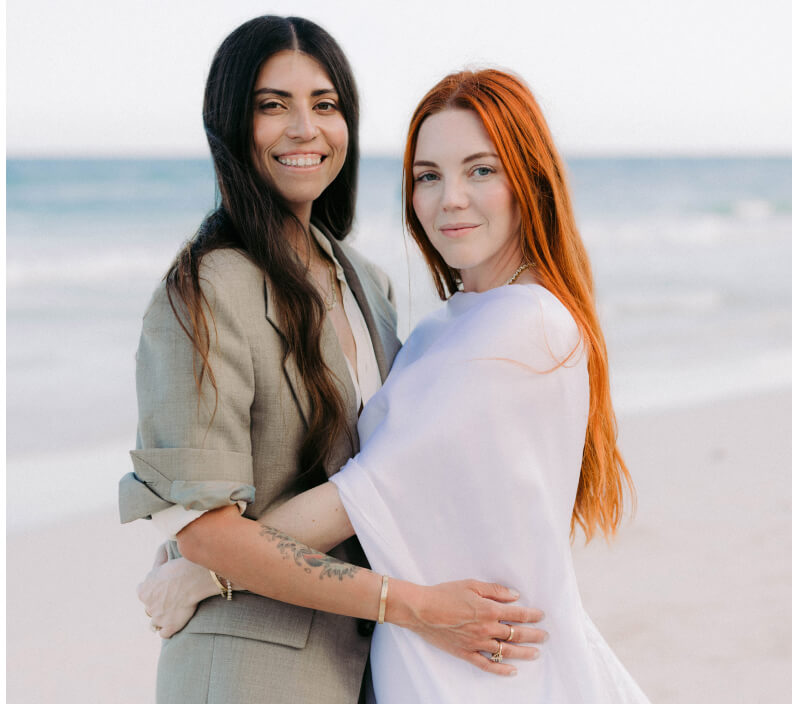 Easy, Summery Makeup
(for My Wedding Day and Nights Out)
"I wanted to look glowy and hydrated and like myself for the wedding. I used a bit of my Westman Atelier stick as concealer where I needed it so my skin looked natural rather than the foundation-all-over route. I contoured my eyes with Westman's bronzy pigment for a subtle hollowing effect and then went down my nose with it and across my cheeks. Didn't do mascara."
"For the other nights out, I did a lip—and only that. There are rules about which shades flatter certain skin tones, but even if a color isn't the most 'flattering' on me, maybe it just looks dope with my outfit and I like it, so whatever. It's about confidence. I wore Thrillist from Kosas—so pretty—or this coral brick from ILIA."
My Skin Essentials
"I used my MARA retinol three or four times a week, and it works really well with goop Microderm. It's like a flash facial in a jar and gives me the most gorgeous glow—I brought the travel size with me to Tulum and used it two days before the wedding. It's amazing before any big event or photo shoot."
"We know great skin starts in the gut, and this marine collagen powder is skin care from the inside out. I love the taste—marine collagen can be fishy sometimes—it's easy to drink, and it has some of my favorite skin-boosting ingredients, like algae and ceramides. The little individual packets make it so portable for traveling."*