What Is Slugging? (Here's a Clean Twist)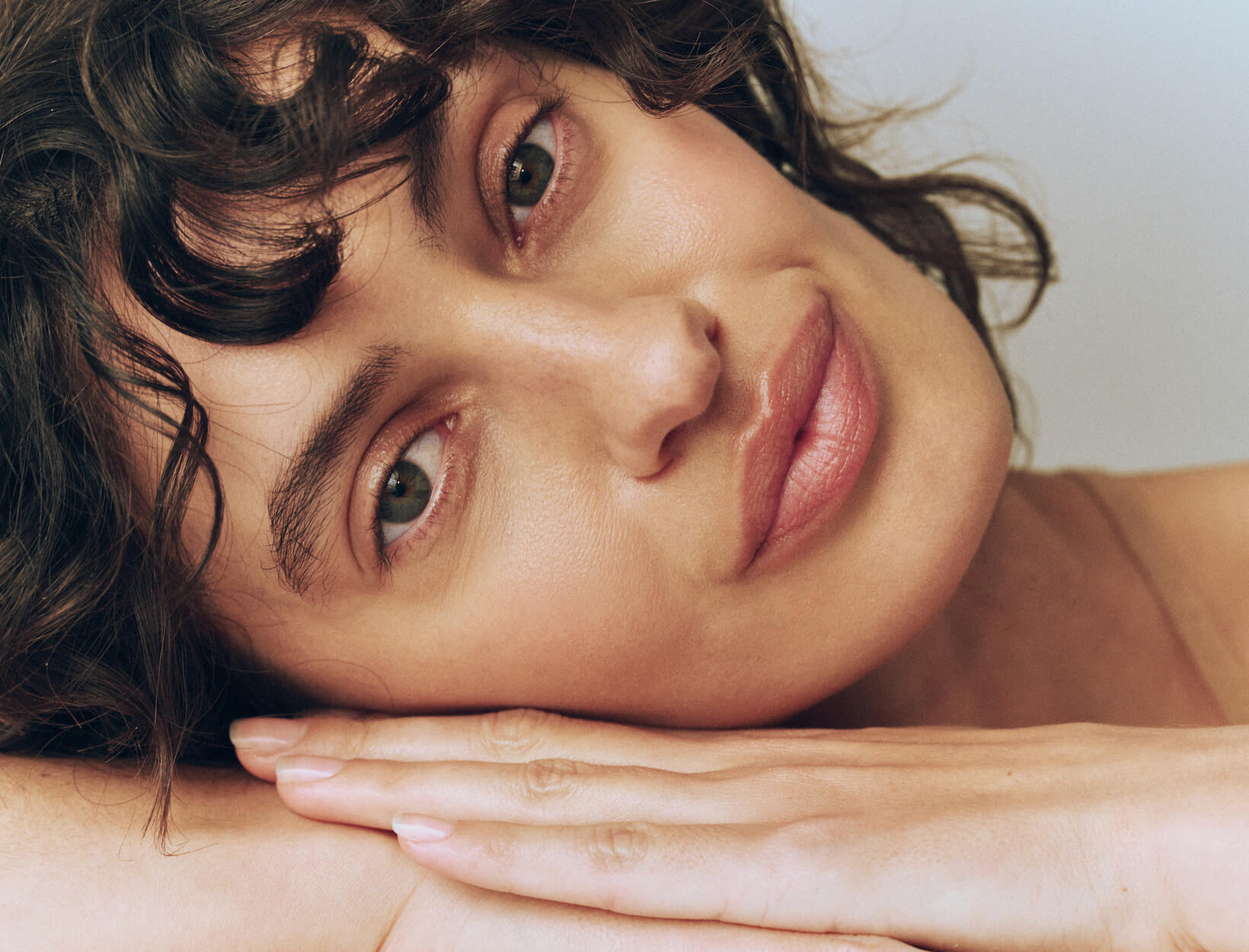 There's a K-beauty skin-care trend that's been blowing up on TikTok that we love in theory—the idea is an extra, occlusive layer that goes on as the last step in a skin-care routine, sealing in all the benefits and delivering additional moisture at the same time. It's called slugging, and it can be a great technique, particularly when done with a few clean beauty tweaks.
The viral trend involves slathering skin with a thin layer of petroleum jelly as a final step in a nighttime skin-care routine. But while petroleum jelly is moisturizing, this by-product of crude oil production (the jelly is what collects on oil rig machinery) can really clog pores. Unrefined petroleum jelly can contain potentially dangerous contaminants, including a group of carcinogens called polycyclic aromatic hydrocarbons, according to the Environmental Working Group.
The clean version of slugging substitutes rich balms for petroleum-based products. An advantage they have over petroleum jelly (beyond being clean and petrochemical-free) is that they deliver skin-boosting nutrients. For example, moisturizing evening primrose oil, soothing ground cherry extract, calming bisabolol, and barrier-supporting barley and cucumber extracts combine in the new GOOPGENES Fix and Restore Balm, so it goes beyond moisturizing to deeply nourish skin.
---
What Are the Benefits of Slugging?
Slugging treats skin to multiple layers of moisture, leaving it hydrated, dewy, and baby-smooth. It's amazing for dry skin, of course, as well as sensitive skin, and for those whose skin barrier is compromised. Using an occlusive product as the final step of your skin-care routine creates a skin-coddling seal of moisture that can help soothe irritated skin, prevent transepidermal water loss, protect, and repair your skin barrier. What to watch out for: If you have oily or acne-prone skin, be mindful of which ingredients you're layering on first.
---
The Best Slugging Products: Balms, Creams, and Oils
Slather these on just before bed over any other nighttime skin essentials you swear by. If you have very dry skin, you might do this daily; if you're normal to oily or prone to breakouts, keep it to every few nights. The most important part: Listen to your skin.
Balms
Nourishing and
Barrier-Loving

goop Beauty

GOOPGENES Fix and
Restore Balm

goop, $125/$112 with subscription

SHOP NOW

Brightening and Calming

Furtuna Skin

Rinascita Delle Olive
Replenishing Balm

goop, $225

SHOP NOW

Made with Sea Buckthorn, Carrot, and Tomato Seed Oils

Okoko

Sublime Balm

goop, $83

SHOP NOW
Plumping and Renewing

Tamara Dutta

Rosehip Smoothie Balm

goop, $150

SHOP NOW

Ultrasoothing with Blue
Tansy and Chamomile

de Mamiel

Skin Recovery Concentrate

goop, $168

SHOP NOW
If you're not into balms, you can use cream or oil.
Rich, Nourishing Oil

Le Prunier

Plum Beauty Oil

goop, $72

SHOP NOW
---
---
Slugging Night
After a night of exfoliation, you're ready for the ultimate hydration. If you've got a good routine already, simply top it off with a rich balm or cream. Or customize the routine below.
Step 1: Cleanse.
Get your skin ready for the layers of hydration.
Exfoliating

goop Beauty

GOOPGLOW Cloudberry
Exfoliating Jelly Cleanser

goop, $35/$25 with subscription

SHOP NOW
Step 2: Tone.
Clear away any remaining dead skin cells, dirt, or makeup and deposit a first layer of nutrients and hydration.
Step 3: Treat.
Apply a layer of face serum or oil, depending on your skin; it will really sink in after all your exfoliating.
Pure Moisture

Dr. Barbara Sturm

Hyaluronic Serum

goop, $320

SHOP NOW

For Firmer Skin and Fewer Visible Wrinkles

goop Beauty

GOOPGENES All-in-One
Super Nutrient Face Oil

goop, $98/$89 with subscription

SHOP NOW

To Restore Skin

Augustinus Bader

The Serum

goop, $390

SHOP NOW
Step 4: Add more moisture (only if you need it).
If you (and your skin) really love layering, you can add a moisturizer here.
Squalane and
Hyaluronic Acid

Alpyn Beauty

PlantGenius Melt Moisturizer

goop, $60

SHOP NOW

Peptides and Bakuchiol

Beautycounter

Countertime Tetrapeptide
Supreme Cream

goop, $98

SHOP NOW

Vitamin C and
Kakadu Plum

goop Beauty

GOOPGLOW Glow Lotion

goop, $58/$52 with subscription

SHOP NOW
Step 5: Finish with the slug.
Once everything has sunk in properly, seal it all in with a balm, oil,
or cream from the list at the top of this article.