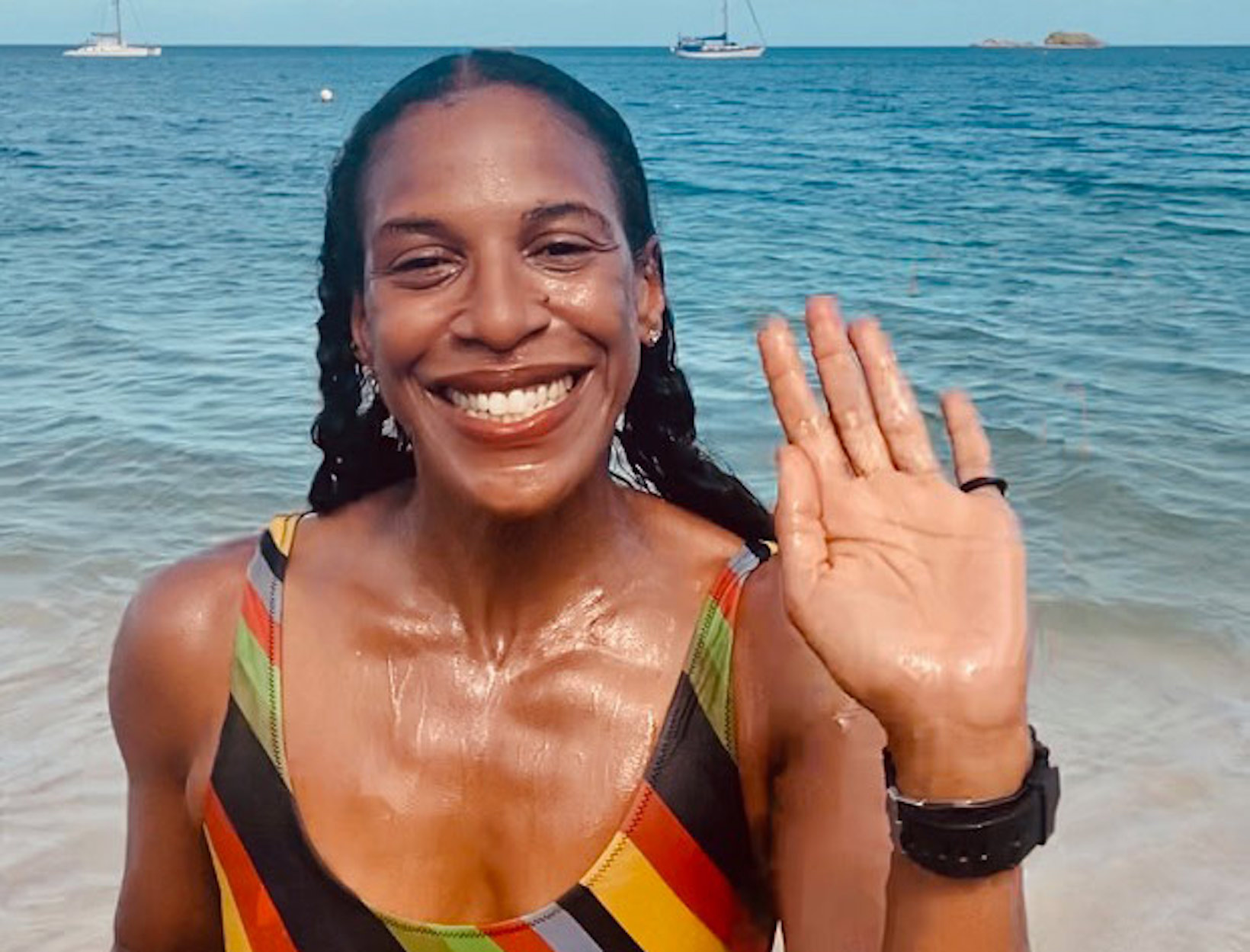 my morning routine
A (Glowy) Escape from Brooklyn
Caryn Prime |
Vanity Fair's director of editorial operations
Even before she packed up her Brooklyn apartment last October for Carriacou, an island in the Grenadines as famous for its mesmerizing coral reefs as it is for its sun-warmed turquoise swells, director of editorial operations Caryn Prime was already known around the Vanity Fair office for her incredible glow. (Now, of course, it's next-level.)
She says her mornings make it possible for her to keep the magazine running like a well-oiled machine. "Exercising in the morning makes the whole day more manageable—I navigate it more calmly," says Prime, who's one of those people who manage to balance budgets and enforce deadlines with such charm that no one ever objects. Working remotely from a place where the afternoon breeze smells faintly of ripe mangoes might be distracting for some, but Prime's routines—an exfoliating skin-care regimen she carried down in her suitcase and decompressing sunrise workouts that are now on the beach instead of in Prospect Park—keep her focused on work despite the tropical surroundings.
"My dad is from Carriacou and is buried here—my parents moved here from New York when he retired. Growing up, we came every year for Christmas to see my grandparents, so it really feels like home," she says. "At certain points during the pandemic, Brooklyn felt scary and stressful. Even though I live six blocks from my mother, we couldn't see each other. But now we're both able to be here, and I'm so grateful for that."
4:45 a.m.: The roosters wake me up. I'm such a morning person. (I often fall asleep early, like very early, like 8:30 p.m.!)
5 a.m.: I scroll through Twitter, headlines, Slacks, and emails. I avoid Instagram this early, though—we all know what a time-suck that can be.
5:30 a.m.: I drink a giant glass of water mixed with the juice of half a lime. I take probiotics, magnesium, vitamin D, chlorella, spirulina, fish oil, a dropperful of elderberry syrup, vitamin B12, turmeric, and sometimes oil of oregano.
I have a strong cup of coffee, sometimes with Moon Juice tocos and maca powders and always with condensed milk. Our house is surrounded by a field where goats and cows roam, so I go out to the veranda to check on them, watch the sun rise, and sip my coffee. I started journaling here, and this is when I make the time to do it. Highly recommend. You don't have to write long sentences or be eloquent; it's the releasing your thoughts, however you can, that's so powerful.
7 a.m.: Mom and I exercise together. If we're going outside, I slather myself in mineral sunscreen—the sun's up at this point, and it feels so good, but it's intense.
We either go for a long walk (Carriacou is hilly and the roads aren't always paved, so walking three or five miles here feels much different than it does in Brooklyn!) or take a swim (the beach is a fifteen-minute drive), or she does her stretching routine and I do an online Alo yoga or Pilates class. I also started incorporating a virtual KaisaFit mobility series, which combines active yoga moves with stretching and strength exercises. There's just nothing better than how you feel after sweating.
9:30 a.m.: Back at home, I eat some fruit (watermelon, mango, or sugar apples, which are my favorite when they're in season) and check my phone for urgent work before getting in the shower. I wash off all the sweat and salt water with this great exfoliating washcloth by Salux and whatever soap is around. I don't always wash my hair if I've gone swimming—I like the texture the salt water gives my curls—but when I do, I love the conditioner from Rahua. It's super moisturizing and detangling. Often I simply rinse my hair and work in a blob of Innersense leave-in conditioner to help define my curls, and that's it.
10:15 a.m.: I wash my face after showering. I had acne when I was younger, and so exfoliating daily is still key for me. I love the Microderm face scrub from goop. It's like giving myself a fast at-home facial, and I swear it makes my skin brighter and smoother. I've noticed I have fewer clogged pores when I do it, too. On days when I don't need as much exfoliation, I use the Dr. Sturm enzyme cleanser—it starts off as a powder, you smooth it on with wet hands, and it foams and leaves your skin feeling clean and fresh.
10:30 a.m.: I pat my face completely dry, and it's time for the G.Tox toner: I pour a small puddle into my hand, splash it onto my face, and smooth it in with my hands, from my forehead to (not kidding) my sternum. I give it a second to sink in, and my skin looks dewy almost instantly. Then I mix vitamin C powder from True Botanicals with a few drops of water and press that into my skin. I love vitamin C because it adds some protection from UV rays (I still need sunscreen, of course), and it helps even out my skin. I seal everything in with a pinch of Neal's Yard wild rose balm, with Beautycounter Dew Skin SPF 20 as the last layer. It's this amazingly light tinted moisturizer and sunscreen in one that's super moisturizing and gives the perfect amount of coverage so that my skin looks smooth—and still like skin.
11 a.m.: I'm officially at my laptop. (Carriacou is an hour ahead of New York, and our schedules are more flexible now, since we often end up working late when we're remote.) I have some more fruit or boil an egg for real breakfast, or sometimes we pick up fried bakes (basically a fried flour dumpling) and saltfish souse (a Caribbean breakfast made of cod, lettuce, onions, green hot peppers, and olive oil). I'm mostly inside for the rest of the day at this point, but sometimes I work from the veranda. If I can, I take a break and go for a walk and do some shoulder, hamstring, or hip stretches outside. And I'm just always trying to remember to stand up as much as possible.