Sweat Is the Best-Kept Secret for Glowy Skin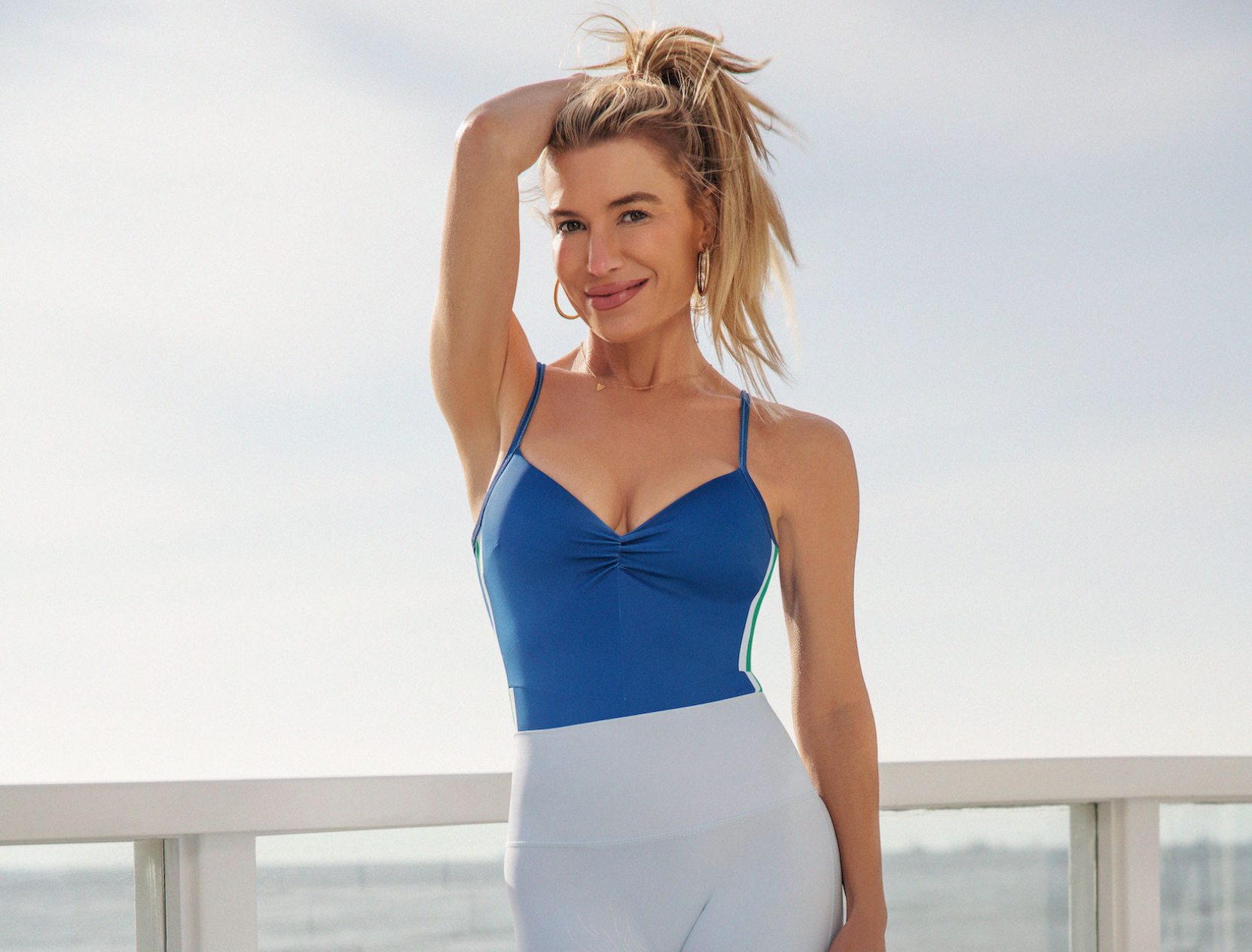 My Morning Routine
Tracy Anderson |
fitness guru and founder of the Tracy Anderson Method
As you're getting your butt kicked (and toned and strengthened) by the transformational Tracy Anderson Method (there's a reason GP swears by it), it's easy to get lost staring at Anderson's glowy, flawless skin. Exercise isn't just great for the body and mind, Anderson says—and she's a luminous argument for its effects on skin. "Exercise increases blood circulation, carrying nourishishment to the skin and waste away," she says. "And our sweat has bacterial cleansing properties that are entirely unique, like the glycoproteins found in sweat that actually bind to bacteria and keep them from getting into the body."
Anderson is also a fan of detox through diet and nutrition—for overall health and skin. "The thing to remember about our skin is that it's an outer reflection of our inner health, from vitamin intake and gut bacteria to mental well-being and stability," she says.
Though she's famous for her discipline, Anderson believes having fun is every bit as powerful: "Little rituals of joy can free us from an elimination mindset that wreaks havoc on our skin," she says. "Instead, they grace us with a joie de vivre that puts the color back in our cheeks."
6:30 a.m.: I wake up—and then go right back to sleep.
7 a.m.: I wake up for real with a perfect flush from a good night's sleep, combined with the excellent results of the GOOPGLOW 15% Glycolic Acid Overnight Glow Peel. Girls: You really do glow when you use this product consistently.
7:05 a.m.: I snuggle with my three standard poodles and husband. It's a big family cuddle, especially when our nine-year-old daughter piles in.
7:30 a.m.: I apply MV Skintherapy's oil tonic and leave it on.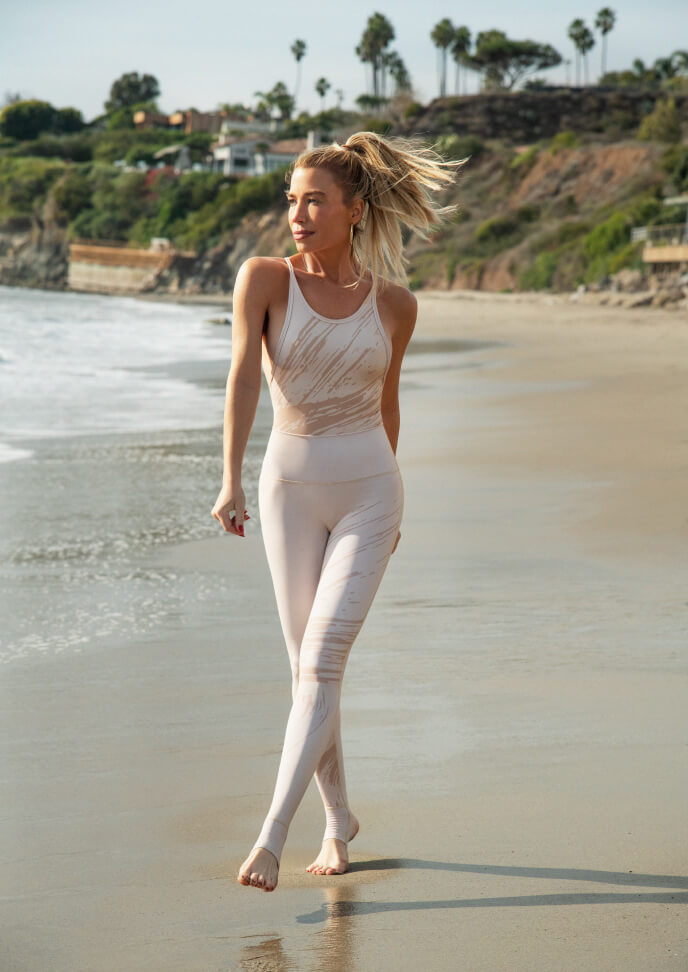 7:35 a.m.: I combine the juice of one lemon, one tablespoon olive oil, one tablespoon Cymbiotika Synergy's vitamin C, ten drops of Cymbiotika The Omega, and six drops of vegan B-complex liquid drops by Mary Ruth Organics and drink it like a shot.
7:45 a.m.: Showering with C & the Moon's Malibu Made Body Scrub is very essential. If I skip this step, I swear I look my actual age all day instead of fifteen years younger! Postshower, I slather on my very own Tracy Anderson and Dr. Doug's Skin Sequence Got Physical Balm for a full dose of transdermal magnesium.
7:50 a.m.: It's time for my coffee with a layer of super foamy oat milk, which is key (not milk, just a thick floating layer of foam). While I enjoy my coffee, I make sure my daughter, Penny, is getting ready for school. And try to inspire her to make healthy breakfast choices.
7:55 a.m.: Next I quickly apply my skin care and makeup. I start with Augustinus Bader's super active serum. I follow it up with True Botanicals Renew Pure Radiance Oil. My skin really feels the True Botanical vibes! I blend it all in with Jillian Dempsey's genius vibrating bar of gold (I'm obsessed with it). And for the perfect messy bun, I use one of Slip's scrunchies.
Westman Atelier makes the perfect brushes to cover any uneven spots with RMS's "Un" Cover-Up. This is the only cover-up (in my opinion), and I have worn it for years. You can literally cover up and breathe. On my cheeks, I apply Tata Harper's vitamin blush in Flirty. I've been a loyal Tata fan since forever. And on my nose, upper lip, forehead, and eyelids, I apply Saie's creamy bronzer.
For a sexy lip, I smooth on the GOOPGENES lip balm in Garnet. I curl my lashes, then apply ILIA's volumizing mascara, and for my brows, I use Rye serum.
I finish by spritzing on the goop Beauty Orchard eau de parfum; it's an earthy scent that is oh-so-subtle yet warm.
8:10 a.m.: Next up: selecting an outfit. Yesterday my go-to was a G. Label minidress with the G. Label Rosa Plaid Shirt-Jacket, finished off with Prada boots—this really fits my current vibe. I lived in a camel-colored G. Label cashmere turtleneck for years, and now this plaid shirt-jacket is my new uniform. I tend to wear things I love until I wear them out.
8:15 a.m.: Before heading out, I grab a thermos of green soup (broccoli spinach is my favorite) and some blueberries as a snack. I drink green soup before I eat most days. It makes a big difference with my skin.
BROCCOLI SPINACH SOUP
Created by: Chef Alexander Browne and Tracy Anderson
Serves: 6
INGREDIENTS
1 large head broccoli
1 tablespoon olive oil
1 medium onion
2 stalks celery
4 cloves garlic
zest of 1 lemon
1 teaspoon salt
¼ teaspoon onion powder
¼ teaspoon garlic powder
1 quart vegetable broth
6 cups spinach
DIRECTIONS
1. Separate broccoli florets from the stem and dice stem.
2. Heat oil in a large soup pot over medium heat and sauté the onion, celery, garlic, broccoli stem, and zest for 5 minutes. Add the salt and onion and garlic powders and sauté for another minute.
3. Add the broth and broccoli florets, bring to a boil, reduce heat, and simmer until the broccoli is tender (about 15 minutes). Remove from heat, add the spinach, and allow it to wilt (about 1 minute).
4. Using a slotted spoon, transfer the solids into a blender or food processor and pulse until smooth; add liquid from the pot (if necessary) a little at a time until the desired consistency is reached.
9 a.m.: After I drop my daughter off at school, I head to my studio, where I start filming all my favorite exercises for the Tracy Anderson Online Studio, where the content changes weekly.