Where Does Toner Go in My Skin Routine?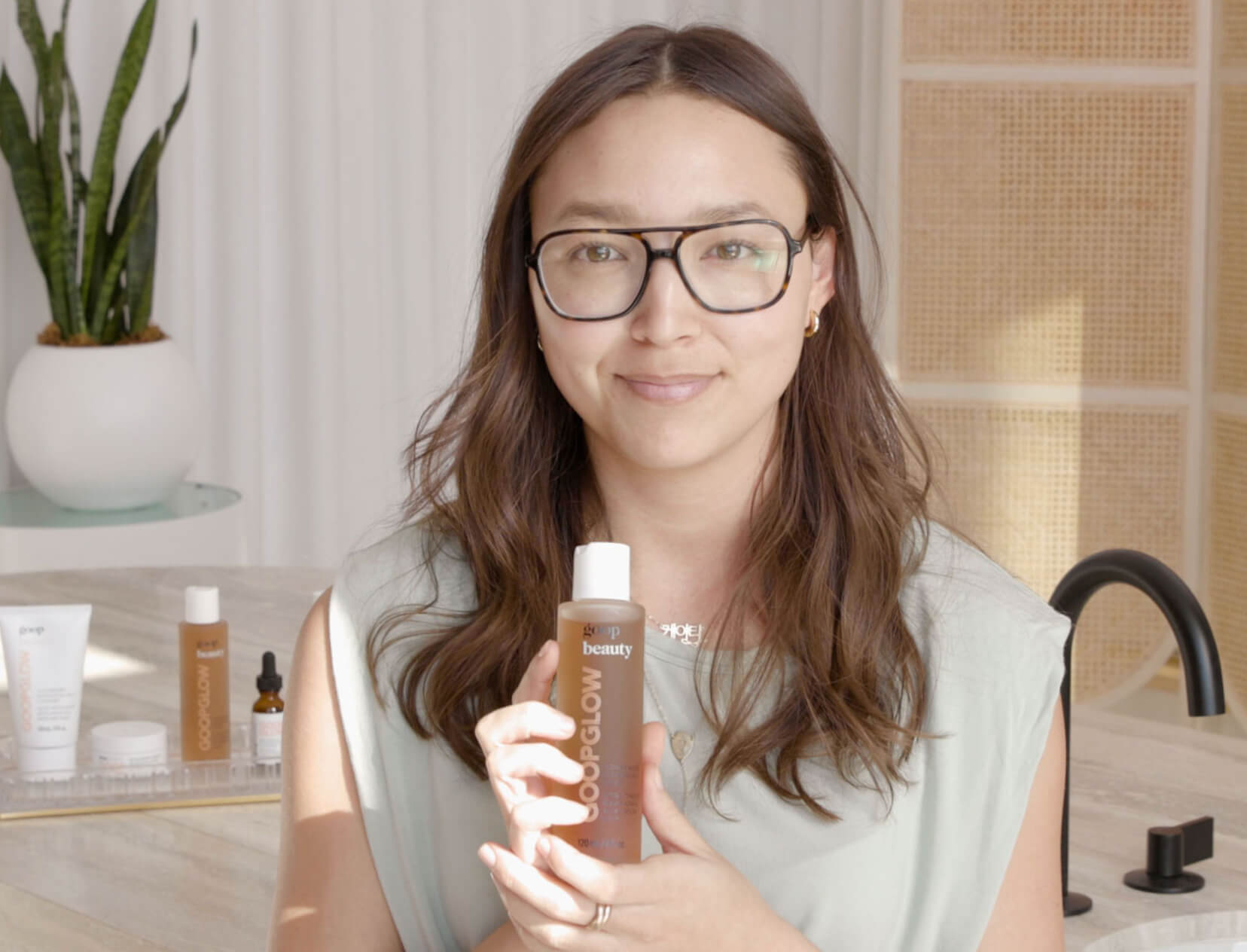 Short answer: On just-cleansed skin, before any serums, moisturizers, or other treatments. Long answer: The right toner can pretty much revolutionize the kinds of results you're getting from any skin-care routine; here, the best tips for optimizing your regimen.
BEST BASICS FOR EVERY SKIN TYPE
Whether you're sensitive or you can use very powerful treatments without reacting, gently exfoliating in your first few steps paves the way for your whole routine to function better. These two work together beautifully to cleanse thoroughly, exfoliate, and hydrate skin all at once. Over time, they refine, brighten, and soften skin.
Jelly Face Wash

Cleanse, smooth, and brighten your skin morning and night with this unique, soft, exfoliating jelly face wash made with natural fruit enzymes, arctic cloudberry, and bitter orange peel.

goop Beauty

GOOPGLOW Cloudberry
Exfoliating Jelly Cleanser

goop, $28/$25 with subscription

SHOP NOW

Flower Acid Toner

This two-in-one daily treatment toner gently resurfaces, hydrates, and leaves skin glowing in just one step.

goop Beauty

GOOPGLOW Flower Acids
Resurfacing Toner

goop, $45/$40 with subscription

SHOP NOW
SEE KATE'S ROUTINE
Kate Vaught, our senior manager of beauty product development, explains that clean ingredients and ingredient technology in general have made this kind of gentle but powerful skin care possible: "We're discovering ways to get the results we want without the irritation that used to be part of achieving those results," she says.
"I love the jelly cleanser—I'm a physical-exfoliating-cleanser die hard, and the cocooning jelly texture feels so incredible on my skin," Vaught says. "I smooth it on for a full-on soft-skin sensorial moment, and my skin feels so clean and dewy. Then, after cleansing, I give the toner a little shake, add a couple drops to a cotton pad, and sweep it everywhere, focusing on areas that need a little bit more exfoliation, like the T-zone, around the nose, and around the lips, while avoiding the eye area. Take it down your neck (or even on your hands if you like). It exfoliates in such a gentle way and feels hydrating, balanced, and refreshing."
How to Build Your Routine
After cleansing and toning, layer on a treatment serum tailored to your skin goals, then follow with moisturizing, protecting ingredients on top. Don't forget sunscreen—it's the ultimate beautiful-skin-every-day miracle, and if you do any kind of exfoliation, it's even more important to help protect your skin.
Normal to Dry Skin

1. Treatment

A dose of long- and short-chain hyaluronic acid molecules, this serum is ultramoisturizing, giving skin an instant boost.

Dr. Barbara Sturm

Hyaluronic Serum

goop, $300

SHOP NOW

2. Moisturizer

This has to be the thickest, richest cream ever made. With thirteen different oils, it's dense, ultramoisturizing,and skin-soothing.

Surya

Balancing Collagen Cream

goop, $185

SHOP NOW

3. Sunscreen

This hydrating natural sunblock sinks right in and protects skin with SPF 30.

The Organic Pharmacy

Cellular Protection Sun
Cream SPF 30

goop, $69

SHOP NOW
Sensitive Skin

1. Treatment

Made specifically for sensitive, dry, or reactive skin, this silky serum delivers powerful but gentle ingredients to brighten, smooth, and firm.

Tata Harper

Superkind
Bio-Barrier Serum

goop, $130

SHOP NOW

2. Moisturizer

This silky-smooth lightweight moisturizer, made with nourishing botanicals and hyaluronic acid, deeply nourishes even the most reactive skin.

Tata Harper

Fortifying Moisturizer

goop, $120

SHOP NOW

Unsun

Mineral Tinted
Face Sunscreen

goop, $29

SHOP NOW
A Routine for Ultimate Youth-Boosting
1. Treatment

This daily glow serum combines two skin-care powerhouses—vitamin C and hyaluronic acid—for skin that looks radiant, moisturized, and healthy.

goop Beauty

GOOPGLOW 20% Vitamin C + Hyaluronic Glow Serum

goop, $125/$112 with subscription

SHOP NOW
2. Moisturizer

This luxuriously rich supercream significantly improves firmness, elasticity, glow, the appearance of fine lines and wrinkles, and brightness after just four weeks. A single application leaves skin nourished, firmer-looking, and moisturized for forty-eight hours.*

goop Beauty

GOOPGENES All-in-One
Nourishing Face Cream

goop, $98/$86 with subscription

SHOP NOW

This clinically tested eye cream helps firm and smooth the appearance of crow's-feet, fine lines, puffiness, and dark circles for a fresh, visibly well-rested look.

goop Beauty

GOOPGENES All-in-One
Nourishing Eye Cream

goop, $55/$50 with subscription

SHOP NOW
3. Sunscreen

This lightweight cream melts into your skin, blocking both UVA and UVB rays with zinc oxide. (And have you ever seen a cuter tube of sunscreen?)
Extra Credit

Once a Week

An intense exfoliating overnight glycolic acid glow peel that refines, retexturizes, and brightens skin while you sleep.

goop Beauty

GOOPGLOW 15% Glycolic Acid
Overnight Glow Peel

goop, $125/$112 with subscription

SHOP NOW

Every Few Days (but Never within Twenty-Four Hours of the Peel)

This clinically proven microdermabrasion exfoliator delivers the benefits of both physical and chemical exfoliation, instantly polishing away roughness, smoothing uneven texture, and revealing a healthy-looking, glowing complexion.

goop Beauty

GOOPGLOW Microderm
Instant Glow Exfoliator

goop, $125/$112 with subscription

SHOP NOW
Which Toner, Essence, or Tonic
Is Right for My Skin?
While our flower acid toner works for all skin types, there are more great, complexion-supercharging options in the clean space.