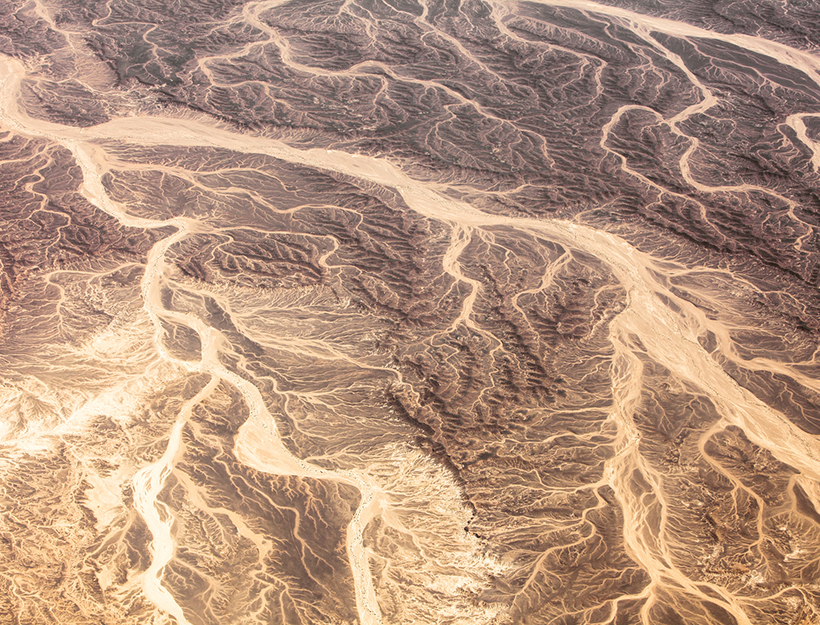 The Dry Skin Guide
Whether it's weather-induced or a chronic issue, dry skin is compromised, less-healthy skin. Skin's supple, elastic natural state enables it to protect the entire body from invaders; when it's too dry, the skin's barrier function is affected. But even less serious dryness can cause irritation and itchiness. And it doesn't just feel bad: Dry skin can look uneven, blotchy, and decidedly more wrinkled, as moisture plumps and smoothes the skin (albeit temporarily). It also doesn't reflect light in the same way as healthily hydrated skin.

Dry air is of course the enemy of dry skin, but so, counterintuitively, is water. Applied to the surface of the skin, water takes natural skin oils with it as it evaporates, causing… dryness. Overwashing can really exacerbate dry skin, and the hotter the water, the stronger the effect. (Hence the advice that is inexplicably offered about taking tepid baths—what person not in a tropical climate wants a tepid bath? But that's another story. Baths are only for the dry-skinned if they are fortified with lots of oil—which is, of course, no great burden.)

Surfactants—soaps, detergents, most anything that foams—compound the water-evaporating situation, breaking up and dispersing the skin's natural oils with extreme efficiency. On top of eliminating oil, surfactants can also irritate skin, further disrupting the barrier function.

In short, wash as little as you need to, and for as short a time as possible. For instance, if you cleanse your face at night, it shouldn't need re-cleansing in the morning—unless you've got very oily skin, skip morning cleansing altogether, and just start with face oil or moisturizer. Most people with dry skin don't need a toner step, either—unless they're not exfoliating at all, in which case the mild exfoliation from applying a toner might be worth it. Take short showers with non-surfactant cleansers—the jojoba, rosehip, and macadamia-nut oil-packed Body Cleanser from Grown Alchemist ($28, goop.com) leaves your skin incredibly soft and moisturized, with the faint scent of neroli, rosemary, and tangerine. For showers, also consider an oil-intensive body scrub like the ones from Ila (made with Himalayan sea salt and a blend of rich oils, $78, goop.com) or Beautycounter (a mix of brown sugar and nourishing natural oils, $38, goop.com): The exfoliation helps bring healthy new cells to the surface, and the oils seal in the water from the shower, so you emerge pre-moisturized from the shower—some people find they don't need to apply lotion after.
Beyond minimizing your exposure to dry air and water, a consistent routine makes a huge difference for dry skin:
Oil or Balm Cleansers
As with body, face cleansers should be low- or no-surfactant. A great oil or balm cleanser will leave your skin soft and dewy, not tight. Tata Harper Nourishing Oil Cleanser ($64, goop.com) is made with sunflower seed, jojoba, apricot kernel, and argan oils plus shea butter and a nourishing mix of botanical extracts; Nude Perfect Cleanse Nourishing Cleansing Oil ($36, sephora.com) contains jojoba and meadowfoam-seed oils, along with omegas 6 and 9.
A base of super-antioxidant juices is infused with sunflower seed and grapeseed oils, plus vitamins C and E in Juice Beauty's Stem Cellular Cleansing Oil ($32, goop.com), so it seriously treats skin as it works. For ultimate moisturizing, de Mamiel Restorative Cleansing Balm ($64, goop.com) is thick and luxurious, melts on contact with skin, and leaves behind incredible softness.
Exfoliation
Regular exfoliation might seem like it would work against dry skin, but it is actually precisely what it needs. In fact, alpha-hydroxy acids were initially developed for (and are still the gold standard in) the treatment of extreme dry skin conditions. Sweeping away the dead skin cells allows healthier cells to get to the surface, and moisture and nutrients to penetrate better; your dry skin will be decidedly less so if you (gently) exfoliate regularly. A Mia Clarisonic brush ($149, clarisonic.com) is some of the gentlest yet most thorough exfoliation there is, and they make brush heads specifically for sensitive skin, if you need them. Use one every day and you'll absolutely see an improvement.

Chemical exfoliants are often gentler and more even on dry skin than physical ones, so they are often the best choice. Juice Beauty makes its famous Green Apple Peel in a version specifically for sensitive skin ($39, goop.com) that's full of of calming, hydrating oils and phytonutrients to treat skin as it exfoliates. If you like a physical exfoliant, go super-mild, like the Classic Rice Enzyme Powder from Tatcha ($65, goop.com).

If it's the middle of the day and suddenly you notice your skin is dry and peeling in a particular spot, use face oil: Rub in the oil vigorously, so the bits of dry skin are swept away. Pat on more once the area's smooth again. Waiting a minute or two for the oil to sink in, then reapply makeup if you need it. Thick moisturizer works, too, but something about oil makes it especially easy.
Moisturizers
Whatever form they take, moisturizers work by sealing in the water that's already in your skin (your body: over 70% water), and by softening skin with emollients and oils. The most famously effective—and not terribly pleasant or good for you—way to retain the most moisture is with pure petroleum jelly. It also clogs your pores and exacerbates acne; thankfully, there are many better ways to intensively moisturize skin.

Part of choosing the right moisturizer(s) is simply personal preference: What texture do you love enough that you'll enjoy reapplying? And of course, which product gets your skin in good shape the quickest? Layering products—say, a thick moisturizer applied over a rich oil—seals in hydration more intensively.

The other thing to know is that applying any product when your face is wet dramatically improves its absorption. This affects moisture going in, but it also affects treatment ingredients: If you're using an anti-ager and find it makes your skin peel, just making sure you apply it to dry skin instead of wet can make the peeling go away. (Conversely, if you want to amplify the power of a treatment product, apply it to a wet face.)
Oils
The beauty of face oil is the way skin drinks it in and instantly looks and feels healthier. There's a reason women have been using it for centuries—and after a 100-or-so-year-long break (in our culture, anyway), it's back in force. There are so many oils that do so many things, at different weights and intensities, it can be hard to find the perfect one for your skin. Drunk Elephant's Marula Oil ($72, goop.com) is super-rich and nourishing; De Mamiel's exquisite Winter Oil ($114, goop.com) is made specifically to treat skin at this drying time of year. The Renewing Oil Serum from Intelligent Nutrients ($64, intelligentnutrients.com) is an incredible, medium-textured organic one; the brand also makes an ingestible Intellimune Oil ($63, intelligentnutrients.com) that you can both drink and use on your face. And the 1,000 Roses Oil from Kypris ($225, goop.com) is precisely what it sounds like—exquisite rose oils, plus grapeseed, coconut, rosehip, black raspberry seed, and many more—heaven on skin.
Balms & Ointments
For the most seriously dry skin spots, a super-thick balm or ointment acts almost like a band-aid, sealing in moisture and allowing skin to heal. In a pinch, lip balm works well, as does pure coconut oil. For a decidedly more luxe balm experience, Shiva Rose makes something called Glow Face Balm ($60, goop.com) that's made with rose oil and melts into skin on contact. Connock London makes its Wonder Balm ($40, goop.com) with kukui oil from Hawaii, used for centuries for dryness (it's even used on babies), along with monoi and cocoa butter.

The jauntily-packaged Anchor Balm from Captain Blankenship ($20, captainblankenship.com) is ultra-thick and rich with almond oil, shea butter, and non-GMO vitamin E, plus lavender, tangerine, and geranium extracts.

For the most severe dry skin, there's a new, totally clean ointment alternative called Dr. Rogers Restore Healing Balm ($30, restoreointment.com). Made with only two ingredients—plant-based glycerin and castor wax—it encourages natural barrier function in skin. New York cosmetic dermatologist Dr. Paul Jarrod Frank has been using it in his practice: "I've always wanted a simple, natural alternative ointment. The conventional ones have all kinds of stuff in them you don't need," says Frank. "This works, and it's totally natural, petroleum- and allergen-free."
Creams
A really thick, emollient cream with not much added—as in, it's not supposed to increase cell turnover (aka exfoliate), not supposed to brighten or glow-ify, just moisturize—is hard to find and like gold when you do land on one you love. The best clean one is Weleda Skin Food ($19, weleda.com)—keep a tube in your bag, on your bathroom counter, by your bedside… It is super-rich, so not an apply-under-makeup sort of product, but when you're extra-dry, it is curative, soothing, hydrating perfection—and it smells gorgeously of the many natural oils its composed of. Amazing for face, body, cuticles, feet, elbows—anywhere that's really dry.
SPF
Sun exposure is dehydrating in and of itself, but chemical sunscreens can be drying, too, not to mention seriously irritating. Physical sunblock, on the other hand, is soothing, non-toxic—most formulas offer some degree of moisture. Dermatologists generally prefer that patients layer on sunscreen before moisturizer, but that may be in part because chemical sunscreens need to sink into skin to work (they absorb, as opposed to deflecting sun's rays as physical sunblocks do). John Masters SPF 30 ($32, goop.com) is nicely emollient and comes in a great glass pump that's nice to leave out on your counter so you remember to apply; Juice Beautys green tube of Sport SPF 30 is especially good on a ski slope ($16, goop.com).
Masks
When your skin is super-dry, a deeply moisturizing mask is incredibly soothing. An exfoliating one like Tammy Fender's Epi Peel ($80, goop.com) is great to follow immediately with a thick layer of oil, balm, or moisturizer. A purely hydrating one like Tata Harper Moisturizing Mask ($110, goop.com) is the way to go if your skin is feeling at all reactive. Honey soothes and moisturizes; the Honey Mud from May Lindstrom ($80, goop.com) is a daily product that doubles as an amazing, mildly exfoliating yet intensively moisturizing mask that's rich with honey, oils, and natural clay.

Related: Solutions For Chapped Lips