10 Steps for a Sun-Kissed Glow (No Sun Required)
Created with Veracity
Written by: Brianna Peters
|
Published on: August 10, 2021
|
Updated on: June 16, 2023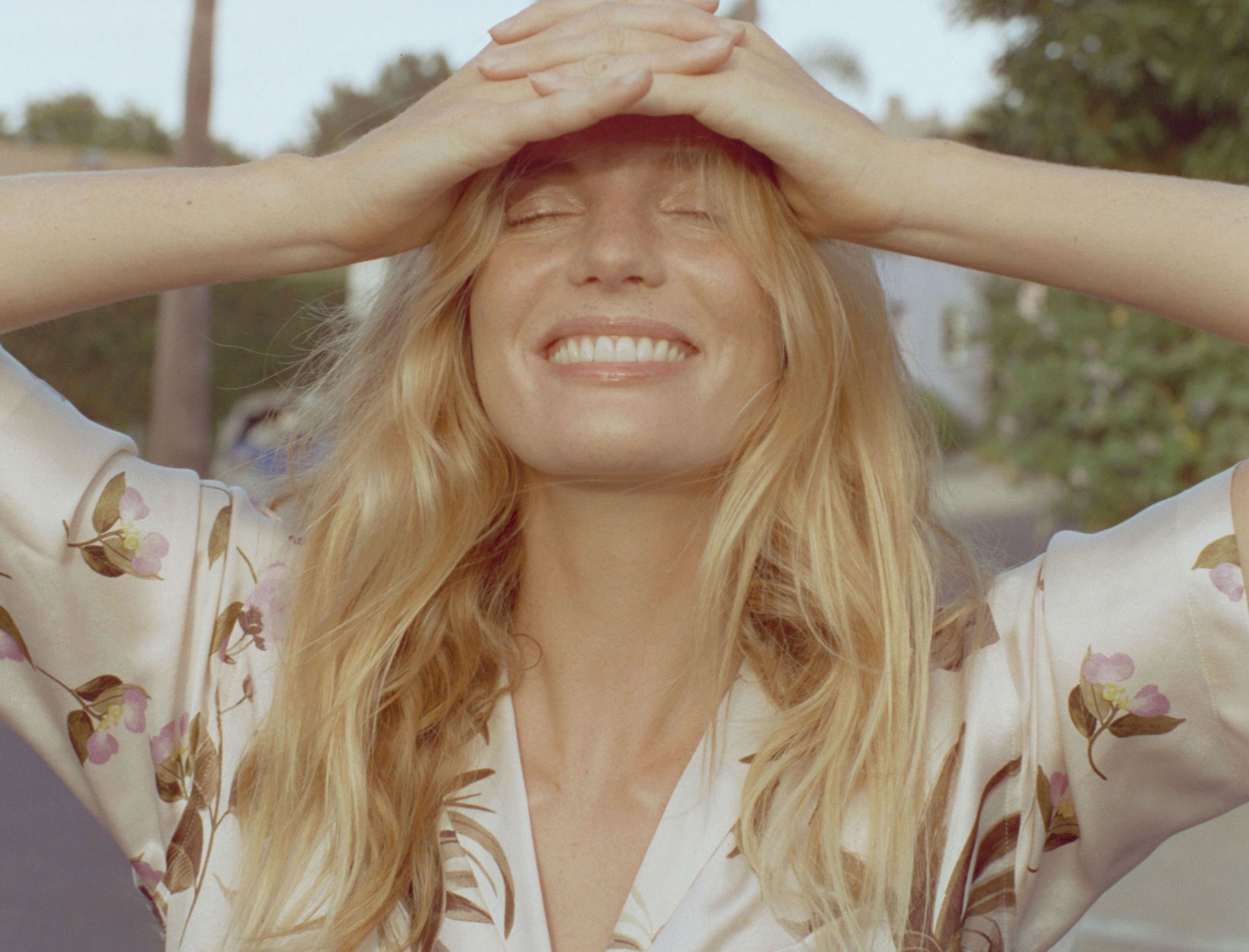 Photo courtesy of Monroe Alvarez. Model: Clara Settje.
The secret to a summer glow involves not just a last-minute swipe of bronzer but a multipronged approach: good food, great exercise, a radiance-inducing supplement, powerfully restorative skin care, and, of course, a few touches of the fun stuff (highlighter, self-tanner, and more).
The result? Gorgeously luminescent skin without the sun exposure. To that end, we've included SPF 30 in this routine—which works no matter your skin type—so make sure to wear it every day.
1
The Lit-from-within Glow
Starts…Within
Drink a glass of this powerful blend of vitamins C and E, astaxanthin, and carotenoids for the ultimate skin support. The coral-colored powder tastes refreshingly citrusy, mixes easily into a glass of water, and supercharges any topical skin routine.*
2
Cleanse
No matter your skin type, cleansing makes an enormous difference in the way your treatment products perform. This silky oil-to-milk cleanser dissolves dirt, oil, and other pore-clogging impurities while supporting your skin's moisture barrier with hydration and nourishment. Made with powerhouse ingredients like biomimetic sea fennel extract, prebiotic inulin, and hydrating snow mushroom extract, it leaves your skin fresh and supple.
3
Layer Serum Over Bare Skin
Face serums address issues like breakouts and dull skin—and the results are impressive. Vitamin C is especially great in summer because it helps fight free radicals from UV rays and other environmental factors while brightening, clarifying, smoothing, and refining the texture of skin. Peptides can help firm, boost hydration, and more.
4
Layer on Moisturizer
This incredible, deeply hydrating moisturizer works day and night to make a huge difference in the way your skin looks and feels. The secret: skin-boosting ingredients like microbiome-supporting prebiotics, calming cherimoya extract, and smoothing white lily bulb extract that work together to smooth, firm, and calm skin. We're obsessed.
5
Do a Weekly Skin Treatment
We exfoliate at least once a week (but often more) with the bestselling Microderm face scrub—the combination of physical and chemical exfoliants really helps boost glow, retexturize, and deep-clean pores. Tata Harper's flower mask is great for dry, dull skin because it floods skin with moisture, plumping and refreshing, while the soothing clay mask from Grown Alchemist is ideal for purifying and brightening, especially for anyone dealing with breakouts, excess oil, or uneven texture.
10
Smooth on Gleamy Body Oil
Beautifully scented (and faintly chocolaty), this luxurious silky oil leaves a little luminosity and tint anywhere you put it. Coconut and avocado oils deeply moisturize, while raspberry oil soothes and energizes. Watermelon, coffee, and cacao oils play up any skin tone for a subtle tan.
---
*These statements have not been evaluated by the Food and Drug Administration. This product is not intended to diagnose, treat, cure, or prevent any disease.