Step-by-Step: The Easiest (and Best) Self Tan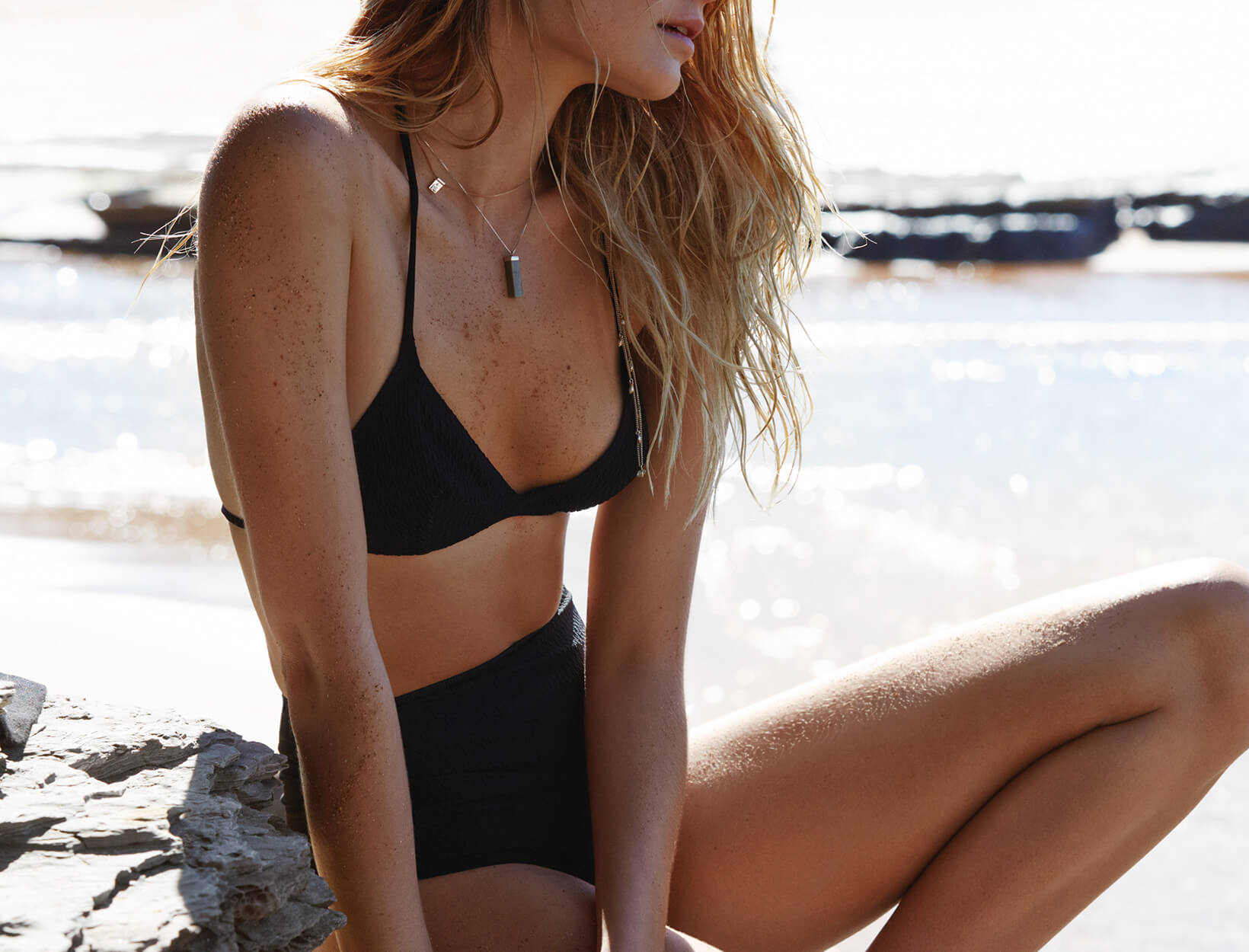 A natural, even, super flattering glow is much easier than you think—and much easier than the back of many tanner bottles and countless articles make it sound. The prevailing wisdom involves assiduous exfoliation, along with some super-awks time in the bathroom waiting for the tanner to dry. And we're here to say that neither is necessary.
1.
Choose the best self-tanner. This clear tanning "water" gives perfect, subtle but tan color, blends flawlessly, and doesn't transfer—as in you can slip into a white T-shirt right after you apply it and be on your way. It whips into a light, fluffy foam as it's dispensed onto the definitely worth-getting mitt, and it's miraculously easy to smooth in. (Somehow the foam is light and/or moisturizing enough that it melts into your skin, rather than seizing on it, as many fast-drying tanners do.) It also takes seconds to apply because of the lightness and feels like nothing on your skin once it's on: not sticky, not tight, nothing. And the resulting tan is smooth, totally natural, splotchless, and perfectly glowy.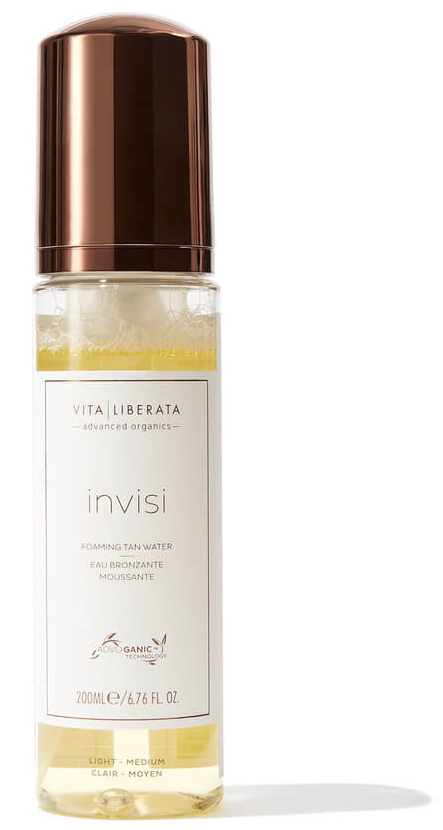 Vita Liberata Invisi Foaming Tan Water
goop, $39
This clear tanning water is an absolute dream to apply. It foams into a thick, hydrating mousse that sinks right into skin when applied with the Vita Liberata Tanning Mitt—and the clear color means there's absolutely no residue or transfer to clothing or sheets. The quick-dry formula is infused with organic botanicals to moisturize skin while it works.
2.
Improve results with
body cream
—or lotion, oil, or even lip balm— it makes blending self-tanner a thousand times easier. A nice thick one like Rodin's giant jasmine-and-neroli-infused tube is ideal. Smooth a good dollop of it between your palms and between your fingers (this will help prevent tanned palms), then dab the excess anywhere you have thicker or drier skin—your elbows, ankles, the tops of your toes, knees, etc. Thicker, drier skin pulls in more tanner, creating uneven dark spots and splotches that look decidedly unnatural. By smoothing cream over those areas, you make them a little more resistant to the tanner, and the result is an even glow instead of splotchiness.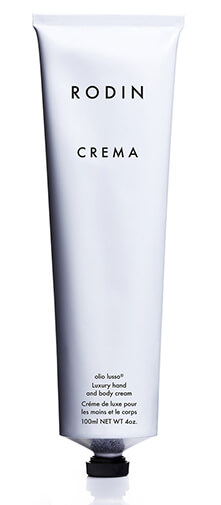 Rodin Crema Luxury Hand & Body Cream
goop, $88
Slather on this silky cream alone or layered with olio lusso body oil. Either way, skin will feel hydrated and just a little bit scented with beautiful Neroli (it's a member of the citrus family and packed with elasticity-improving Vitamin C).
3.
The nice thing is, this principle works either way: If you forget about it and apply tanner without it, you can just go over the drier areas directly after you do the tanner—the results are the same.
4.
Once you've protected the drier spots from overtanning, apply the tanner. We like to start at the feet because they're the hardest to get right, so focus all your blending attention on them. The feet have a jillion different odd angles, so make sure to get the tanner in there so you don't end up with blaring pale spots.
5.
Move up your legs and keep blending. There's no such thing as overblending. It's also hard to overdo the amount of tanner—adding more in a single application won't make you tanner; it will just ensure no streaks, no missed spots, etc.
6.
Tan only where you want—no need to do your whole body unless you're feeling it! (Though consider who might be seeing you naked if you're going for the partial.)
7.
When you're done, wash your hands with a great deal of enthusiasm; tanned palms look ridiculous. Even though you've been using a glove, go the extra mile, just in case. When your hands are completely dry, dab a bit of tanner on the back of one hand and rub the backs of your hands together to blend the tanner. You need tanned hands to go with your tanned body.
8.
Tear open a face wipe and dab lightly at the aforementioned thicker, drier spots. (Apply body cream to them now if you forgot to at the beginning.) When you're through, use the face wipe to give your palms and between your fingers a final swipe.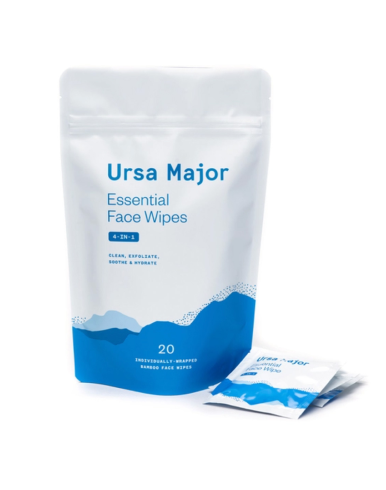 Ursa Major Face Wipes
goop, $24
The company's miracle 4-1 Face Tonic formula is infused into each individually-wrapped bamboo-cloth face wipe—use as a pH-balancing cleanser, gentle-but-powerful exfoliant, potent skin-healer, and firming hydrator, for all skin types. The wipes smell subtly of orange, fir, and lavender—refreshing after the gym, beautiful for taking off makeup, life-changing for the breakout-prone.
9.
Instead of shivering naked in the bathroom, throw on a loose sundress, shorts and tank top, or some such, and go about your business. You shouldn't shower for at least eight hours (it'll wash the tanner off), but there's no reason not to get on with your life—the tanning water does not transfer, even onto fresh white sheets.