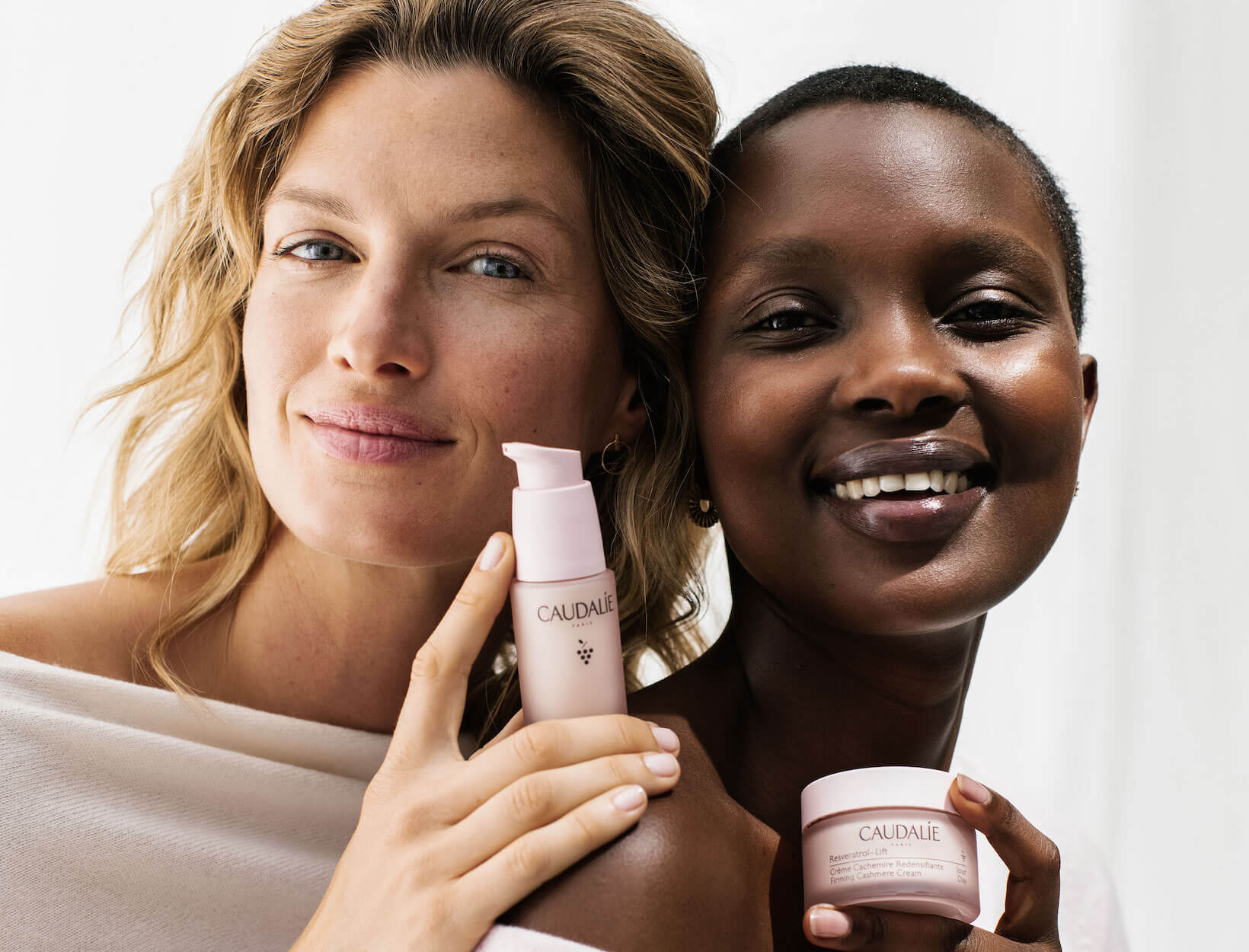 Between-Holidays Skin Reset: Firm, Smooth, and Boost Glow
In partnership with our friends at Caudalie
There's no better season than right now—flitting to boozy cocktail parties and gleefully staying out into the night with friends feeds the spirit in ways we'd all but forgotten about—but our skin undoubtedly suffers. The solution is something of an intensive for skin: Bombard dry, tired, or even abjectly hungover skin with nourishment to leave it noticeably smoother, plumped, and luminous. Turning your attention to your skin can work as a sort of between-the-holidays boot camp, and we promise the gorgeous results are worth it.
Counterintuitively, one of the most powerful skin-care ingredients to renew and refresh skin is found in the very substance that often gets us in trouble at holiday parties: wine. Resveratrol, an antioxidant present in grapes that's been credited as a major factor in the French paradox of lower heart-disease rates despite a higher-fat diet, has significant effects on skin, too. In its new Resveratrol-Lift line, Caudalie partnered with Harvard University to create a patented complex that combines resveratrol harvested from grapevines in France, other antioxidants, hyaluronic acid, and a vegan collagen booster; the new complex is clinically proven to be twice as effective as retinol in visibly firming skin.* (Note that the products all come in fully recyclable cartons made with lightweight Forest Stewardship Council–certified paper to reduce the carbon footprint by 40 percent.)
This new complex is a bit of a linchpin in our boot camp routine—it appears in several steps (including a smoothing, plumping eye cream and a serum that works miracles on even the dullest skin). Also important: some serious exfoliation, major moisture, and of course, a few fun, nourishing beauty moments for the rest of the body.
Bonus: Pamper Everything Else, Too
As you get your skin into shape, treat the rest of your body (and mind) to restorative, soothing goodness.
LIPS

The cushiony blend of castor, coconut, and jojoba oils leaves lips beyond supple and encased in a fortress of moisture. The touch of sheer pigment—you get translucent garnet and rose, plus the OG clear balm—is subtle and sexy.

goop Beauty

GOOPGENES Clean Nourishing Lip Balm Trio

goop, $42

SHOP NOW

HAIR

This mix of fortifying oils works on all hair types to boost shine, tame frizz, moisturize and soften, smooth ragged ends, and give hair the most incredible texture.

goop Beauty

GOOPGLOW Restore
+ Shine Hair Serum

goop, $48/$44 with subscription

SHOP NOW

BODY

The best-ever reset: Pour these valerian-root-and-passionflower-infused salts into a warm bath and step in. Soak for twenty minutes and notice any emotional baggage dissolve.

goop Beauty

"The Martini" Emotional Detox Bath Soak

goop, $35

SHOP NOW