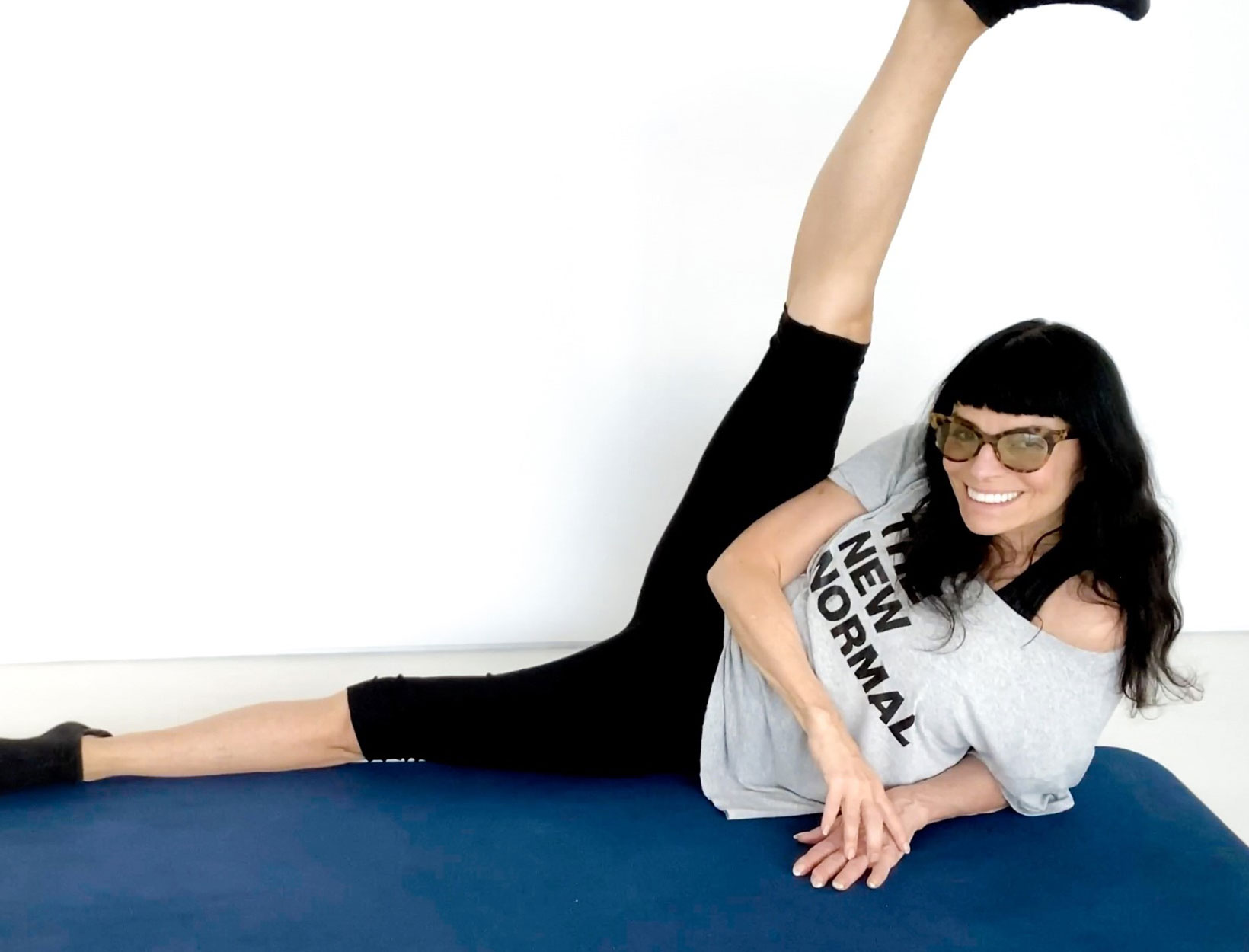 Hello, My Age Is: 75
Designer Norma Kamali on Great Skin, Sweet Potato Ice Cream, and Finding Your Soul Mate
Norma Kamali
fashion designer and founder of Norma Kamali and NORMALIFE skin care
It would be easy to attribute Norma Kamali's almost preternatural luster solely to the magic of genetics, but the designer credits clean skin care, acupuncture, a clean diet, daily dance parties, and currently, the transformative powers of being in love (she just got engaged on her seventy-fifth birthday!). One look at her supple skin, signature bangs, swingy hair, and graceful body, and you—like us—are going to want all her secrets.
Kamali's take on aging is simple: It's fantastic. "It's an opportunity to evolve, meet your soul mate, and look and feel more wholly, unabashedly yourself than ever before," she says. Said soul mate is now official. "He asked me to marry him—we'd never even talked about marriage!" laughs the world-famous fashion designer, whose work (sleek jumpsuits, camo-patterned sleeping-bag coats, sexy swimsuits) has been worn by everyone from Rihanna and Chrissy Teigen to Farrah Fawcett (yes, the red maillot in the classic poster is a Kamali). Barefaced and casual, Kamali somehow looks even more luminous on our Zoom chat than she did when we last saw her, on the Beauty Closet podcast. "Younger women are always having panic attacks that they're not married, but I'm so grateful this didn't happen earlier," she says. "I met Marty when I was sixty-five. I wasn't ready before. I'm ready now." Here, how Kamali got—and stays—ready.
1
Sleep (for Your Skin and Nerves)
"I love my bed, I love the thought of putting my head on the pillow, and I love sleep. I get eight hours a night. I meditate—first thing before my first call at 8 a.m.—and I exercise every day, so I don't usually have problems falling asleep. I also drink magnesium powder mixed into lemon and ginger water. Magnesium is so soothing, especially with all the crazy meetings we've had lately—you'd think Mercury was in retrograde!"
2
Stick to a Clean Skin Routine
"Toward the end of her life, my mother had fewer lines on her face than I did on mine. Of course genes do play a role in how you look, but she stayed out of the sun and used one product for her whole life, as far as I can remember: cold cream. Her consistency with her skin care made such an impression on me.
"I use my products—each one works for both face and body—and keep my skin care simple. I alternate washing my face with my charcoal-and-aloe cleanser, CLEAN, and my exfoliating one, SMOOTH. I put on my moisturizer, SOFT, every morning and night. It's made with the leftovers of pressed olives used to make olive oil, so it's extremely nourishing. It also doubles as a great makeup remover: Put some on a damp washcloth and trace it over your face to gently wipe off concealer, mascara, lipstick.
"Once a week, I apply GLOW, my self-tanning lotion, all over my body. It evens out skin tone beautifully and gives you this healthy glow, as if you've spent time in the sun, sort of like a body highlighter. All the girls in the office wear it, so it works for every skin color.
"The most important thing I've discovered about skin care is to stick with time-tested ingredients that we know really work. It's why I created NORMALIFE with ingredients like olive oil, charcoal, aloe, sea salt—they're incredible for your skin, whether you're seventy-five years old or thirty. Marty even uses it.
"And clean is so important. Clean skin care really works: You get all those powerful ingredients with no fillers, so they make such a difference. I like the texture of the GOOPGENES face cream—it's rich and can double as a night cream."
3
Get Acupuncture, Skip Makeup
"I miss my weekly acupuncture 'face-lift'—I'm definitely ready for one! Before lockdown, I got acupuncture every week—all over, and they'd do my face, too. I can live without manicures and pedicures and massages, but the thing I wish I could have continued through the stay-at-home order is acupuncture.
"I used to wear mascara, but I haven't even been doing that lately. I do a little lip balm from this brand called Hurraw!—it adds a tint that's just enough. So lip balm, GLOW for some fresh color, and I use a little brow brush to smooth things out."
goop pick

Saie

Brow Butter

goop, $18

SHOP NOW
4
Cut Your Own Hair
"When I work out, I sweat like crazy, and I'm like, is all this salt okay for my hair, or should I be washing it daily? Instead I've been using Jamaican castor oil—I take a few drops and smooth it through my ends. It's from this brand May 11 that I discovered on one of our photo shoots. It helps smooth out my hair and make it look a little more together. I've also been cutting my own bangs and Marty's. I'm not so sure about how my hair looks, but we both think his looks pretty great—Marty says he's never going back to professional cuts."
5
Intermittent Fast
"Intermittent fasting is something that works for me. I do it every day. I like the feeling of giving my whole system time to relax, reset, and digest. I also love the element of discipline—it helps me not eat randomly, which has been especially useful while I'm sitting here working from home all day. I even got Marty into it: He's lost fifteen pounds during lockdown. We do a sixteen-to-eight-hour ratio, containing the amount of time we eat in a day to eight hours, and then allowing our systems to rest for sixteen. Somewhere between 11 a.m. and 1 p.m., I break the fast with a cup of water with lemon and ginger juice. It's great for the stomach, and I love the way it tastes when it's warm or cold. I drink two big cups."
6
Love What You Eat (Hello,
Sweet Potato Ice Cream)
"For lunch, I might have a smoothie with greens, berries, avocado, and collagen powder or a salad with the same ingredients, as well as chickpeas, olives, olive oil, lemon juice, and pink sea salt. I keep things not heavy so that I can work out afterward if I want. Dinner can be something like poached salmon, and I stay away from sugary desserts. Fruit and sweet vegetables can make interesting desserts—there's a sweet potato ice cream I make, and frozen blueberries are fun. Nuts make great snacks. If I'm going to watch a long movie, I have to have popcorn—I just have to. If I'm with friends, I make big shopping bags full of it and then douse it with my favorite olive oil and sea salt. Done! And I don't drink alcohol."
7
Move (and Dance, Dance, Dance)
"I do Physique 57 on demand with an instructor I've loved for years. I miss going to actual classes because I'm competitive and get inspired by being around people, but I love getting to work out when I want to now. I got into yoga last summer, and I do Alo Yoga beginner classes at least four times a week. The instructors are so clear. I fall over attempting to do certain poses, but I don't care. I find it to be such a great discipline. If I were a real princess, I might become neurotic enough to work out all day. I just love the way it makes me feel. I also bought a desk treadmill. My friend says sitting is the new smoking, and it's true. All these Zooms are brutal on the body.
"I dance a lot, too. An activity common in folks who live long is dancing! I love lots of different music—I can really move to just about anything—but I'm hooked on Etta James right now. We were friends, and when she died, I had to take a break from listening to her songs because they made me sad. But I've started her up again, and when I put something of hers on, I believe I can sing like her. I love the bluesy edge to all her music."
8
Mantra: Confidence Comes
from Knowing You Can
"I'm not sure I really think about being beautiful or wanting to be beautiful. I feel my best when I feel confident; the intelligence that comes from experience is a big part of that confidence, and so is honing a strong, fit body. Confidence comes from knowing that you can. I think about myself at twenty-four, and I think, Who was that poor soul? What the hell did she know? I started my business when I was twenty-four. I was driven to do it, but that wasn't confidence. Confidence came later, after making mistakes. You're gorgeous with perfect skin in your early twenties, but I wouldn't trade that age for the years later on when I started to feel whole. A lot of what beauty has to do with is caring about yourself. When you care, you put out a signal and people pick up on that, and then they treat you the way you want to be treated. That's the real key."