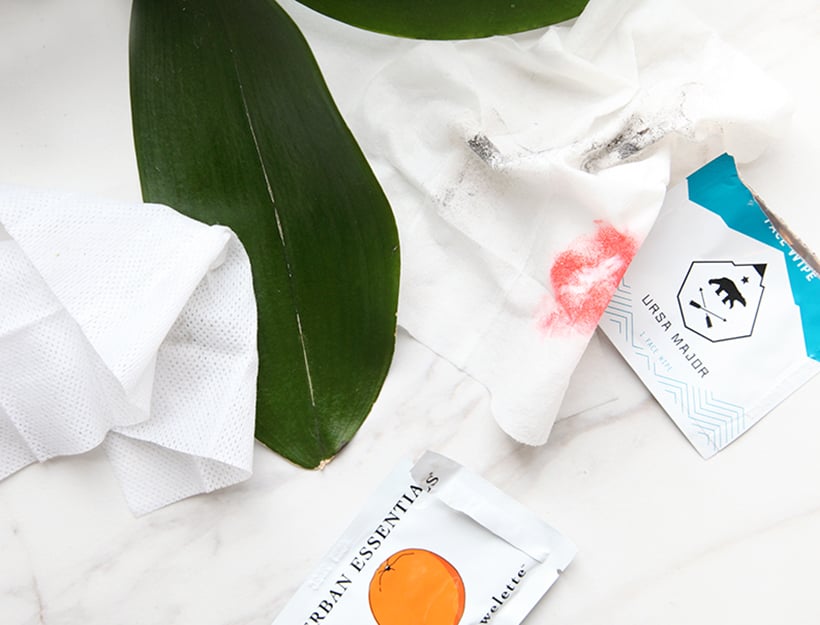 Six Million Uses for (Clean) Face Wipes
An all-natural, no-chemical face wipe is a rare and unbelievably useful thing. Wipes, of course, get rid of makeup on those evenings when a full face wash simply cannot be…faced, or in any situation where lugging cleanser is less than appealing, but the story is much bigger than that. Conventional face wipes can be, in many ways, more toxic than conventional cleansers: Because they are packaged together and often have to sit on a shelf opened for months at a time, the amounts of preservatives, alcohol, and antibacterial agents added to them are often high. Propylene glycol and dipropylene glycol, plus parabens and fragrance are common in conventional face-wipe formulas, as are formaldehyde-releasing antimicrobial agents like 2-bromo-2nitropropane-1 and 3-dio. Not only do these ingredients potentially cause serious health problems, at the very least they dry and irritate skin. (Indeed, most dermatologists advise washing or rinsing your face after using them to remove the potential irritants from your skin.)
For that reason alone, it's worth it to switch to clean face wipes. "It's an alchemy," says Ursa Major skincare co-founder Emily Doyle, of the combinations of natural antibacterial and antifungal ingredients she uses instead of harsh and potentially toxic synthetics to stabilize her formula. She packages the wipes in individually sealed envelopes, so they need less preserving in the first place. Beyond that, she says, the company replaces drying and irritating ingredients with moisturizers and soothers like aloe, sodium hyaluronate, olive-leaf, and rice-seed extracts. Rather than the in-a-pinch, every-once-in-awhile use recommended for regular wipes, Doyle recommends hers as a daily treatment for anyone with oily skin, or who works out regularly.
Coconut oil—extremely special coconut oil because it's been processed without any heat to retain the rare lauric and caprylic acids within it—is the crucial ingredient in RMS Beauty's face wipes, says founder Rose Marie Swift. "Lauric and caprylic acids are antibacterial, antifungal, antimicrobial, and antiviral," she says. "It gives the wipes superpowers, truly. If you put only the good stuff in, it costs a lot more, but it's just amazing for your skin. Instead of washing it off afterward, you're leaving on this fantastic treatment." Again, RMS wipes are something you can absolutely use daily, rather than simply in a pinch.
Herban Essentials uses the antibacterial, antifungal, antiviral qualities inherent in lavender essential oil for its individually wrapped Lavender skin wipes, says account manager Amanda Curnow: "They help clear breakouts, promote healing and prevent scarring—you can smooth a towelette over burns or scrapes. I use them when I get a sunburn, and they're good for any skin type," she says.
So think of a (clean) face wipe as skincare, pure and simple—as opposed to the in-a-pinch type of product that most conventional wipes are. That said, they are deeply useful for all sorts of situations, expected and not:
Eyeliner/mascara cleanup

This is obvious, but bears repeating, not just for swiping it all off at the end of a heavier-eye-makeup evening or a long day, wipes are also brilliant at lifting off the errant shadow or mascara that's fallen on your cheek or smudged along your brow bone. Use a light hand and you won't disturb makeup underneath.

The double cleanse

If you're feeling super-grimy from sweat, makeup, pollution, or actual out-and-out dirt, do a face wipe for your initial pass, then cleanse with water and your favorite cleanser for ultimate purification.

Indoor plant doctor

That white fluffy cotton-ball-like scourge that grows on and weakens indoor plants responds only nominally to sprays like neem or tea tree (or chemical antifungals), but if you first remove the fluff with face wipes, you're seriously cooking with gas. Spray post-wipe and the plants will triumph over the white fluff.

Airplane veil of protection

You wash your hands on the airplane—and then you have to open the bathroom door and all your effort is undone. Once you're back in your seat, re-cleanse your hands with a face wipe, & refresh your face at the same time (follow with oil or face cream plus a layer of sunblock on both your hands and your face). Don't forget to wipe the tray, too, as they're one of the most germ-ridden spots on a plane.

Instant face mask

Take your favorite, super-active serum or face oil, smooth a thick layer over your face, then press a face wipe over it, and let it sit, the way you would a serum-soaked paper face mask, for 10 to 20 minutes.

Sand eradicator

The beach is a 100% more pleasant experience when you can smooth away sand, sunblock, and oil easily. Along similar lines, camping is 1,000 times more pleasant if you've got some face wipes in your bag.

Screen cleaner

Germaphobes are always pointing out the frequency with which your face touches your phone; a face wipe full of good-for-your-skin ingredients goes beyond fixing the problem and actually improves the situation. You can use them on computer and iPad screens, too.

Post-wax soothing

A swipe after brow or bikini waxing helps prevent ingrown hairs and calms irritation all at once.

Body breakout-fighter

Non-face breakouts are notoriously hard to get rid of; constant vigilance in terms of clearing away acne-causing bacteria makes a serious difference, and a packet of face wipe seriously helps.

Shower replacement

No judgement—the (hopefully) occasional reality is there, and strategically-deployed essential-oil face wipes are an incredibly effective instant cleanse.

Self tanning-streak prevention

You apply self-tanner, you wash your hands, then go in with a face wipe and dab any spots of dry or thicker skin: Your elbows, ankles, knees, knuckles, inner wrists, and any other spots that might have too much tanner. When you're done, do a final swipe on your palms (thicker, drier skin absorbs more self-tanner and thus turns darker) just to be sure.

At-home hair dye rescue

Once you've put the color in your hair, dab a face wipe at your hairline so no dye sticks to your skin.

Stain lifter

Wipes aren't going to be as powerful as, say, a Tide marker, but they do work: Hit a stain as soon as you see one, and rub it gently with the wipe. Face wipes are also brilliant shoe-scuff glosser-overs.

Everyday cleanser for teenagers

Teens (and preteens) desperately want clear skin. But they also won't wash their faces. For whatever reason, a wipe is not a bridge too far—and thus makes a serious difference.
The Best Clean Face Wipes