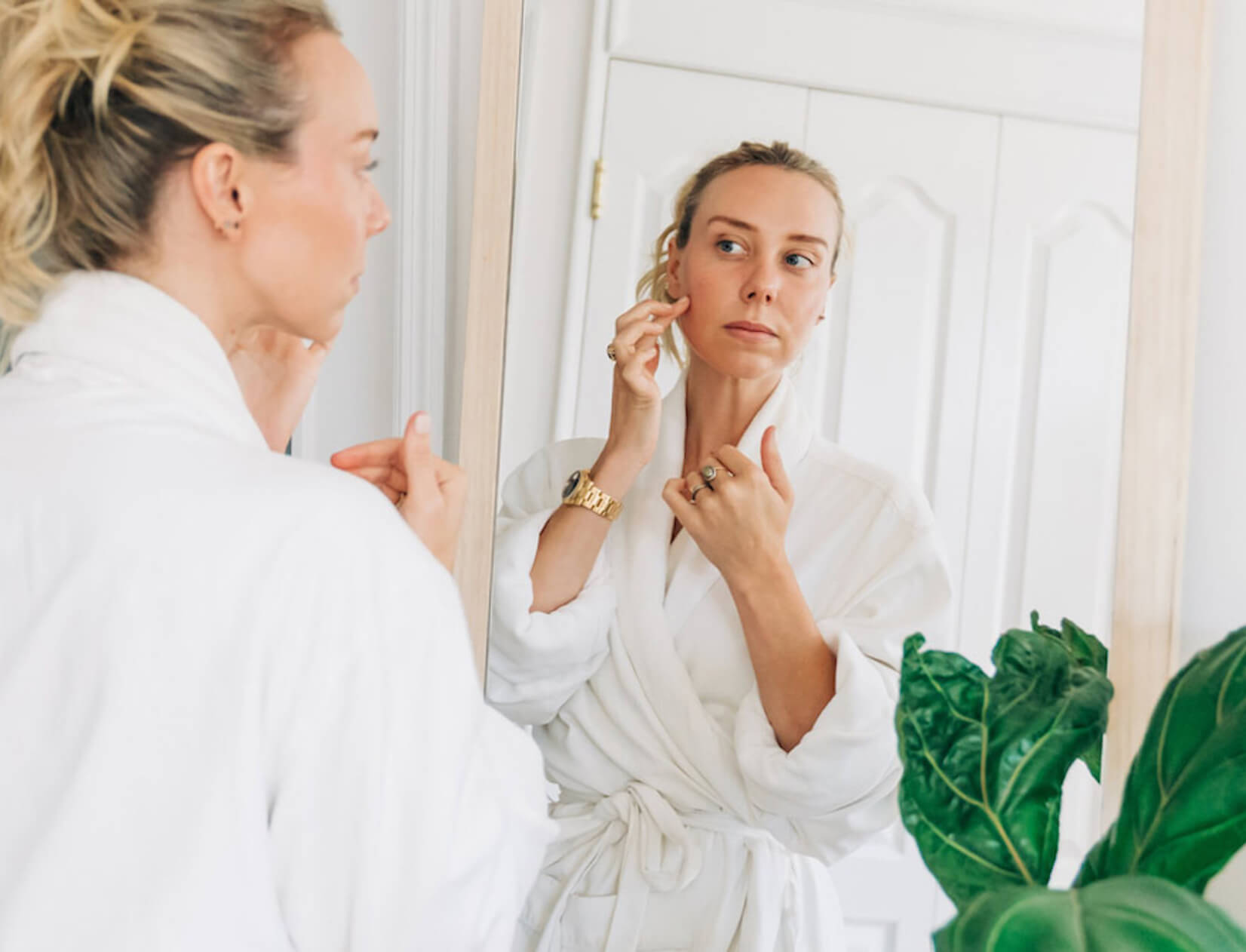 Photos courtesy of The Select 7
My Morning Routine
The Skin-Care Sleuth
Jessica Richards
founder, Shen Beauty
If 2020 challenged small business owners like no other year, it was also rough on moms of all kind—and on single ones in particular. Jessica Richards, who fits both descriptions, somehow managed to reimagine, redesign, and relocate her cult-favorite Brooklyn beauty boutique, Shen, in the midst of it all. "What a year to open a store, right?" laughs the single mom of two sons, eight and eleven. "Navigating banks and architects and contractors with no investors during a pandemic is something I don't wish on anyone."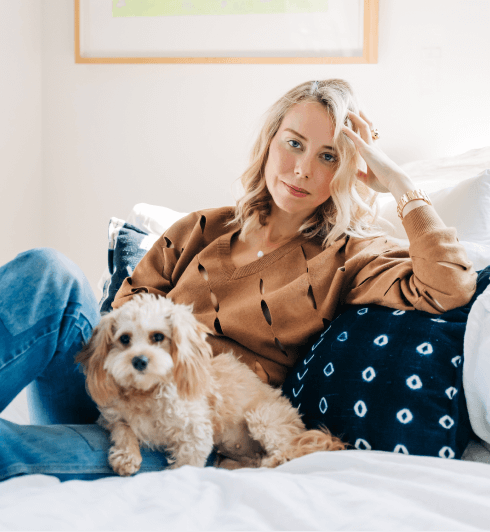 The result is a warm, gorgeously minimalist boutique (design magazines have gone crazy for it) where you can have your brows shaped, get your lashes tinted, and find what's next, newest, niche-est, and best in beauty. There are adjustable-light (as in evening, outdoor, office) mirrors everywhere for trying things on and brands you've never heard of next to brands you love (goop Beauty is most definitely on her shelves). And most days, there is Richards herself, brimming with ideas, kindness, and wry humor.
"I grew up working in retail, and I'm still at it!" she says. Richards started at a surf shop in high school in Laguna Beach—"All the boys hung out there," she explains—and stopped only for a stint styling at Vogue. At home after having kids, she lost a favorite moisturizer and realized Brooklyn had a huge white space: no beauty stores. The rest is history; Shen was one of the very first stores to talk about clean beauty and one of the first to carry goop.
Since she's made Shen the place to discover under-the-radar beauty secrets for the last ten years, Richards's a.m. routine is pretty next-level at this point. She focuses almost exclusively on skin care, for a glow that lasts all day (no matter how hectic it gets). As we've said before, we want what she's having.
6:45 a.m.: I'm not a morning person, but my kids have to be at the bus stop at 7:30, so—I'm also last-minute Sally—I cut it close. My delicious goop coffee is already going: I prepare it the night before, so it's ready in the a.m. I'd love to be totally plant-based, but half-and-half in my coffee makes it taste like coffee ice cream, I swear (I don't add sugar—doesn't need it!). I also drink a Skinny Mint Morning Tea, and I take Dawn CBD from Gossamer. The combination gives me focused, calm energy.
7 a.m. While I'm having all that, I'm getting the kids up, making them breakfast, getting everybody dressed. Because I wash my face and do a major routine at night, I don't cleanse in the morning. I've still got some great oils left on my skin, and I smooth my new obsession, the goop face oil, onto my morning skin and get them to that bus on time.
7:35 a.m.: Then I go to SoulCycle. Just kidding, unfortunately: I jump on my indoor bike at home. I hate not being in an actual class, but hopefully everything returns to normal this year. Until then, I'm on the bike.
8:15 a.m.: After I work out, my morning routine begins. I jump in the shower. My favorite thing is the goop energizing body wash—truly l love it. It's got the best scent that wakes me right up and makes me feel alive. I use it with the Supracor body mitt, which is sort of a cross between a dry brush and an '80s loofah. It's amazing.
8:20 a.m.: After I step out, I love the goop body butter. Lotion, for me, isn't hydrating enough, and oil stays on my skin too long and I can't get dressed quickly, but that butter soaks right in and it is super hydrating and thick and rich…I love it. I used to mix oil with lotion, and now I don't have to.
I love the eucalyptus deodorant from Nécessaire.
8:25 a.m.: Now I start my skin-care routine in earnest—it involves several layers. I work it all in with the skin tool I created for Shen: Most days I just do a quickie massage with it to help press in the product and give me a little lift, but if I'm feeling puffy, I grab the one I keep in the fridge to help depuff around my eyes, too. I've been addicted to Skin Design London's acne serum for years—I use it as a spot treatment, so it's been crucial to have around when I'm wearing a mask all the time, which does make me break out. So that stuff's more essential than ever.
Then I use this super expensive stuff called MBR Liquid Surgery Serum—you use it only three months a year, so the price amortized over a year is sort of less obnoxious? (Not.) The best time to do it is fall-winter, so I'm in it now. I layer more goop face oil over the top, and I also like to seal everything in with Venn vitamin B concentrate; it's supposed to go under an oil, but I like it on top. I also love the Glow Drops from Dr. Barbara Sturm as a top layer—who doesn't want more glow? It's the ultimate no-makeup makeup.
8:30 a.m.: I don't really wear any makeup. I believe in skin care, plus microblading and the lash-line enhancement from Josh at Shen. He does this natural pigment that lasts nine months to a year and makes you look like you have eyeliner on—you just wake up looking great every day! The only makeup I ever wear is the mascara from Gucci Westman. That plus the lash-line from Josh is perfect.
8:35 a.m.: Brush my hair quickly into low bun with the Manta brush (there is nothing like it—it feels so good and it's great for your scalp and your hair) and no product, or a little Illes Formula Finishing Serum Haute Performance. Then I spritz on Heretic Dirty Grass—the smell reminds me of California—and I'm out the door to get to the store, where you'll find me all day every day, except when I'm out for meetings or scouting around. It's a great place to be if you need a little swipe of extra skin care midday, let me tell you!