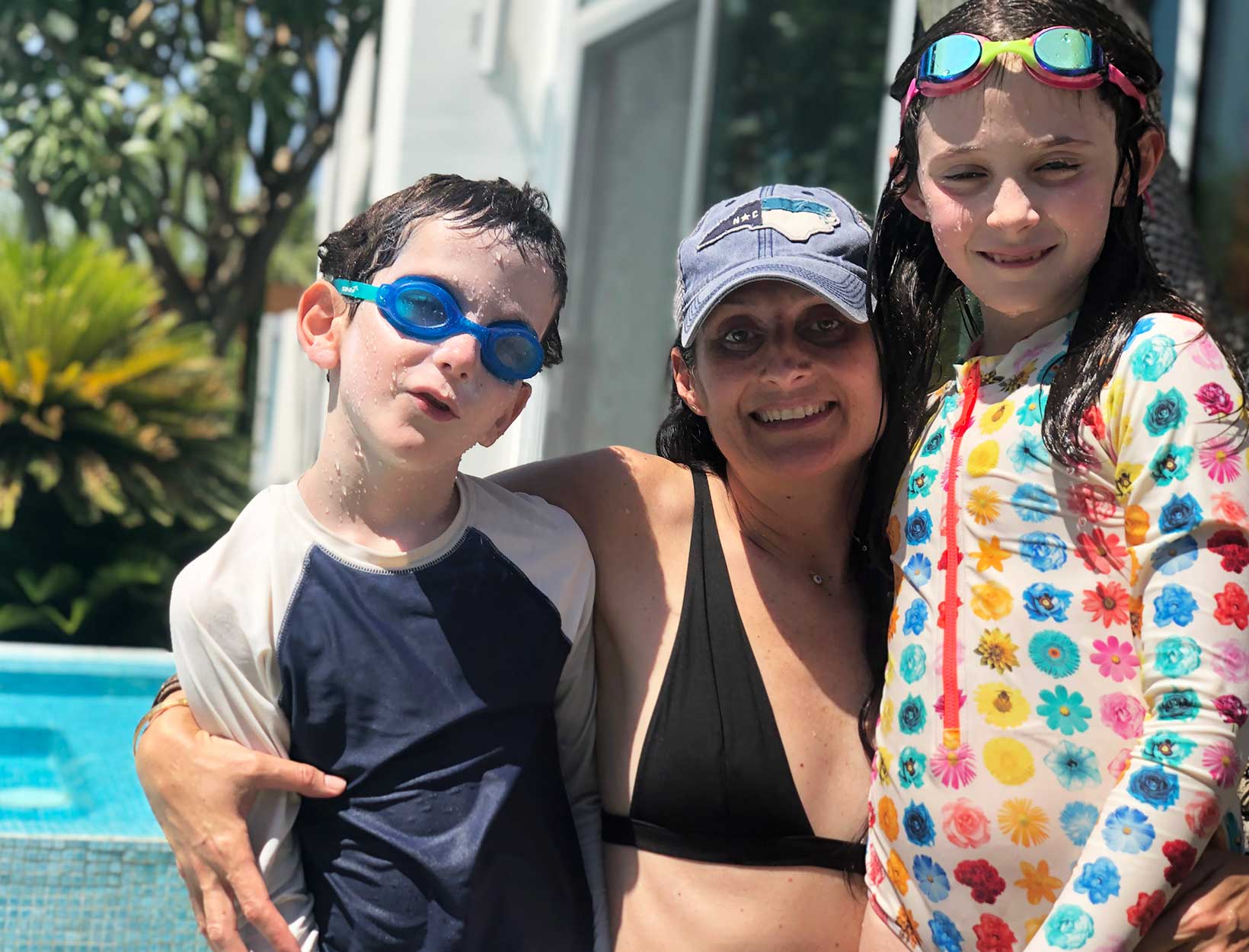 On Danielle: G. Label V Bikini Top, goop, $170
The Only (Safe) Sunscreen
My Kids Like (Actually, Love)
All those things you hear about putting sunscreen on your kids are true. They hate it that much. They squirm away that quickly. And yes, sometimes, they scream that loudly. In one of the worst episodes in my family, my son, on the verge of a complete sunscreen-application meltdown, took a cloth napkin and wiped off twenty-five minutes of work. I think that particular beach outing ended in tears. (Mine.)
This was a few years ago—and every sunny day since, I've been on a sunscreen odyssey. My holy grail (to mix an ancient-civilizations metaphor) had to be clean and nontoxic, of course. And the sunscreen had to be as harmless to the coral reefs of the world as a passing clownfish. That was the easy part. Next, it couldn't be drippy or thick or have any gross factor. That ruled out almost every sunscreen I knew. It had to be water-resistant. And SPF 30. Lotions would be tolerated; sticks were preferable. The scent could in no way resemble what my son calls "gross perfume blech."
When we moved from New York to California, mild panic set in. We avoided hikes between 10 a.m. and 4 p.m. We stayed inside a lot. And after one particularly exhausting negotiation about what constitutes full coverage, I considered telling my children that Los Angeles doesn't have a beach. When we planned our first family trip to Hawaii, the mild panic turned into full-on anxiety.
Until one absolutely beautiful day called Tuesday. It was late afternoon, and I was passing by goop Lab pretending I wasn't going to buy anything (but I was running low on my Knock Me Out chews as well as G.Tox Himalayan Salt Scalp Scrub Shampoo. Plus, I could always use another bottle Vintner's Daughter serum to use with my miraculous Jillian Dempsey vibrating bar), when I saw a small white sunscreen stick: Beautycounter. I had a flashback to a few summers earlier when my kids had used this same sunscreen for soccer camp and hadn't complained—not once. Full-coverage; SPF 30; water-resistant; not drippy or gloppy; only the lightest, vaguely leafy-green scent; and none of the white paste on their skin that makes my daughter self-conscious and my son maniacal. It is from the children's sunscreen gods.
Now I've got dozens. I put them in my daughter's lunch box, in the car, next to their sink, in my son's backpack—there is one within arm's reach all over my house. And they love it. They apply it often and freely and I don't even have to remind them. So I did the unimaginable: I took my incredibly fair children to Hawaii—and no one got a burn. Not even a tan line. The kids refused every other sunscreen I brought, which was fine with me because they were happy—happy—to apply the Beautycounter. And the guy who took us out snorkeling was happy because it's made with zinc, so the reefs are happy. And no one cried, so I was happy.
On our last night in Hawaii, I saw my son (he's eight, by the way) put it on his face at bedtime. I asked him what he was doing, and he explained that if it was good for his skin during the day, it could probably help at night.
Maybe on our next trip I'll introduce him to night cream.