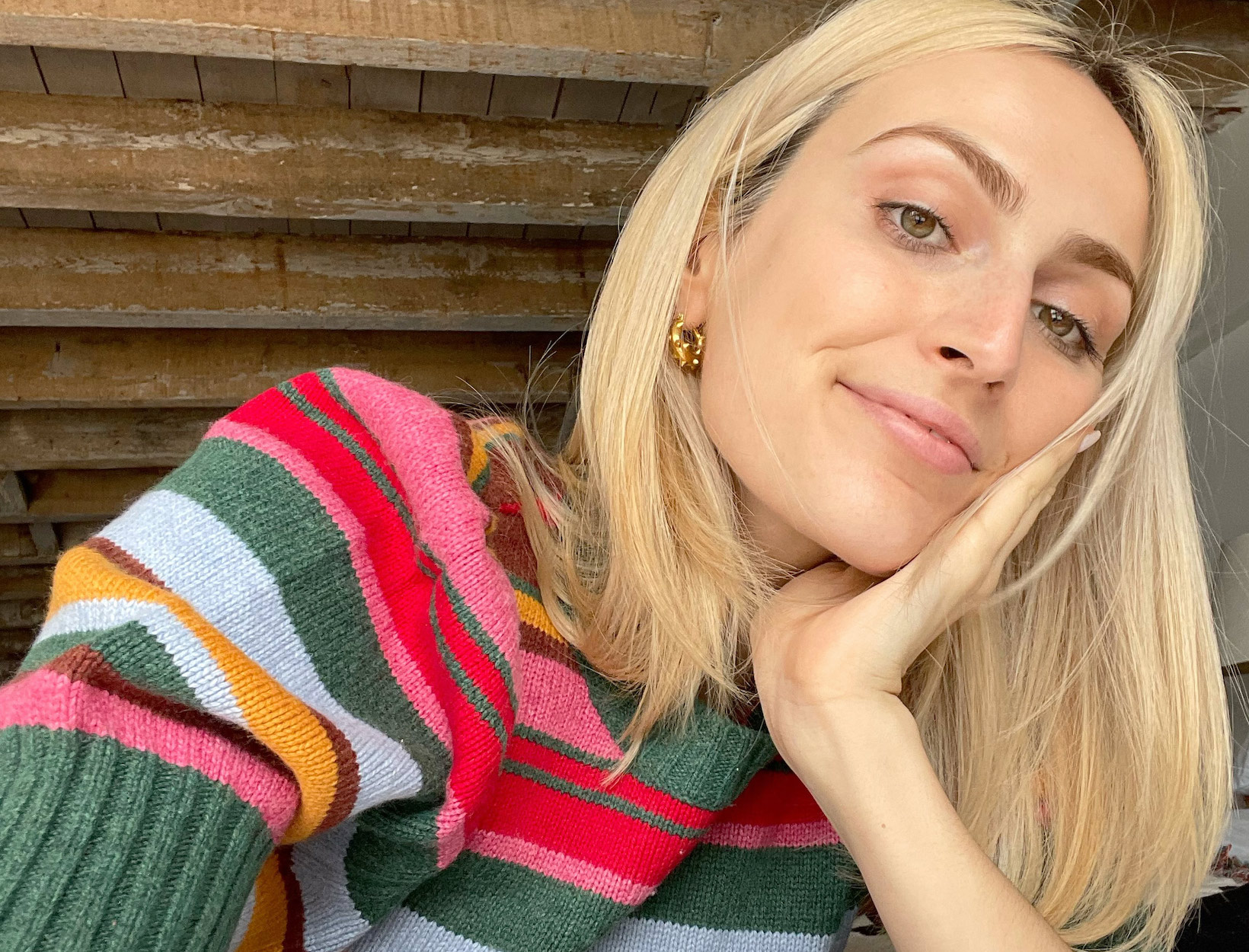 The Google Doc That Went Viral and Started a Beauty Career
"When I decided to take control of my skin, I barely knew where to start," says New York magazine beauty editor Rio Viera-Newton, whose new book, Let's Face It, is one of the most comprehensive discussions of skin care we've ever read. "After many late nights spent sleuthing around the internet, I discovered the Reddit forums r/SkincareAddiction and r/AsianBeauty—online communities that share skin-care advice and affordable, effective products, many catering to sensitive and acne-prone skin," she says. When her research evolved into a routine that worked for her "dry, flaky, lifeless, acne-prone" skin, Viera-Newton made a Google doc listing her new skin-care habits and essential products and shared it with two close friends. They shared it with their friends, who shared with their friends, and the doc went viral.
A beauty editor job and one amazing book later, Viera-Newton isn't stopping there—she's currently taking night classes to become an aesthetician. "I want to learn about different skin types and conditions so I can advise people more thoughtfully," she says. "I get so many DMs from people: 'What's the best cleanser for rosacea?' or 'What do I do if I have dermatitis?' Now I'm learning how those skin conditions can be treated and what ingredients are best for them. I want to be able to look at an ingredient list and know, when a bottle says use this every day, whether I actually can." Through her research, her job, the book, and now aesthetician school, Viera-Newton says the biggest thing she's learned—and the reason for her currently pretty flawless skin—is that skin care is individual. "Figure out what's right for you and your routine and adapt," she says. Below, some of the great Viera-Newton advice you can expect to find in Let's Face It, along with everything you need to build a skin-care routine from scratch.
CLEANSER
Cleansing is the first step in any routine, essential for avoiding breakouts and irritated skin. Double cleansing is two-step face-washing, with the core intention of removing all makeup or sunscreen. So you only need to double cleanse at night. For morning, I use a cream cleanser to gently wash away any sweat from tossing and turning all night. (I'm a sweaty sleeper! Gross, but honest.) But other sensitive-skinned skin-care experts swear by just splashing your face with water in the morning. A double cleanse begins with lathering an oil-based cleanser onto dry skin. The oil easily breaks down dirt or makeup, which you then rinse away. While your skin is still wet, follow up with a water-based cleanser to eliminate any leftover dirt, sweat, or grime.
Step-One Cleansers
These help break down and dissolve surface-level dirt, debris, and makeup.
Micellar Water

Micellar water is a cleansing water that uses a low-level surfactant to remove surface-level dirt and debris. You apply it to dry skin with a cotton round and don't need to rinse it off before your second cleanse. Make sure that alcohol and fragrances are not high on your micellar water's ingredient list; if they are, it might be quite stripping and irritating.

Oil and Balm Cleansers

Oil and balm cleansers are oil-based and best at removing surface-level dirt and grime from the skin. Both oil and balm cleansers are suitable for all skin types, including oily and acne-prone.

This cleansing balm just does a great job of melting off my makeup without stripping my skin. It's the perfect first cleanse. It's made with manuka honey, and I think it has this wonderful quality to it. I use this if I've picked at my skin—which I try not to do, but it happens sometimes—and I always wake up to soothed skin.
If You're Double Cleansing: Step-Two Cleansers
While these types of cleansers might be less effective on foundation or mascara, they're a wonderful second step to ensure your skin is as clean and bacteria-free as possible before bed.
Creams and Milks

Perfect for dry or ultrasensitive skin types, a cream or milk cleanser will clean your skin while ensuring it remains hydrated and pH-balanced.

Gel

Gel cleansers are great options for normal, combination, and oily skin types.

Foam

Foam cleansers are best for deep cleaning, making them excellent for anyone with oily, acne-prone skin. But avoid them if they include sodium lauryl sulfate (SLS) or sodium laureth sulfate (SLES), which can be stripping, drying, and irritating. Always check the ingredient list before making a purchase.
TONER
Toners are liquid treatments that further cleanse, balance, and treat the skin and prep it for the rest of your routine. Exfoliating toners are often a cocktail of acids (like AHAs, BHAs, and PHAs) plus hydrating or conditioning agents that work together to buff away dead skin cells and regulate oil production while delivering nourishing ingredients back into the skin.
If I have a couple of breakouts, I put this on before bed to leave my skin very soothed and just really glowy.
EXFOLIANTS
Physical exfoliators are made with grains or microbeads that—you guessed it—physically remove dead skin from the surface of your face to reveal smoother, more-radiant skin underneath. Chemical exfoliators use acids like AHAs, BHAs, and PHAs to do the same thing. Chemical exfoliators can often be gentler than physical ones.
I love these so much—one of my favorite exfoliators that I own. I just love the way my skin looks and feels after I use one—never irritated. I prefer the 5%; it's all about figuring out your skin's sweet spot, and I've found that lower percentages work best for me. I let it sit on my skin for fifteen minutes, then wash it off.

I focus this on my T-zone, where I get the most breakouts and where I'm most oily. I avoid my cheeks because I'm so sensitive there. That's another big part of understanding your skin care: realizing that you don't have to put all products all over your skin. Certain things go on certain parts of your face, and you can avoid other parts entirely.
SERUM
A serum is a lightweight, fast-absorbing, concentrated liquid that delivers active ingredients deep into the skin to do things like fight acne, hydrate, or firm. I use serum daily: a vitamin C one in the mornings and a niacinamide one at night. You can use as many serums and ampoules in your routine as you want (though I'd personally cap it at two or three), as long as you layer them from thinnest to thickest.
Vitamin C, especially ascorbic acid, has so many benefits for the skin, but the problem with so many formulas is that they're unstable: You can spend all this money on a vitamin C and then within a month it's gone bad—meaning it's no longer effective. What's great about this one is that you don't have to worry about it going bad. I really like it: It feels elegant, and it's also effective.
EYE CREAM
The eye area is one of the most sensitive parts of the face—the skin is particularly thin and more susceptible to dryness, fine lines, and wrinkles. A common misconception is that eye creams are a waste of money—that moisturizer can work just as well. The truth is facial moisturizers are not formulated with undereye skin in mind, so they can clog or irritate that delicate area.
MOISTURIZER
There's a moisturizer for every skin type. If your skin is dry, itchy, or tight, thicker formulas that incorporate rich ingredients like glycerin, shea butter, or ceramides help nourish and condition the skin. If you're naturally oily or acne-prone, thinner lotions or gels made with ingredients like hyaluronic acid and panthenol moisturize without being too thick or greasy.
I have really, really dry skin, so I'm always trying to find things that are hydrating enough but also sit well underneath makeup and don't make me break out or clog my pores. This does exactly that. It's made with squalane and ceramides and fatty-acid-rich ingredients that are all just wonderful for making sure that your skin barrier is replenished.

I want to nourish my skin, but I don't want to look super greasy. So it's all about adding glow in the right places—and this lightweight lotion does a great job.
FACE OIL
If you struggle with an unquenchable dryness that standard moisturizer just doesn't satisfy, face oils can be wonderful sources of antioxidants and moisture to help replenish and protect the skin. Apply face oil last, after moisturizer, as it has a thicker consistency. In winter, it can be useful to seal in your moisturizer at night with a layer of face oil, so your skin absorbs it while you sleep.
Active face oil

I think this oil is so special. I've tried a lot of dupes, but none are ever as good as this one. It sinks into the skin quickly, but it's not dry—it's very hydrating. The Vintner's Daughter glow is real.
SUNSCREEN
Without sunscreen, your skin is susceptible to sun damage, and all the vitamin C serums and ceramide-rich creams in the world won't help. You can't repair something that's constantly being damaged, right?
We've been taught to apply sunscreen when we're spending hours at the beach or the park, but we get more inadvertent sun exposure on a daily basis than you'd think. For example, when you're sitting at your desk or driving in your car, UVA rays penetrate through your windows. Even a quick run to the grocery store can be surprisingly damaging.
Sunscreen has to look good on my skin for me to want to use it, otherwise I come up with reasons not to apply it or to apply too little. But this one gives my skin the most beautiful glow—I love it. I think the tint is wonderful, it doesn't make me look chalky or pill on my skin, and makeup looks great on top of it.
SPOT TREATMENTS
I absolutely love pimple patches. They help me stop picking my skin—they help get rid of a pimple without my going into the mirror and attacking my face. It's an out of sight, out of mind thing, and it works. I particularly like the ones with microneedles. They feel so satisfying. These are made with hyaluronic and salicylic acids, both of which hydrate, so you're not drying the area out while you treat it. That combination is wonderful.
DEVICES
I genuinely love putting this on. It makes me feel like Iron Man. I think it's so cool and weird-looking, on top of the genuinely wonderful results I've gotten with it, especially for acne. I want to emphasize that consistent use is so necessary with this, otherwise you're not going to see any changes.
---
We hope you enjoy the products recommended here. Our goal is to suggest only things we love and think you might, as well. We also like transparency, so, full disclosure: We may collect a share of sales or other compensation if you purchase through the external links on this page.