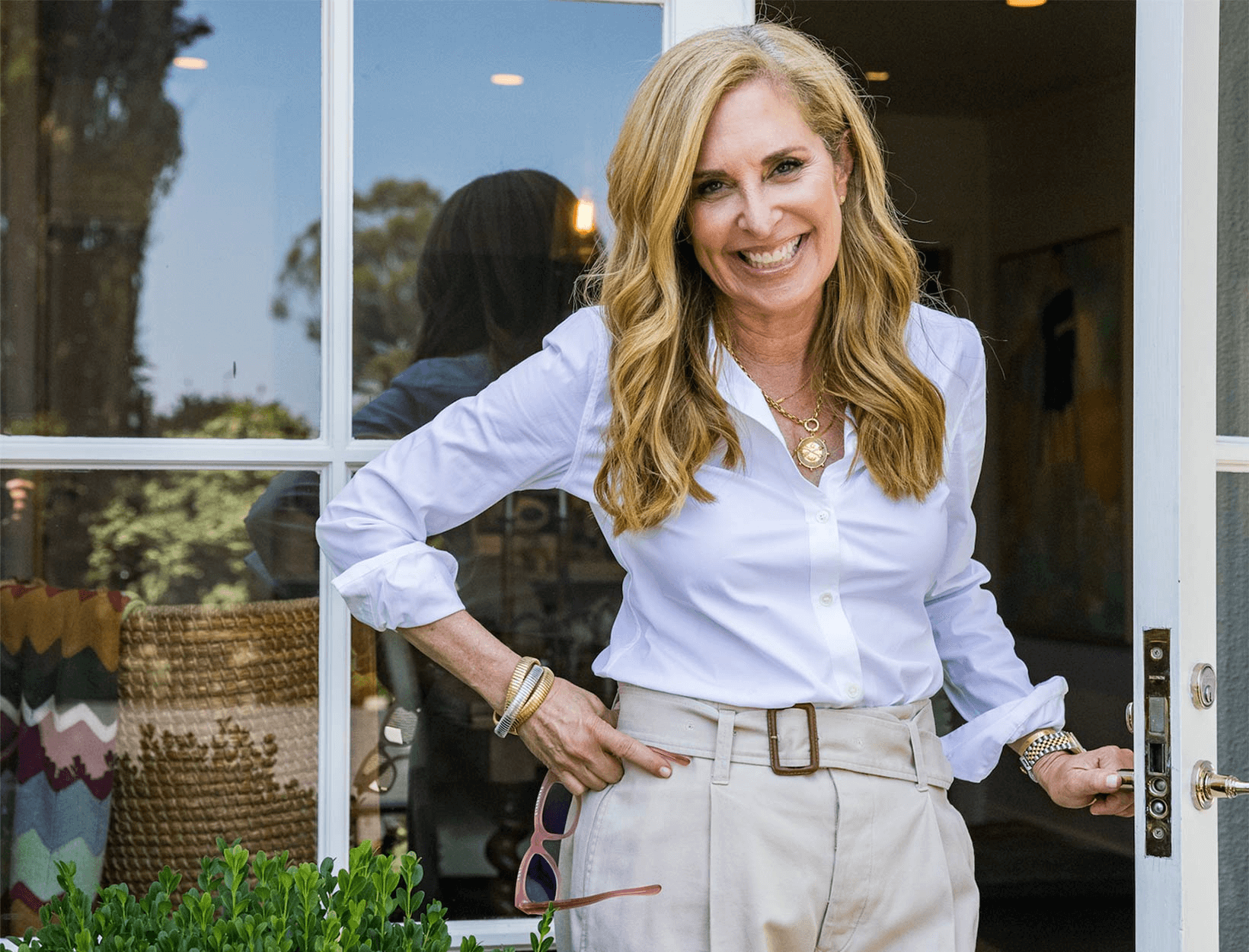 Photo courtesy of Brian Kuhlmann
MY MORNING ROUTINE
A 64-Year-Old Superfounder Wakes Up
to Dry Brushing and Celery Juice
Susan Feldman | founder of One Kings Lane and In the Groove
The night before:

goop Beauty

GOOPGLOW 15% GLYCOLIC
OVERNIGHT GLOW PEEL

goop, $125/$112 with subscription

SHOP NOW

When we first met founder (One Kings Lane, In the Groove) Susan Feldman at goop's NYC office, her skin gleaming and healthy, her eyes bright and faintly accented with dark liner, and her shiny copper-blonde hair in swingy layers, we found it hard to believe she'd just gotten off a plane. "Six hours!" she insisted, laughing.

We definitely want whatever the sixty-four-year-old West Hollywood–based entrepreneur is having, and it's not just because she looks so good: After a wildly successful career in fashion, she cofounded the home-décor site One Kings Lane; now, rather than relaxing with the fruits of her labors, she's founded another company. "My favorite part of my new job is shining a light on women over fifty and helping change the narrative around ageism," she says of In the Groove, her beauty, lifestyle, and fashion platform that covers everything from the perfect velvet tuxedo coat to menopause.

Soothing skin-care rituals, as well as a six-days-a-week commitment to exercise, keep her focused, Feldman says: "It helps me prioritize my day." Her morning routine starts at 5:30—except once a week, when it starts the evening before, with an overnight glycolic acid peel. "I'm treating my skin to something that's so good for it," she says. "The results are fantastic."

The night before:

goop Beauty

GOOPGLOW 15% GLYCOLIC
OVERNIGHT GLOW PEEL

goop, $125/$112 with subscription

SHOP NOW

5:30 a.m.: I love getting up early—I find time for my thoughts. I throw on workout clothes and dab on a little lip balm from Dr. Barbara Sturm. I'm the queen of lip balms and have tried so many, but this one really moisturizes. I write in my journal. That's new for me and doesn't come easily, but I'm working at it. Next I drink a cup of hot water and check emails. I grab my Hypervolt massager to warm up my muscles, and then I'm off to my workout.

7 a.m.: I try to work out six days a week, switching between Pilates, spinning, and golf to keep things fresh.

8:10 a.m.: Back at home for my shower. When I remember, I dry brush first—it was a little tough to get used to, but now I'm hooked. My skin looks and feels so much better. After the shower, I smooth G.Day Black Pepper + Rose Hip body oil everywhere. It feels so good and smells great.
8:15 a.m.: I splash my face in the shower but don't fully wash it with the cleanser from Dr. Nigma until I'm out. I love the foamy action and how clean and super soft it makes my skin. Then I layer vitamin C serum, Augustinus Bader The Cream, and sunscreen. Always. I want to protect my skin and minimize wrinkles.

In the last few years, I've tried to simplify and embrace a less-is-more approach, makeup-wise: I love BB cream to even out my skin, plus a little cream blush, foundation under my eyes and on my lids, eye shadow, eye pencil, mascara, and a little brow pencil.

I have really dry skin, so I put Mutha Butter Body on all over—it's super rich. After reading all the articles about how many bad chemicals are in deodorants, I knew I had to make a change, and a friend turned me on to Corpus. It's subtle and clean, and I really like the scent.
8:30 a.m.: I get dressed, then into the kitchen. I just got a juicer, and I love it. I'm starting every morning with a big glass of celery juice and a goop G.Tox shot. Easy, easy, easy, and I know I'm helping my body detoxify.
9 a.m.: Time for a cup of coffee, some berries, and to face the day.