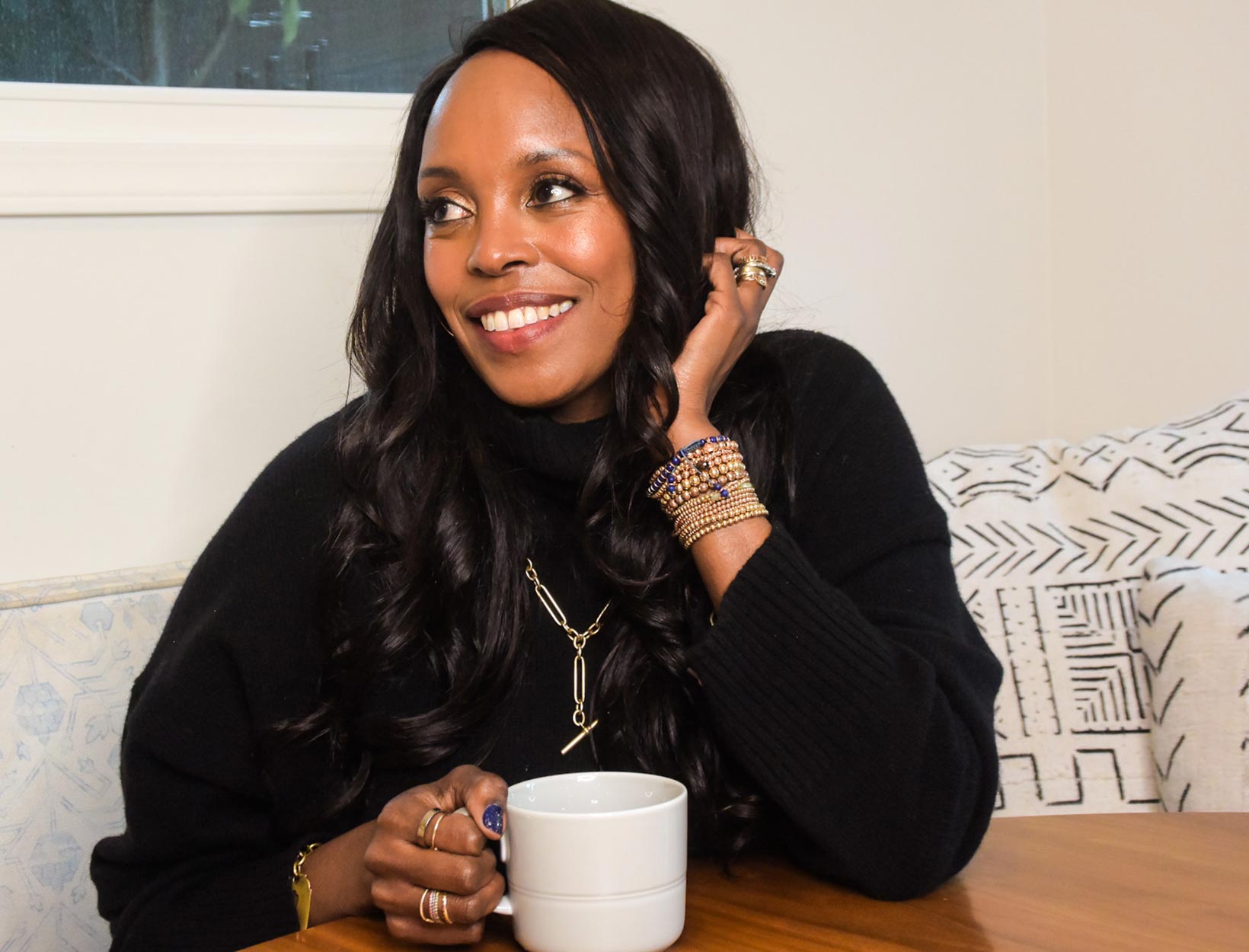 A Clean Beauty Founder's Skin Secrets
(Hint:
A Miracle Eye Cream)
You might be destined to create a clean skin-care brand when your grandmother teaches you—as an eight-year-old, no less—how to make powerful elixirs with her superfood crops on her farm in Kenya. "She would crush Kenyan coffee beans and add oils to make a paste for skin. She also showed me how to use a sugarcane rod to exfoliate," says Nyakio Kamoche Grieco (pronounced neh-KAY-oh), the LA-based founder of Nyakio Beauty. "My grandfather passed away before I got the chance to meet him, but he was a medicine man and was always out in nature extracting oils to treat skin, too. I learned about the restorative powers of plants from my grandparents."
The results are still plain to see on Grieco's luminous, poreless skin, and they're reflected in her amazing, botanical-rich formulas. When we met the forty-six-year-old beauty founder and mother of two at an In goop Health panel on careers, we knew we definitely needed to start having whatever she was; she's literally a glowing endorsement for her skin potions and creams, the star of which is a powerful eye treatment that wakes up your entire face within seconds of smoothing it on.
The cooling salve melts in instantly, and its powerhouse botanicals—antioxidant coffee extract, soothing chamomile, fatty-acid-rich shea butter, and depuffing quinoa—go to work. "I wanted to celebrate the beauty and sophistication of Africa by sourcing and bottling clean, effective ingredients and sharing them with women," says Grieco, who lets out a small sigh as she laments the harmful substances conventional skin care commonly contains. Everything she puts on her skin—and into her body—is as plucked from nature as possible.
Her approach is simple but powerful: Every day she massages on cleansing balm to remove makeup, exfoliates with her own coffee face polish, moisturizes morning and night with face oil, and judiciously applies sunscreen. She also exfoliates once a week. "I've adopted the GOOPGLOW Overnight Peel into my regimen, and I am totally obsessed," she says of the glow-boosting glycolic acid pads. "I also treat myself to regular facials in the magic hands of aesthetician Shani Darden. I just love skin care. Even though it's my job, it still brings me great joy every day."
Fast-acting, clean topical products are a big piece of the puzzle, but even Grieco's flawless skin gets a boost when she's in a high-vibrational, healthy-habit groove. "I recently took a food-sensitivity test with Dr. Dominique Fradin-Read [who worked on goop's best-selling Madame Ovary supplement], and when I avoid the foods that have a tendency to cause inflammation in my body, I definitely notice my skin is more glowing," she says.
"Breaking a sweat every day is also incredible for your skin. I love cardio sculpt sessions at FRMATION in LA," she says. "They're the most challenging, energizing workouts, and part of the class involves using a rebounder, which is incredible for lymphatic drainage."
Grieco also carves out time for the people she loves (including a regular goddess circle with girlfriends). "I always feel the most beautiful when I'm with my family and friends," she says. "It's true what they say about laughter being medicine for the soul, and I'm lucky that my people are so funny."
Fast-acting, clean topical products are a big piece of the puzzle, but even Grieco's flawless skin gets a boost when she's in a high-vibrational, healthy-habit groove. "I recently took a food-sensitivity test with Dr. Dominique Fradin-Read [who worked on goop's best-selling Madame Ovary suppement], and when I avoid the foods that have a tendency to cause inflammation in my body, I definitely notice my skin is more glowing," she says.

"Breaking a sweat every day is also incredible for your skin. I love cardio sculpt sessions at FRMATION in LA," she says. "They're the most challenging, energizing workouts, and part of the class involves using a rebounder, which is incredible for lymphatic drainage."

Grieco also carves out time for the people she loves (including a regular goddess circle with girlfriends). "I always feel the most beautiful when I'm with my family and friends," she says. "It's true what they say about laughter being medicine for the soul, and I'm lucky that my people are so funny."