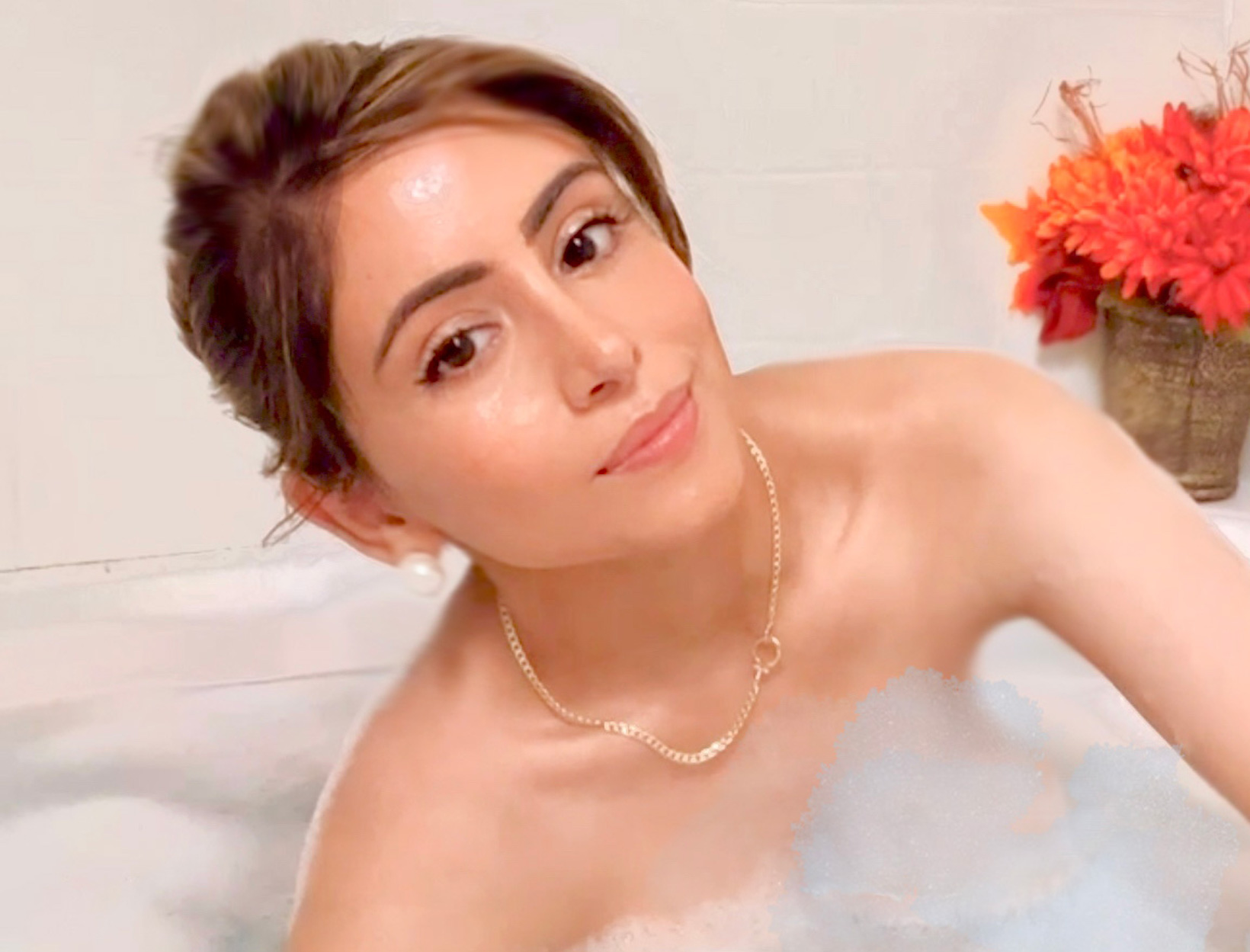 my morning routine
Recipes for a Beautiful (and Efficient) Day
Nikita Upadhyay |
digital strategist, bestselling author, and cofounder of Roots by Nikita Upadhyay, a personal-care brand focused on hair and scalp treatments.
Balance—in almost any aspect of our lives—gets trickier by the minute, and while structure and discipline might sound like more stress, Nikita Upadhyay relies on both to help her achieve it. "My background in classical dance (bharata natya, a South Indian dance form) has taught me to develop tremendous focus and discipline in life," says the digital strategist, beauty cofounder, and author. "Dancing is all about preparing your actions to match the beat—if we apply that philosophy to life, we end up being more punctual, earnest, prepared, and focused."
Upadhyay has appeared on the 2021 Forbes list of 30 Under 30 in Asia in Media, Marketing, and Advertising, and she's written a bestseller, Roots to Radiance: Wholesome Beauty Solutions for the Millennial Life, chock-full of DIY clean beauty tips, nourishing recipes, and strategies for skin, hair, teeth, nails, and life in general that draw from Indian traditions for self-care. Her Instagram account—which chronicles her travels, beauty reviews, and brand collaborations—has attracted over 1 million followers at this point; while she's currently based in New York, she's often on the move. "I can write and work from anywhere," she says. "The tough part is starting the day right for the boost I need to ace my day."
7 a.m.: Before I get out of bed, I like knowing how I'm going to structure my day. I'm an annoyingly organized person who basically lives the same day over and over. I glance through my to-do list, aiming to check off most of it before 3 p.m., the deadline I usually set for myself. (I know that the rest of the world is aiming for EOD—I like to be ahead of that.) I answer WhatsApp messages and Instagram DMs from followers and friends and catch up with the news and current events.
7:30 a.m.: I brush my teeth with Bite Freshmint Toothpaste Bits. Then I have some soaked almonds—a source of protein that I've heard helps boost memory. I follow that by spending some time in the sun (when it's not too strong) and chanting the Gayatri Mantra 108 times with my noise-canceling QuietOn earbuds. (This is mainly an excuse to not look at my phone, plus not thinking about anything for some time helps my focus.)
I then have some herbal concoctions—I cover them extensively in Roots to Radiance—to help boost my immunity, get my body some good antioxidants, and speed up my metabolism.
8:30 a.m.: I love to start the day by massaging my scalp with my Roots by Nikita Upadhyay Oil-in-Serum. While I'm getting the scalp hydration in, I sort other things, like going for a walk and getting my vitamin C and hydration intake going with blackberries, strawberries, and GOOPGLOW Superpowder.
When I'm near any form of sea or beach, I walk there with the fruit and drink and do some sun-gazing early in the morning.
9 a.m.: Upon my return from my walk, I dry brush my body with Brad's Organic unrefined coconut oil and my goop body brush before bathing.
I believe baths are antidepressants, and I sandwich mine between applications of body oil: After dry brushing with the coconut oil, I cleanse with Nécessaire Body Wash; then, after the bath, I reapply some almond oil that my mom gets extracted in India (she is someone who takes her oils very seriously).
I reapply oils to my legs all day—my body tends to get very dry and flaky otherwise, and since the process of reapplying oils can easily get very messy, I love a spray-on oil.
goop Picks
9:30 a.m.: I usually don't wash my face with cleanser in the morning because I often double-cleanse the night before and don't believe in stripping my face of natural oils. If I do use a face cleanser in the morning, I go for the Osea Malibu Ocean Cleanser, which I also use in the evenings. I spritz with skin mist and dab on eye cream, followed by Dr. Barbara Sturm Niacinamide Serum, which I feel helps with minimizing the appearance of pores. I layer that with vitamin C serum; I never skip.
goop Picks

goop Beauty

GOOPGLOW 20% Vitamin C + Hyaluronic Acid Glow Serum

goop, $125/$112 with subscription

SHOP NOW
Next step: Monastery Made Gold Botanical Serum, a facial oil that helps seal in the hydration thoroughly, and I then seal the whole regimen with face cream and hand cream (I reapply the latter all day, just as I do my body oils).
goop Picks
9:40 a.m.: I use the at-home facial device SolaWave for at least five minutes, right before I apply SPF. It combines microcurrent, red-light therapy, and vibrating facial massage into one—I feel content in doing a good job of taking care of my skin.
9:45 am: I'm someone who gets sunburned very quickly and sometimes break into hives, so sunscreen is crucial for me even when I'm inside. So the last step of my skin-care routine is applying an SPF of at least 30, generously. I apply SPF all over my body, even on days when I'm going to be indoors.
I love air-drying my hair when I have absolutely nothing to do; otherwise, I use the Dyson Airwrap with a little hair spray.
10 a.m.: My favorite breakfast is chickpea salad and buttermilk. I like to reply to my emails and plan my day further while having breakfast—or I skip the serious stuff and catch up with Netflix.
NIKITA'S CHICKPEA SALAD
I boil chickpeas that I've soaked overnight and toss them in olive oil, grated ginger, garlic, cumin, chopped onions, and green chili. Then I add some salt, red chili powder, and cilantro and cucumber on top and squeeze some lemon juice on it. If I'm feeling extra, I even add nachos or potato chips. I also take Wellbel–a supplement for my hair, nails, and skin—with my breakfast.
Sometimes, instead, I go out: I absolutely adore Le Botaniste café in SoHo—best organic breakfast in town. I get the super seed avocado with chestnut crackers.
I follow that with my favorite ice cream from Van Leeuwen—either a scoop of Royal Wedding Cake ice cream inside an Americano, or the vegan Sicilian Pistachio topped with their special whipped cream. (I've been vegetarian all my life, but I aspire to veganism!) For the rest of the day, for the most part, I intermittent-fast.
11 a.m.: Whether I'm doing Zoom meetings or IRL ones, my makeup essentials stay the same. I adore Kosas foundation, the mascara and brow pencil from Jones Road, and the contour stick from Westman Atelier.
I start working—it's later than most people, but I still finish more quickly because I spent the time structuring and organizing my day at the start.
BONUS: THE DIY FACE MASKS I APPLY ONCE A WEEK EACH
Mask 1
½ cup water
1 black tea bag (or leaves)
a few drops licorice extract (easily available online, and one of the most effective oils to help fade dark spots)
a few drops rose hip oil
2 tablespoons bentonite clay

Boil the water and dip the black tea bag in it. When the solution cools off, add licorice extract, rose hip oil, and bentonite clay. Mix it well and make a paste. Apply to moisturized face and rinse after 25 minutes. Reapply moisturizer post-mask.
Mask 2
2 teaspoons curd (Indian raw-milk yogurt—you can substitute regular plain yogurt if need be)
4 or 5 blocks of grated pumpkin or ½ cup pumpkin purée
½ teaspoon apple cider vinegar
2 teaspoons honey

Add the curd to the pumpkin purée and mix well. Add apple cider vinegar and honey to the paste and apply to face and neck. Keep on for 20 minutes, then wash off.
Recommended Reading