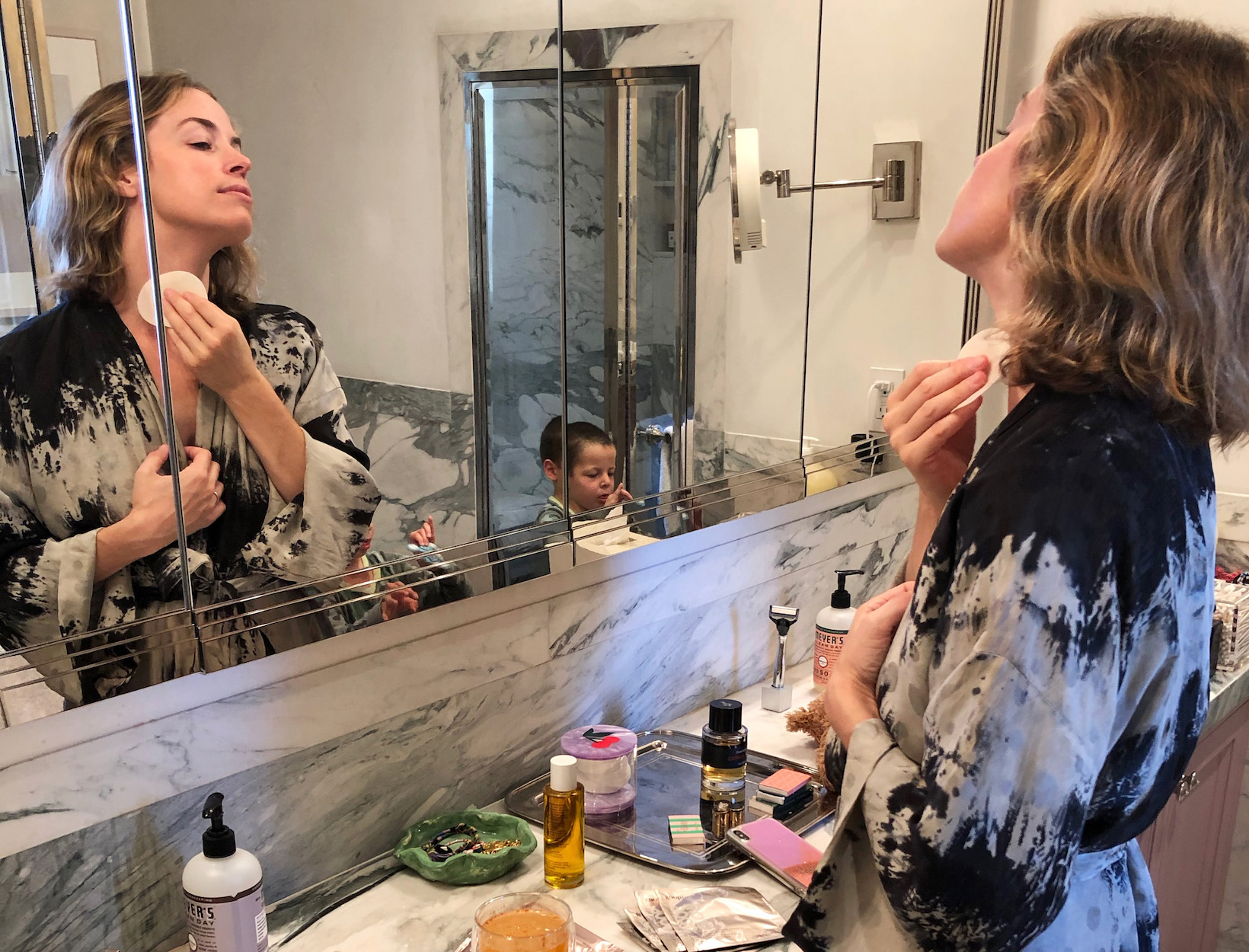 MY A.M./P.M. ROUTINE
My Overnight Routine for Glowy Skin
BRETT HEYMAN
|
founder of Edie Parker
We want everything Brett Heyman makes: every bag from Edie Parker, her vintage-inspired brand that's currently on the arm of everyone we know, as well as the beyond-cool cannabis accessories from her new venture, Flower. Besides running the two companies, she's got three young kids, and somehow, her skin still glows as if she's got time for weekly facials. Her secret is the goop overnight peel—along with a few brilliant morning-after skin tips. We grilled her on her nighttime and wake-up routines to get the full scope of her glow-inducing efforts.
The Linchpin
Heyman loves a little skin treatment before bed. "Ideally, lights are out by 11 p.m., but now that my kids have gotten older, the nights have gotten later," says the former Gucci PR exec. "I used to put them to bed by 8 p.m., watch some news followed by some Bravo, do a face mask, and go to sleep. But now they want to stay up and hang out with me. Don't get me wrong: They are great company, and I love being with them, but it significantly reduces my cocktail/relax/Housewives/face-mask time." The peel pads are the perfect solution to her more time-strapped evenings. "Once a week, I swipe one on right before bed," she says. "It feels and smells great, and I do look quite luminous the next morning."
What she does to keep the luminosity going in the mornings is definitely worth noting and imitating—her skin looks amazing, not just the next day but all week.
6:45 a.m.: I say good morning to my husband, I say good morning to my phone (this order is intentional), and then I jump up and down on my kids so that they wake up and get ready for school.
I mix water with the GOOPGLOW morning powder and drink it while I watch fifteen minutes of news. Most mornings I drink it in a glass of water, but if I am making a smoothie, I will include it.
7 a.m.: We practice organized chaos at our house. I make breakfast for my two older kids, remind them at least four times to brush their teeth, and get them out of the house for school.
7:45 a.m.: My three-year-old and I high-five that we have the house to ourselves. He usually wants a different breakfast, and at this point, I oblige. Then I put the TV on for him so I can sneak in a shower.
8 a.m.: I'm clean. Now that it's fall, I smooth on my favorite body oil for extra moisturizing. It also smells incredible.
8:10 a.m.: I do a quick amp-up-the-glow routine with highlighters from Gucci Westman. Besides being a famous makeup artist, she's my friend, and I've watched her tirelessly develop her line with an unrelenting commitment to natural ingredients. She really cares about making products that are good for you. Also, they make me look pretty! I add some of her (amazing) mascara, and I'm good to go.
8:30 a.m.: I drink an espresso, hope for a second wind, and take my son to school. After I leave him, I walk a mile to my office. When it's fall in NYC, there is nothing better.