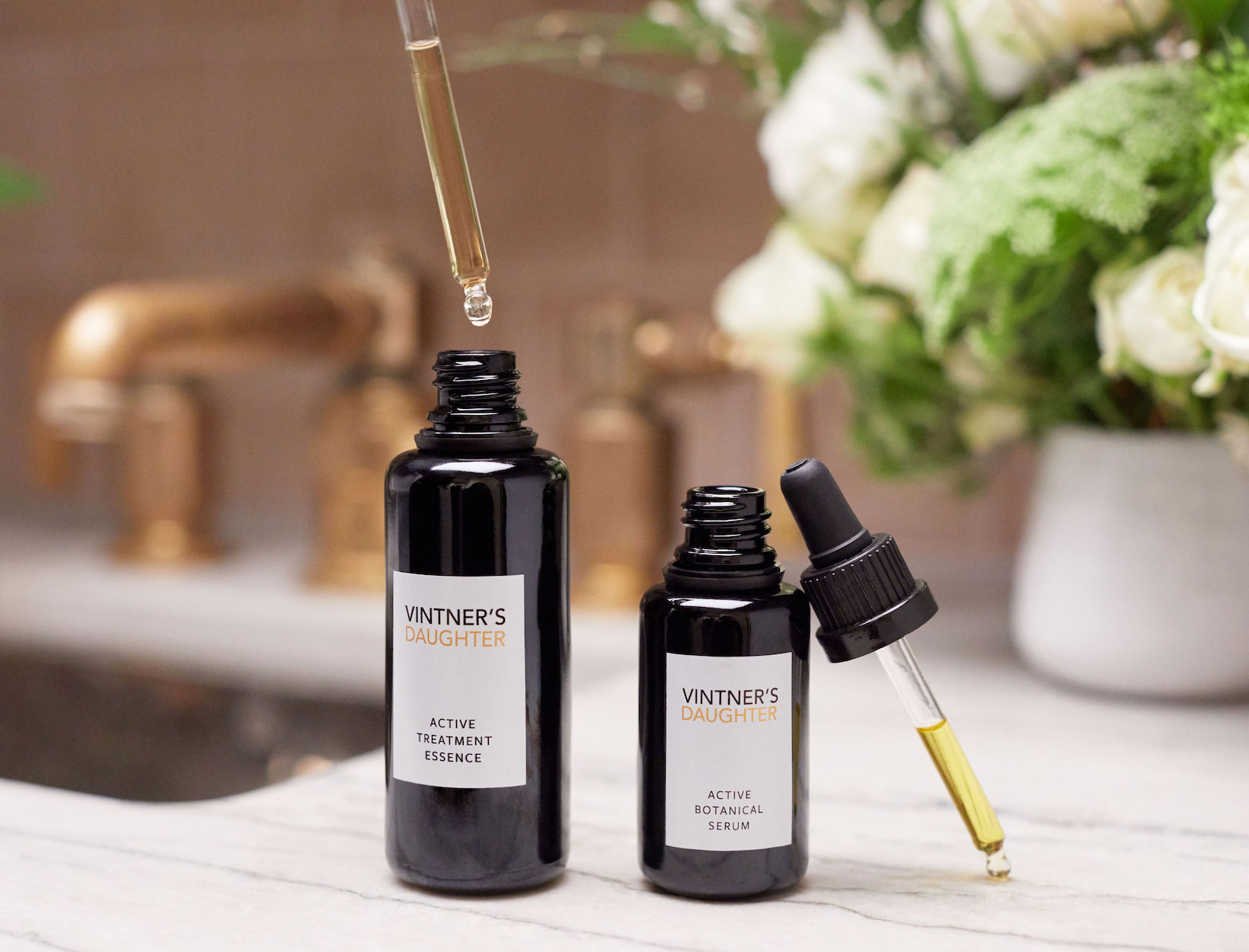 There's a New Skin Elixir from
Vintner's Daughter—and We're Obsessed
When April Gargiulo launched her now-world-famous serum at Vintner's Daughter five years ago, the beauty world didn't know what had hit it. Suddenly makeup artists were patting it surreptitiously into their clients' skin before foundation; friends were whispering to friends; beauty editors were calling demanding to know what was up. "Word spread friend-to-friend," recalls Gargiulo. "It took on a life of its own." Her concept—a multicorrectional serum aimed at all skin types—broke beauty-industry rules in many ways. For one, you needed only one product, not a regimen; for another, it helped oily skin as much as it did dry or damaged skin; Gargiulo had put ingredients above anything else, including price; and best of all, it was totally clean and nontoxic, but the powerful results were undeniable.
Since then, everyone's been waiting for the Vintner's moisturizer, the Vintner's lip balm, the eye cream, the body oil—all to no avail. "I won't just make a product for the sake of making a product," says Gargiulo. "If I couldn't make something as radically good for your skin as the serum, I didn't need to make anything."
It took her four years, but the Treatment Essence she's created is the yin to the serum's yang, a step that will change your skin even if used on its own but that, combined with the OG serum, is even more transformative. The serum is made with the oil-soluble extracts of live plants, while the essence is made with water-soluble nutrients (also derived from live plants), so the two work through different pathways in the skin. "Pat and press the essence into your skin, then follow with the serum, patting and pressing again," says Gargiulo. "The serum seals in the goodness of the essence and then delivers its oil-soluble nutrients on top. The combination is powerful."
She used thirty-plus active botanicals in creating the essence, along with water-soluble vitamin C, hyaluronic
acid, marine microalgae, gluconolactone, lactic acid, apple cider vinegar, plant stem cells, and both pre- and probiotics. The resulting liquid (which takes five weeks to make—the serum takes three) brightens, exfoliates, tones, firms, and hydrates all at once. "The fermented component amplifies absorption," she explains.
Like the serum, the essence is made for every skin type. "What's good for your skin is good for my skin in this case," Gargiulo explains. "The beauty industry has trained us to think only in terms of skin type, but it doesn't always have to work that way. These ingredients are just good for skin, period."
Try it once and the yin-yang concept makes perfect sense: The two products complement each other seamlessly. The essence disappears instantly into your skin and doesn't have much of a scent beyond a faint fermented/apple cider vinegar vibe, and the serum, with its gorgeous scent (which is simply the actual smell of the ingredients themselves) feels incredible smoothed on right after.
The glow you get is impressive in and of itself, but the
longer-term benefits are what keep us coming back—at least once a day, if not twice. "The point for me is doing as much for your skin as a single product possibly can," says Gargiulo. "There's a luxury for me purely in not having ten steps to get through. Then there's the luxury of these amazing, live-plant ingredients. And most of all, the luxury of loving my own skin."